Easy Sourdough Crepes Recipe
These sourdough crepes are easy to make and delicious to eat! With a slight sourdough tang and tons of great flavor, these tender crepes made with sourdough discard are perfect to fill with anything you want!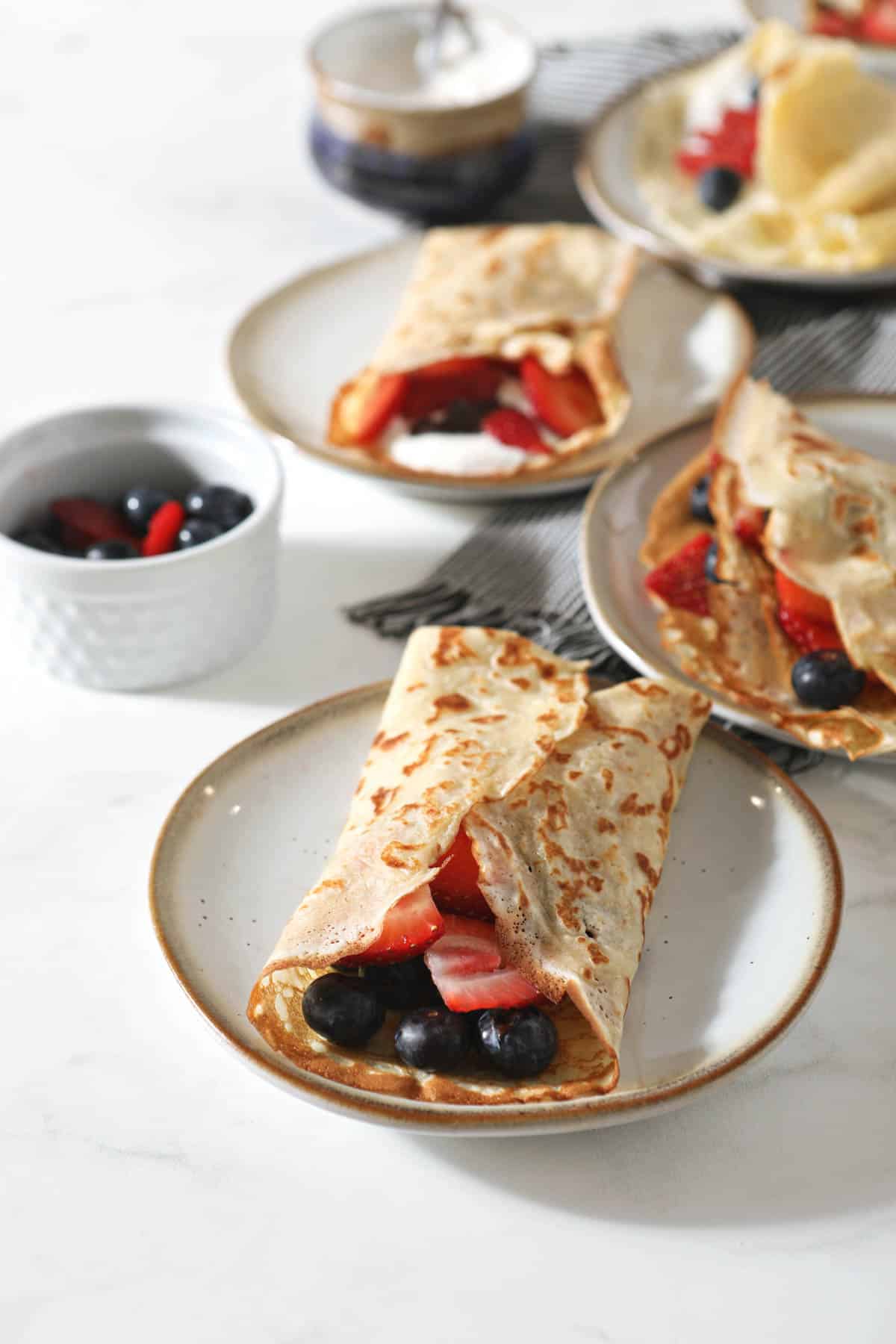 Crepes get this reputation for being super fancy, finicky and funky to make at home. But what the fancy French shops that sell them don't want you to know is that as long as you have the right equipment, they are sooo easy to make!
And the right equipment includes plenty of melted butter, a pastry brush, a non-stick skillet and some awesome twirly wrist action.
The cool part is that crepes even take less time to make than pancakes!
Sourdough Crepes
Making crepes is a fantastic and easy way to use your unfed sourdough starter discard. This is a rather quick recipe, so its perfect whether you want to make them for breakfast, a fun lunch, or breakfast for dinner. Make sure you read "Feeding and Maintaining Your Sourdough Starter" for more information.
I have decided I love crepes, maybe almost as much as I love pancakes, which is saying something. And these crepes are actually easier than sourdough pancakes because you don't have to remember to start them the night before. These have a slight sourdough tang to them, but it isn't overpowering.
I mean, they kind of are thin pancakes that you can fill! We had a fun crepe bar with an array of fillings – peanut butter, biscoff, nutella, strawberries, blueberries, bananas and scrambled eggs. And then we had fun stuffing ourselves silly.
How to make sourdough crepes
These crepes are easy to make. For the full recipe, make sure you scroll down to the recipe card below, but here is an overview of how to make them.
How to make sourdough crepe batter
In a blender, combine the sourdough starter, eggs, half of the milk, the salt, 2 Tablespoons melted and cooled butter, and the sugar.
Continue adding more milk as needed until you get the right consistency. You want a nice thin batter that has the same consistency as heavy whipping cream.
Place the bowl of batter in the fridge to rest for 30 minutes. The batter will be really runny at first, but will thicken slightly after it sits.
* RECIPE NOTE – if making savory sourdough crepes, you can skip the sugar. You can leave them plain or add in dried herbs.
How to cook sourdough crepes
Heat a lightweight 9″ frying pan over medium heat. It is important to make sure the pan is nice and hot before you start cooking, or the crepes will stick.
Add 1 teaspoon of butter and allow to melt and coat the bottom of the pan.
Pour in 1/4 cup of crepe batter into the hot pan and swirl and tilt the pan to fully coat the bottom of the pan.
Allow to cook for 1-2 minutes, until the batter is set and the bottom has splotches of light brown. The edges will lift away easily from the pan.
Flip the crepe over with a spatula and allow to cook for another minute on the other side.
Slide out of the pan to a plate to keep warm. Repeat with remaining batter.
* RECIPE NOTE: Remember, just like pancakes, the first crepe usually isn't perfect. Its a good test of the skillet temperature, your twirling motion, and your flipping technique. No matter how many times you make crepes or pancakes, usually the first one is for the dog. And that's ok!
The crepes will cool quickly once you have removed them from the pan. Either serve them as you make them, or you can keep them warm in the oven. Instructions for that are below.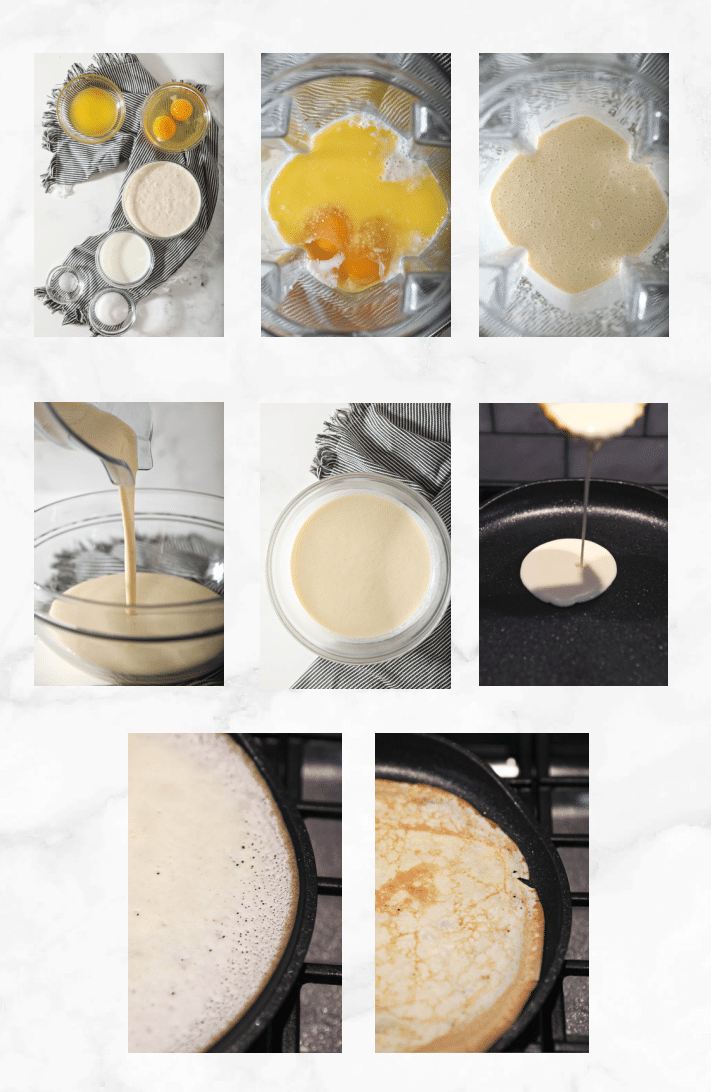 Frequently Asked Questions
What kind of sourdough starter do I need?
This recipe works best with 100% hydration starter. It can be discard (or unfed and inactive starter), or fed and active starter. You can use cold starter straight from the fridge, but it will whisk into the batter easier if it is room temperature.
How to keep crepes warm
We usually fill and eat these as we make them, but you could prepare all the crepes and then sit down to feast together. You can place the cooked crepes in a baking dish covered with a tea towel, and then place the baking dish in a 200 degree oven. Just keep stacking the crepes on top of each other as you finish them.
How to store and reheat leftover crepes
Leftover crepes can be stored in the fridge, with parchment paper between layers. Wrap them in plastic wrap and eat within 7 days. You can also freeze them for up to 2 months.
Thawed crepes can be reheated on a skillet over medium heat. use a little butter to grease the pan and heat on both sides.
Filling ideas for crepes:
Crepes are awesome because there are so many different ways to fill them, and you can make them either sweet or savory (or both!) Here are some ideas to get you started.
Cream Cheese with fruit
Whipped cream with chocolate chips
Peanut butter with fruit
Nutella with fruit
Ham and cheese
Sautéed mushrooms
More sourdough recipes to try:
Food tastes better when its shared! If you try this recipe, let me know! Leave a comment and rate below! Love and links are always appreciated! If you'd like to share this post, please link to this post directly for the recipe, please do not copy and paste or screenshot. Thanks so much for supporting me! xoxo
Sourdough Crepes
These sourdough crepes are easy to make and delicious to eat! With a slight sourdough tang and tons of great flavor, these tender crepes are perfect to fill with anything you want!
Print
Pin
Rate
Ingredients
1

cup

sourdough starter

2

eggs

¼

cup

whole milk

pinch

of sea salt

2

TBSP

butter

melted and slightly cooled + 6 TBSP more for cooking

1

TBSP

sugar

you can leave this out if you are making savory crepes

Toppings of your choice
Instructions
In a blender mix all ingredients until smooth and combined.

Add enough milk to get a thin batter, similar to that of double cream or whipping cream. Too thick and they won't run and you get glops that are neither pancakes nor crepes.

Let the crepe batter rest for at least 30 minutes in the fridge for better results.

Heat a 9" frying pan over medium heat, before adding a tsp of butter.

Once melted, pour in about 1/4 cup of batter, swirling and tilting the pan so it runs to the edges and coats the bottom of the whole pan.

Let cook for a minute or so till set and the bottom has splotches of light brown, before flipping over (with or without a spatula if you're chef-y) to cook for 30 seconds or so more if you like them slightly crispy.

Now, slide out of pan and enjoy them with your choice of filling or freeze the extra when cooled.
Nutrition
Serving:
1
g
|
Calories:
127
kcal
|
Carbohydrates:
11
g
|
Protein:
3
g
|
Fat:
8
g
|
Saturated Fat:
5
g
|
Polyunsaturated Fat:
3
g
|
Cholesterol:
56
mg
|
Sodium:
86
mg
|
Fiber:
1
g
|
Sugar:
2
g
(slightly adapted from Mummy I Can Cook)