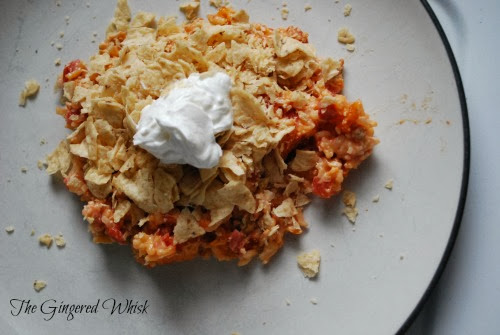 What I am about to share with you is neither all that healthy or made of "whole" foods. But what it has going for it is entirely comfort. And with all the crazy weather we have been having – freezing cold, snow, ice, and the ridiculous amount of school cancellations and delays, this meal is exactly what everyone needs!
My dad made this meal for us growing up, and we loved it. Scarfed it down. Seriously, when my brother and I were teenagers, my family would eat almost an entire 9×13 pan of this stuff. It's that yummy. And comforting. And its easy enough that teenagers can make it by themselves. Plus, if you manage to keep some leftovers for the next day, they are just as good!
Love a good meal? Try these family friendly weeknight recipes:
Cheesy Enchilada Casserole

– This easy casserole is perfect for when you want the flavors of tacos but need a cheesy and comforting casserole!

Feta Stuffed Turkey Meatloaf Muffins – Like traditional meatloaf, but smaller! These mini meatloaf are flavored with sun dried tomatoes, feta cheese, and have shredded zucchini in them! They are SO good!
Mexican Casserole
Prep Time: 20 minutes
Cook Time: 20 minutes
Keywords: entree cheese rice turkey tomatoes fall winter
Ingredients (6 servings)
1 lb ground turkey
1 clove garlic, minced
2-3 tsp taco seasoning (I make my own following this recipe, but store-bought is fine, too)
1 cup rice (uncooked)
2 cups water
28 ounces petite cut tomatoes
1 jar queso
sour cream
tortilla chips
Instructions
Preheat oven to 350F.
Heat a medium skillet over medium heat.
Cook the ground turkey until no longer pink.
Add the garlic and the spices and saute 1 minute.
Add in the tomatoes and let simmer on low while you cook the rice.
In a medium pan, combine 1 cup rice and 2 cups water and simmer 15 minutes, until done.
Add the rice and half of the jar of queso to the turkey, stirring well.
Pour the mixture into a 9×13 pan.
Spread the remaining queso over the top of the casserole.
Bake for 20 minutes, or until bubbly.
Serve with sour cream and tortilla chips (you can either crunch the chips up on top or you can use the chips to scoop the casserole and eat it that way).
Enjoy!