Moroccan Spiced Roasted Carrots
These Moroccan Spiced Roasted Carrots is an easy vegetable side dish recipe you need in your family's meals! With just a few ingredients and 20 minutes, these roasted carrots are packed with awesome flavor, and they are super easy to prepare! Pair them with simple roasted or grilled meats and they will be a big hit!
These roasted carrots are perfectly spiced (not spicy!), and sprinkled with feta and fresh mint. They are so flavorful, healthy, and delicious, your whole family will love them!
When it comes to easy and effortless side dishes, these moroccan spiced carrots are TOTALLY the way to go!
Harissa, Smoked Paprika, Cumin, Fresh Mint and Feta Cheese combine gorgeously here to create a unique and tasty side dish that the whole family will love!
What is great about these spiced roasted carrots is that they are really flavorful, but not at all intimidating for kids! The feta cheese and the fresh chopped mint add a layer of freshness that compliments these roasted carrot slices really well. 
Looking for more easy side dishes? Try these!
How to Roast Spiced Carrots the Easy Way
I am about to save you a whole lot of time in your meal prep!
Do you peel your carrots before roasting?
When you are roasting carrots like this, you don't actually need to peel them! Huzzah!
The majority of carotene and other antioxidants found in carrots are actually found in the skin (or just below it), so when you remove the peel – you are actually removing a big portion of the nutrients.
If you want to save time peeling, make sure you are buying organic, pesticide free carrots (chemicals like to hang out in the skin) and wash them really well before you roast them to remove any excess dirt! And guess what – there are other times you can skip the vegetable peeler, too — like when you are making stock, when you are juicing them, pureeing them, or when you add them to a soup or stew.
Save yourself some time, some nutrients, and worry more about how they taste, and less how they look.
These roasted carrots are quick to make because you slice them into coins, which helps them cook faster. They only need about 20 minutes in a 400 degree oven.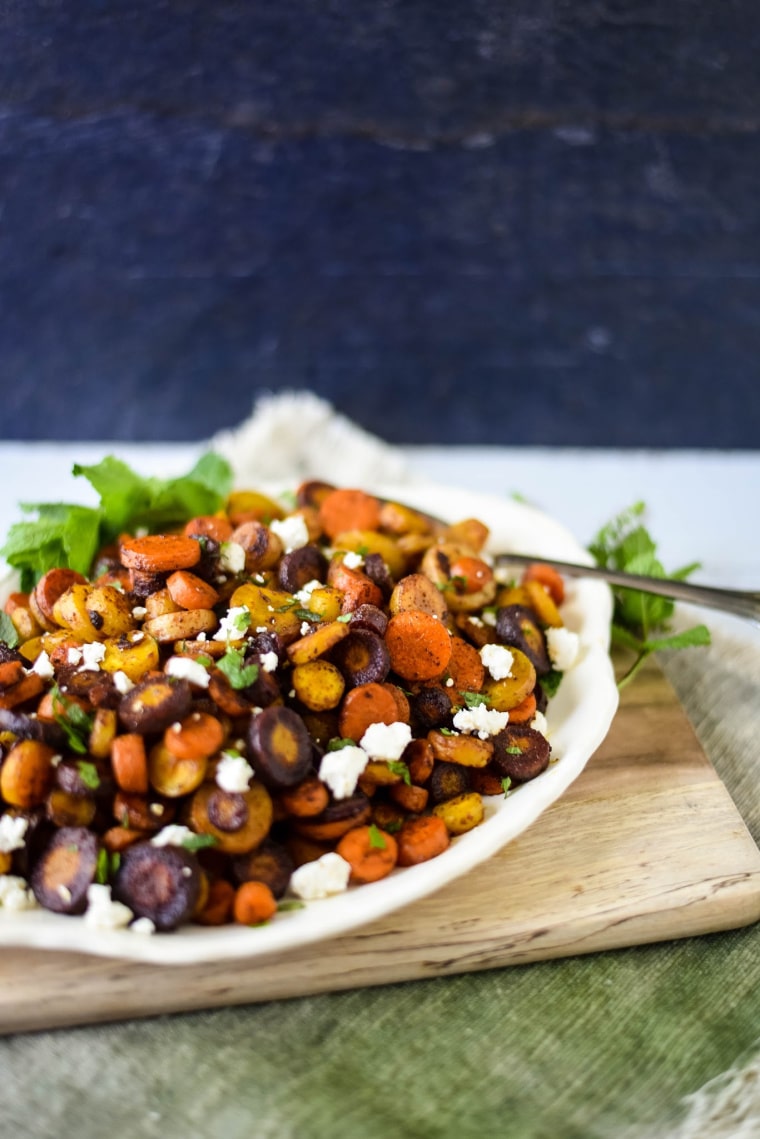 How to Prep Moroccan Spiced Roasted Carrots Ahead of Time:
These carrots can easily be prepped ahead of time to make your weeknight dinner get on the table that much easier. 
The spice mixture can be measured out and stored ahead of time in an air-tight container.
The carrots can be washed and sliced into coins ahead of time. Store them in an air-tight container in the fridge until ready to use, up to 4 days ahead. 
How to Make Roasted Carrots Kid Friendly
Kids can be weird about roasted vegetables. Instead of bribing them or tricking them into eating their vegetables, get them involved and interested! Roasting carrots is a great way to make cooked veggies taste better – there's magic that happens in the oven when you roast veggies! All that caramelized flavor is great! 
If you think your kids would rather dip these spiced roasted carrots you can cut them into sticks rather than coins and use the mint and feta blended together with plain greek yogurt to make a dip!
Dinner Time Conversations about Roasted Carrots.
Dinner time is more than cleaning your plate! Its also a perfect time to engage with your kids about what you are eating in an easy and stress-free way. Use these conversation starters to help open up a conversation about these Roasted Carrots:
These roasted carrots are spiced with a Moroccan spice blend. Do you know where Morocco is? (Its in Northern Africa). Can you think of anything else you have eaten from Africa?
Do you think the different colors of carrots will taste different?
Does the taste of the carrots change when you eat a carrot with a piece of feta cheese?
Does the taste of the carrots change when you eat a piece with some fresh mint? What if you ate all three together?
What do these carrots smell like to you? Do they remind you of anything you have eaten before?
How do these carrots feel in your mouth? Are they crunchy or soft, tender or firm?
How to Serve Spiced Roasted Carrots
These roasted carrots are easy to serve on your family's dinner table! Use these tips to make it feel like a great meal for all your family members:
Serve these carrots in a serving bowl on the table, allowing everyone to scoop how much they want onto their own plates. The rule is, what you take you have to eat. So if a child only takes on piece, that's ok! The point is to give them the responsibility and ownership of their plate. 
If you have little ones who are finicky about extra "stuff" on top of their food, you can choose to serve the feta cheese and fresh chopped mint on the side, allowing everyone to sprinkle their own garnishes. Again, its about giving them that responsibility and ownership! 
Kids in the Kitchen: How Your Kids Can Help You Cook
Getting your kids in the kitchen is an amazing way to help them be more interested in trying new foods and confident in their own abilities in (and out of!) the kitchen. This easy spiced roasted carrot recipe is great because it helps kids learn to use XXXXX and they get practice whisking liquid ingredients and washing produce. This recipe is perfect for beginner cooks because it is so easy! And it is a great recipe for kids to experiment and become more comfortable with new flavors – which means they are more likely to eat it!
Kids aged 1-3 can help you measure the ingredients, wash the carrots, and pick the mint leaves off the stems.
Kids aged 4-6 can do everything above, plus help you toss the carrots in the spice mixture, chop the mint, and garnish finished dish with the goat cheese and chopped mint.
Kids aged 7-10+ can help you do everything above, plus help you cut the carrots into coins.
*Please note that these recommendations are generalized, and to please use your personal discretion with your child's skill level. And always, always supervise! Read more about how to have your children help you in the kitchen.
There's nothing I love more than seeing you make my recipes! If you make these Moroccan Spiced Roasted Carrots  don't forget to leave a comment below and rate the recipe!
And if you are on Instagram, tag @gingeredwhisk and use the hashtag #gingeredwhisk on social media when you make my recipes so that I can share them and maybe even feature you. Follow along to get the latest updates:
And don't forget to subscribe to the email list to get all the extra tips, tricks and bonuses! 
Want to save this for later? PIN THIS TO YOUR SIDE DISH BOARD on Pinterest!
Moroccan Spiced Roasted Carrots
These spiced roasted carrots are an easy way to introduce fun Moroccan flavors to your family!
Print
Pin
Rate
Ingredients
4

cups

organic carrots

¼

cup

olive oil

1

TBSP

Harissa

½

tsp

smoked paprika

2

tsp

cumin

2

tsp

lemon juice

2

tsp

honey

1

TBSP

fresh chopped mint

salt and pepper to taste
Instructions
Preheat oven to 400F.
Slice the top and end off the carrots
Slice the carrots into coins and place on a rimmed baking sheet.
In a medium bowl whisk together the olive oil, honey, spices, and 1 TBSP of fresh chopped mint.
Toss this with the carrots until well coated, and evenly spread on the baking sheet.
Bake for 20 minutes, stirring halfway through.
Place the carrots on a serving tray, and sprinkle with the remaining mint and the feta.
Enjoy!
Notes
If you think your kids would rather dip these spiced roasted carrots you can cut them into sticks rather than coins and use the mint and feta blended together with plain greek yogurt to make a dip!
Check out the Moroccan spiced roasted carrots story.