This Peanut Butter and Honey Popcorn makes for a deliciously addicting, sweet and gooey treat – perfect for movie nights and sleepovers!
When I was younger, I would go over to my best friend Dana's house and her mom would make us some really special popcorn. Peanut Butter popcorn to be exact. A whole roaster pan of it. And through the sleep-over party we would no doubt eat the entire thing. Yes, 2 pre-teen girls + a roaster pan full of popcorn. It was amazing and delicious and sooo addictive.
Looking for other awesome Peanut Butter treats? Try these out!
I have always made this with corn syrup before, but as I was pouring the corn syrup in I always cringed a little (and then promptly forgot about it as I was stuffing my face). But in my quest to help my family eat a little less processed, I decided to make this version with no corn syrup and instead use another sweet and sticky substitute – honey!
This quick and easy popcorn recipe makes one heck of a treat – chewy and gooey with just her with hint of sweetness. Peanut butter and honey popcorn is a perfectly addictive and the perfect movie night snack!
So invite some friends over, pick out an awesome movie, and indulge in some of this popcorn!!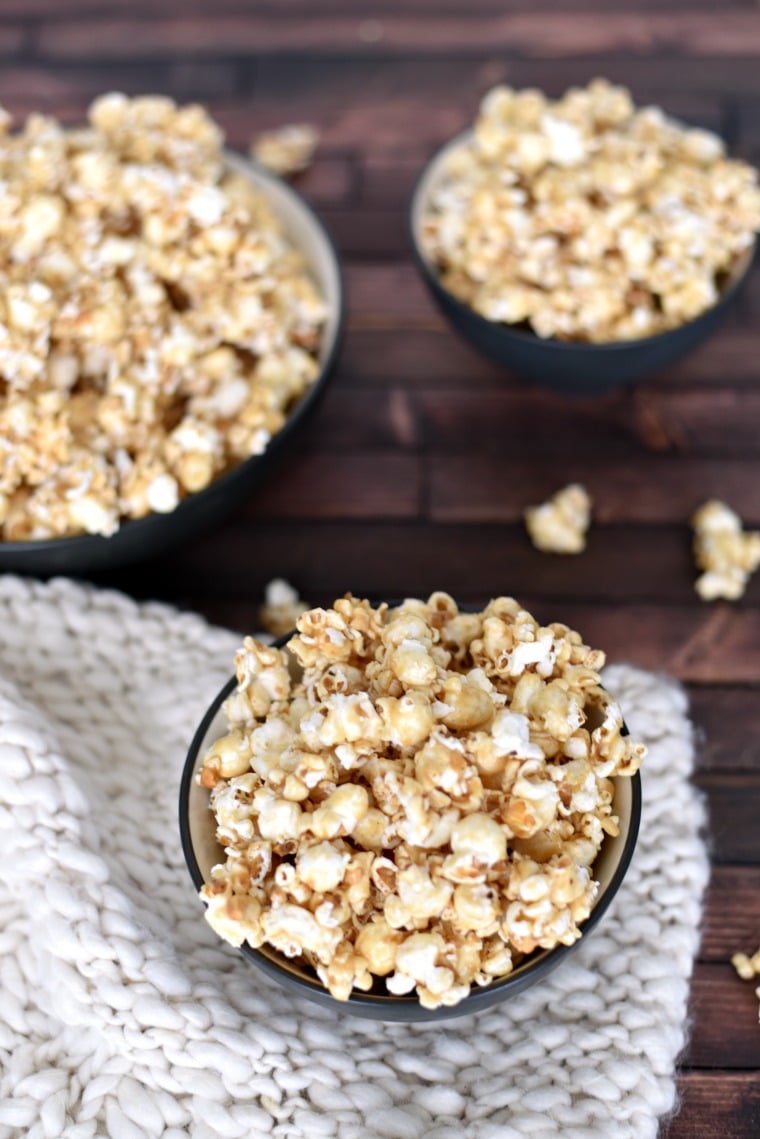 Peanut Butter Popcorn FAQ:
What kind of peanut butter should you use?
You can use either Crunchy or Creamy Peanut Butter here!
I have also tested this recipe with "conventional" peanut butter and organic, needs to be refrigerated peanut butter, and both have turned out stellar results. So go ahead and use whichever kind you want.
How else can you make this easy peanut butter recipe?
For an extra special treat, add in some salted roasted peanuts, chocolate covered candies, or even chocolate chips! The more the merrier, right?
How do you store peanut butter popcorn?
If you place this in an tightly sealed container the peanut butter coating will stay softer and stickier. If you place this in a loosely covered container, the peanut butter coating will turn a bit harder and more resemble a peanut butter caramel corn.
Yield: 4-6 Servings
Honey Peanut Butter Popcorn
This Peanut butter and honey popcorn makes for a deliciously addicting sweet and gooey treat - perfect for movie nights and sleepovers!
Ingredients
3/4 cup popcorn kernels
1/2 cup honey
1/2 cup sugar
1/2 cup peanut butter
1/2 tsp vanilla
Instructions
Pop the popcorn.
Sift through all the popcorn and make sure that you remove any unpopped kernels.
Put the popcorn in the largest bowl you own (this will help with the mixing)
In a medium saucepan, melt the honey and the sugar together, stirring occasionally, until simmering.
Allow to simmer for 3 minutes, stirring occasionally, over medium-low heat.
Add the peanut butter and vanilla and stir until combined well.
Remove from heat and pour the sauce over the popcorn.
Mix well until the popcorn is evenly coated.
Enjoy!
Nutrition Information:
Yield:

6
Serving Size:

1
Amount Per Serving:
Calories:

425
Total Fat:

16g
Saturated Fat:

3g
Trans Fat:

0g
Unsaturated Fat:

11g
Cholesterol:

0mg
Sodium:

167mg
Carbohydrates:

69g
Fiber:

2g
Sugar:

62g
Protein:

7g