This easy Frikadellen recipe is a simple German Meat Patty. The pre-cursor to a hamburger, these open faced sandwiches are a great addition to a weeknight meal or an easy way to celebrate Octoberfest!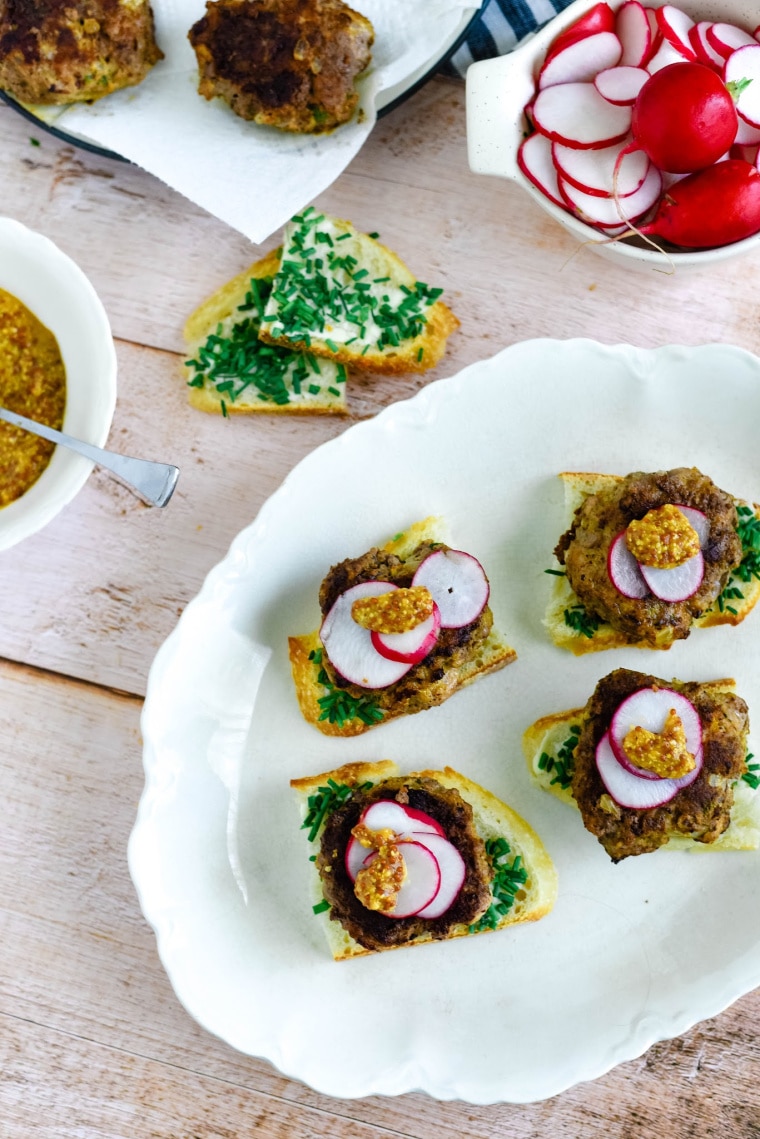 Like a cross between a slightly large and flattened meatballs and a small slider sized hamburger, these ground meat patties are typically served in German beer gardens and during Octoberfest! To make these Frikadellen an easy inspired weeknight meal, we combine them with Schnittlauchbrot (or basically, " cut onion bread").
Thick and hearty sourdough bread is slathered with good quality butter, pressed with fresh cut clives, and then topped with the flavorful frikadellen patties. Top it all off with a slather of german beer style mustard and fresh sliced radishes, and you have a
Traditionally, Frikadellen are made using day old bread that is soaked in milk, squeezed, and then crumbled. They can also be made using leftover oatmeal. Because I don't always have these on hand, and I want this to be an easy and quick weeknight recipe, I substituted panko breadrcumbs.
If you want an even crispier texture, you can coat the patties in extra breadcrumbs before frying them! You can also bake them in the oven, but they won't have as nice of a crisp exterior.
Love meatballs? Try these other meatballs recipes from around the world: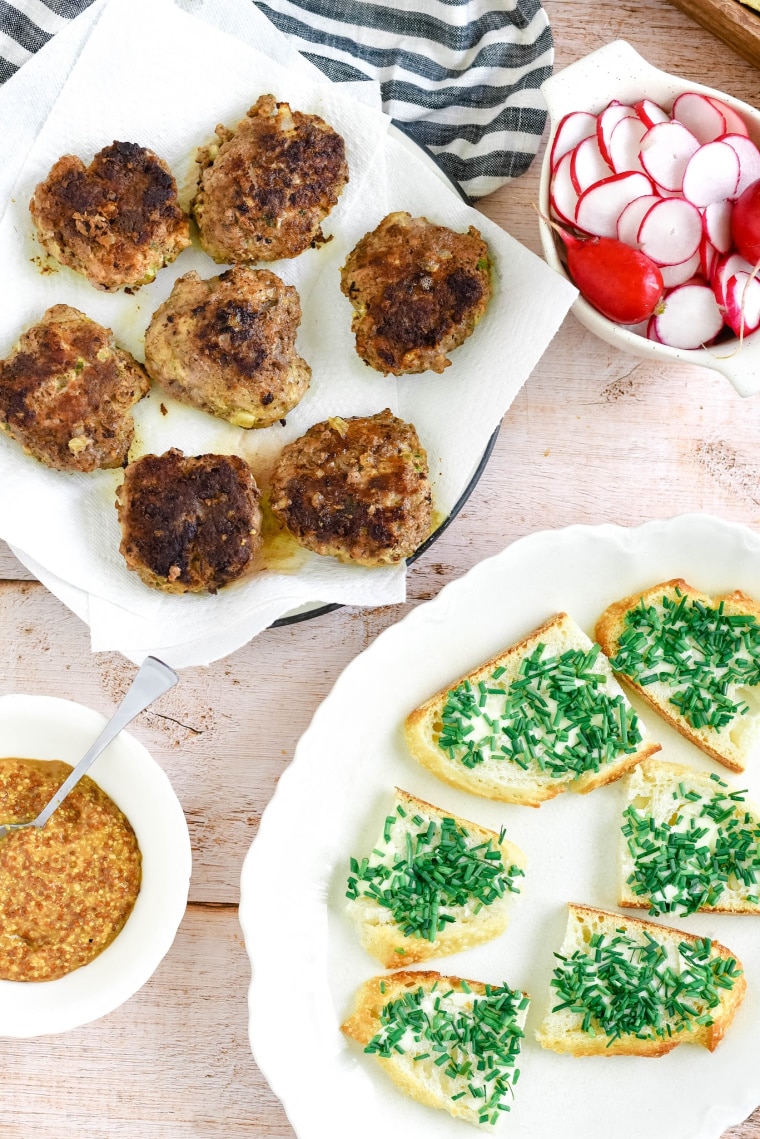 How to prep Frikadellen ahead
These German meat patties are a great option when you need a meal that can be prepped ahead of time. Frikadellen reheat really well, so you can easily cook them up to a day ahead and store in an air tight container in the fridge until you are ready to serve.
How to make Frikadellen Kid-Friendly
These little not quite hamburgers and not quite meatballs are perfectly kid friendly as is! To make this easy recipe kid friendly, get your kids involved in the meal. Ask for help preparing the meal (keep scrolling for steps each age group can do), setting the table, and talk to your kids about what you are eating.
The more involved they are, the more interested they will be, and the more likely they will be to enjoy it!
Dinner Conversations with Kids about Frikadellen
Dinner time is a great time to talk to your kids! But beyond discussing how recess and lunch went, bring the conversation around to the food you are eating. Discussing each part of the meal, and making observations about what you are eating often help kids think about their food in a more analytical way and with less emotional stress about trying something new. Here are a few ideas to get you started:
Talk about the textures of the food you are eating. What does the radish feel like in your mouth? Is it smoother or rougher than the frikadellen? How does the mustard feel?

Talk about the smells of your meal. What does the smell of each part remind you of?

Talk about the flavors of the dinner. How does the taste of your Frikadellen change when you pair it with the radisg? What about when you pair it with the mustard? What would you change to make this meal yummier next time? Would you like it served differently?
How to Serve Frikadellen
This is a really fun meal to eat because there are so many different ways you can serve it! Place all the individual components of the meal on the table, and allow everyone to build their plate as they see fit. These german meat patties are served as open faced sandwiches on sourdough bread slathered with butter and chopped chives (called Schnittlauchbrot), sliced radishes, and German stye beer mustard.
For older babies and toddlers – serve this as a deconstructed meal with small piles of bite size pieces of the german meat patties, the radishes, bread with butter, chopped chives, even the mustard as a dipping sauce. Offer everything that everyone else has on their plates – you never know what they will love (my toddler had 4 helpings of mustard and radishes!)
For Preschoolers – Serve this in small piles as a deconstructed meal. The meatballs with mustard on the side for dipping, bread with butter, and radishes. Allow the preschooler to sprinkle chopped chives either on their bread or on their meatballs.
For Elementary Aged Kids – These german meat patties are perfect for kids to practice their "building skillet". For this aged group, serve all the individual parts (bread, radishes, mustard, and meat patties) individually and allow the kids to build their meal as they see fit.
What goes with Frikadellen?
Serve these little geman meatball patties with a nice salad, simple green beans, and German Pan Fried Potatoes.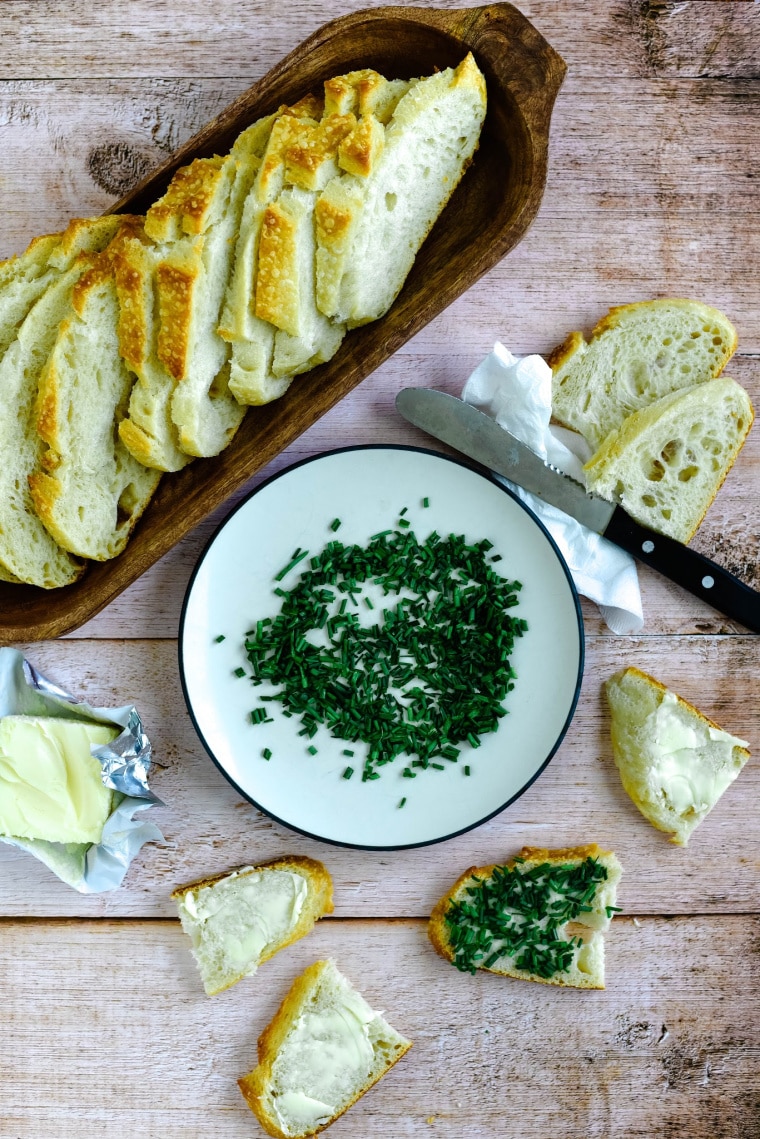 Kids in the Kitchen: How Your Kids Can Help You Cook
Getting your kids in the kitchen is an amazing way to help them be more interested in trying new foods and confident in their own abilities.
This Frikadellen recipe is great because it helps them practice their spreading skills and chopping fresh herbs. This recipe is perfect for beginner cooks because it is so easy! And it is a great recipe for kids to experiment and become more comfortable with new flavors – which means they are more likely to eat it!
Kids aged 1-3

can help you

wash the parsley and chives and help measure the ingredients.

Kids aged 4-6

can do everything above, plus help you

chop the fresh herbs, crack the eggs, slice the bread, and prepare the meal.

Kids aged 7-10+

can help you do everything above, plus help you slice the radishes, and

form the meatball patties, with supervision.
*Please note that these recommendations are generalized, and to please use your personal discretion with your child's skill level. And always, always supervise! Read more about how to have your children help you in the kitchen.
There's nothing I love more than seeing you make my recipes! If you make this Frikadellen recipe for dinner, don't forget to leave a comment below and rate the recipe!
And don't forget to subscribe to the email list to get all the extra tips, tricks and bonuses!
Want to save this for later? PIN THIS TO DINNER BOARD on Pinterest!
Yield: 6 Servings
Frikadellen Recipe
Frikadellen are German Meat Patties. Precurors to hamburger, these open faced sandwiches are a great weeknight meal or an easy way to celebrate Octoberfest!
Ingredients
Frikadellen
1 yellow onion, diced small
1/2 cup breadcrumbs
1 pound ground beef
1 pound ground pork
3 eggs
1 Tablespoon german pub style mustard
3 teaspoons fresh chopped parsley
2 teaspoons dried marjoram
1 teaspoon kosher salt
1/2 teaspoon ground black pepper
1/2 teaspoon paprika
4 Tablespoons olive oil
For Serving:
1/2 loaf sourdough bread
6 Tablespoons butter
1 bunch cloves, finely chopped
1 bunch radishes, thinly sliced
1/4 cup german pub style mustard
Instructions
Heat a large cast iron skillet over medium heat.
In a medium mixing bowl, mix together the finely chopped onion, breadcrums, ground beef, ground pork, eggs, mustard, parsley, marjoram, salt and pepper, and paprika.
When well mixed, divide the meat mixture into 14-16 equal sized meatballs.
Pour the olive oil into the heated pan and turn to coat.
Slightly flatten the meat pattie and place in the pan. You won't be able to get them all in at once, and don't crowd the pan. You might have to do 2-3 batches.
Cook each patty 4-5 minutes on one side, and then flip to the other side. Cook for a remaining 5-6 minutes, or until browned on both sides and no longer pink inside.
Repeat until all the meat patties are cooked.
Slice the sourdough bread into slices and spead with the butter.
Press the bread, butter side down, into the chopped chives.
Serve the meat patties on top of the chive bread and top wtih sliced radishes and more mustard.
Notes
Frikadellen can be made up to 2 days ahead of time and reheated. Store in an air-tight container in the fridge.
Nutrition Information:
Yield:

6
Serving Size:

1
Amount Per Serving:
Calories:

743
Total Fat:

46g
Saturated Fat:

19g
Trans Fat:

1g
Unsaturated Fat:

21g
Cholesterol:

262mg
Sodium:

1393mg
Carbohydrates:

31g
Fiber:

4g
Sugar:

3g
Protein:

50g