A super easy No Fail pumpkin cheesecake topped with a gorgeous brown sugar and pecan praline sauce that will wow your guests!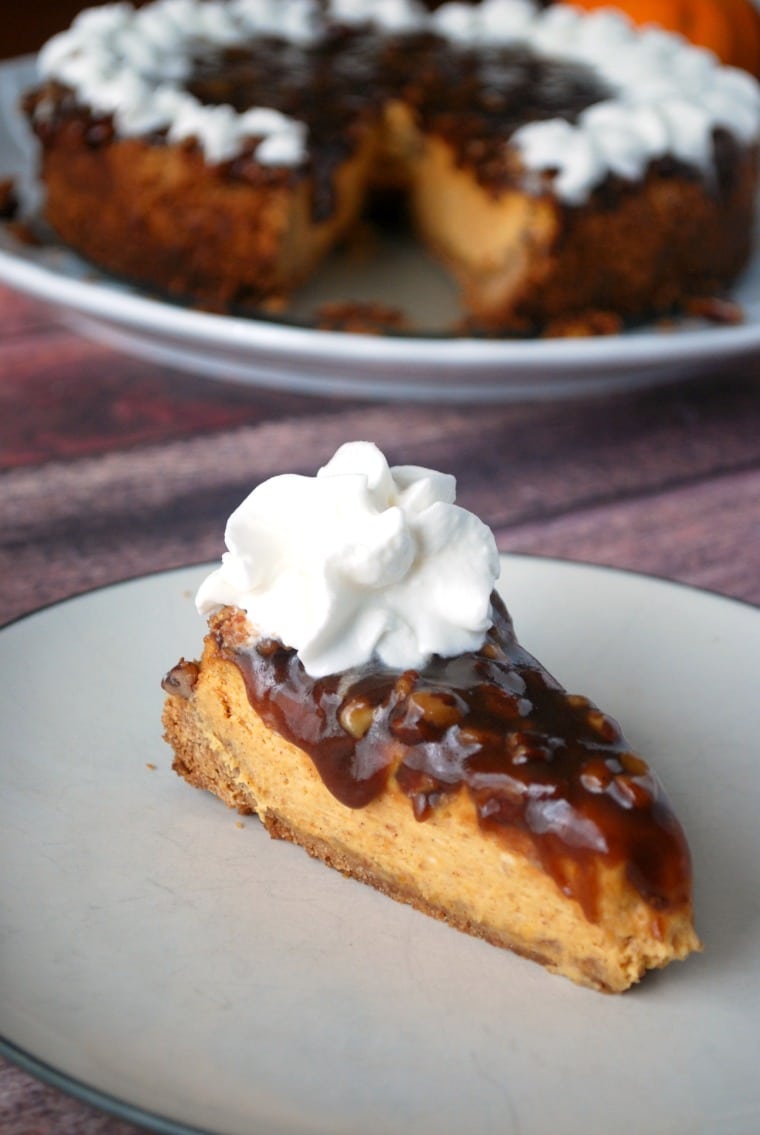 A big Thank You to Whole Foods Market for sponsoring the content of this post!
Holiday traditions run strong in my family – we do things pretty much exactly the same as I remember us doing them when I was a child. Especially thanksgiving, where we have had pretty much the exact same menu for as long as I can remember – the same dishes, the same recipes, the same routine. The day starts off with recipe prep while we eat breakfast and watch the parade, followed by snaking on cheese and crackers (and the occasional stollen deviled egg) while we work on cooking food, a late lunch, and then family games while we eat pie. In fact, the only thing that has changed has been where the meal has been held and the people doing the cooking. We have always shared the responsibility of the meal as a family, and everyone contributes different dishes. I remember my grandparents arriving at our house and unloading pies, turkey, and hot dish after dish that they had prepared and cooked at their house. As my grandparents started to age, my father and I started to take over more and more parts of the meal. First we took over the responsibility of the turkey, and then I received countless hands on lessons on the proper way to make gravy from my grandmother. And as my grandmother aged even more, we started replacing the homemade pies and rolls with ones bought from the store.
Now that I am grown and with a house and family of my own, I am loving that we are passing on these exact same traditions that I remember as a girl to my own children. Especially now that my grandparents are no longer with us. Now all of the meal is prepped and shared at my house – all except the pies, which we have still been buying from a local restaurant. But this year I wanted to change that, and to once again enjoy a dessert made with love and care on the day we are remembering and being intentionally grateful for the amazing family and friends we have.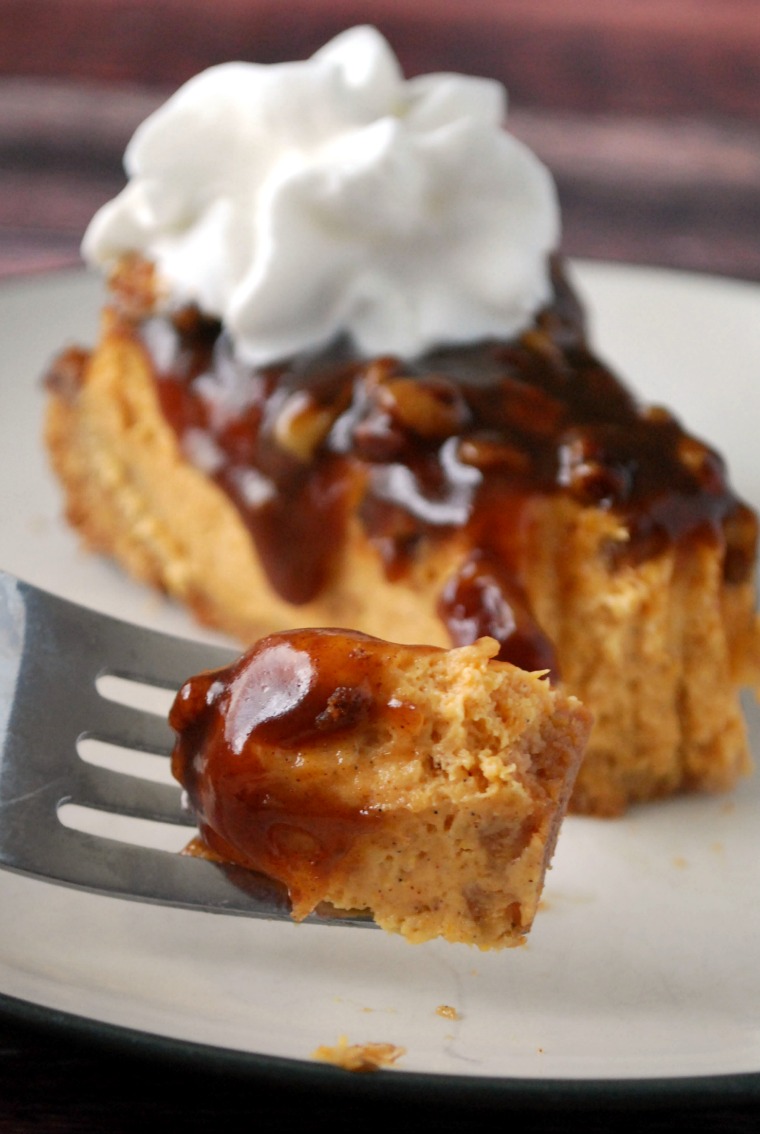 This pumpkin cheesecake is the ultimate fuss-free dessert – its almost fool-proof, it doesn't require a finicky water-bath, and it hardly ever cracks. And it doesn't really matter if by some strange happenings it does crack because you are topping it with a gorgeous brown sugar pecan sauce. The whole thing ends up being dreamy and creamy and so silky smooth. Add a dollop of slightly sweetened whipped cream and you have a decadent dessert that hardly requires any work at all. It's holiday dessert heaven.
Love great cheesecake recipes? Try these out:
Swirled Carrot Cheesecake – Part cheesecake, part carrot cake, and all amazing dessert swirled together!
German Chocolate Cheesecake – Chocolate Cheesecake paired with chocolate cake and german chocolate topping. This cake is decadent and over the top amazing!
Savory Cheesecake – This savory cheesecake is perfect for brunch! This is nothing like any cheesecake you have had before!
Caramelized Banana Pudding Cheesecake with Salted Cashew Praline – a decadent take on a classic comfort dessert, this cheesecake has style!
Yield: 12 Servings
Pumpkin Cheesecake with Praline Sauce
This pumpkin cheesecake is the ultimate fuss-free dessert – its almost fool-proof, it doesn't require a finicky water-bath, and it hardly ever cracks. Topped with with a gorgeous brown sugar pecan sauce, its dreamy and creamy and so silky smooth that hardly requires any work at all!
Total Time
4 hours
45 minutes
Ingredients
Crust
2 1/2 cups graham cracker crumbs
6 TBSP unsalted butter, melted
Filling
24 oz full fat cream cheese, room temperature
1 cup sugar
2 eggs
1 cup canned pumpkin puree
1 TBSP Vanilla Extract
1 tsp ground cinnamon
Praline Sauce
4 TBSP unsalted butter
1/2 cup brown sugar
1 tsp cinnamon
1/4 cup heavy whipping cream
1 cup chopped pecans
Instructions
! Crust
Preheat the oven to 350F.
Spray a 8 or 9 inch springform pan with cooking spray and set aside.
In a large bowl, mix together the graham cracker crumbs and melted butter.
Pat into the bottom of the springform into an even layer, and up the sides about 2″.
! Pumpkin Cheesecake
In a large bowl, beat together the cream cheese and sugar until light and fluffy, about 3-4 minutes.
Add in the eggs, one at a time, beating well in between each addition.
Add in the pumpkin, vanilla and cinnamon and beat until well combined.
Pour the batter into the crust and bake for 35-45 minutes, or until the center is almost set (it will still jiggle slightly when moved but will feel firm when touched).
Remove from oven and allow to cool for 1 hour in the pan.
Carefully use a knife to run along the edges of the pan and loosen the cheesecake (but leave it in the pan). Cover with plastic wrap and place in the fridge at least 4 hours, or overnight.
! Praline Sauce
In a medium sauce pan, melt the butter and brown sugar over medium heat.
Allow to simmer for 3-5 minutes.
Remove from heat and stir in the cinnamon, heavy cream and chopped pecans.
Allow to cool to room temperature before pouring over the cheesecake.
*** Serve with whipped cream if desired
Notes
This should be stored in an air-tight container for up to 1 week in the refrigerator. Top with whipped cream right before serving.
Nutrition Information:
Yield:

12
Serving Size:

1
Amount Per Serving:
Calories:

555
Total Fat:

40g
Saturated Fat:

20g
Trans Fat:

0g
Unsaturated Fat:

17g
Cholesterol:

119mg
Sodium:

276mg
Carbohydrates:

44g
Fiber:

2g
Sugar:

32g
Protein:

7g
Looking for more easy yet amazingly delicious dessert recipes? Check these out!
German Chocolate Upside Down Cake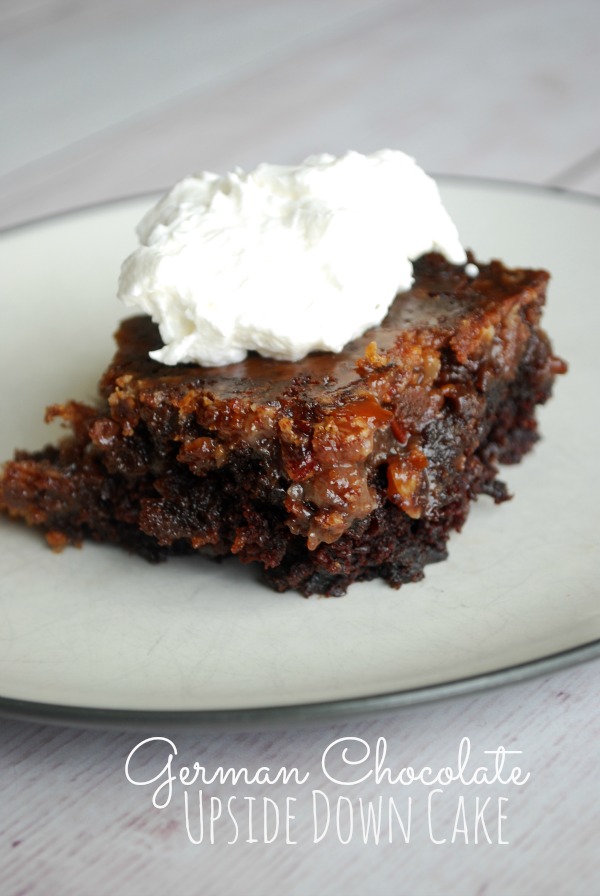 Pumpkin Maple Gingerbread Cake with Earl Grey Whipped Frosting
SaveSave