This is the ULTIMATE fall cake! A moist pumpkin gingerbread cake sweetened with maple syrup and topped with an earl grey infused whipped frosting.
g.
We started using real maple syrup for pancakes and waffles and such a while ago – or as soon as I figured out that our "pancake syrup" was really just 6 different kinds of processed sugar and coloring and didn't actually contain any maple at all. Blech. And seriously, we couldn't be happier. Real maple syrup is SO worth it!
Because real maple syrup doesn't need as much refining as white sugar does, more of the trace minerals present in maple syrup are retained during the process. Which means you can get a small amount of calcium, iron, magnesium, potassium, zinc, copper and manganese from using maple syrup. Maple syrup is also slightly lower on the Glycemic Index than white sugar, so it doesn't cause quite a blood sugar spike. Yes, these are trace amounts, so it's not actually a health food, but I feel better about letting my daughters drizzle copious amounts of it on their pancakes. Err… did I say drizzle and copious? Forget I said that…. we totally stick to serving sizes…. Totally.
Recently I have been experimenting with replacing sugar in recipes with maple syrup as well, especially in my baking and I love the results. You can easily replace sugar in any recipe with maple syrup by substituting 1 cup of sugar with 3/4 cup maple syrup, and then reducing any other liquid content by 3 TBSP. Also note that because maple syrup is darker in color than maple syrup, anything you make with it will be slightly darker in color, and may brown quicker. If you want to find out more about the health benefits of maple syrup and how it stacks up against refined white sugar, please read
this interesting article
.
Guys. This. Cake. I think I could happily eat this cake for the rest of my life and be totally content. Its the perfect cake for fall (although, seriously, I would eat this all year long) – a super moist gingerbread spiced cake sweetened with a Grade A Dark maple syrup whose robust flavor really shine in this cake! Then, as if that isn't enough, top the whole thing off with an earl grey infused whipped frosting. The frosting is the perfect marriage between a whipped cream and a traditional buttercream – its fluffy texture reminds you of whipped cream but it has some of the substance of a buttercream. It's pretty much amazing stuff. I may or may not have eaten it by the spoonful.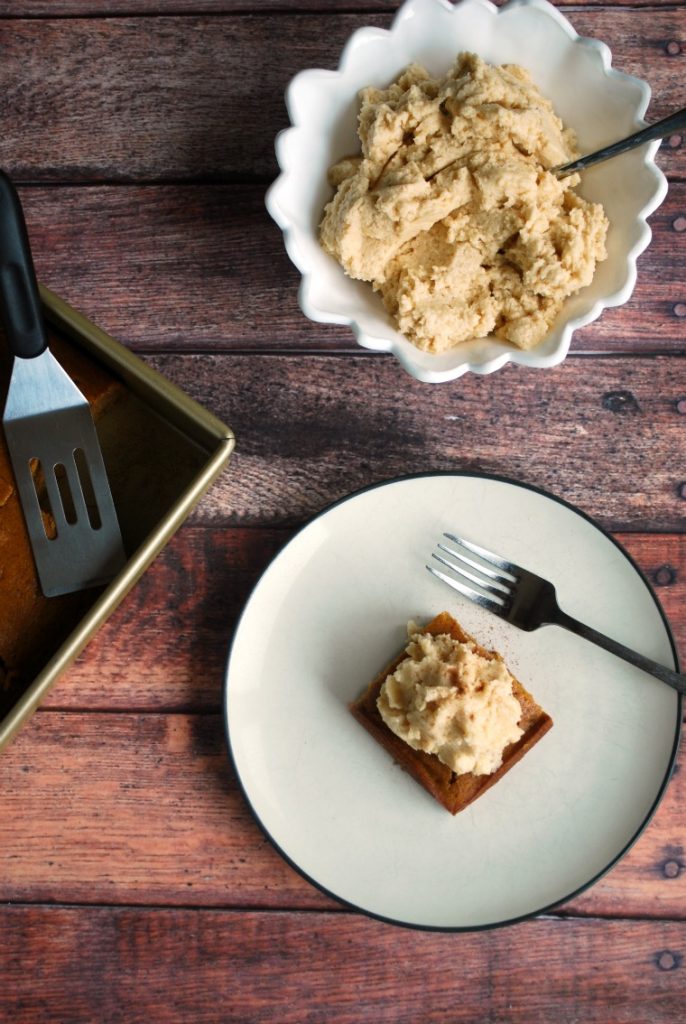 If you can make this cake a day ahead, it really gives the flavors of the cake time to marry together into something super beautiful – although it is still pretty awesome the day of. The whipped cream frosting can be made the day of as well, but because of the butter in the recipe, it will harden like a traditional buttercream when stored in the fridge (which you should totally do). So make sure to give it plenty of time to warm up before serving if you want it nice and creamy to dollop on as I did in the photos. Otherwise you can spread this evenly over the whole cake like a traditional frosting. Its totally about your preference here, and equally delicious no matter how you choose to serve it.
Love Earl Grey? Try these other Earl Grey flavored Recipes:
If finding an awesomely flavorful maple syrup is totally your thing (and it should be!) then I cannot recommend the Grade B from
Roxbury Mountain Maple
enough. This company is family owned from New York and you can tell they pit a lot of passion and care into making sure they supply only the finest award winning maple syrup they can. You can find their products through Amazon!
I also highly recommend using
this Earl Grey Tea
! It's organic with just a pinch of lavender out of Oregon, which really mellows out the Bergamont. The slightly floral notes compliment the vanilla base of the tea perfectly well and it works beautifully well in this recipe!!
Yield: 12 servings
Pumpkin Maple Gingerbread Cake with Earl Grey Whipped Frosting
This is the ULTIMATE fall cake! A moist pumpkin gingerbread cake sweetened with maple syrup and topped with a earl grey infused whipped frosting.
Ingredients
Pumpkin Maple Gingerbread Cake
1/2 cup unsalted butter
6 TBSP water
1 1/2 cup flour
3 TBSP cornstarch
1 cup Grade A Dark maple syrup
3/4 tsp baking soda
1/2 tsp salt
1 tsp ground cinnamon
1/4 tsp ground nutmeg
1/8 tsp ground cloves
1 egg
1/4 cup plain greek yogurt
1 cup pumpkin puree
1/4 cup molasses
Earl Grey Whipped Frosting
1 1/2 cups heavy cream
1/2 cup unsalted butter, room temperature
1 1/2 cups powdered sugar
1 1/2 tsp vanilla
4 Earl Grey tea bags
Instructions
Pumpkin Maple Gingerbread Cake

Preheat oven to 375 Degrees F.
Grease a 8 or 9 inch square baking pan.
In a small saucepan, boil the water and butter just until the butter melts.
Remove from heat and allow to sit while you mix the rest of the ingredients.
In a large bowl, whisk together the flour, cornstarch, maple syrup, baking soda, salt, cinnamon, nutmeg, cloves, egg, sour cream, pumpkin puree and molasses.
Fold in the hot water/butter mixture. It will be runny, that's ok!
Bake for 20-23 minutes, or until a toothpick inserted into the middle comes out mostly clean.
Allow to cool on a wire rack.
Earl Grey Infused Whipped Frosting
Place a glass or metal mixing medium bowl and your beaters into the freezer to chill.
In a medium saucepan, heat the heavy cream to a simmer.
Add the tea bags, remove from heat, and allow to steep for 30 minutes.
Remove the tea bag and allow place in the fridge until chilled.
Beat 1 1/4 of the infused heavy cream until you get stiff peaks.
Set aside.
In the very cold bowl and beaters, beat the butter, vanilla, and 1/4 cup of the reserved tea infused cream until smooth.
Add in the powdered sugar and beat until light and fluffy.
Gently fold in the buttercream to the whipped cream.
You can choose to either frost the cake with an even layer of the whipped frosting or dollop spoonfuls onto individual servings. Garnish with a light sprinkle of ground cinnamon, if desired.
Nutrition Information:
Yield:

12
Serving Size:

1
Amount Per Serving:
Calories:

464
Total Fat:

27g
Saturated Fat:

17g
Trans Fat:

0g
Unsaturated Fat:

9g
Cholesterol:

90mg
Sodium:

201mg
Carbohydrates:

54g
Fiber:

1g
Sugar:

37g
Protein:

4g
Want more dessert recipes sweetened with maple syrup? Check out these treats!