Crunchy and spicy with a slight tang, this sourdough biscotti recipe is a great way to use your sourdough discard in a fun dessert recipe!
If you aren't familiar, biscotti is a twice baked crispy cookie - its great for dunking into coffee and tea. I've made sourdough biscotti before, so I knew it was good. However, the previous recipe required you to change a thinner 100% hydration starter into a thicker 50% hydration starter. This isn't a hard thing to do, it just takes a few days, and is a good step to making biscotti. But, you know me, and I'm lazy, and I don't like to follow directions. So I decided to create a recipe where I could utilize my 100% hydration starter!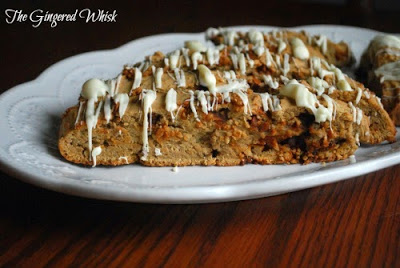 I am actually really thrilled with how this biscotti turned out! It takes a little longer than a traditional biscotti to make, but its definitely shorter than taking several days to change hydration rate. And I still got a lovely crunchy biscotti. I decided to flavor it with the
cinnamon roll spice mix
I posted earlier, plus dotted the dough with cinnamon chips and drizzled some white chocolate on top. Its lovely, spicy, and perfect for a cup of coffee. I may or may not had some as a pre-breakfast snack this morning.
Love Sourdough? Check out

over 60 great sourdough recipes

, including other fun dessert sourdough recipes:
Sourdough Coffee Cake with Blueberries

- This sourdough coffee cake recipe is an easy way to use sourdough discard, and a great way to have breakfast! The subtle sourdough flavor and juicy blueberries combine well in this tender and moist cake.

Sourdough Beignets

- These pillows of doughs have a slight sourdough tang that works perfect here, and the texture is awesome. Pillowy and soft, with a slight chew.

Sourdough Kolaches

- these yeasted thumbprint cookie with pumpkin butter and topped with a streusel are a fun sourdough dessert recipe to make

White Chocolate Cranberry Sourdough Blondies

- This starbucks copycat recipe is a fun winter bar recipe to make with your sourdough starter.

Sourdough Kitchen Sink Cookies -

Sourdough Chocolate Cake

- This decadent and rich sourdough cake recipe is a showstopping dessert!

Mega Chocolate Sourdough Brownies

-

These sourdough brownies are ultra fudgey, and rich. They are easy and quick to make, so you can enjoy them whenever you have sourdough discard to use. A great recipe to use your sourdough starter!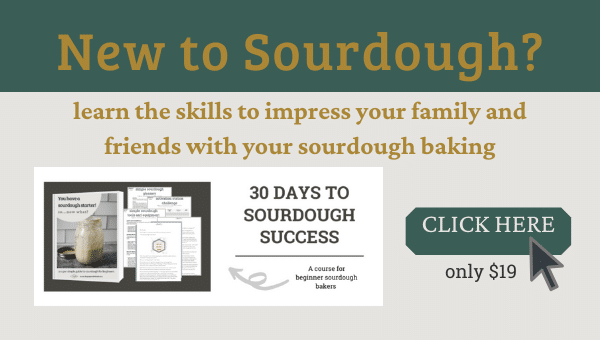 Yield: 24 servings
Sourdough Cinnamon Spice Biscotti
Crunchy and spicy with a slight tang, this sourdough biscotti recipe is a great way to use your sourdough discard in a fun dessert recipe!
Prep Time 3 hours 30 minutes
Cook Time 1 hour 15 minutes
Total Time 4 hours 45 minutes
Ingredients
1 cup 100% hydration starter
2 eggs
2 tsp vanilla
1 cup brown sugar
1 stick (½ cup) butter, soft
1 ½ cups flour
1 tsp salt
1 tsp cinnamon (or cinnamon spice mix)
5 oz cinnamon chips
4 oz white chocolate, for drizzling
Instructions
Place a piece of parchment paper onto a rimmed baking sheet and set aside.
In the bowl of an electric mixer, combine together the starter, eggs, vanilla, and brown sugar.
Add in the salt, flour, and spice mix.
Check your dough to see if it needs more flour - you want it to be thick and kind of stiff, but not too dry. It should almost look like cookie dough.
Mix on low speed for 5 minutes.
Add in the butter and mix until incorporated.
Place the dough onto the parchment paper lined baking sheet, forming a log in the middle of the pan.
Cover with plastic wrap and allow to rise for 3-5 hours. It won't really rise much.
Preheat the oven to 325F.
Bake the log for 35 minutes.
Remove the baking sheet and allow to cool for 5-10 minutes.
Reduce oven temperature to 250F.
Using a bread knife, cut the log into ¾" thick slices.
Make sure there is a little bit of room in between each slice, you can kind of separate the slices out from each other a bit, but keep them standing up.
Bake at 250F for 40 minutes.
Remove to a wire rack and allow to cool.
In a microwave safe bowl, break the white chocolate up into pieces.
Melt in the microwave for 30 seconds.
Stir, and continue to melt for 10 second intervals, and stir, until the white chocolate is melted.
Drizzle over the biscotti.
Allow to cool.
Nutrition Information:
Yield:
24
Serving Size:
1
Amount Per Serving: Calories: 120Total Fat: 4gSaturated Fat: 2gTrans Fat: 0gUnsaturated Fat: 2gCholesterol: 17mgSodium: 110mgCarbohydrates: 20gFiber: 0gSugar: 14gProtein: 2g