Easy Hawaiian Chicken Sheet Pan Dinner
This Easy Hawaiian Chicken sheet pan dinner packs simple ingredients, a tropical flare, & tons of flavor! This simple 30 minute meal is perfect for your busy weeknight. With a rainbow of colors, and fresh delicious flavors of coconut and lime, this is a meal that your whole family will love. Inspired by Princess Moana, this sheet pan chicken breast recipe is perfect for teaching kids to love new foods.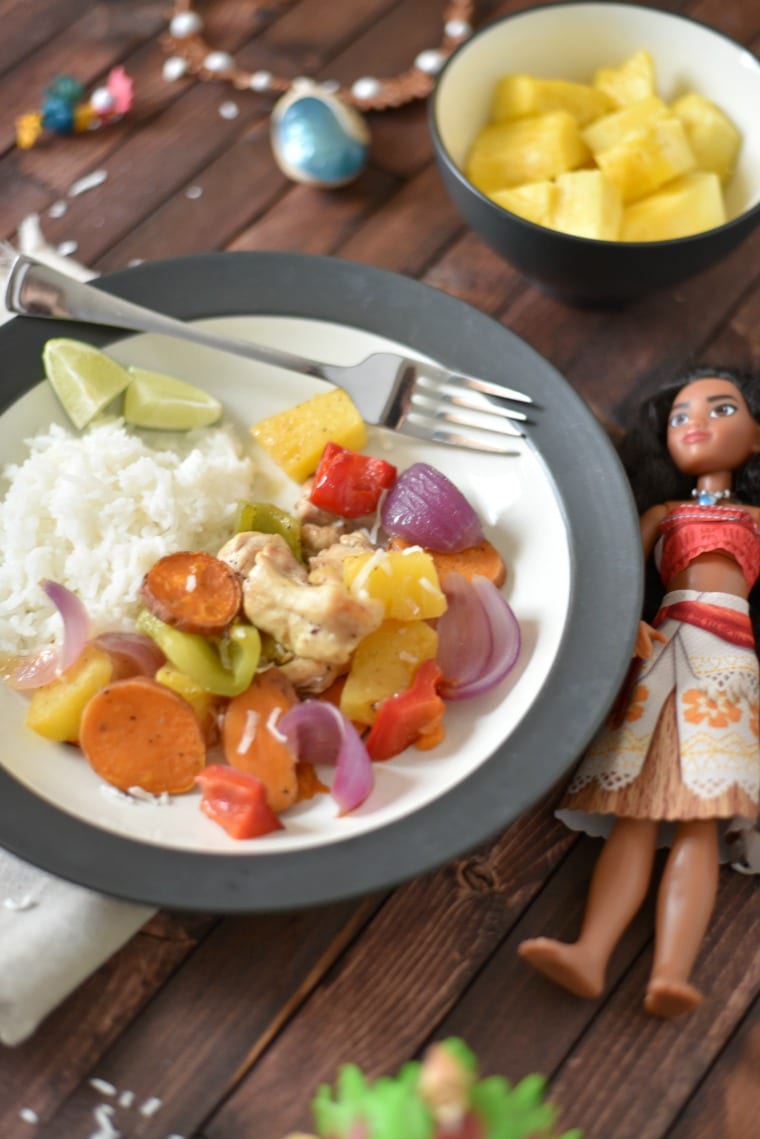 This easy sheet pan chicken breast recipe is perfect for those busy weeknights when you need a quick and easy dinner that is loaded with great flavor! This Easy Hawaiian Chicken is definitely not boring! With colorful veggies like red peppers, red onions, and sweet potatoes to create interesting flavor and textures, and juicy pineapple chunks, this meal explodes with tropical flavor. Sprinkle the tender chicken with shredded coconut and a squeeze of lime juice and you have yourself a delicious meal the whole family is going to love!
Something super magical happens when you roast veggies and fruit, and this recipe is no exception. With minimal seasonings, and a little bit of roasting time, the ingredients are really allowed to shine here. Each ingredient is perfectly cooked, fantastically flavored, and soooo easy. My children gobbled this meal up happily, even though there was lots of joking that they were eating Her-Hei (you totally have to keep it real, right? LOL).
Welcome to the Eat Like A Princess Series!
I designed this series as a fun way to teach my daughters about new cultures through the Disney Princesses in hopes that they will become more open to trying new foods, to understand other cultures better, and to enjoy exploring the world around them. And still staying within the 30 minute weeknight dinner theme. You can see other recipes in this series here, including:
**Note: This recipe is not intended to be 100% authentic. Moana is a fictional princess (errr.. chief's daughter ) who lives in a made-up land called Motunui which is loosely based on Polynesian culture. This recipe is intended to be easy enough that children can help you prepare it by chopping up vegetables and adding final touches. It is my hope that it is interesting enough to pique their interest in new cultures and foods without being too intense or weird.
"Moana! Make Way, Make Way!"
I think Moana will go down in history as my favorite Disney movie EVER. Seriously, what is not to love? Moana is a spunky and brave girl who follows her heart, who loves her family and culture deeply, and who is not afraid to do what needs to be done. Plus I love how they add tons of cultural touches into the movie. And hey, no prince!!!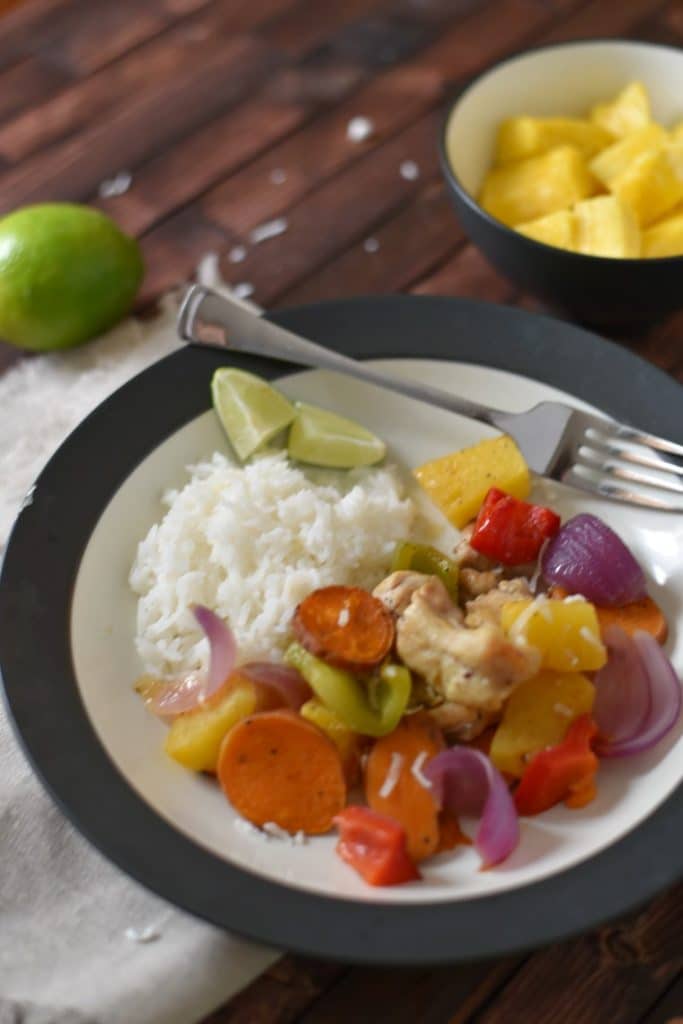 How to Make This Hawaiian Chicken Recipe Easy:
This meal is super easy to make! There are really only a few steps – prep the produce, make the marinade, chop the chicken, and then toss everything together and bake! It is a great meal for those busy weeknights!
How to Prep Hawaiian Chicken Sheet Pan Ahead of Time:
Chop your veggies ahead of time (or buy them pre-cut in the produce section of your grocery store) and store them in air-tight containers in the fridge.
Add the marinade ingredients to a glass jar with a lid. Store in the fridge until you are ready to make (up to 1 day) and then just shake them all together again before you use it.
Buy your chicken cut into chicken tender strips instead of in big breasts.
Serve with microwave pouches of rice, or use your rice cooker

(affiliate link)

to prepare the rice without thinking about it.
How to Make Easy Hawaiian Chicken Kid Friendly:
This chicken breast sheet pan recipe is totally a kid-friendly meal! With familiar flavors and beautifully colored ingredients, this is a simple meal that helps to expand their palates in easy ways. Plus, Moana would have totally eaten this and loved it! A little peer pressure works wonders, huh?
Tips on Family Dinner Conversations:
Dinner time is more than cleaning your plate! Its also a perfect time to engage with your kids about what you are eating in an easy and stress-free way. Use these conversation starters to help open up a conversation about this Easy Hawaiian Chicken Sheet Pan:
Talk about where Moana was from, what the weather was like, and how this was a food she enjoyed eating. (*Note: So yes. This is chicken, just like HeiHei. They make a note to say in the movie that they eat both pork and chicken on the island of Motunui – its kind of a fact of life. )
Talk about the textures, flavors, and smells of the vegetables, pineapple, chicken and rice. Which is the chewiest? Which is the sweetest?
Ask questions about what their favorite part of the meal is, what they would like to change next time, and what would make it better for them (a dipping sauce? different vegetables?).
How to Serve Hawaiian Chicken:
This chicken breast recipe is a great meal to serve to kids of all ages! The vegetables and pineapple are cooked to soft, so they are easy to chew for little ones just starting table foods. Chicken and rice are also really great foods for all ages, and there is nothing here that is too much of a stretch that is intimidating for kids to try. This is a complete meal, with protein, vegetables, a starch/grain, and fruit all in one! You don't need anything else with it!
For Babies and Toddlers – cut the veggies and chicken into bite sized pieces and serve each component in its own little pile (so a pile of pineapple, a pile of rice, a pile of red peppers, etc).
For Preschoolers – Serve this meal in a graduated deconstructed state. I would still recommend pulling the chicken out and serving the chicken and rice in their own piles. If you feel the cooked pineapple might not go over well, you can serve some fresh on the side. Leave the vegetables all mixed together, so that they start to learn that it is ok if some food is touching others. Ask them to sprinkle on their own shredded coconut.
For Older Kids – Use some discretion here on how your kids eat best. If they would eat best with this in semi-separate piles, go ahead and pull out the chicken from the veggies and serve beside the rice. If they can handle foods touching each other, go ahead and serve it similarly to how you would serve it for yourself.
For Adults – Serve this chicken sheet pan alongside rice on your plate! Sprinkle liberally with shredded coconut and serve with lime wedges.
Kids in the Kitchen:
One of the best ways to get kids interested in eating new foods (besides making food inspired by their favorite characters, books, and movies…) is to get them involved! Here are some easy ways your kids can help you cook this Hawaiian chicken breast sheet pan:
Kids aged 1-3 can help you wash and dry the produce, measure out ingredients, and shake up the marinade. They can also be in charge of garnishing with coconut shreds and wedges of lime on everyone's plate.
Kids aged 4-6 can help you do everything above, slice the pineapple and peppers into chunks and help toss the ingredients together.
Kids aged 7-10+ can help you do everything above, plus help prepare the rice.
*Please note that these recommendations are generalized, and to please use your personal discretion with your child's skill level. And always, always supervise! Read more about how to have your children help you in the kitchen.
Try these other fun Hawaiian inspired recipes:
Hawaiian Chicken Sheet Pan Dinner
This easy sheet pan dinner boasts simple fresh ingredients,  a tropical flare, and tons of awesome flavor! Ready in just 30 minutes, this is the perfect meal for any weeknight of the year! 
Print
Pin
Rate
Ingredients
1

lb

boneless skinless chicken thighs

cut into bite sized pieces

2

cups

fresh pineapple

diced in chunks

1

medium red bell pepper

diced

1

medium green beer pepper

diced

1

large sweet potato

peeled and sliced into coins

1

medium red onion

sliced into thick slices

1

TBSP

toasted sesame oil

1

tsp

olive oil

1

TBSP

brown sugar

salt and pepper

1

TBSP

unsweetened shredded coconut

juice from 1/2 lime

*Serve with Rice.
Instructions
Heat oven to 400 Degrees F.

Line a rimmed baking sheet with foil and spray with cooking spray.

Place the chicken, pineapple, peppers, and potatoes onto the baking sheet.

Drizzle with the oils, sprinkle with salt and pepper and brown sugar and toss to coat.

Evenly spread in a single layer on the baking sheet.

Bake for 15 minutes, then stir, and then bake for an additional 10 minutes.

Squeeze with the lime juice and sprinkle with the coconut.

Serve with rice

Enjoy!
Nutrition
Serving:
1
Cup
|
Calories:
459
kcal
|
Carbohydrates:
48
g
|
Protein:
31
g
|
Fat:
15
g
|
Saturated Fat:
4
g
|
Polyunsaturated Fat:
10
g
|
Cholesterol:
138
mg
|
Sodium:
329
mg
|
Fiber:
4
g
|
Sugar:
23
g
SaveSave