I love this recipe! It has to be one of my favorite summer meals. It is quick, light but filling, healthy, and has fantastic flavor! The combination of the fresh rosemary and lemon zest is perfect. And who doesn't like grilled zucchini?! This is quick and easy enough to throw together during the week, but tastes special enough to be served to guests, which I have definitely done before! It's a win-win!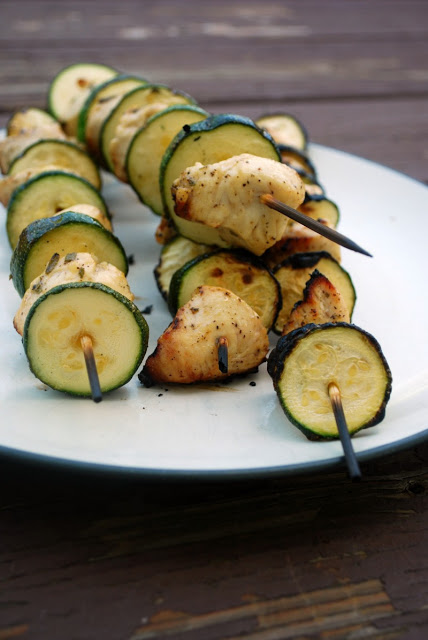 Skewers of Rosemary Chicken and Zucchini
Prep Time: 45 minutes
Cook Time: 12 minutes
Ingredients (4 servings)
1 large lemon, zest and juice
1 1/2 tablespoons chopped fresh rosemary
2 tablespoons extra-virgin olive oil, divided
2 garlic cloves, minced and divided
1 pound skinless, boneless chicken breast, cut into 3/4-inch pieces
3/4 teaspoon salt
1/2 teaspoon black pepper
2 medium zucchini, cut into 3/4-inch slices
Cooking spray
Instructions
Preparation
Place rind, rosemary, 1 tablespoon oil, and 1 teaspoon garlic in a large zip-top plastic bag. Add chicken; seal bag and refrigerate up to 30 minutes.
Prepare grill.
Combine 1 tablespoon oil, 1 teaspoon garlic, juice, salt, and pepper, stirring with a whisk.
Thread chicken and zucchini alternately onto each of 12 (12-inch) skewers. Place kebabs on grill rack coated with cooking spray, and grill 12 minutes or until chicken is done, turning once. Drizzle with juice mixture.