This Spiced Apple Dutch Baby Pancake is inspired by Princess Snow White and the Seven Dwarves. This easy to make skillet pancake recipe is perfect for brunch or a weeknight dinner studded with apples and sprinkled with cinnamon and sugar.
These Dutch Babies are a fantastic oven pancake – more crepe-like than skillet pancakes, but fluffier than a crepe. The upside is that instead of standing over a stove for 30 minutes flipping individual pancake after pancake, you can make a big one the whole family can enjoy. Using a pumpkin pie spice (affiliate link) on the apples gives them awesome flavor! Saving some of the spice and making a spiced sugar to sprinkle over the baked dutch baby pancake also gives a lovely flavor addition.
Welcome to the Eat Like A Princess Series!
I designed this series as a fun way to teach my daughters about new cultures through the classic Princesses in hopes that they will become more open to trying new foods, to understand other cultures better, and to enjoy exploring the world around them. All while still:
containing real food
be super easy
take about 30 minutes (or as close to it as we can).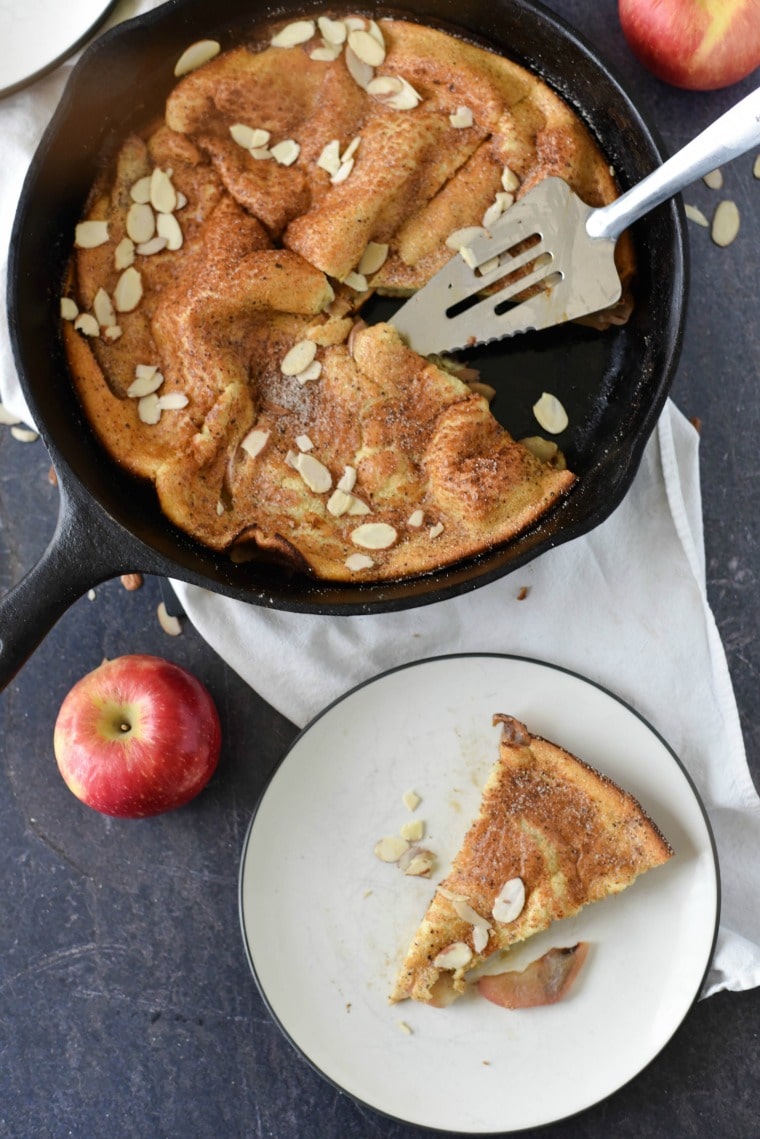 *Note: This recipe is not intended to be 100% authentic. Snow White is a fictional princess who lives in a made-up land. This recipe is intended to be easy enough that children can help you prepare it, as well as interesting enough to pique their interest in new cultures and foods.
Spiced Apple Dutch Baby Oven Pancake Recipe
I decided that the Snow White movie was probably set in 16th century Germany – probably in the Northwestern border with Belgium and the Netherlands, based on the architecture of the Dwarves cottage, clothing styles, and the wooden clogs that Snow White puts on while she is cleaning house. Dutch Baby Pancakes seemed like a perfect recipe to make – they are also known as a German Pancake or Dutch Puff. And it had to incorporate apples (but not poison ones). It seemed fitting, right?
What is a dutch baby pancake and what does it taste like?
A dutch baby pancake is kind of a cross between a crepe, a pancake, and a popover.
Can you make a dutch baby with a cast iron skillet?
Yes! You do not need a cast iron skillet to make a dutch baby. Just make sure you use a skillet that is oven proof!
How to make Dutch Baby Oven Pancakes Easy
The apples can be cooked ahead of time and kept in an air-tight container in the fridge overnight.
The batter can be made a day ahead as well, just make sure to bring it back close to room temperature before cooking.
How to make Dutch Baby Pancakes Kid Friendly:
Ok, these are pancakes, ya'll. You don't need to do anything fancy here to get kids to love them!
The only suggestion I have is that your kids might enjoy sprinkling on their own sliced almonds, and giving kids the suggestion of having syrup on top or beside for dunking.
Tips on Family Dinner Conversations:
Dinner time is more than cleaning your plate! Its also a perfect time to engage with your kids about what you are eating in an easy and stress-free way. Use these conversation starters to help open up a conversation about these Apple Dutch Baby Pancakes:
Talk about where Snow White was from and how this was a food she enjoyed eating – do they remember any food from the movie (hint: apples, gooseberry pie, some sort of potato and fish soup she makes for the dwarves).
Talk about the textures, flavors, and smells of the dutch baby pancake. What does it smell like? How does it feel in their mouths? Is it dry, moist, crumbly?
Ask questions about what their favorite part of the dutch baby pancake is, what they would like to change next time, and what would make it better for them.
Get Your Kids In the Kitchen
One of the best ways to get kids interested in eating new foods (besides making food inspired by their favorite characters, books, and movies…) is to get them involved! Here are some easy ways your kids can help you cook this apple dutch baby pancake:
Kids 1-3 can help wash the apples, measure the ingredients, set the table.
Kids 4-7 can help do everything above, plus cut the apples with an apple corer, whisk the batter.
Kids 8-10+ can help do everything above, plus help you stir the apples while they cook, pour in the batter to the skillet, and help serve plates.
*Please note that these recommendations are generalized, and to please use your personal discretion with your child's skill level. And always, always supervise! Read more about how to have your children help you in the kitchen.
Other German Recipes your family will love:
There's nothing I love more than seeing you having an amazing meal with your family! If you make this apple dutch baby recipe, take a picture of you making or sharing them with someone you love!
Then post your photo on Instagram or Facebook and tag @thegingeredwhisk and use the hashtag #gingeredwhisk. I can't wait to see what you're cooking and share it!
Follow along to get the latest updates:
And don't forget to subscribe to the email list to get all the extra tips, tricks and bonuses!
Want to save this for later? PIN THIS TO YOUR DINNER BOARD on Pinterest!
Yield: 4 Servings
Recipe Inspired by the Snow White Story - Spiced Apple Dutch Baby Pancakes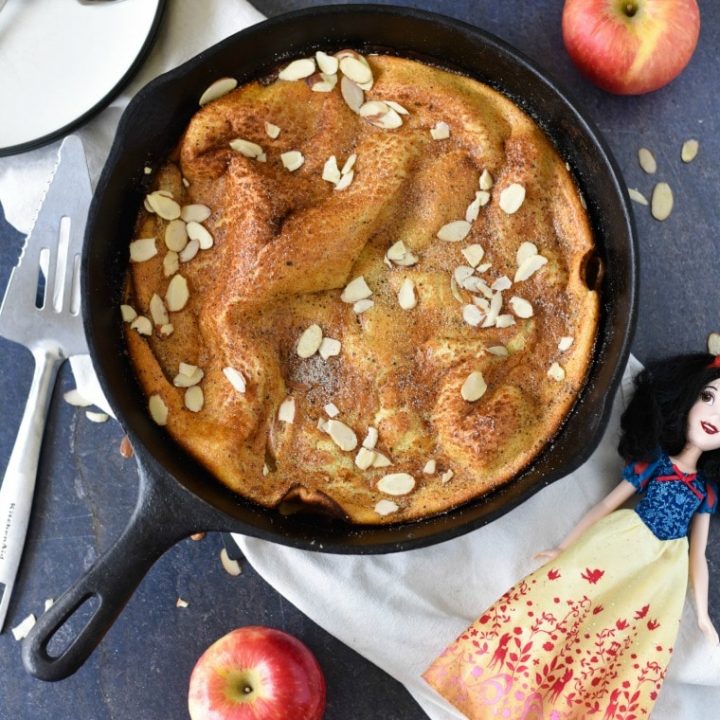 This spiced apple dutch baby pancake is the perfect brunch or weeknight dinner recipe. Fluffy and tender, and studded with spiced apple slices, these tender oven pancakes are insured by Snow White.
Ingredients
2 Honeycrisp Apples, cored and sliced into strips
3 TBSP butter, divided (2 TBSP should be melted for the batter)
2 TBSP sugar
1/2 tsp pumpkin pie spice
4 eggs
2/3 cup milk
1 tsp vanilla extract
2/3 cup flour
1/4 tsp salt
Instructions
Preheat oven to 450F.
In a small mixing bowl, mix 2 TBSP of sugar and 1/2 tsp pumpkin pie spice. Set aside.
Heat a large 12" cast iron skillet over medium heat.
Melt 1 TBSP of butter and sauté the apples with half of the sugar-spice mix for about 5 minutes, stirring frequently, until the apples start to soften.
In a medium mixing bowl, whisk together the melted butter, eggs, milk, vanilla, flour, and salt until smooth.
Make sure the apples are in a mostly even layer in the bottom of the skillet, and then pour the batter over top.
Sprinkle half of the remaining sugar/spice mixture over the top.
Bake for 15 minutes at 450F.
Lower the oven temperature to 350 and bake an additional 5-10 minutes, or until puffed and golden brown.
Remove from oven, and sprinkle with remaining spiced sugar mixture.
Slice and serve!
Nutrition Information:
Yield:

4
Serving Size:

1
Amount Per Serving:
Calories:

320
Total Fat:

15g
Saturated Fat:

8g
Trans Fat:

0g
Unsaturated Fat:

6g
Cholesterol:

212mg
Sodium:

308mg
Carbohydrates:

38g
Fiber:

3g
Sugar:

16g
Protein:

10g
Save
Save