This sourdough challah recipe is a beautiful sourdough recipe. This easy sourdough challah recipe is the perfect use of your sourdough starter! Perfect for sandwiches, french toast, and more!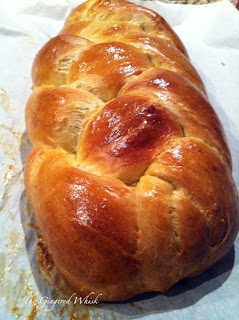 I've been wanting to try a challah recipe for a while now. I'd never actually eaten a challah before, but I honestly think it is one of the most beautiful loaves of bread I have ever seen. But I have heard they were difficult and complicated to do, and so I always kept it on the "someday I'll make this but not quite yet" list.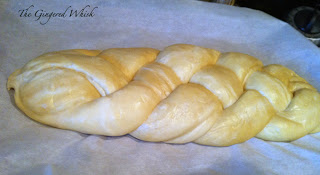 This loaf was beautiful, too, and totally erased my "challah fear". This bread is no more complicated than any other bread I've made, it was not hard at all! The most difficult part for me was my momentary freak out when I couldn't remember how to do a four stranded braid, haha. The finished loaf is a gorgeous thing, I almost didn't want to cut into it. When I finally persuaded myself to break out the bread knife, I was rewarded with a super soft and rich slice. I will definitely be making this again, and again!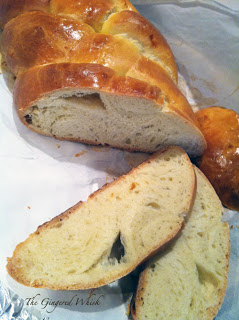 Yield: 12 Servings
Sourdough Challah
This sourdough challah recipe is a beautiful sourdough recipe. This easy sourdough challah recipe is the perfect use of your sourdough starter! Perfect for sandwiches, french toast, and more!
Total Time
15 hours
45 minutes
Ingredients
Levain:
2 TBSP (35 grams) very active, fully fermented sourdough starter, 50% hydration
1/3 cup (80 grams) warm water
1 cup (135 grams) bread flour
Final Dough:
1/4 cup (60 grams) warm water
3 large eggs, plus 1 for glazing
1 1/2 tsp (8 grams) salt
1/4 cup (55 grams) vegetable oil
3 TBSP (65 grams) mild honey OR 1/3 cup (60 grams) sugar
about 3 cups (400 grams) bread flour
Instructions
The night before baking:
Mix the active 50% hydration starter into the water until it is partially dissolved, then stir in the flour.
Knead this firm dough until it is smooth.
Remove 1 cup (200 grams) of the levain to use in the final dough and place in a sealed container at least four times its volume.
Let the levain ferment until it has tripled in size, about 8-12 hours.
Baking Day:
In a large bowl, beat together the water, 3 eggs, salt, oil, and honey (or sugar) until the salt had dissolved and the mixture if fairly well combined.
With your hands or a wooden spoon, mix the bread flour in all at once.
When the mixture is a shaggy ball, scrape it out onto your work surface, add the levain starter from the night before, and knead until the dough is smooth (no more than ten minutes). The dough will be very firm and should feel almost like modeling clay. If the dough is too firm to knead easily, add a TBSP or two of water to it, if it seems too wet, add a few TBSP of flour.
Place the dough in a clean bowl and cover it with plastic wrap.
Let the dough ferment for about 2 hours – it will probably rise not much, if at all.
Line a baking sheet with parchment paper.
Divide the dough into four even balls.
Roll each ball out into a long thin strip (the dough is very elastic, I found it best to roll it out, fold in half, roll it out, and repeat until I got the length I wanted).
Place the strips on the baking sheet and braid as desired. Pinch the ends together and tuck under.
Cover well with plastic wrap and let it proof until tripled in size, about 5 hours. It will be fully proofed when you can gently dent it with your knuckle and the dough springs back. Watch the dough here, not the clock as the temperature of your house will affect this.
Meanwhile, 30 minutes before baking time, arrange the oven racks in the upper third position and remove any racks above it.
Preheat the oven to 350 F.
Beat the remaining egg with a pinch of salt for glazing the bread.
Brush the loaf with the egg glaze.
Bake for 35 to 45 minutes, until well browned.
After the first 20 minutes of baking, rotate the loaf around so it bakes evenly. If the loaf is browning too fast, tent with foil.
When bread is done, remove from pan and let it cool on a rack completely before cutting.
Nutrition Information:
Yield:

12
Serving Size:

1
Amount Per Serving:
Calories:

260
Total Fat:

2g
Saturated Fat:

1g
Trans Fat:

0g
Unsaturated Fat:

1g
Cholesterol:

47mg
Sodium:

20mg
Carbohydrates:

51g
Fiber:

2g
Sugar:

5g
Protein:

8g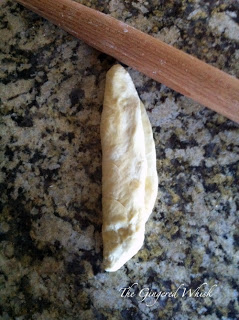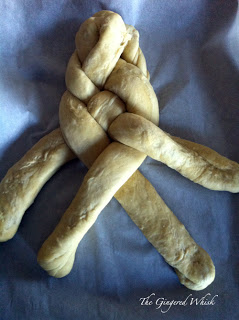 Sourdough Challah based off of (Maggie Glezer, A Blessing of Bread, recipe found via The Fresh Loaf)
Looking for other awesome Sourdough Recipes? Check out my Sourdough Archives HERE for over 60 recipes using Sourdough!