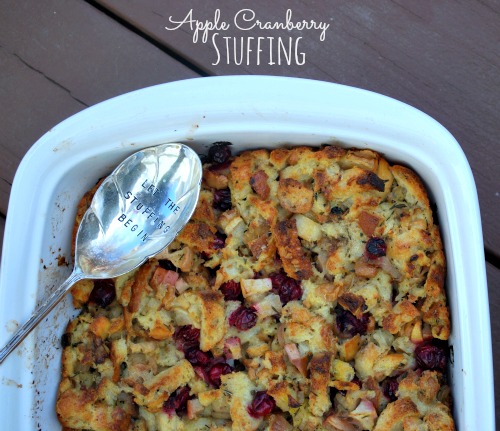 You might think the time for stuffing has long since passed us. You might think that any stuffing not from a box is just too fancy for everyday use, but I beg to differ. Why can't homemade stuffing be a weekend thing, too? Why do we reserve making something so delicious for twice a year? This stuffing is easy to prepare and it tastes amazing. It is too delicious to keep until next Thanksgiving, it really does deserve to be eaten more often. I made mine on a Wednesday, and I think you should make it on a "normal" day, too. Don't wait a whole year to enjoy it!
I made a half batch for my little family, and it worked perfectly for dinner and leftover lunch the next day. I think it was even tastier at lunch. Stuffing is one of my favorite side dishes, and this one is perhaps my absolute favorite I have ever had (Sorry, Grandma…). It's special, but not so special and complicated that it can't be enjoyed all throughout the cold months!
Apple Cranberry Stuffing
Prep Time: 30 minutes
Cook Time: 1 hour
Keywords: side apple cranberry Christmas Thanksgiving fall
Ingredients (6 servings)
6 TBSP Unsalted Butter, plus more for baking dish
1 medium onion, minced
2 TBSP minced, fresh parsley
1 tsp dried thyme leaves
1/2 tsp Marjoram
1 small apple, peeled and diced
1/2 cup dried cranberries
1 loaf white bread, cut into 1/2 inch cubes
2 cups chicken broth
1/4-1/2 cup apple juice
2 large eggs, lightly beaten
1/2 tsp pepper
Instructions
Adjust the oven rack to the center position and preheat the oven to 300 F.
Spread the bread cubes on a cookie sheet and place in the oven to 30 minutes to an hour to dry them out (do not let them get brown).
Let the bread cool completely. Alternatively, you could let your bread dry out the night before and skip this step.
Preheat the oven to 400 F.
Heat the butter in a 12 inch skillet over medium-high heat.
Add the onion and saute, stirring occasionally, until soft, about 10 minutes.
Stir in the parsley, sage, thyme, and marjoram, and cook until fragrant, about 1 minute.
Add the apple and cranberries and cook until the cranberries plump slightly and apple is slightly softn.
Transfer to a large mixing bowl.
Add the bread crumbs, stock, eggs, and pepper to the onion/apple mixture.
Toss gently to distribute the dry and wet ingredients evenly.
Put the mixture in a buttered 9×13 baking dish, cover with foil and bake 25 minutes.
Remove the foil and continue to bake for an additional 30 minutes longer, until golden.
Cool 10 minutes before serving.
Recipe Slightly adapted from (Sweet Basil)