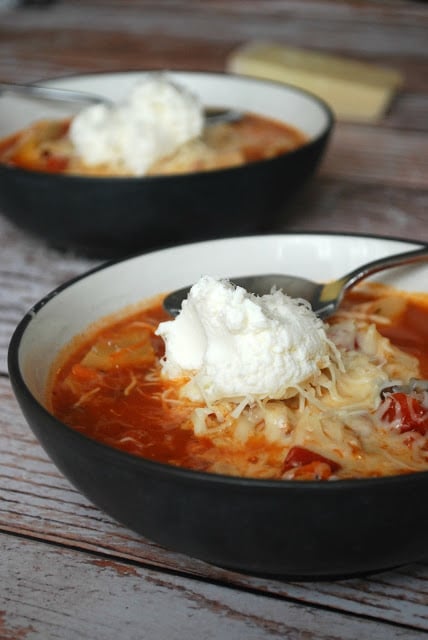 If it were up to me, I would never ever watch what I ate. Not that I would sit in front of the TV all night and consume an entire container of cheesy puffs, but I just don't want to think about what I am eating. I want to eat fresh, healthy, delicious meals without having to worry about calories, fat content, carbohydrates and sodium levels. I just want to eat and enjoy it.
And now-a-days its hard to know what to eat. One minute eggs are bad for you, the next they are good for you. Dark chocolate is good for you, but only if you eat one tiny piece every day. Over-processed foods are bad and full of chemicals, but raw foods can be tainted with germs! Whole milk clogs your arteries and skim milk actually makes you fat. And worst of all, think about how many sticks of butter you actually ate over the holiday season!!!
AHH!! Just stop already! I've decided what my New Years Resolution is going to be. It isn't going to be to diet, and it isn't going to be to not-diet, either. From now on, I am going to eat what I want, when I want. If I go to a party and snack all night, I'm not going to feel bad about it. And I'm not going to eat salads the whole next day, either. I'm going to eat as many fresh and unprocessed foods as I can and not worry about the rest of it. And I'll take a second cupcake, thank you very much.
This meal is perfect for me, and I think you will like it, too. It comes from the American Heart Association Low-Calorie Cookbook, and its filled with fresh vegetables and guess what? Not only is it low calorie, low sodium, low-fat, and only 9 Weight Watchers Plus Points, but it has cheese! Like, lots of cheese! You honestly cannot tell that this creamy, cheesy, pasta-y bowl of deliciousness is actually good for you!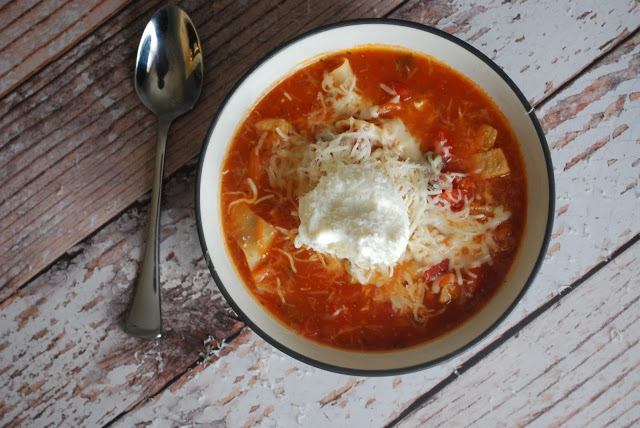 Stovetop Chicken Lasagna Stew (American Heart Association Low- Calorie Cookbook, 2003. page 122.)
Yield: 4 servings – 1.5 cups per serving. Each serving is 9 Weight Watchers Points Plus
1 lb Boneless, skinless chicken breast or turkey breast
1 tsp vegetable oil
8 ounces fresh mushrooms, sliced
2 cups shredded carrots
1/2 cup chopped onion
2 medium garlic cloves, minced
3 cups water
14.5 ounce can of no-salt added tomatoes, undrained
8-ounce can of no-salt added tomato sauce
1 tsp salt free Italian seasoning
1 tsp dried basil
1/4 tsp salt
1/4 tsp crushed red pepper flakes
1/8 tsp black pepper
4 dried lasagna noodes or 6 dried no-boil lasagna noodles, broken into 1″ pieces
3/4 cu[ fat free ricotta cheese
1/4 cup + 2 TBSP shredded part skim mozzarella cheese
1 TBSP + 1 tsp grated Parmesan cheese
Cut the chicken into 3/4″ cubes.
Heat a non-stick dutch oven over medium-high heat, add the oil and swirl the pan to coat the bottom.
Cook the chicken 3-4 minutes, or until browned and almost cooked through, stirring occasionally.
Stir in the mushrooms, carrots, onion, and garlic.
Cook for 4-5 minutes, or until the vegetables are tender, stirring occasionally.
Stir in the water, tomatoes, tomato sauce, Italian seasoning, basil, salt, red pepper flakes and pepper.
Simmer for 5 minutes.
Stir in the pasta.
Simmer for about 20 minutes, uncovered, or until the noodles are tender, stirring occasionally.
To serve, spoon the stew into a shallow bowl. Top each portion with 3 TBSP ricotta, 2 TBSP mozzarella, and 1 tsp Parmesan.
Enjoy!