This Sourdough Babka Recipe is a delicious and special treat. Swirly sourdough brioche is filled with a chocolate cinnamon filling and topped with a crumb topping.
Whats the different between Povitica and Babka?
I had never actually heard about Babka until Oct 2011 when I hosted the Daring Bakers Challenge to make Povitica! I got a lot of comments on whether Povitica and Babka were similar. After some research I discovered that they were very similar – a holiday enriched bread made with swirly patterns with Easter European heritage. However, they have different fillings and the swirls are made with completely different techniques. Ever since then, I have been thinking of babka.
Babka, as it turns out, is not nearly as labor intensive as povitica to make, but it is just as fun to roll, twist, and flip your dough around. And it is filled with butter and an unbelievable amount of chocolate. Add a fantastic sourdough tang to it, and you have one heck of a bread.
No really, it is so very delicious. This might be one of mu favorite loaves of bread to make ever!
Should Babka be refrigerated?
No, babka should not be refrigerated. Babka will stay fresh for 2 or 3 days when stored in an air tight container.
Babka also freezes well for 3 months.
Try these other twisty bread recipes: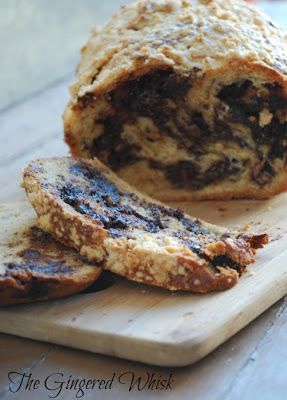 Yield: 12 Servings
Sourdough Chocolate Cinnamon Babka
This Sourdough Babka Recipe is a delicious and special treat. Swirly sourdough brioche is filled with a chocolate cinnamon filling and topped with a crumb topping.
Prep Time
2 hours
30 minutes
Cook Time
1 hour
15 minutes
Total Time
3 hours
45 minutes
Ingredients
Sourdough Brioche:
250 g flour
125 g sourdough starter, 100% hydration
15 g sugar
5 g salt
2 eggs
100 g milk
150 g butter, room temperature
Chocolate Cinnamon Filling:
12 ounces bittersweet chocolate, finely chopped
1 tsp cinnamon
1/3 cup sugar
4 TBSP butter, room temperature
Egg Wash:
1 tsp heavy cream
1 egg white
Topping:
4 TBSP butter, room temperature
1/3 cup flour
2/3 cup powdered sugar
Instructions
To make the Dough:
Cut the butter into cubes and set aside.
In the bowl of your electric mixer, combine the flour, starter, sugar, salt, eggs, and milk (do not add the butter yet!) and mix until you form a stiff batter.
Allow to rest for 10 minutes.
Mix on medium speed for another 10-15 minutes, until the batter starts to resemble a soft dough, but without the same degree of elasticity.
Using a rubber spatula, fold/massage/smear in the butter until no lumps remain.
Place the dough into a large glass bowl, cover with plastic wrap and allow to sit in a cool place for 1.5 hours.
To Make the Filling:
In a medium bowl, combine the filling ingredients (chocolate, butter, cinnamon and sugar) using a fork to evenly mix everything together.
Remove 2 TBSP of this filling and place it in a separate bowl.
To Make the Topping:
In a small bowl, combine the ingredients for the topping with a fork until well mixed. It should be crumbly.
Assembly:
Generously butter a 9x5 loaf pan.
Generously sprinkle your work surface with flour and turn the dough out on top (at this point the dough may be very very sticky, and you might need to work a little bit more flour into the dough - this is fine, just be careful to only take the dough a touch past extremely sticky. Keeping your counter and rolling pin well floured helps.
Roll the dough out into a 16 inch square about 1/8 inch thick.
Brush the edges with the egg wash.
Evenly spread the chocolate filling over the dough (keeping the reserved 2 TBSP for later).
Roll the dough up tight like a jelly roll.
Pinch the edges together to seal.
Twist the log of dough 5 or 6 times along the length.
Brush the top of the roll with egg wash.
Carefully take the 2 TBSP of chocolate filling and place it on top of the left half of egg roll, pressing them in slightly.
Fold the right half of the roll over the left half, sealing in the chocolate (think about a 1 slice of bread sandwich).
Pinch the edges together and fold them under.
Twist the roll twice and place it into the prepared loaf pan.
Brush some of the egg wash over the top of the loaf and sprinkle on the topping.
Preheat the oven to 350F.
Cover the loaf pan with plastic wrap and allow to sit in a warm place for 20-30 minutes.
Bake the loaf 55 minutes.
Lower the oven temperature to 325F and bake an additional 15-20 minutes, until deep golden brown.
Cool in the pan, on a wire rack.
Enjoy!!
Nutrition Information:
Yield:

12
Serving Size:

1
Amount Per Serving:
Calories:

516
Total Fat:

34g
Saturated Fat:

21g
Trans Fat:

1g
Unsaturated Fat:

11g
Cholesterol:

80mg
Sodium:

331mg
Carbohydrates:

44g
Fiber:

6g
Sugar:

13g
Protein:

9g
(slightly adapted from Double Helpings and Martha Stewart)