Sourdough donuts made with leftover sourdough discard are an easy and delicious breakfast treat your family won't soon forget! With incredible texture and great sourdough flavor, you will want to make these again and again!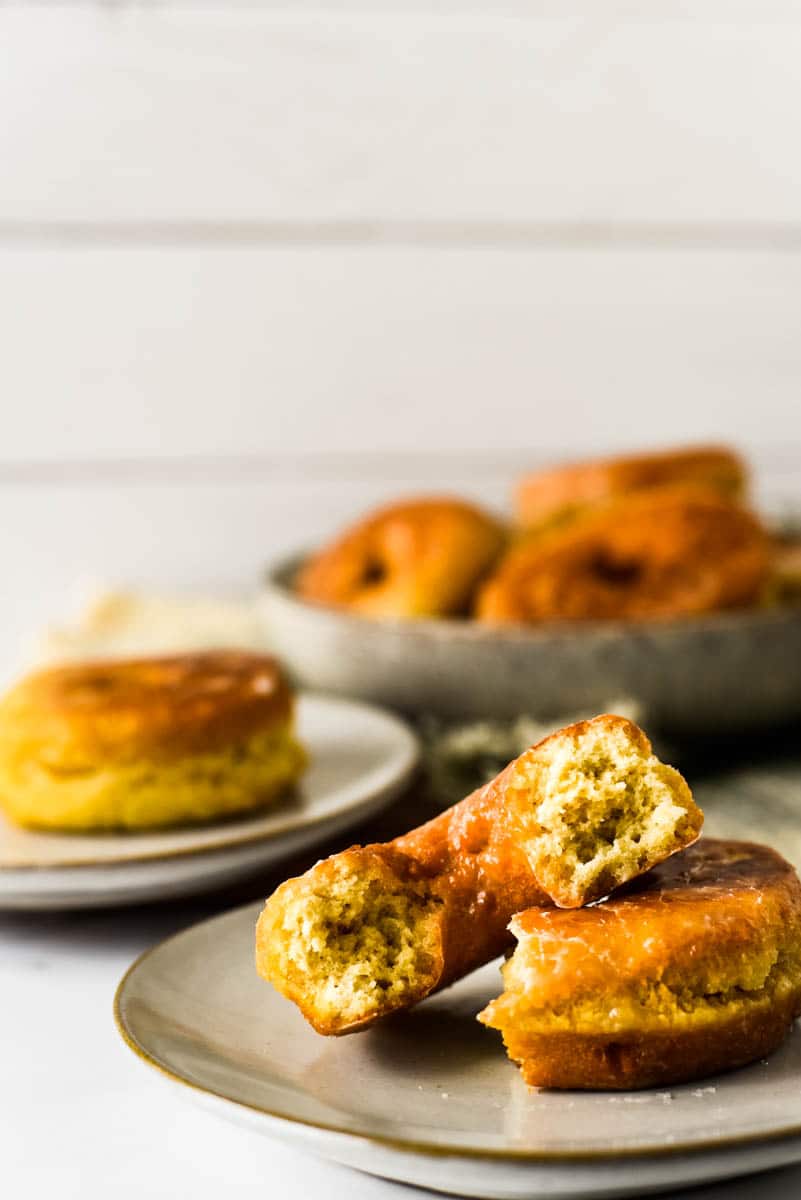 These donuts are an awesome way to use sourdough starter, especially when you are just starting out and getting to know your starter's flavor. These homemade donuts are actually fairly simple and easy to make, and don't require a lot of time or technical skill.

This recipe uses unfed sourdough discard, so we will be adding baking soda and baking powder to help give these donuts their lift. In this recipe, the sourdough starter gives the donuts a great texture and a deep sourdough flavor that isn't too sour.
Other quick sourdough discard recipes: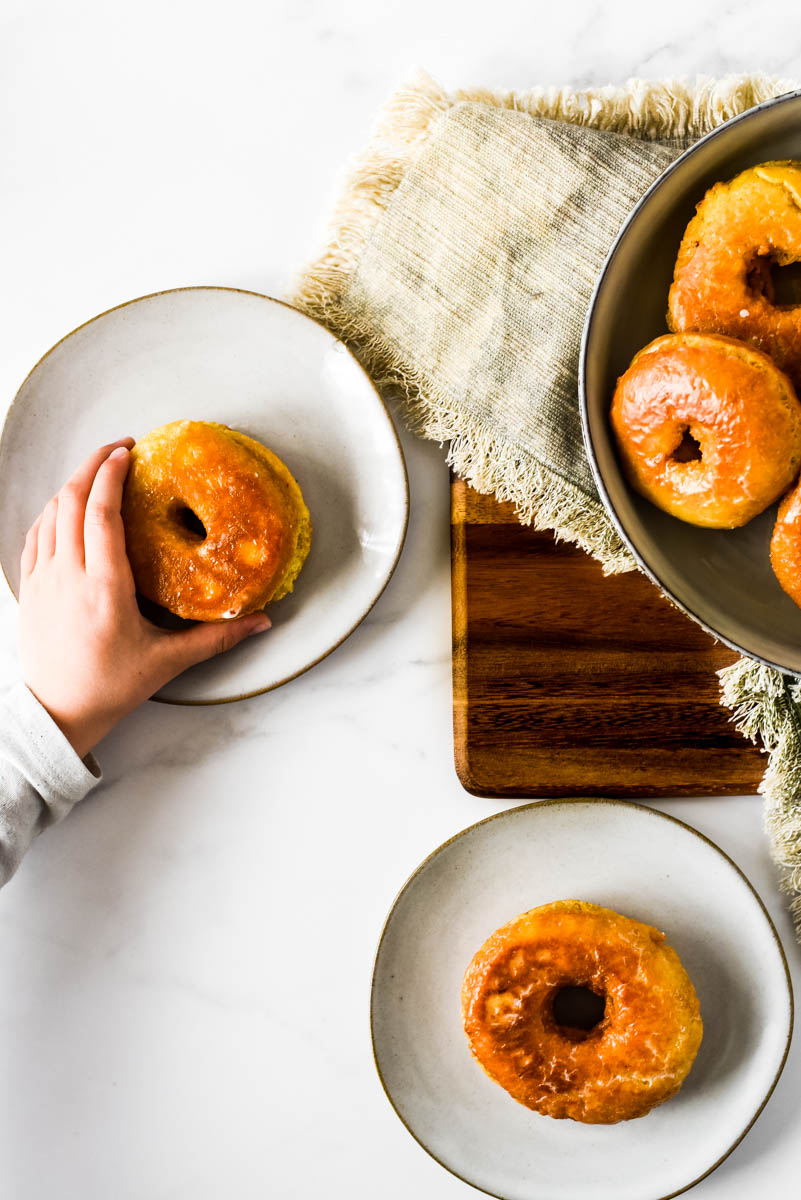 Easy Sourdough Donuts
I never know – is it Donuts or Doughnuts?
Sourdough donuts are a delicious breakfast treat that are fairly quick and easy to make! You can have these special homemade donuts ready in under an hour, which makes them perfect for special mornings and weekend brunches!
These sourdough donuts are quick and easy to make, and give outstanding results!!!! They taste A-Maze-Ing!
I love that this sourdough doughnuts recipe doesn't require proofing, so you can make these easy donuts anytime you have sourdough discard ready to use!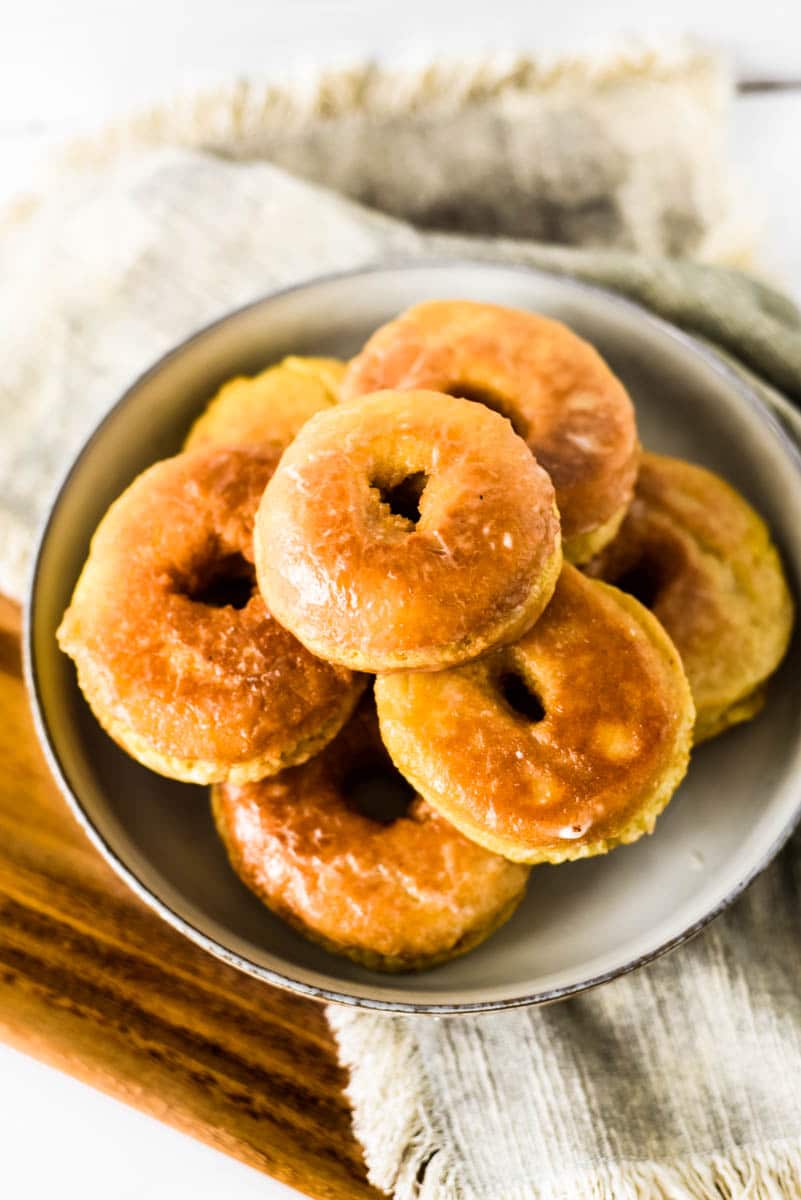 What kind of starter does this recipe use?
This recipe works great with unfed sourdough discard that is room temperature. The best results come from starters that have been sitting on your counter and fed often, within the last day or two.

If your starter has been resting in the fridge and hasn't been fed for a week or more, you can still use it to make this recipe, but know that you will have a lot more sourdough tang to the flavor, and the texture of your donuts will be more dense.

You can also use fed, active sourdough starter in this recipe. That will give you a really mild sourdough flavor and a little bit of a softer, more fluffy texture to the donuts (but not much more rise since this recipe does not require any fermentation time).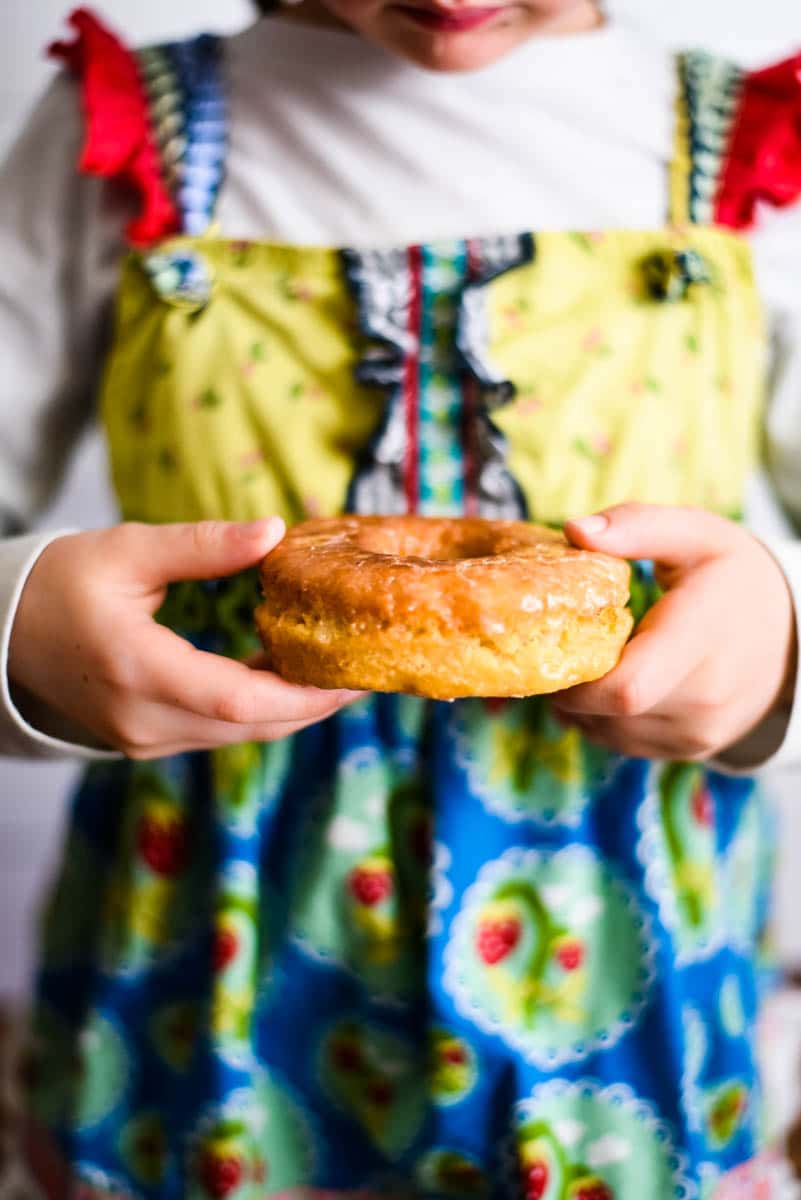 How to make sourdough donuts batter:
These donuts are quick and easy to make. For the full recipe, make sure you scroll down to the recipe card below – but here is an overview of how to make them!
In a large mixing bowl, whisk together the sourdough discard, milk, egg, and vegetable oil.
In a medium mixing bowl, whisk together the flour, sugar, baking powder, baking soda, salt, and cinnamon.
Add the dry ingredients to the wet ingredients and mix until just combined.
Sprinkle some flour on your counter and dump the dough out of the bowl.
Knead 3 or 4 times, just until the dough comes together nicely. You aren't trying to develop any gluten here, just make a nice dough.
Sprinkle the top of the dough with a tiny bit of flour and gently roll the dough out until it is about 2" thick.
Using a 3" circle biscuit cutter, cut out as many circles as you can. Make sure you use the cutter straight up and straight down, do not twist the cutter into the dough.
You can gently reform the dough back together and roll out until you get 1 dozen donuts.
Use a small 1" biscuit cutter to cut a small hole in the center of each donut.
Continue cutting small circles out of any remaining donut dough to get as many donut holes as you can!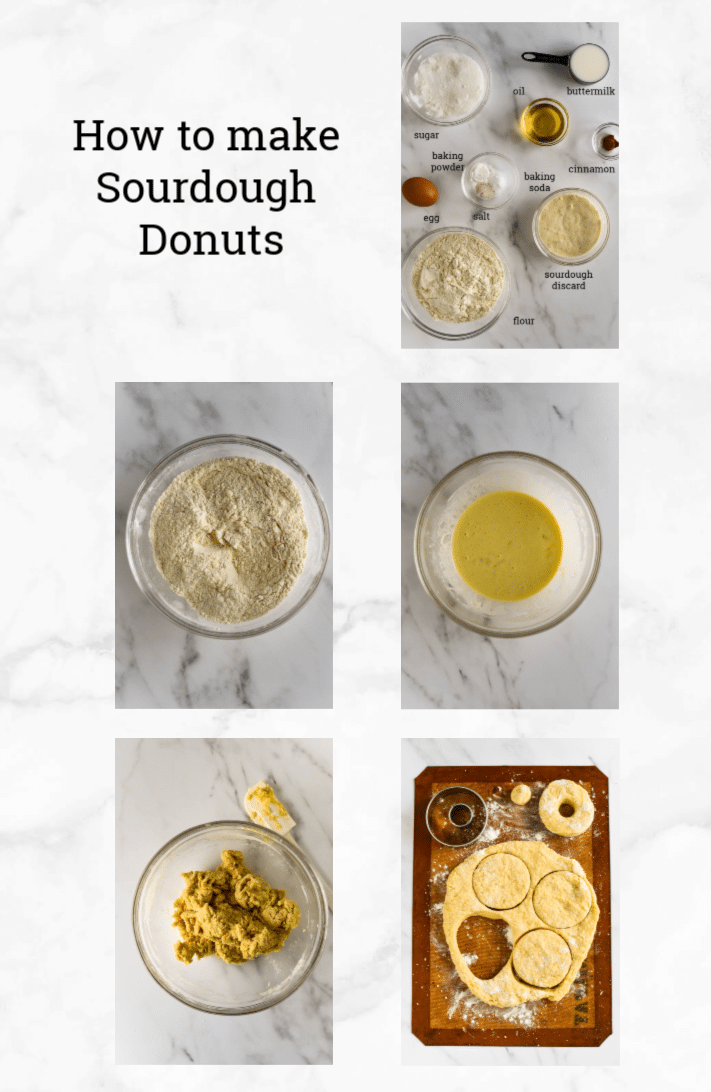 Can I make this an overnight recipe?
You bet! If you want to rest this dough in the fridge overnight, simply omit the baking soda and baking powder from the dough, cover the bowl with the dough and place it in the fridge overnight. Then in the morning, simply pat out your dough, cut, and fry them up!

Can I use this recipe to make filled donuts?
Of course! Simply skip the step where you cut the hole out of the center. Fry them up, let them cool, and then use a piping back to insert the filling of your choice into the center of each donut.

You can easily just make donut holes out of this recipe, too!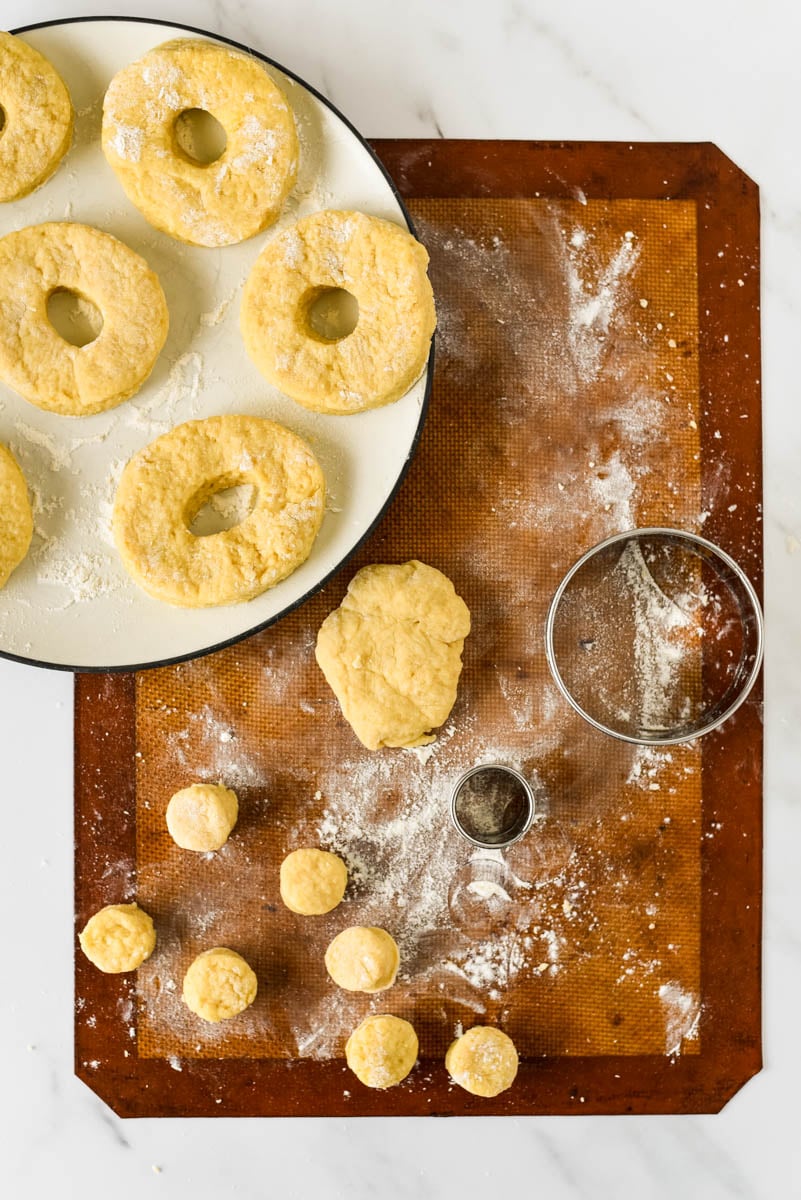 How to fry sourdough donuts:
To fry the donuts, you will need vegetable oil and a good heavy cast iron skillet.
Fill the cast iron skillet with about 2" of vegetable oil. You want to make sure that there is enough oil to go up about half way your donuts plus a little extra so they can float on top. Don't skimp on the oil. You need enough so that the donuts can float and cook properly.
Heat the pan and the oil to about 360 F. This way the oil is hot enough to fry your doughnuts without them becoming overly greasy.
While the oil is heating, you will need to prepare a place for the cooked donuts to cool and drain. My favorite way to do this is to place a cooling rack inside of a rimmed baking sheet

(affiliate link)

, and then place paper towels on top of the cooling rack.
When the oil is hot, place a few donuts into the oil. Do not crowd the pan – you want to make sure there is plenty of space between each donut so they cook right.
Fry for just a minute or two, until the underside is golden brown.
With a pair of tongs, carefully turn the donut over and allow to cook for a minute or two on the other side.
Remove the donuts to the cooling pan and repeat until all the donuts and donut holes are cooked.
While the donuts are still warm, coat them as you wish. See below for ideas on how to coat them.
*Note: Please remember that the oil and the pan are HOT and could cause injury. It is important to have everything set up and ready to go so you don't feel rushed or crowded. It is also really important to be distraction free while you fry the donut so you can pay attenton to what you are doing.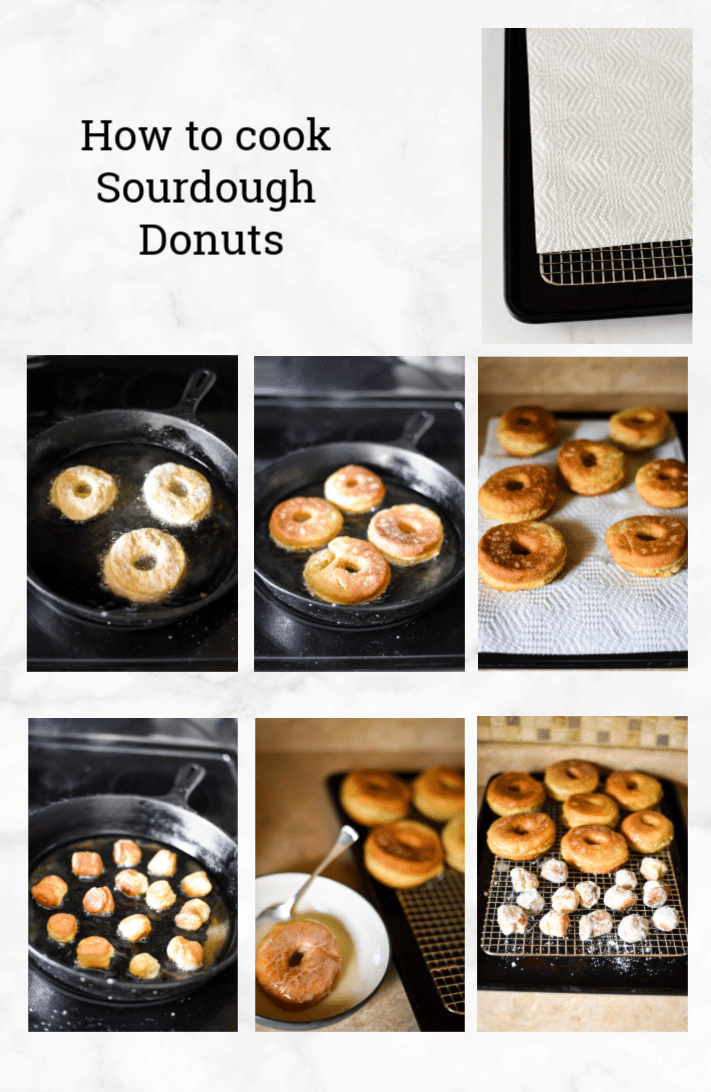 How to top sourdough donuts:
These donuts are great because there are so many ways to coat them. Your imagination is the only limit, but here are a few of my favorite ways:
Roll them in powdered sugar
Roll them in cinnamon sugar
Dunk them in a glaze made from powdered sugar and a little milk or water
Frost them with chocolate ganache or vanilla icing and add your favorite sprinkles
No matter how you choose to top them, they will all be delicious!!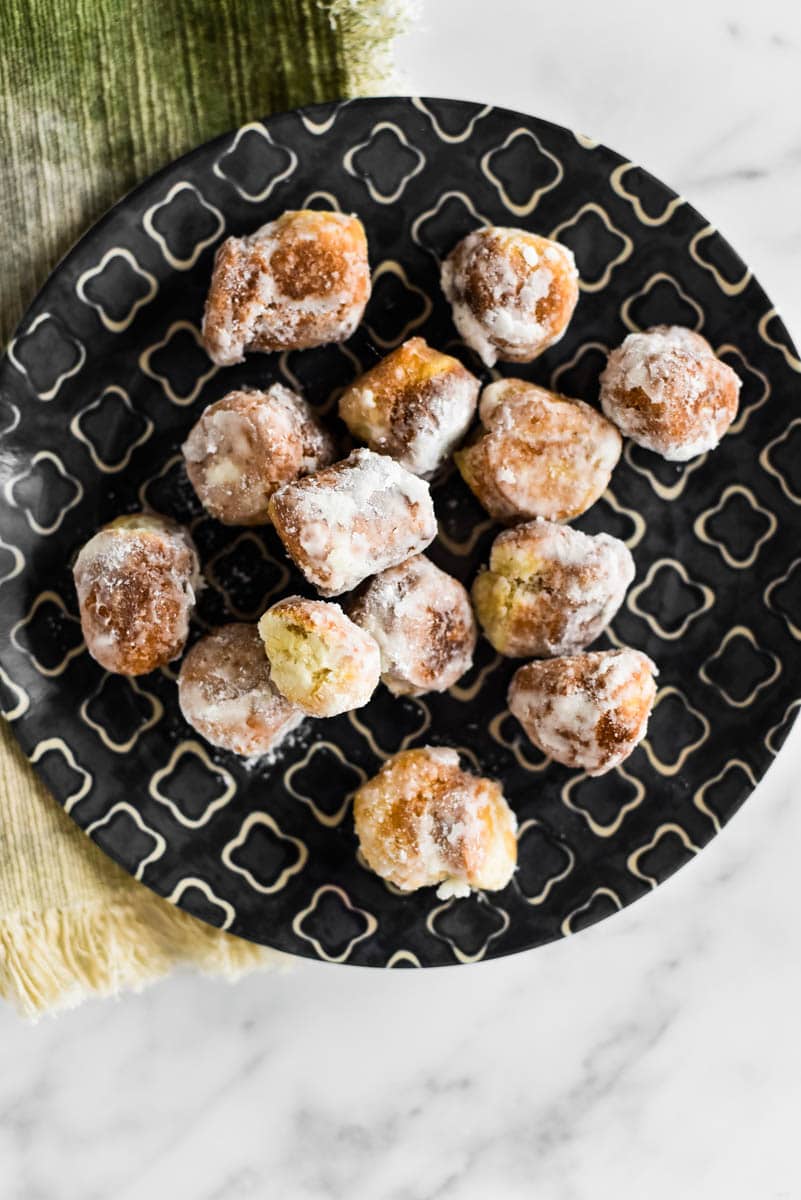 How to serve these donuts:
These donuts are best when served slightly warmed after cooking. They are also good at room temperature, too. For a complete meal, serve these with an easy make ahead protein like breakfast egg muffins.

How to store homemade donuts:
These donuts are best right after they have been made, but you can save leftovers, too. Store them in a covered container with a lid. You want the lid to fit almost air-tight, but not quite. If the container is totally airtight, the donuts and glaze will become gummy. But if the container is totally open, the donuts will dry out. Try for a nice in between. Store them for up to 2 days.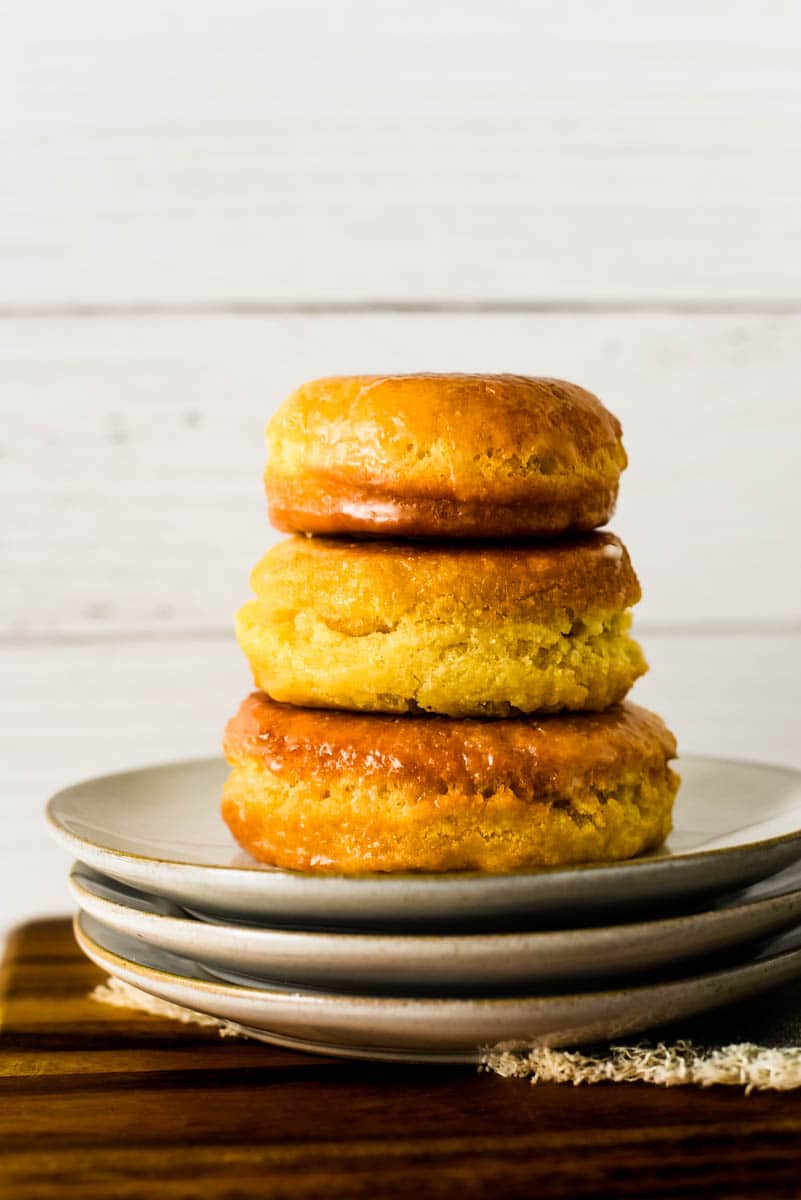 Kids in the kitchen: How your kids can help you cook
Getting your kids in the kitchen is an amazing way to help them be more interested in trying new foods and confident in their own abilities.
This sourdough donut recipe is great because it helps them learn about rolling and using cutters and they get to practice their kneading.
This recipe is perfect for beginner cooks because it is so easy! And it is a great recipe for kids to experiment and become more comfortable with new flavors and techniques – which means they are more likely to eat it!
Kids aged 1-3 can help you measure all the ingredients and add them to the mixing bowls.
Kids aged 4-6 can do everything above, plus help you whisk the ingredients together, knead the dough, and use the cutters to cut the donuts. They can also help you top the finished donuts.
Kids aged 7-10+ can help you do everything above, plus help you fry the donuts, with close supervision and direction. Make sure you go over oven safety rules and wear a thick apron to protect clothing, and tie back longer hair. Use longer tons or spatulas (ones meant for the grill are great), and make sure you are supervision and assisting with every single step.
*Please note that these recommendations are generalized, and to please use your personal discretion with your child's skill level. And always, always supervise! Read more about how to have your children help you in the kitchen.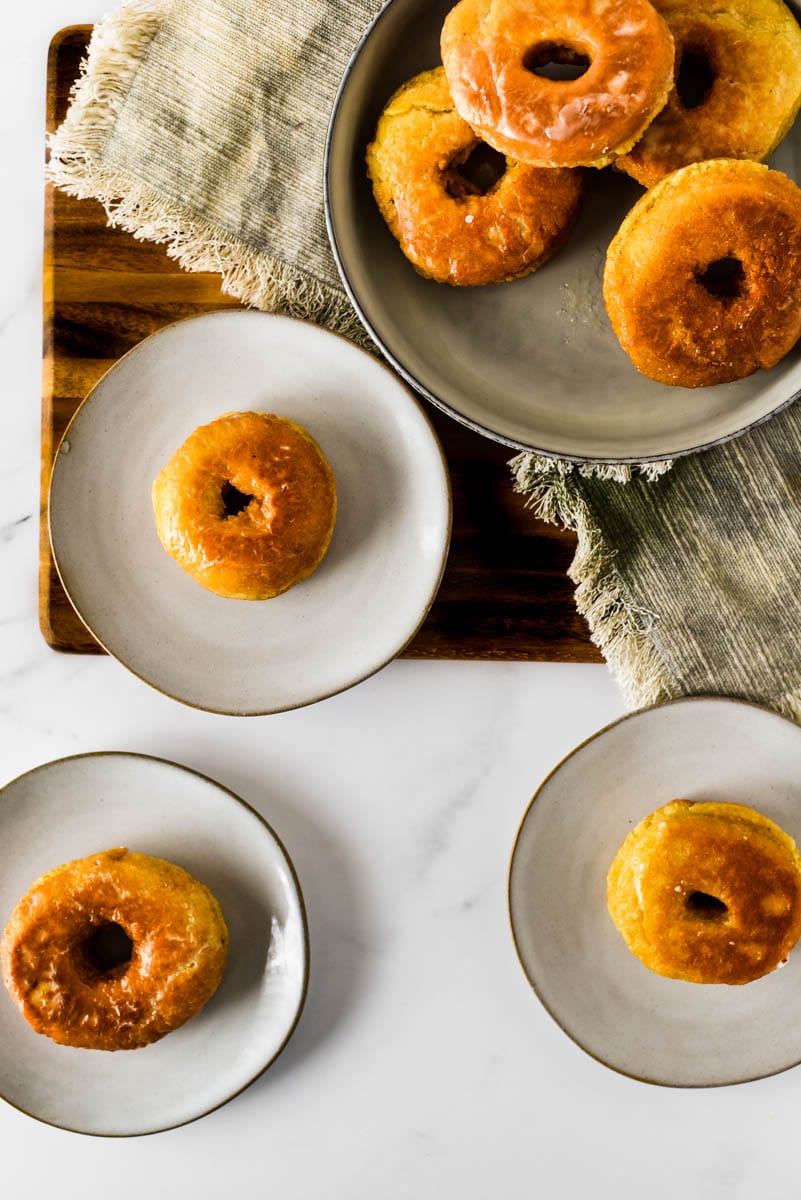 Check out 10 more easy sourdough discard recipes!
Food tastes better when its shared with the ones you love!
There's nothing I love more than seeing you make my recipes! If you make these donuts, don't forget to leave a comment below and rate the recipe!
And if you are on Instagram, tag @thegingeredwhisk and use the hashtag #gingeredwhisk on social media when you make my recipes so that I can share them and maybe even feature you. Follow along to get the latest updates:
And don't forget to subscribe to the email list to get all the extra tips, tricks and bonuses!
Want to save this for later? PIN THIS TO YOUR SOURDOUGH BOARD on Pinterest!
Yield: 1 dozen
Sourdough Donuts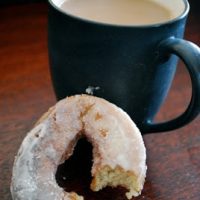 This easy and quick sourdough donut recipe is the perfect way to use sourdough discard. Delicious donuts with a slight sourdough tang, these will become the favorite weekend breakfast for the sourdough lover!
Ingredients
1/2 cup sourdough starter
2 TBSP oil
1 tsp baking powder
1/2 tsp baking soda
1 egg
2 cups flour
1/2 cup sugar
1/4 tsp cinnamon
1/2 tsp salt
1/3 cup buttermilk (regular milk will do, too!)
oil for frying.
Instructions
Prepare a frying pan with enough oil to fry in, and allow it to reach about 360 degrees.
Line a plate with paper towels and set aside.
In a medium bowl, whisk together the flour, baking powder, baking soda, sugar, cinnamon, and salt.
In a large bowl whisk together the starter, oil, egg, and milk.
Mix the wet and dry ingredients together, until they just come together.
Sprinkle some flour on your counter and dump the dough out of the bowl. Knead it gently 3 or 4 times until the dough comes together.
Sprinkle the top of the dough with a tiny bit of flour and roll out until it is 2″ thick.
Cut your donuts out, reforming the dough back together as often as you need to.
Fry until golden brown, just a minute or two on each side.
Drain/dry on the paper towels, and then coat as you see fit – powdered sugar, cinnamon and sugar, or glazed.
Enjoy!!
Nutrition Information:
Yield:

12
Serving Size:

1
Amount Per Serving:
Calories:

166
Total Fat:

4g
Saturated Fat:

0g
Trans Fat:

0g
Unsaturated Fat:

4g
Cholesterol:

16mg
Sodium:

210mg
Carbohydrates:

29g
Fiber:

1g
Sugar:

9g
Protein:

3g
This easy and quick sourdough donut recipe is the perfect way to use sourdough discard. Delicious donuts with a slight sourdough tang, these will become the favorite weekend breakfast for the sourdough lover!