Sourdough brownies are an ultra fudgy, and rich and delicious dessert that uses your sourdough discard. They are easy and quick to make, so you can enjoy them whenever you have sourdough discard to use. A great recipe to use your sourdough starter!
These sourdough brownies are rich, super fudgy, and melt in your mouth delicious. They are also made with your sourdough starter, which in my mind instantly makes anything that much cooler. The sourdough doesn't lend its typical sour tang here, but instead helps to cut the sweetness while upping the richness.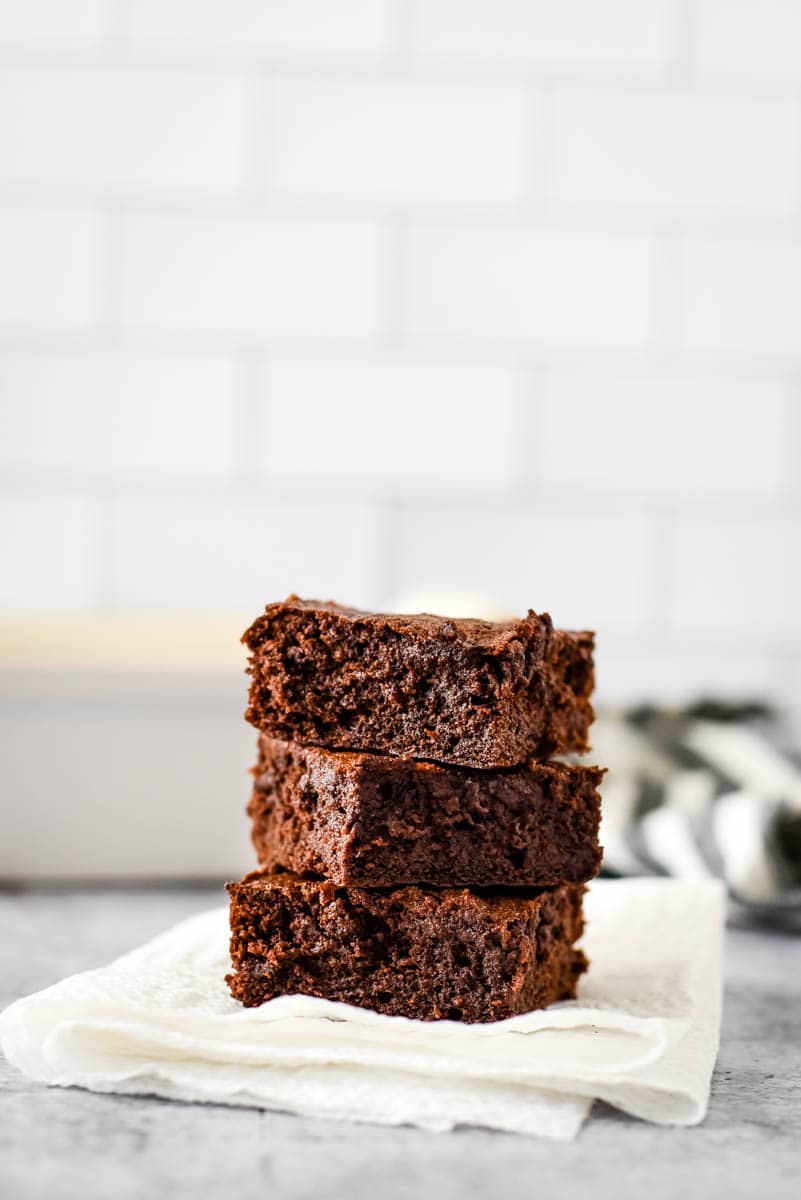 These brownies hit me like a tidal wave. They have been in the background of my mind since I first thought of them a few months ago, but suddenly I had to make them this very second.
And oooooh buddy, you need to make them this very second, too.
First of all, they are probably the best brownies I have ever eaten. They have an intense chocolate flavor with a dense, smooth and ultra fudgy texture. The sourdough adds a little tang to it, but mostly helps to increase the richness and intensity of the chocolate.
In fact, it might not be a good idea for me to be home alone with this whole pan tonight… Joel took one bite and backed away, waving a white flag. He said if he ate any more he would eat the whole pan right then and there.
If you have been debating whether to get off your butt and make a starter, let this be your inspiration! (Here is a great article on feeding your sourdough starter!). Yes, you do need a sourdough starter to make this recipe. If you don't have one, Bless this Mess has a great article on how to make a sourdough starter.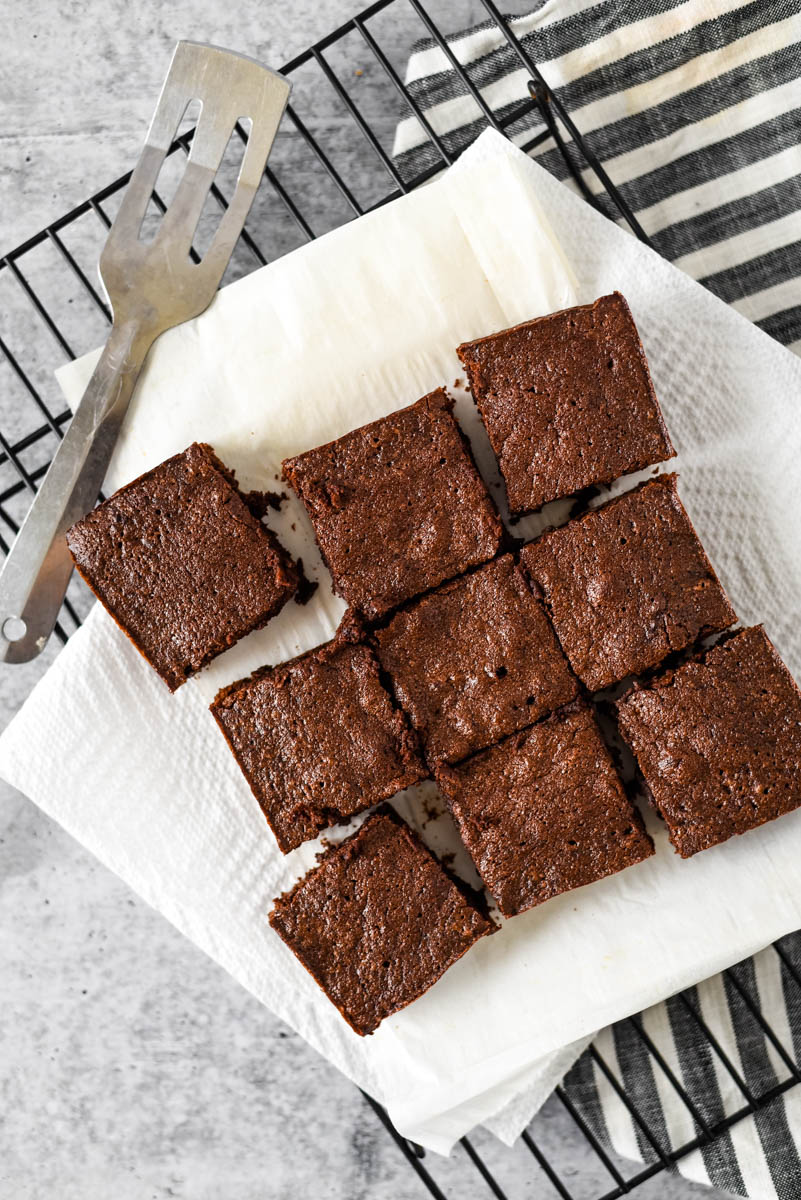 What can you do with sourdough starter? Basically, everything! Check out over 60 great sourdough recipes, including:
Make sure you also check out my top 10 easy recipes that use sourdough discard for more ideas for how to use your sourdough starter in quick ways!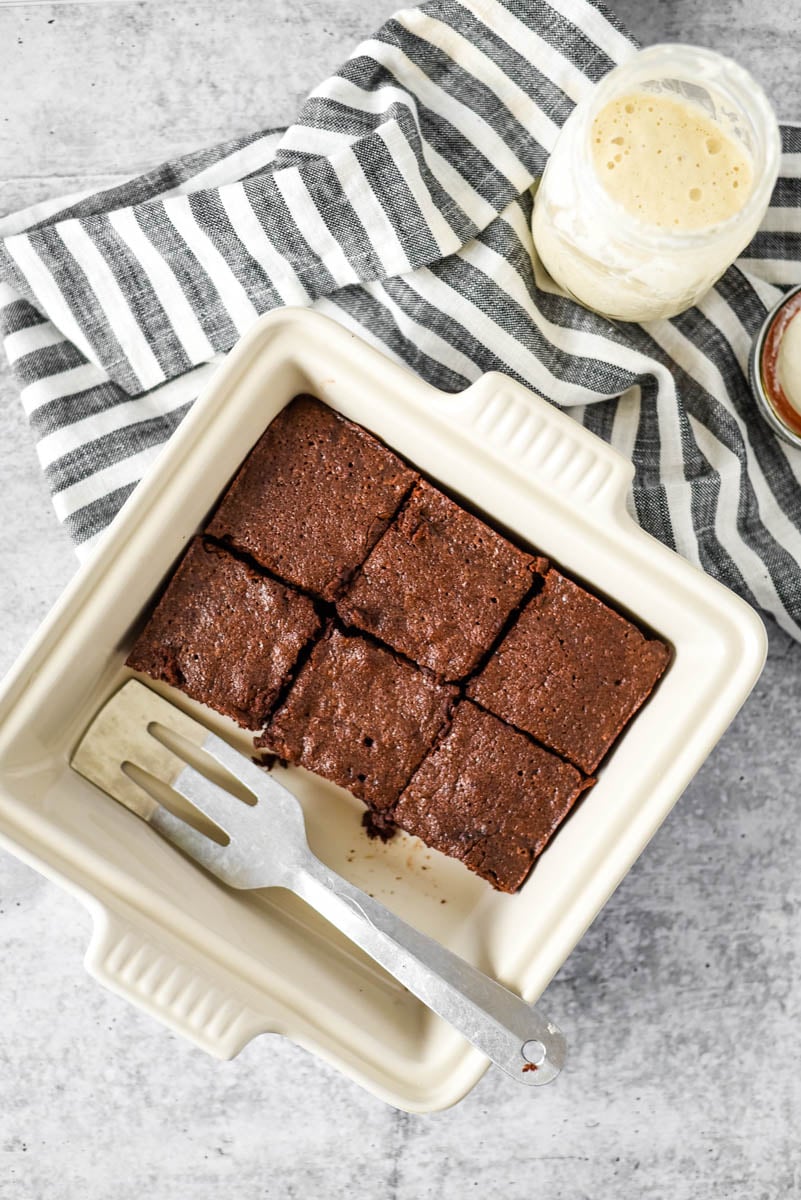 How to Make Sourdough Brownies
These sourdough brownies are easy to make and a fun way to use your sourdough discard. For the full recipe, keep on scrolling, but here is an overview of how to make them:
Prepare a 9×9 pan by lining it with parchment paper and smearing it with butter.
Place the chocolate and butter in a microwave safe bowl and melt on high for 30 seconds. Give it a really good stir and then pop it back into the microwave. Continue melting in 15 second internals and stirring until the chocolate and butter are both melted and everything is smooth.
Pour the melted chocolate into a large bowl and whisk in the sugar, salt, and vanilla.
Whisk in the eggs one at a time.
Sift in the cocoa powder.
Stir in the sourdough starter gently until everything is just combined and you don't see streaks of starter.
Pour into the prepared pan and bake 30- 40 minutes, or until done.
Cool in the pan for 20 minutes before removing from the pan to cool the rest of the way on a wire rack.
Enjoy!
Recipe Notes: **It is important to not over-bake these sourdough brownies! Bake them just until a toothpick inserted in them comes out clean. After about 20 minutes of baking, check them often!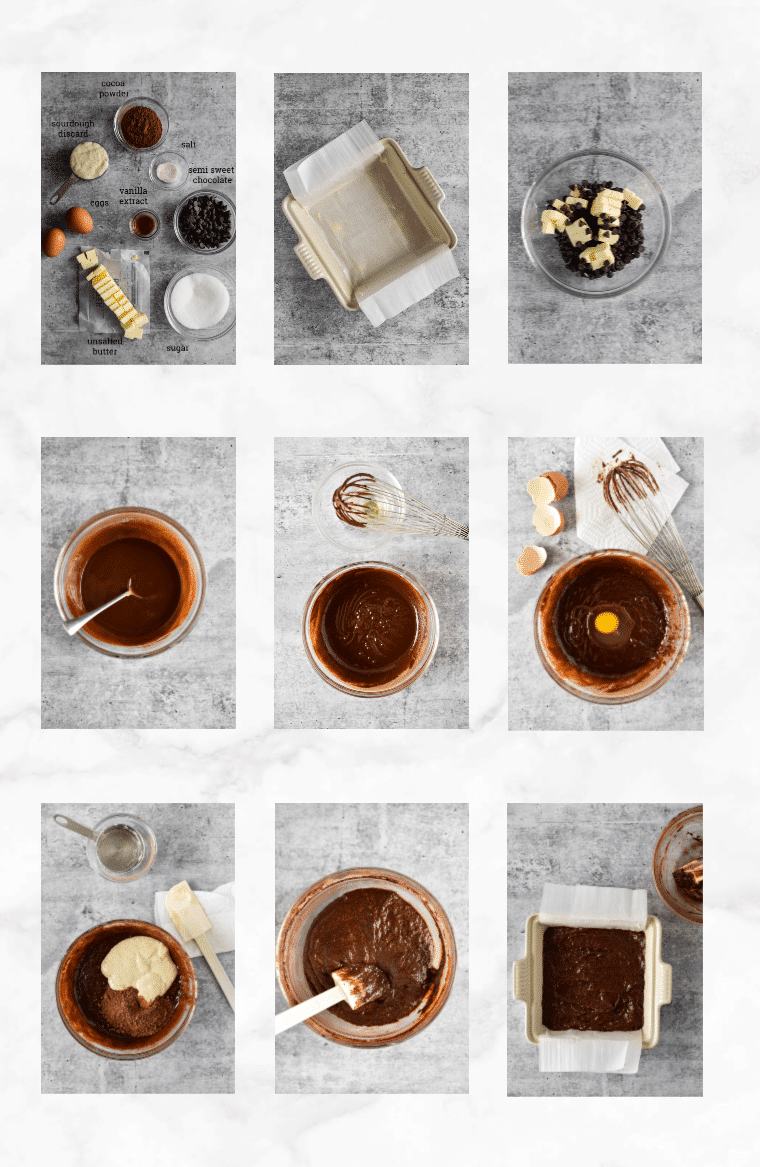 Frequently Asked Questions:
Here are some great recipes notes to help you get the best brownies you can!
How to store these brownies
These brownies will keep covered on the counter for 2-3 days. They will keep a few days longer in the fridge.
If you store them on the counter they have a more cake like density, but if you store them in the fridge and serve them cold, they have an ultra-fudgey texture.
How do I serve sourdough brownies?
These sourdough brownies are perfect on their own, or serve them with a scoop of ice cream or a dollop of freshly whipped cream. They are already rich, so I don't think they need any frosting. However, you do you, if that's what you want!
Like I said before, serving these brownies colds gives them a more fudge like density with a really intense flavor! This is how I like to eat them!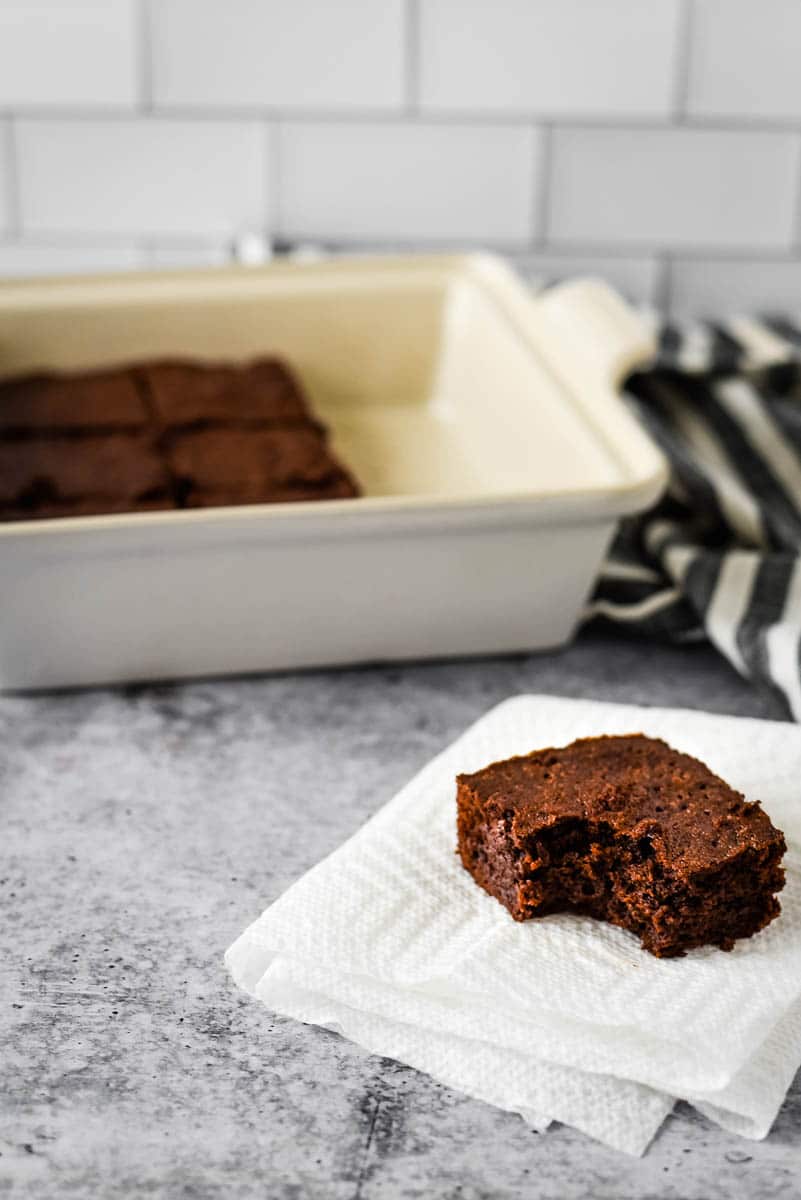 Recipe notes:
Your sourdough starter can change the texture of the sourdough brownies.
As written, this recipe yields a more cake like texture of brownie.
If you want a denser, chewier brownie, use less sourdough starter (so about ¼ cup).
What kind of sourdough starter should I use?
These brownies should be made with a 100% hydration sourdough starter.
I typically make these with discard from a feed, but you can use it straight out of the fridge or after a feed, too.
How to make variations of this recipe:
You can add in different ingredients to change up your sourdough brownies.
Try adding:
chopped walnuts or pecans
dried cranberries
white chocolate chips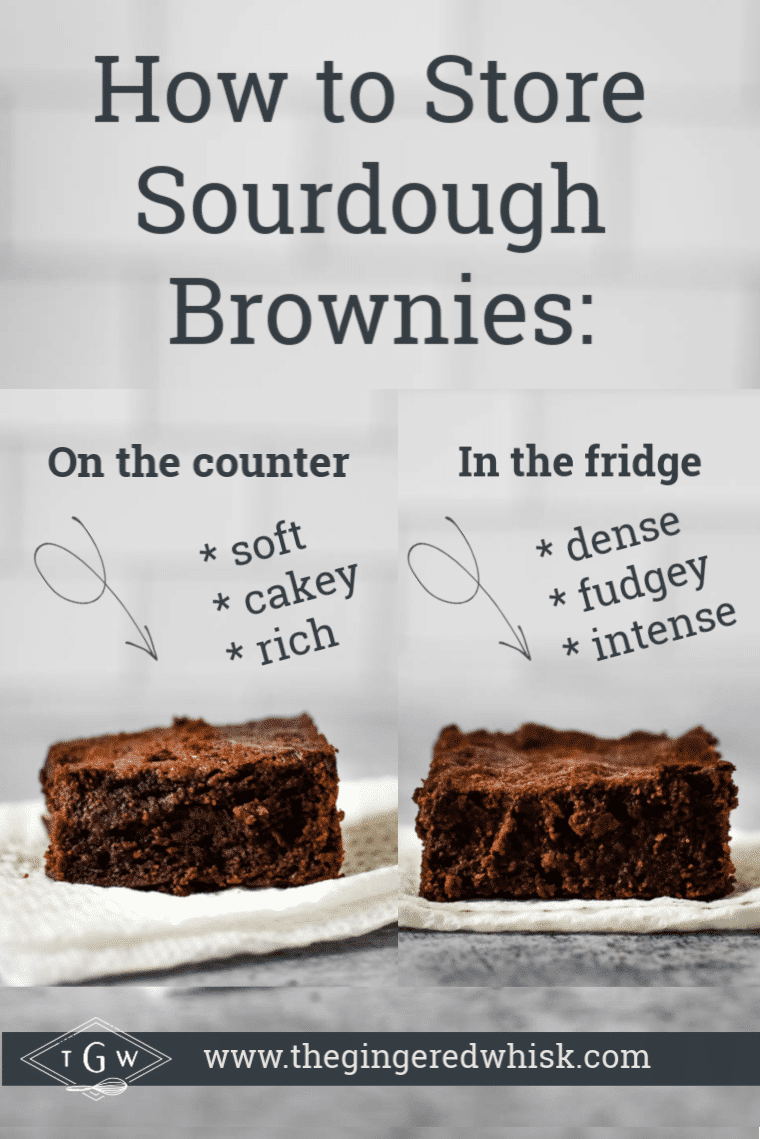 My other favorite brownie recipes:
There's nothing I love more than seeing you make my recipes! If you make these Sourdough Brownies, don't forget to leave a comment below and rate the recipe!
And if you are on Instagram, tag @thegingeredwhisk and use the hashtag #gingeredwhisk on social media when you make my recipes so that I can share them and maybe even feature you. Follow along to get the latest updates:
And don't forget to subscribe to the email list to get all the extra tips, tricks and bonuses!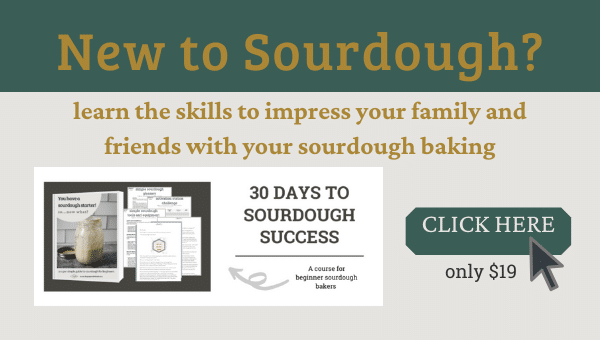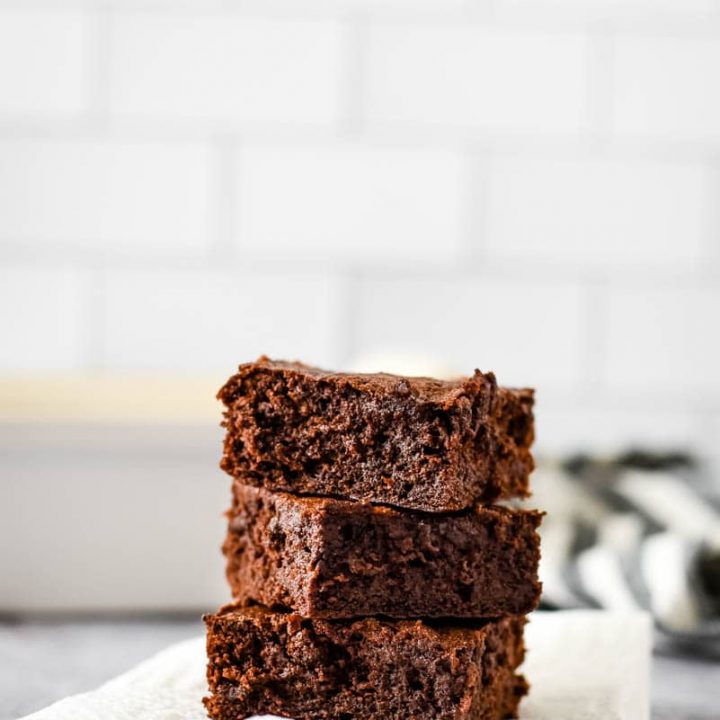 Mega Chocolate Sourdough Brownies Recipe
These sourdough brownies are ultra fudgey, and rich. They are easy and quick to make, so you can enjoy them whenever you have sourdough discard to use. A great recipe to use your sourdough starter!
Ingredients
3/4 cup bittersweet chocolate, chopped
1/2 cup unsalted butter, cut into pieces (1 stick)
1/2 cup sugar
1 teaspoon salt
1 teaspoon vanilla extract
2 whole eggs, room temperature
1/2 cup 100% hydration sourdough starter discard, room temperature
1/4 cup cocoa powder
Instructions
Preheat oven to 325 F

Line a metal 9x9 square baking pan with parchment paper and coat the paper in butter (if you leave some hanging over the edges, it makes it really easy to lift the brownies out of the pan!).

In a double broiler, saucepan, or the microwave, melt the chocolate and butter. Stir it often so it does not burn.

Pour the melted chocolate/butter into a large bowl.

Whisk in the sugar, salt and vanilla.

Add the eggs one at a time, whisking to combine each addition.

Sift the cocoa powder over the chocolate and stir to combine.

Add the starter and stir gently until it is completely incorporated and you don't see any streaks of starter.

Place the batter into the prepared pan evenly and bake for about 30-40 minutes, or until a toothpick inserted into the center comes out clean.

Cool in the pan 20 minutes (this is the hardest part), lift the parchment paper out and allow to cool the rest of the way on a wire rack.

When cool completely, cut into squares and enjoy!
Notes
Make sure you do not overbake these brownies!
For more cake like brownies, use the full amount of sourdough discard. For denser, chewier brownies, user about 1/4 cup instead of the full amount.
Nutrition Information:
Yield:

9
Serving Size:

1 square
Amount Per Serving:
Calories:

254
Total Fat:

17g
Saturated Fat:

10g
Trans Fat:

0g
Unsaturated Fat:

6g
Cholesterol:

69mg
Sodium:

255mg
Carbohydrates:

21g
Fiber:

3g
Sugar:

11g
Protein:

4g