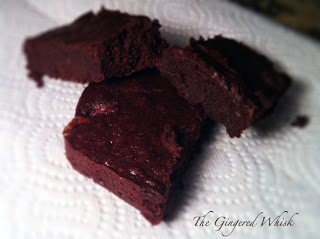 I hope you haven't noticed that I haven't been as active as I usually am. I've been hoping that you haven't really noticed, but I've become obsessed with something lately, and it seems to have taken up every second of my free time lately. I wasn't going to say anything and just surprise you with it (yeah, its just for you!) but I realized its going to take quite a bit more time than I thought it would. So things might slow down a little bit here. Not for lack of recipes, because truthfully they are piling up over here. But I can only do so much work at a computer each day, and I'm sooo excited for what's coming!!! (Two weeks. I think it might take me two weeks. Unless I had an intern, who would be willing to do some mundane data entry for a batch of these brownies. Any takers? 🙂 ) And I totally just gave you a clue!
These brownies hit me like a tidal wave. They have been in the background of my mind since I first saw them a few months ago, but suddenly I had to make them this very second. And oooooh buddy, you need to make them this very second, too. First of all, they are probably the best brownies I have ever eaten. In fact, it might not be a good idea for me to be home alone with this whole pan tonight… Joel took one bite and backed away, waving a white flag. He said if he ate any more he would eat the whole pan right there.
These brownies are rich, super fudgey, and melt in your mouth delicious. They are also made with your sourdough starter, which in my mind instantly makes anything that much cooler. The sourdough doesn't lend its typical sour tang here, but instead helps to cut the sweetness while upping the richness. If you have been debating whether to get off your but and make a starter, let this be your inspiration!
Mega Chocolate Sourdough Brownies (Wild Yeast)
300 g bittersweet chocolate, chopped
226 grams unsalted butter, cut into pieces (that's pretty much 2 sticks)
200 grams sugar
6 grams (1 tsp) salt
8.4 grams (2 tsp) vanilla extract
3 whole eggs, room temperature
40 grams cocoa powder
220 grams mature 100% hydration sourdough starter
Preheat oven to 325 F
Line a metal 9×13 pan with parchment paper and coat the paper in butter (if you leave some hanging over the long 13″ edges, it makes it really easy to lift the brownies out of the pan!).
In a double broiler, saucepan, or the microwave, melt the chocolate and butter. Stir it often so it does not burn.
Pour the melted chocolate/butter into a large bowl.
Whisk in the sugar, salt and vanilla.
Add the eggs one at a time, whisking to combine each addition.
Sift the cocoa powder over the chocolate and stir to combine.
Add the starter and stir gently until it is completely incorporated.
Turn the batter into the prepared pan and bake for about 40 minutes, or until a toothpick inserted into the center comes out clean.
Cool in the pan 20 minutes (this is the hardest part), lift the parchment paper out and allow to cool the rest of the way on a wire rack.
When cool completely, cut into squares and enjoy!