This easy Chicken Tikka Masala recipe is ready in about 20 minutes thanks to the pre-made masala paste that turns this into a pantry-staple, quick make meal your family will love!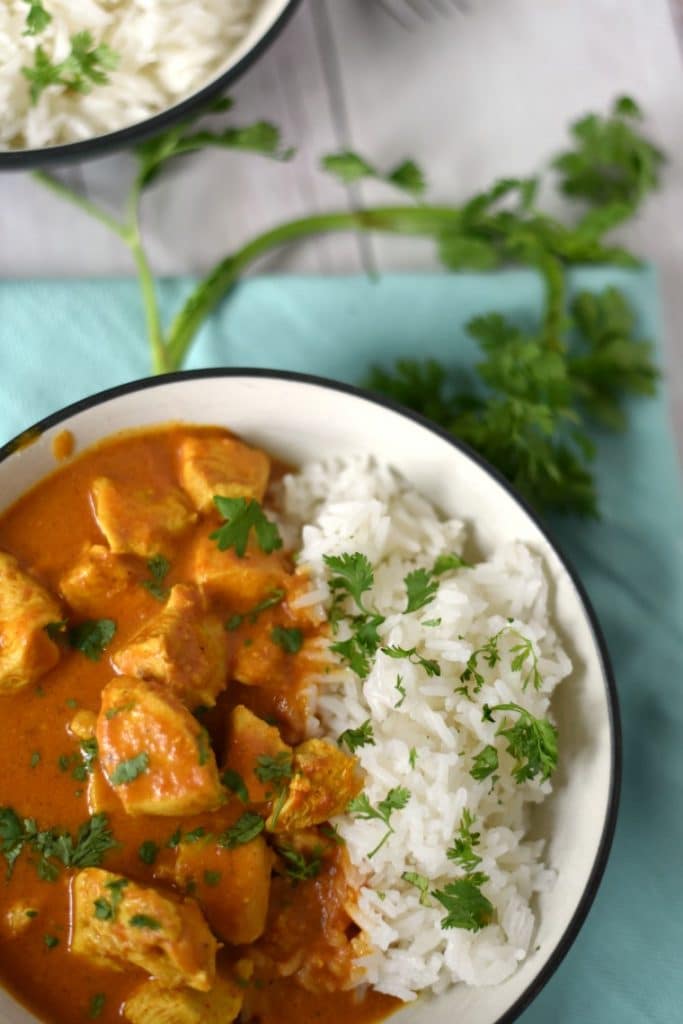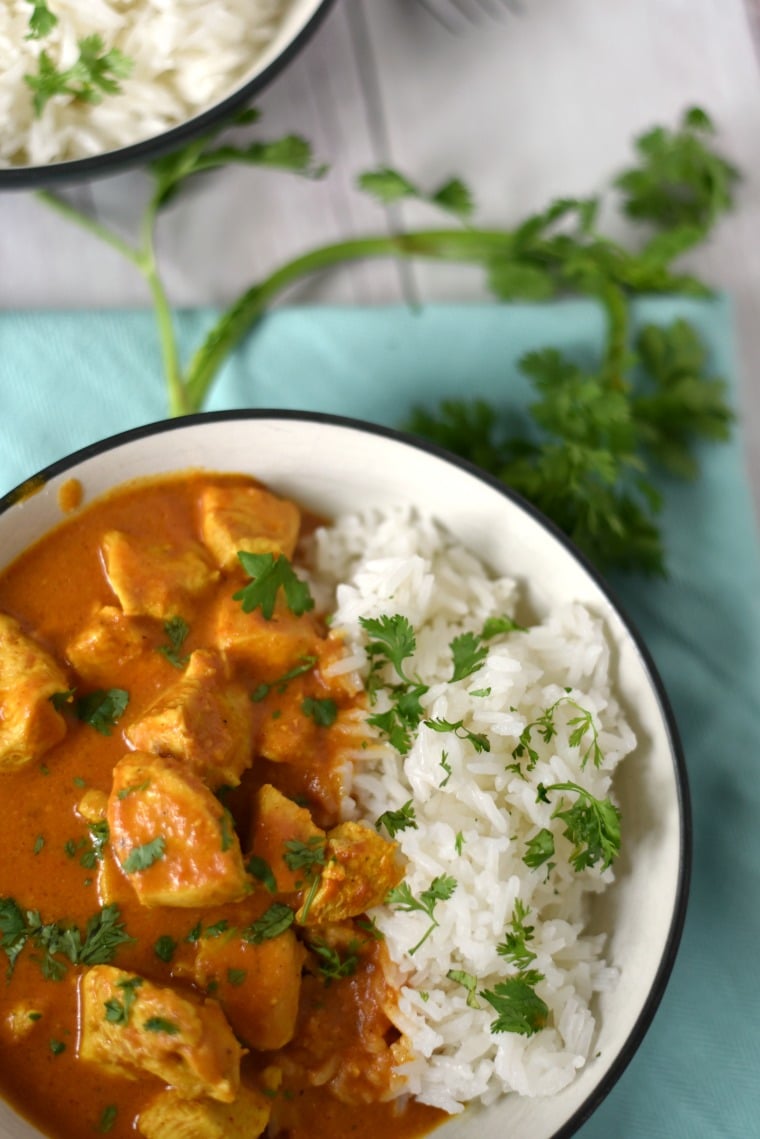 Even the best laid plans sometimes go awry. I mean, I am a huge proponent of meal planning, but even I have days where dinner is a struggle – I don't feel like what I have scheduled, or sometimes comes up, or heaven forbid I forget an ingredient at the store. uuuuuuuuugh that's the worst! (I am so not admitting how often that happens….)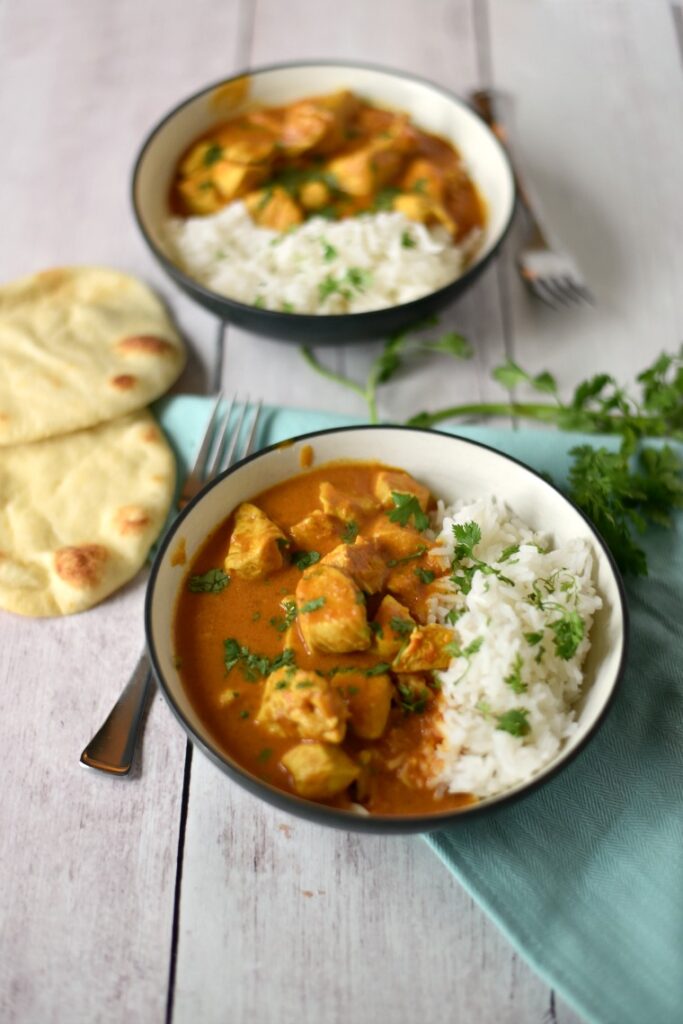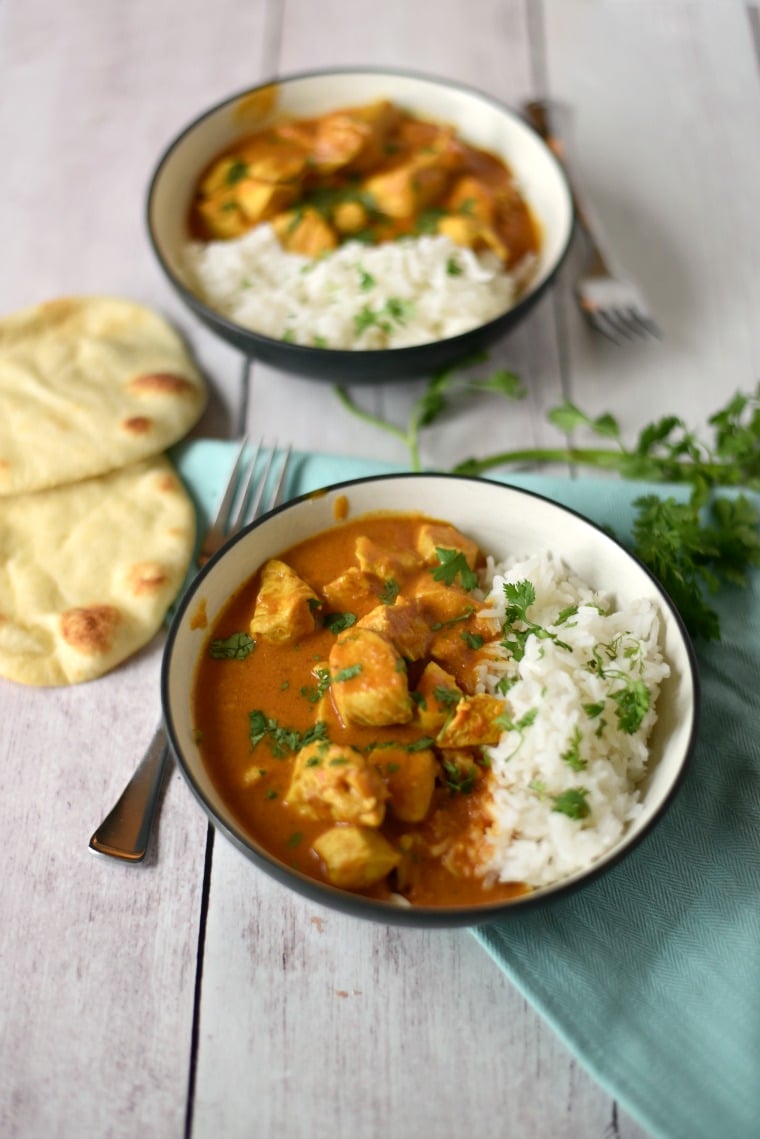 Having easy melas you can make with pantry staples you have on hand is super important. One of our favorite meals for times like these is Chicken Tikka Masala, and its one we turn to often – either through ordering take out or through ready made simmer sauces. The problem with the store-bought summer sauces is, while they are indeed quick, cheap, and easy – they are sooooo not at all healthy. And we have never really found one we liked, either. And we've tried just about all of them.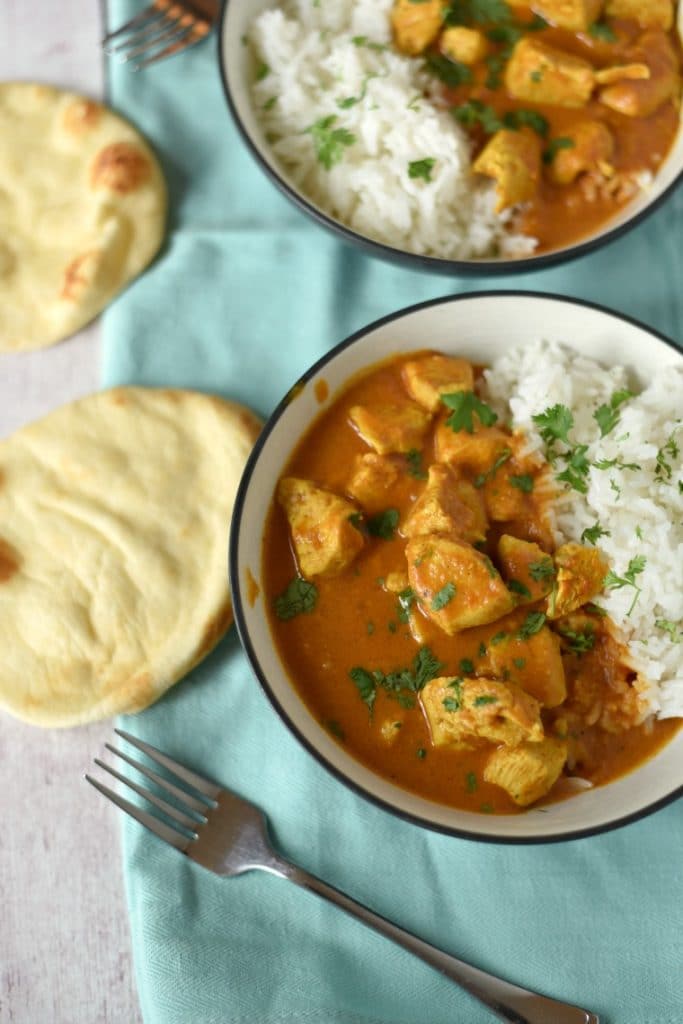 While I enjoy making Chicken Tikka Masala from scratch, sometimes you just need something SUPER easy, you know? Thats why I am super excited to share this recipe with you!
The trick is you pre-make a masala paste with just a few aromatic ingredients and then you divide it into 6 portions and freeze it for when you need it! As long as chicken, tomato sauce and coconut milk are things you regularly stock in your pantry, you will be ready to eat in about 20 minutes! And if you don't regularly stock these items in your kitchen, here is your personal written invitation to start. Because awesome delicious dinners should be hella easy. It's flavorful and lovely without being spicy or too harsh.
Speaking about meal planning and making these as easy for yourself as possible, another item you NEED to have in your life is a handy-dandy planner to keep all the pieces of your life together. I am madly in love with my Day Designer planner and I think you all need to be as well. It has one day per page, with plenty of room for timed events, lots of space for notes, to-do lists, a spot for you to write down important things to do that day, meal plan, and tons of other space.
I have spent a lot of time and money trying to find a system that works for me, and I gotta say – This is the one that works! I would be totally and 100% lost without my Day Designer!
For real.
Some days I even feel like I need to write down "take a shower" – ok that was a total lie. I have written that down before... But between the girl's activities, work, and home things, I NEED a space where I can write everything down and not feel overwhelmed. And that's why I am SO dang reliant on my Day Designer !
Serve this chicken tikka masala recipe with some cucumber raita on the side! Not only does it offer a cool and refreshing contrast to the curry, but it also helps cool down the spice level for any sensitive palates.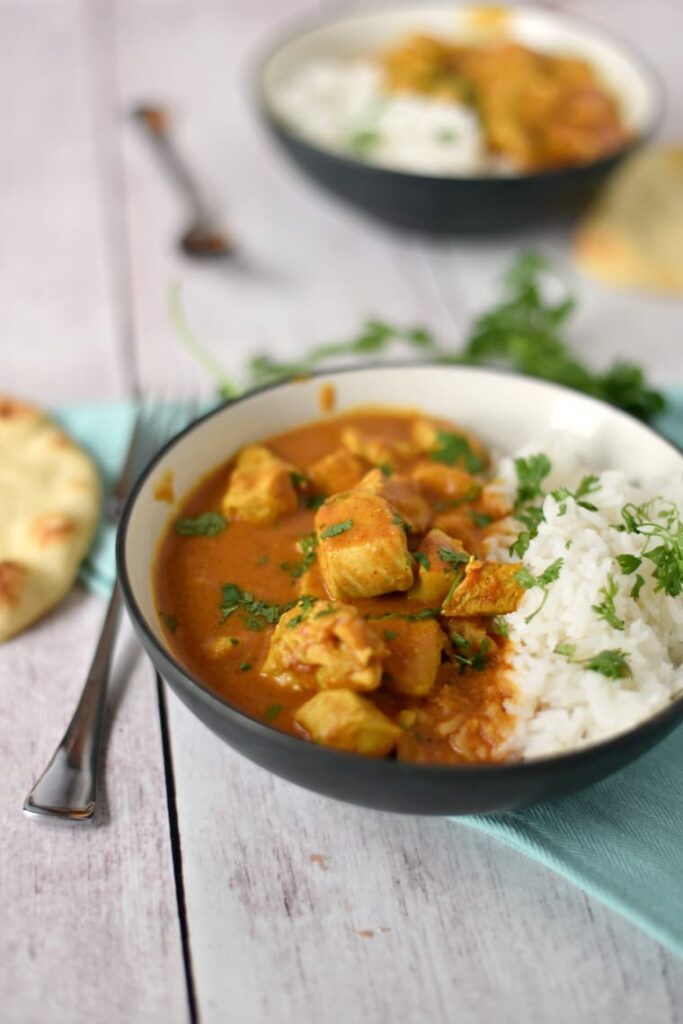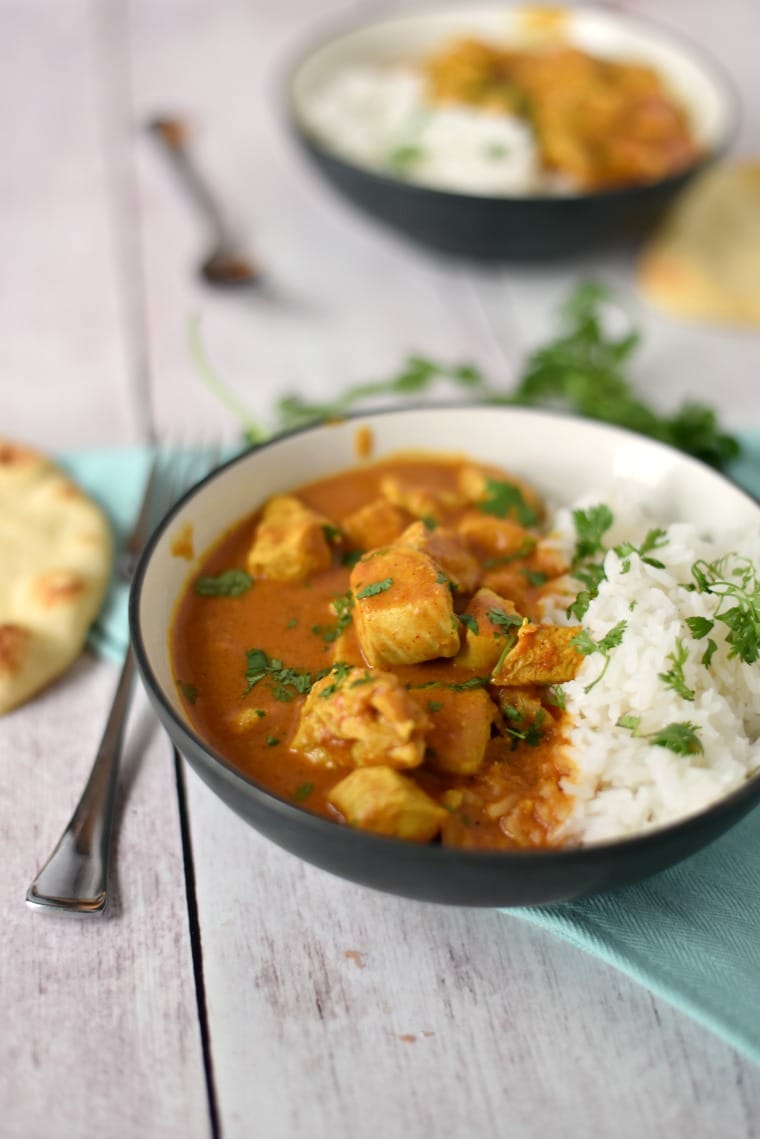 Get Your Kids in the Kitchen:
Kids 0-3: Can help measure out ingredients for the paste and pour the tomato sauce and the coconut milk
Kids aged 4-7: Can help squeeze lemon juice, help measure out the masala paste into freezer baggies, and help stir the saucepan.
Kids aged 8-12: Can help cut the chicken (with assistance).
Super Easy Chicken Tikka Masala
This easy Chicken Tikka Masala recipe is ready in about 20 minutes thanks to the pre-made masala paste that turns this into a pantry-staple, quick make meal your family will love!
Ingredients
Masala Paste:
1 small yellow onion
1 small red onion
3 cloves garlic
2" piece of ginger, peeled
3 TBSP garam masala
1 TBSP mild chili powder
1 TBSP Turmeric
2 tsp ground cumin
1 tsp ground cinnamon
1 1/2 tsp ground cloves
2 tsp salt
1/2 tsp cayenne pepper
1/2 cup sliced almonds
a handful of cilantro leaves
juice of 1 lemon
Chicken Tikka Masala
1 portion masala paste (about 1/4 cup)
1 lb boneless, skinless chicken breast
1/2 cup plain yogurt
1 1/2 cups tomato puree
14 oz can coconut milk (full fat)
For serving:
Instructions
Masala Paste:
In a food processor, combine the yellow onion, red onion, garlic, ginger, garam masala, chili powder, turmeric, cumin, cinnamon, cloves, salt, cayenne, cilantro, almonds and juice of 1 lemon.
Blend until you form an even and thick pate.
Chicken Tikka Masala:
Cut the chicken into bite sized pieces and toss with the yogurt. Set aside.
Heat a large skillet over medium-high heat with 1 TBSP of olive oil.
When warm, place the masala paste in the skillet and stir for 30 seconds - 1 minute, until the paste becomes nice and fragrant.
Add in the chicken/yogurt and cook until mostly cooked through, stirring frequently.
Pour in the tomato puree and the coconut milk and allow to simmer for 10-15 minutes.
Turn off the heat and allow to sit for a few minutes to let the sauce thicken up a bit.
Spinkle with chopped cilantro and serve with either rice or naan (or both!)
Enjoy!
Notes
You will need to thaw out your masala paste for a few hours before using it - it doesn't have to be totally thaw, just not rock solid.
This makes enough masala paste for 6 meals - each meal makes 4 servings - so there are 24 servings in total.
Nutrition Information:
Yield:

4
Serving Size:

1
Amount Per Serving:
Calories:

681
Total Fat:

35g
Saturated Fat:

21g
Trans Fat:

0g
Unsaturated Fat:

11g
Cholesterol:

98mg
Sodium:

1482mg
Carbohydrates:

49g
Fiber:

7g
Sugar:

10g
Protein:

48g