This easy 30 Minute Korean Bulgogi Beef Bowl is loaded with fresh ingredients & bold flavors, while still being kid-friendly & quick enough for any night of the week. It will soon be a family favorite!
Thank you to WÜSTHOF for providing the giveaway for this post. And Thank You for supporting the brands that support me and allow me to continue to grow my blog. All opinions, recipe and photographs are my own.
You know that song "It's a Small World After All"? I mean, how could you not, right? And I'm totally sorry for getting it stuck in your head for the rest of the day.
When you sit down and think about it, the Earth is BIG. I mean, its about 24,860 miles around its circumference. There are 196 countries, and 7.4 BILLION people who live here. We have 24 different time zones, 13 different climates, and so many other awesome and amazing variations.
And yet, even with all this, we are still very much a global community.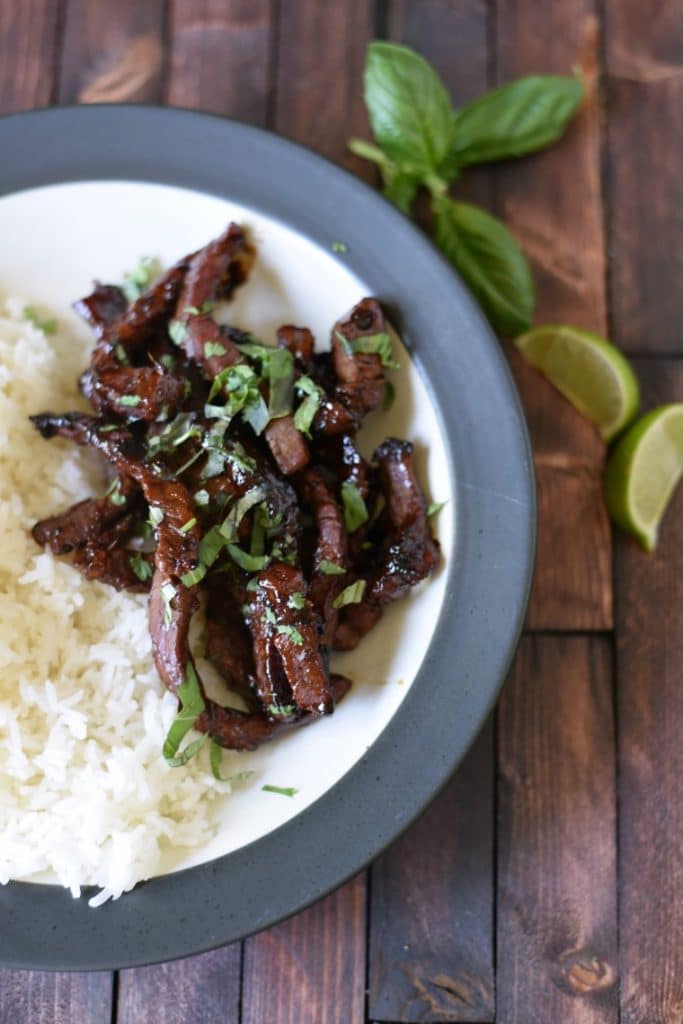 What with our neighborhoods, church organizations, work groups, conferences, retreats, and camps, we often get to mingle with people who live all over. And our interactions with people are not limited to face-to-face communities, either. With the advent of technology and social media, we really are becoming a global community.
Because of Facebook groups, I can talk with blogging friends I have made across the world.
Because of Skype my children can actually see their cousins living in Korea.
Because of social media and the internet we can work, play, discover and talk to people all over the world.
Even though we live in this big, vast, amazing planet – it totally feels like a small world, after all!
I love making these type of "bowl" recipes, where you have a few simple staples and then add a billion awesome toppings to them. These Korean Bulgogi Bowls are an amazingly easy weeknight meal that comes together in about 30 minutes or less.
The bulgogi beef is tender and flavorful (and I like the slightly sticky quality to the sauce!) and all the different toppings really add a fresh and fun element to the dish.
I suggest placing all the toppings on the table and allowing your family members to each top their own bowl. You can make a recommendation that they place a certain number of items on their bowl (say 3-4 different toppings).
Shortcuts to Make Bulgogi Beef Bowls Faster:
You can make the marinade up to 24 hours in advance and store in an air-tight container in the fridge.
You can marinade your beef overnight, or for 30 minutes, depending on how much time you have.
Use pre-packaged shredded carrots, cabbage, pre-cut mango, and minute-rice to make this amazingly easy!
You can chop your cilantro and basil and slice your cucumbers ahead of time and store them in containers in the fridge until you are ready to use them.
Get your Kids in the Kitchen:
Children aged 0-3 can help you measure out and mix the marinade ingredients and also help you place all the topping ingredients in a dish or on a tray for serving.
Children aged 4-7 can help you slice the mango, avocado (but cut it in half and remove the seed for them first), cucumber, and chop the cilantro and basil leaves.
Children aged 8-12 can help you slice and cook the beef, prepare the eggs, and steam the broccoli, (with supervision!).
When it comes to world-class products, WÜSTHOF is definitely at the tip of everyone's tongue. Founded in Germany and family owned for 7 generations, WÜSTHOF is definitely the defining name in expert craftsmanship. When there are sooo many different choices when it comes to knives, its hard to know which way to turn. I always look for 3 important factors when making my purchasing decisions – the quality of the craftsmanship, the ease of use, and maintenance/care. Notice I didn't say price. I am definitely ok paying more for a product that I know will perform over time, and not need to be replaced every two years. Over the years I have slowly been building up my knife collection, and I love the ones I own. The 8″ bread knife is seriously my favorite one I own – it cut all the crusty sourdough loaves I make with ease! I also think its pretty amazing that they offer a mail-in knife sharpening!
Print
30 Minute Korean Bulgogi Beef Bowls
Author:

Prep Time:

10 Minutes

Cook Time:

20 Minutes

Total Time:

30 minutes

Yield:

4 Servings

Category:

30 minute Meal

Method:

Stir-Fry

Cuisine:

Korean
---
Description
This easy 30 Minute Korean Bulgolgi Beef Bowl is packed with fresh ingredients and bold flavors, while still being kid-friendly and quick enough for any weeknight! 
---
Ingredients
Beef Marinade:
1 cup soy sauce
1/3 cup brown sugar
1 tsp gojuchang or sriracha
1 TBSP fresh minced ginger
2 cloves garlic, minced
2 TBSP sesame oil, divided
2 lb skirt steak, sliced into thin strips
For Serving:
3-4 cup white or brown rice
1 cup shredded cabbage
1 mango, sliced into strips
1 cup steamed broccoli
1 avocado, sliced
4 eggs, soft boiled or fried
1 Lime, cut into wedges
1/4 cup each basil and cilantro, chopped
1 medium cucumber, cut into slices
1 cup shredded carrot
2 TBSP sesame seeds
---
Instructions
In a large bowl, combine the soy sauce, brown sugar, gojuchang, ginger, garlic, 1 TBSP of the sesame oil, and the thinly sliced skirt steak. Stir to coat well and set aside (unless you are marinading it for 30 minute or longer, then cover and place in the fridge).
Prepare the rice.
Prepare the topping ingredients – shredded cabbage, mango, steamed broccoli, avocado, eggs, cucumber and shredded carrots.
Heat a large skillet over medium-high heat.
When the pan is hot (make sure its hot, first!) add the remaining 1 TBSP of sesame oil.
Using a slotted spoon, place the beef slices into the hot skillet (try to keep most of the marinade in the bowl, not in the pan. Save the marinade!)
Cook for 2-3 minutes, until nice and caramelized.
Stir/turn the beef over and cook for an additional 2-3 minutes on the other side, until all the beef is well caramelized.
Add 2 TBSP of the marinade to the pan and cook for 2-3 minutes, allowing the marinade to create a lovely sticky sauce for the beef.
Remove from the pan and place in a serving bowl with the rice. Top with the chopped basil and cilantro.
Portion out into 4 individual servings and top with toppings.
Enjoy!
Interested in more recipes that feature Goguchang? Try Dak Galbi Street Tacos – a fiery but seriously tasty treat. This might be one of the only non-kid friendly meals on my blog, but my husband adores it and we make it often. Its seriously one of the only times the kids get chicken nuggets while Mommy and Daddy get something else!
Looking for other global inspired recipes for your family to try? Check out:
Check out the Eat Like A Princess Series – easy weeknight recipes developed specifically to introduce cultural recipes and new ingredients to children in the guise of food their favorite princesses would have eaten!

SaveSave