These sticky rolls are the ultimate decadent treat. Soft and flaky brioche is swirled with generous amounts of chocolate, toasted pecans, and cinnamon and then baked in a bath of gooey bourbon infused caramel. A treat this amazing deserves to be enjoyed and savored while it is still warm from the oven.
This post was sponsored by Santa Barbara Chocolates. All opinions are 100% mine.
Chocolate is life.
I know it, you know it, and pretty much everyone since the Mayans discovered it knows it.
Don't even try to pretend like it isn't.
A quick Google search brings up thousands of results on the health benefits of chocolate. This practically makes chocolate the next superfood, right?
If we are going to start treating chocolate like a health food item (which I am totally all for!) then we also need to be concerned with the quality of chocolate we are using. Nutritionists and Dietitians are always stressing how important it is to use the highest quality food that we can. To gain the most benefits the nutrients have to offer, you should be eating foods that are the freshest, that are the least processed, and contain the least amount of ingredients.
But when it comes to the vast majority of store-bought chocolate (you might want to sit down for this), most of them don't even contain much cocoa at all. They are filled with soy, fillers, fake sugars and other weird ingredients. Real chocolate, the good high quality stuff that comes straight form the source with only sugar and butter added makes a world of difference. The good stuff should be soy free, gluten free, and so close to a health food that it is diet approved! Guys, you won't even believe the taste difference here – who knew chocolate could have such a complex and robust flavor?
These sticky rolls are the ultimate decadent treat. Soft and flaky brioche is swirled with generous amounts of chocolate, toasted pecans, and cinnamon and then baked in a bath of gooey bourbon infused caramel. A treat this amazing deserves to be enjoyed and savored while it is still warm from the oven.
Does anyone else find it super ironic that I just spent the last 5 minutes extolling how awesome and healthy quality chocolate was, and then I wrapped it in buttery brioche and smothered it in bourbon infused caramel? I just can't help myself.
When you feel the need to treat yourself to something rich, chocolatey and oh so soul-satisfying, don't reach for something that was shrink wrapped and stuck in a box months ago. Instead, head to the kitchen and spend just one hour (seriously, one hour is all you need!) creating this chocolately masterpiece, invite some friends over, and enjoy something that is truly worth it!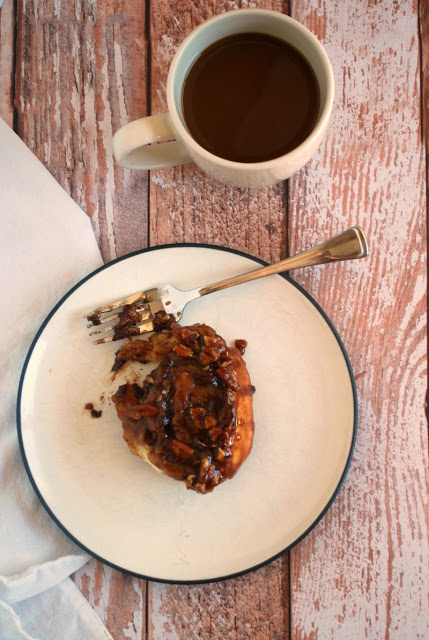 If you are looking to upgrade to real, life changing chocolates, I would highly recommend Santa Barbara Chocolates! Their organic cocoa is ethically traded straight from the rainforest in a sustained manner, and and they only use the highest quality ingredients. Their chocolates are gluten free, soy free, non-GMO and kosher. This is real chocolate.
Love a good cinnamon roll recipe? Boy do I have the recipe collection for you:
Yield: 12 Servings
Chocolate Pecan Sticky Rolls with Bourbon Caramel
Breakfast Decadence! These Pecan Sticky Rolls also have chunks of chocolate and bourbon laced caramel sauce of a rich and special treat!
Total Time
1 hour
20 minutes
Ingredients
**Dough
3 Tablespoons yeast
1 cup warm water
1/2 cup + 1 TBSP granulated sugar
1/4 cup butter, melted
3/4 cup milk, warmed
1/2 teaspoon salt
2 eggs
5 cups flour
**Bourbon Caramel
12 Tablespoons unsalted butter
1 1/2 cups brown sugar
1/2 cup cream
1/3 cup honey
1/4 teaspoon salt
2 Tablespoons bourbon
**Filling
3/4 cup brown sugar
6 Tablespoons granulated sugar
1 Tablespoons ground cinnamon
1/4 teaspoon salt
1/2 cup melted butter
3 cups whole pecans
2 cups good quality chopped chocolate
Instructions
Grease a 9x13 baking pan and set aside.
In a microwave safe glass, warm the milk and butter in 30 second intervals until the butter is melted. In a large bowl, mix together the yeast, warm water and 1 TBSP of sugar.
Allow to sit for 5 minutes.
Add the butter/milk mixture, the eggs, and the remaining 1 cup of sugar to the yeast and stir to combine.
Start adding 1 cup of flour at a time, mixing until you have reached a soft dough - you might not need to add all of the flour. You want a soft dough, but not an overly sticky dough.
Dump out on the counter and knead for 2 minutes (you can add a tiny bit more flour if you need to, but don't add too much or your dough will become tough).
Place a tea towel over the dough and allow to rest for 20 minutes (during this time, start prepping the other things).
In a large skillet over medium heat, toast the pecans until fragrant and slightly darker (be careful to stir the whole time so they don't burn).
Remove to a plate and allow to cool.
In a large saucepan, heat the butter over medium-low heat until melted.
Stir in the brown sugar, cream, honey, salt and bourbon.
Bring to a simmer and allow to cook, without stirring for 3-5 minutes. You want a nice thick caramel-colored sauce!
Remove from heat and pour into the prepared baking pan.
Chop the nuts until you have 1 cup of chopped nuts.
Set those aside, and roughly break up the remaining nuts into large chunks.
Sprinkle the large chunks of pecans over the caramel in the baking pan.
In a medium bowl, mix together the brown sugar, sugar, cinnamon and salt for the filling.
Melt the 1/2 cup of butter for the filling and set aside to cool.
Lightly flour your counter and roll out the dough into a very large rectangle.
Evenly brush the melted butter over the dough, leaving about 1/2" border around the edges.
Sprinkle the filling evenly over the melted butter.
Sprinkle the chopped toasted pecans and the chopped chocolate over the filling.
Starting with the long edge of the dough, roll up into a log.
Using a sharp serrated knife, cut the log into 2" pieces, and place each piece cut side up into the prepared pan, nestling it into the caramel.
Cover the dish with a dish towel and allow to rest while the oven preheats to 350F.
Bake for 18-20 minutes, until golden brown.
Remove from the oven and allow to cool on a wire rack for 3-5 minutes.
Place a serving tray upside down over the baking pan and flip the pan/tray so the rolls slide out onto the baking tray.
Arrange any of the caramel/nuts that might have stuck to the pan onto the rolls.
Nutrition Information:
Yield:

12
Serving Size:

1
Amount Per Serving:
Calories:

978
Total Fat:

55g
Saturated Fat:

24g
Trans Fat:

1g
Unsaturated Fat:

28g
Cholesterol:

111mg
Sodium:

327mg
Carbohydrates:

111g
Fiber:

6g
Sugar:

64g
Protein:

13g