Viking Grilled Lamb Kebab
These easy Viking Grilled Lamb Kebabs are a kid-friendly rendition of traditional Icelandic lamb soup, inspired by the movie "How to Train Your Dragon". This kid-friendly lamb skewers recipe has tender, flavorful bites of lamb shoulder, fresh tart apples, crunchy grilled cabbage, and tender mushrooms and onions.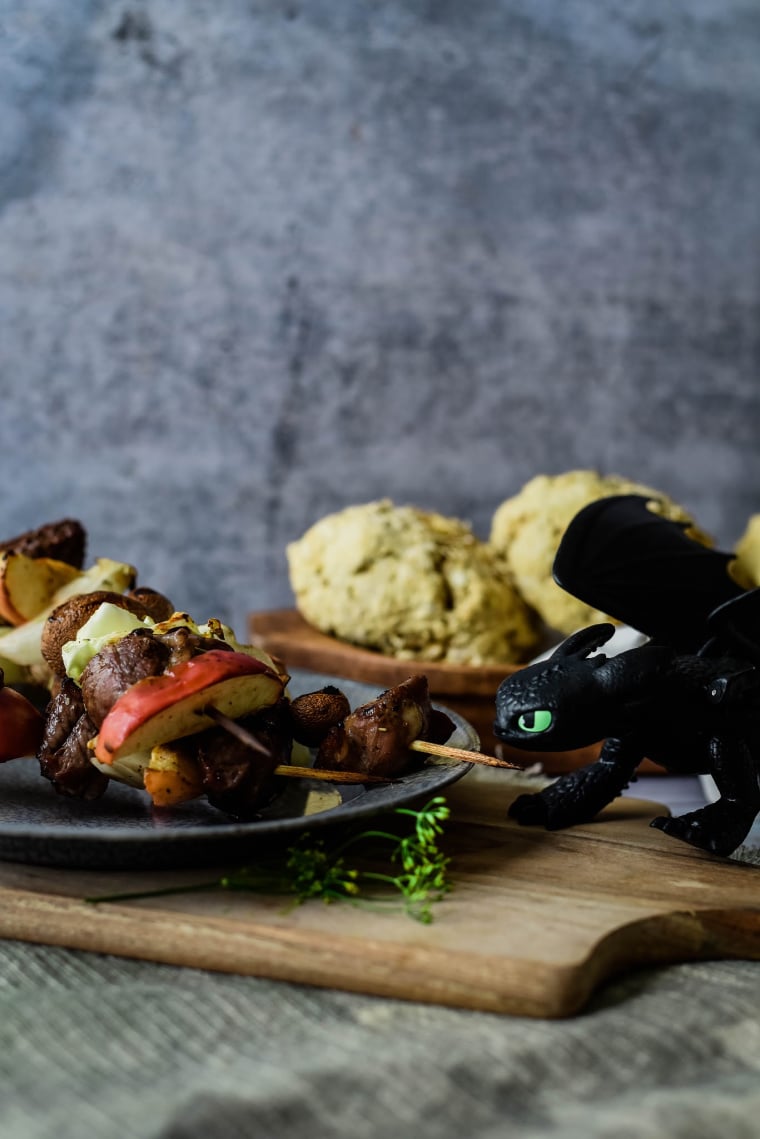 Anyone else have a kid massively obsessed with dragons? Somehow dragons went from ultra-nerdy dice games to main-stream cool, and kids everywhere are obsessed with them. My daughter has been watching tv, reading books, and non-stop talking about dragons for a while now, so it only seemed natural that we make a meal based off of dragons together.
This recipe is inspired by the "How to Train Your Dragon" movies (and TV show). The Isle of Berk is home to a tribe of vikings, and so I wanted this recipe to give homage to viking inspired flavors. Vikings originated in Scandanavia, among the Norse population and lived in what is now known as Denmark, Sweden, Norway, and Iceland.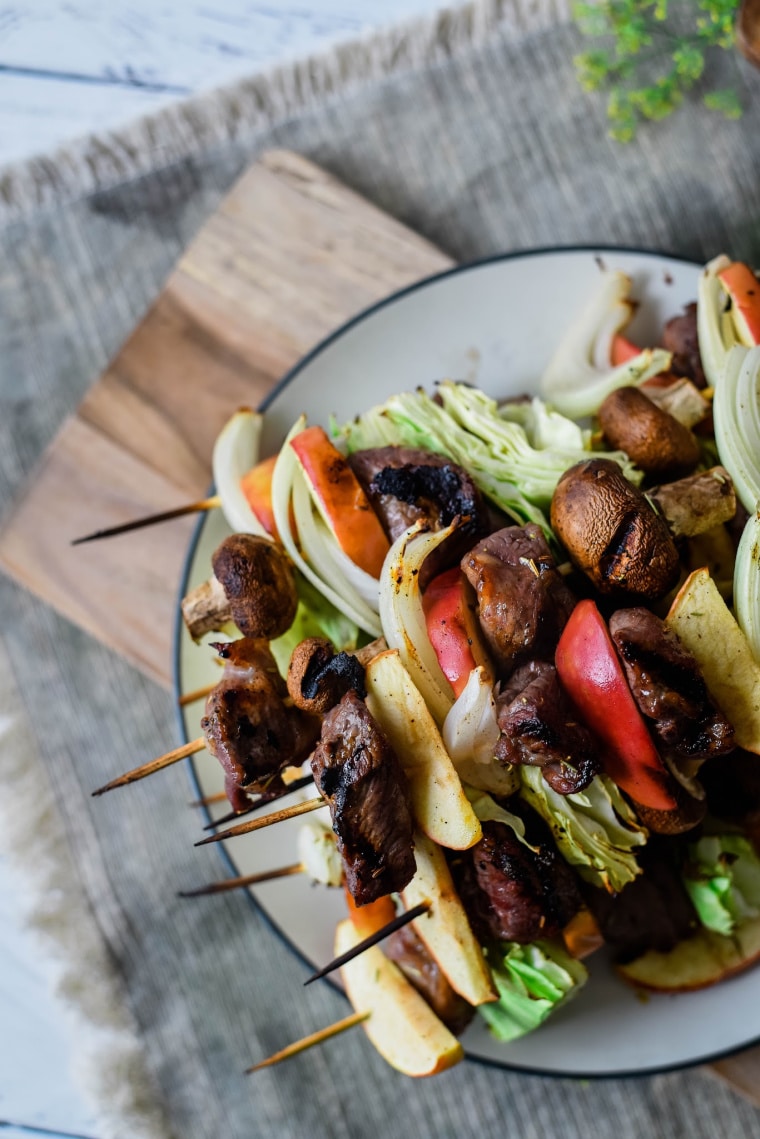 This "How to Train Your Dragon" recipe lamb skewers are actually a deconstructed rendition of a traditional Icelandic Lamb Soup.
A dragon rider would need a more portable way to cook food than a heavy metal soup kettle, and cooking over a fire when your companion can actually breathe fire seems logical. 
Throughout the "How to Train Your Dragon" movies and the made for Netflix show, sheep are often shown around the island. So the inhabitants of the Isle of Berk definitely are eating lamb. And the dragons are constantly trying to steal the sheep, too, so they also like to eat lamb.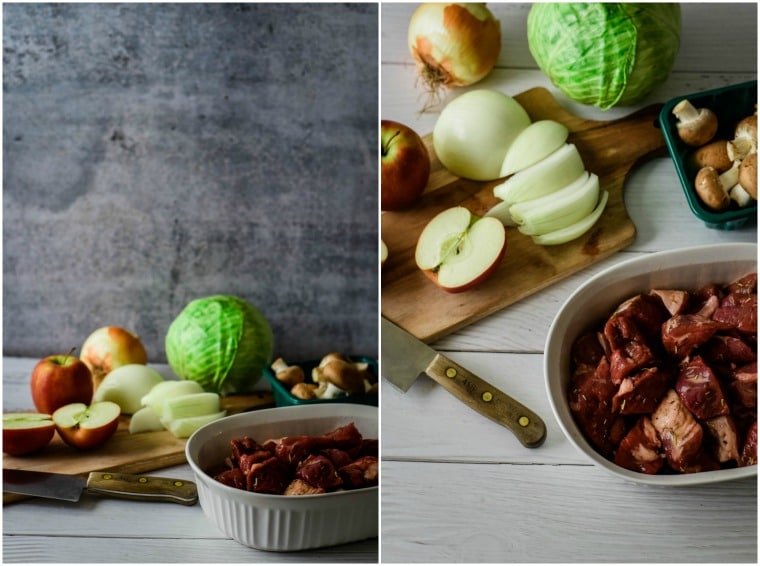 Interested in other recipes inspired by your kids favorite movies? Try these: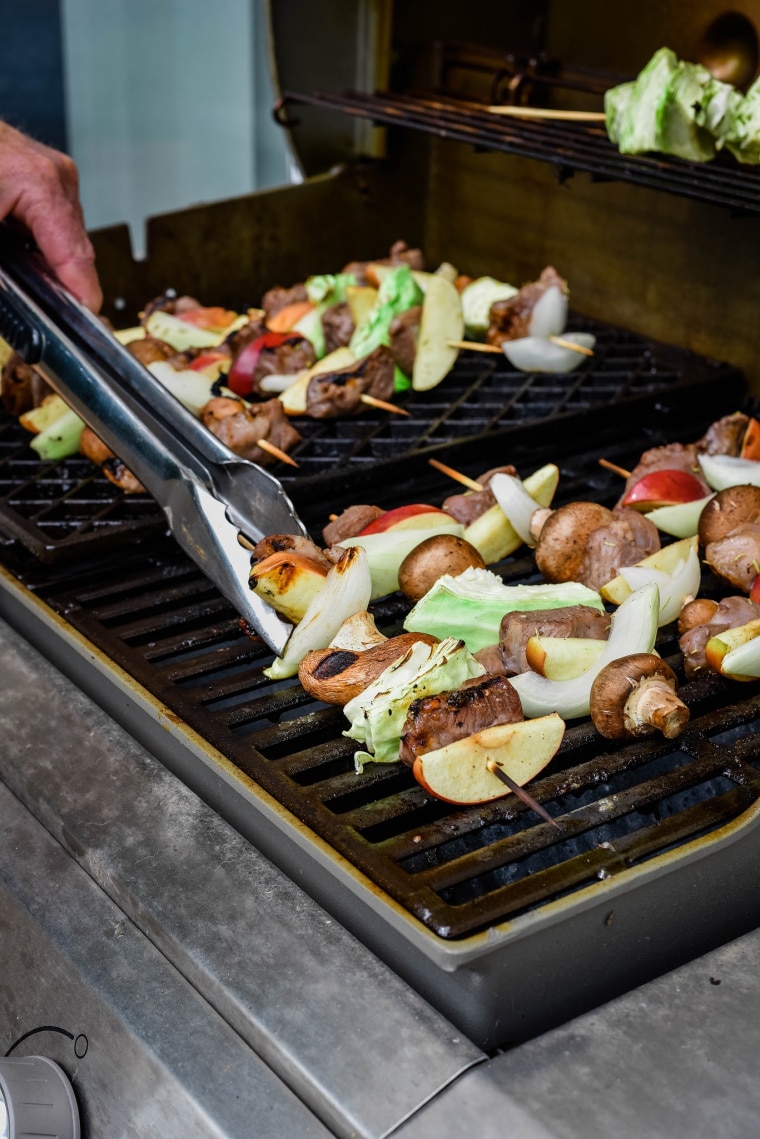 How to Make Grilled Lamb Kebabs
Grilled Lamb Kebabs are so simple to make, they are perfect to make any night of the week!
Simple whisk together the marinade, and let the meat soak up all that flavor while you prepare the rest of the ingredients for the kababs. If you are using wooden skewers, make sure you set those to soak in some water, too, so they don't char on the grill.

Then turn on the grill and let it get nice and hot while you thread your skewers. You want the grill to be about 350 for this grilled lamb kabob recipe.

Grill the lamb skewers for 8 minutes, flip, and grill for another 8 minutes. This will ensure that all the ingredients on your kebabs are cooked perfectly at the same time.

An internal thermometer should read 145F for medium-rare, which is absolutely perfect for grilled kebabs.

Pull the kebabs off the grill when they reach 135F (they will finish coming to temperature while they rest)

Allow the skewers to rest on a foil tented platter for 5 minutes while you set the table. The lamb should now read 145F. Dig in!
What cut of lamb to use for grilled kebabs
For this recipe, I used a top round roast of lamb, cut into 2" pieces. The shoulder, leg, and neck are all great sources to use for grilled kebabs, just make sure to not cut the pieces too small, or they will overcook in the center before they have a chance to develop a gorgeously rich exterior color.
How to prep Viking Lamb Kebabs ahead
These lamb skewers are actually so simple, there is not much you can do to prep it ahead. That being said, there are a few steps you can take either the night before or earlier in the day:
Prep the dipping sauce by mixing the icelandic yogurt and fresh chopped dill together. Store in an air-tight container in the fridge up to 2 days. This is also pretty amazing to dip fresh veggies in, too!

Pre-cut your lamb into 2" pieces for the kabobs. I actually asked my butcher at Whole Foods to do this for me!
How to make Grilled Lamb Kebabs Kid-Friendly
I love getting kids interested in and intrigued by real foods in fun and creative ways! The more you can get them involved and interacting with the meal, the more likely they are to want to try it, and to actually enjoy it!
These Viking Grilled Lamb Kebabs were created with dragon-obsessed kids in mind! If your kid would love to be a dragon rider (I mean, who wouldn't, right?), then this meal will totally pique their interest!
By serving lamb in bite sized pieces we can ensure that each piece is cooked to perfection – so it can be easily chewed by kids. The colorful cabbage, mushrooms, and apples, all become more delicious on the grill. And because kids love to dip their food, a simple yet delicious dipping sauce accompanies and pairs perfectly with each ingredient on the kebab.
Dinner Conversations with Kids about Grilled Lamb Kebabs
Dinner time is more than cleaning your plate! Its also a perfect time to engage with your kids about what you are eating in an easy and stress-free way. Use these conversation starters to help open up a conversation about these Grilled Viking Lamb Skewers:
What do you think was Hiccup and Astrid's favorite thing to eat?

Do you think Hiccup and Toothless ever shared a meal (besides that one raw fish?)

How do you think Hiccup would cook his food?

Which part of your skewer is the juiciest? Which is the crunchiest?

What does the dipping sauce smell like? Does it remind you of anything you have eaten before?

Would you eat this again? What would you change to make this even yummier?
How to Serve Viking Inspired Grilled Lamb Skewers
This Vikign inspired lamb recipe is easy to serve to all members of the family. With flavorful ingredients in a variety of colors and textures, this is a fun and tasty complete meal for a family to enjoy together.
For Older Babies and Toddlers

– Remove the kebab components from the skewer. Dice everything small and serve in individual piles.

For Preschoolers

– Remove the kabob ingredients and cut the lamb into more bite-sized pieces. Serve the components in individual piles so nothing touches. Serve with dipping sauce and bread.

For Older Kids

– Help your child remove the food from the skewers. Serve with dipping sauce and bread.

For Adults

– Serve the skewers with dipping sauce and bread. Enjoy!
Kids in the Kitchen: How Your Kids Can Help You Cook
Getting your kids in the kitchen is an amazing way to help them be more interested in trying new foods and confident in their own abilities in (and out of!) the kitchen. This grilled lamb recipe is great because it helps kids learn to use measuring spoons and they get practice whisking liquid ingredients and washing produce. This recipe is perfect for beginner cooks because it is so easy! And it is a great recipe for kids to experiment and become more comfortable with new flavors – which means they are more likely to eat it!
Kids aged 1-3

can help you wash all the produce and measure and mix the marinade ingredients together.

Kids aged 4-6

can do everything above, plus help you cut the cabbage into bite sized wedges.

Kids aged 7-10+

can help you do everything above, plus help you slice the apple and thread the kebabs together.
*Please note that these recommendations are generalized, and to please use your personal discretion with your child's skill level. And always, always supervise! Read more about how to have your children help you in the kitchen.
There's nothing I love more than seeing you make my recipes! If you make these Viking Grilled Lamb Kebabs, don't forget to leave a comment below and rate the recipe!
And if you are on Instagram, tag @gingeredwhisk and use the hashtag #gingeredwhisk on social media when you make my recipes so that I can share them and maybe even feature you. Follow along to get the latest updates:
And don't forget to subscribe to the email list to get all the extra tips, tricks and bonuses!
Viking Grilled Lamb Kebab
These easy Viking Grilled Lamb Kebabs are a kid-friendly rendition of traditional Icelandic lamb soup. This kid-friendly lamb skewers recipe has tender, flavorful bites of lamb shoulder, fresh tart apples, crunchy grilled cabbage, and tender mushrooms and onions.

Print
Pin
Rate
Ingredients
Marinade:
¼

cup

malt vinegar

¼

cup

honey

½

teaspoon

caraway seeds

½

teaspoon

dried rosemary

¼

teaspoon

allspice

¼

teaspoon

ground cloves
Skewers
2

lb

lamb shoulder

cut into 2″ cubes

2

honey crisp apples

1

head cabbage

cut into 2″ chunks

8

oz

button mushrooms

1

yellow onion

sliced into thick chunks
Dill Dip
8

oz

icelandic plain yohurt

3

Tablespoons

fresh dill

chopped
Instructions
Whisk together the ingredients for the marinade (the malt vinegar, honey, caraway seeds, rosemary, allspice and cloves.

Place 2/3 of the marinade in a wide bottomed baking dish, and toss in the lamb cubes, turning to coat. Allow to marinade while you prepare the rest of the ingredinets.

Chop the apples, cabbage, and onion into thick slices.

Prehreat the grill to 350F.

Skewer the ingredients onto the kebab skewers in alternating patterns – the lamb, apple, onion, mushroom and cabbage, until all have been used.

Carefully brush the remaining marinade over the skewers.

Grill the skewers for 8 minutes, then flip.

Continue grilling for an additional 8 minutes.

While the lamb kebabs are grilling, whisk together the icelandic yohurt and the chopped dill.

Remove the skewers from the grill when the internal temperature is 135F.

Place the skewers on a platter and tent with foil. Allow to rest for 5 minutes, at which point the internal temperature should be 145F.

Serve the skewers with the dill dip.

Enjoy!
Nutrition
Serving:
1
g
|
Calories:
386
kcal
|
Carbohydrates:
45
g
|
Protein:
35
g
|
Fat:
8
g
|
Saturated Fat:
3
g
|
Polyunsaturated Fat:
4
g
|
Cholesterol:
97
mg
|
Sodium:
129
mg
|
Fiber:
7
g
|
Sugar:
35
g
Want to save this for later? PIN THIS TO YOUR DINNER BOARD on Pinterest!