This simple and delicious kids chicken curry with papaya recipe is a great kid-friendly dinner that is ready in 30 minutes. Warm and comforting and mildly spiced with a rich sauce, its a great beginner curry recipe for the family!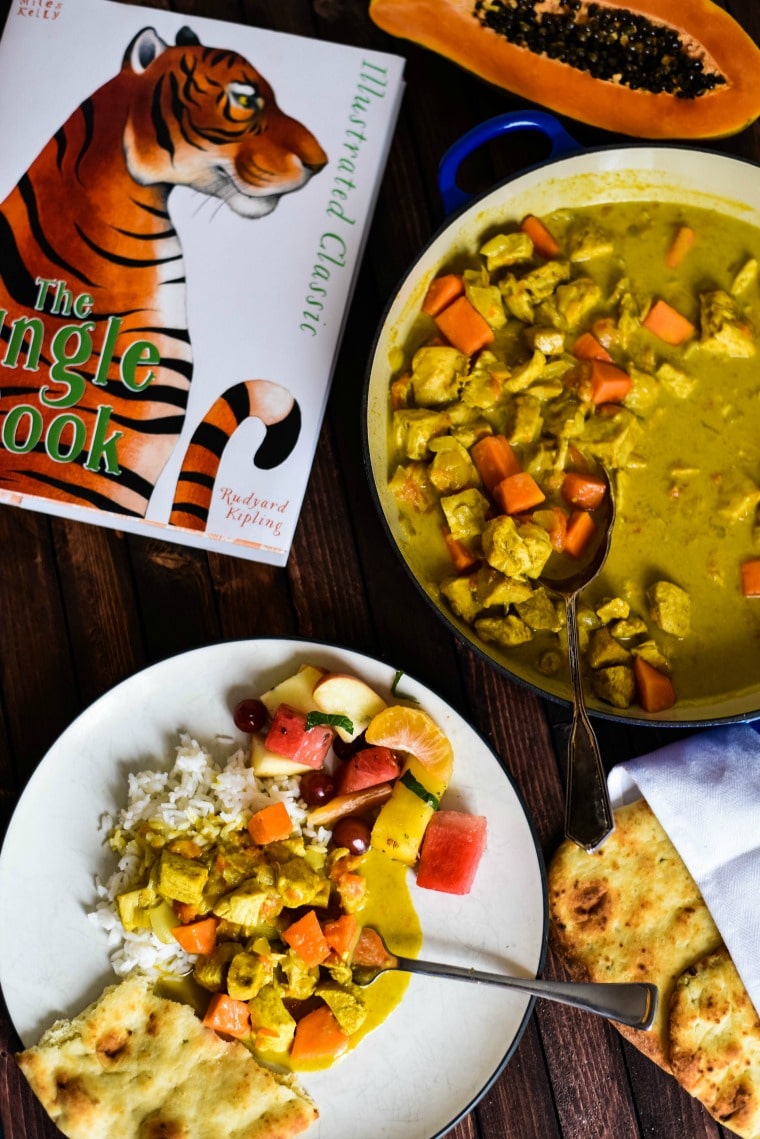 Its time for a Family Date Night – The Jungle Book style! This easy mild curry based meal is designed to get the whole family involved in some quality time – in the kitchen and enjoying an evening together! Read the book, eat the meal, and watch the movie! (See more "Once Upon A Dinner Date Recipes")
Once Upon A Dinner Date – The Jungle Book
Jenni Ward/The Gingered Whisk is a participant in the Amazon Services LLC Associates Program, an affiliate advertising program designed to provide a means for sites to earn advertising fees by advertising and linking to Amazon.com
One day while perusing the used bookstore, I found this gorgeously illustrated copy of The Jungle Book by Rudyard Kippling and I knew I HAD to have it (I am a total sucker for a great illustrated classic). Unfortunately, it was only a few nights into reading it that I realized that my girls (aged 7 and 4) were not quite ready to sit and listen to it yet – the vocabulary was a little advanced still. After the 57th time asking who Mowgli was, I just gave up). But I had already formulated this idea of a family date night in my head and I couldn't let it go – so back to the bookstore I went! After a little more shopping I found these great options – The Jungle Book: BabyLit Storybook for the older girls and Jungle Book: A BabyLit Animals Primer for the baby (because why not…).
After reading the (much more age appropriate) story, it was time to get in the kitchen and create a meal together! Break out the cute aprons and step stools! Everyone got their own jobs to do (see below for a breakdown), and everyone was involved. After dinner we all curled up on the couch together to watch The Jungle Book movie and enjoy our fruit salad dessert.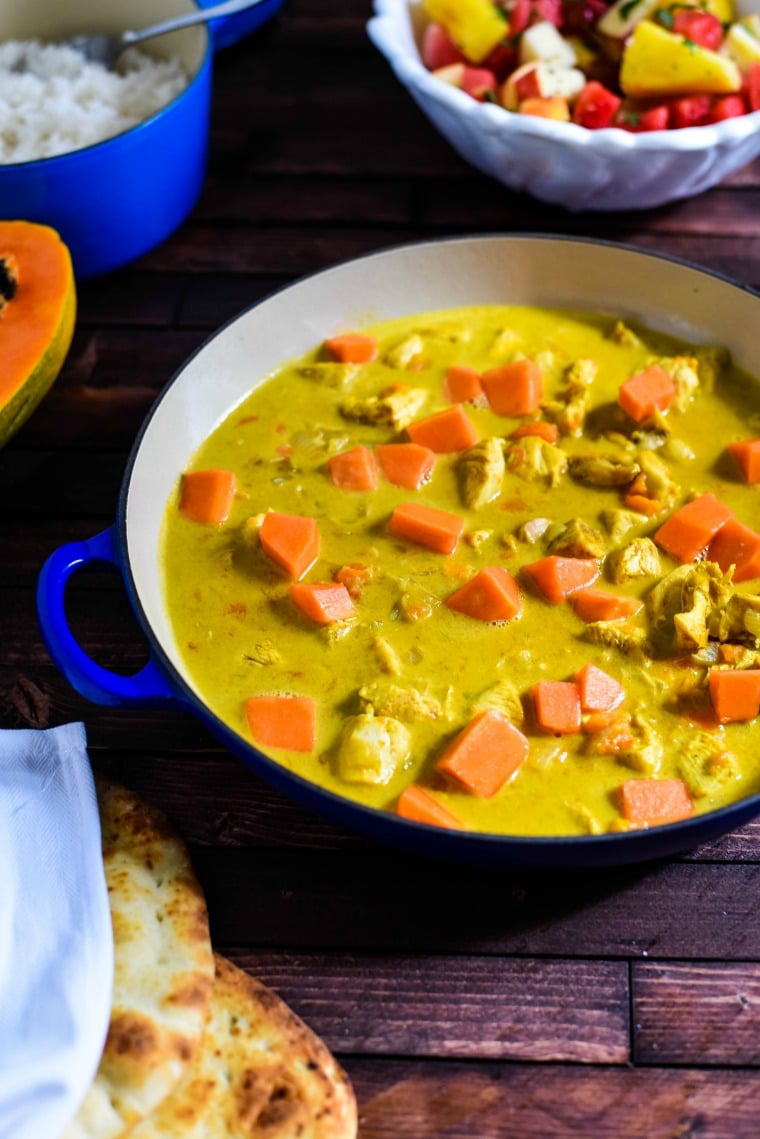 Kids Chicken and Papaya Curry
This simple chicken curry recipe is the perfect accompaniment to The Jungle Book! An easy beginner curry recipe, its mild and pleasant flavors are totally kid-friendly. The sauce is thickened with pureed papaya and it also is studded with chunks of sweet papaya as well. Its a great quick dinner idea for kids and adults alike!
Serve this weeknight curry with basmati rice (I love the microwave pouches that are ready in 90 seconds!) and some naan (you can find it in the frozen health food section at your local grocery) for an easy meal your whole family will love!
Finish the meal off with a fruit salad that is flavored with lime juice, black salt and chaat masala powder for a refreshing and fun dessert!
How to Get Your Kids to Eat Curry
Kids CAN enjoy curry!
The best way to get kids interested in eating curry is to help them become accustomed to the flavors without them being overwhelming. Start with small increments of spices and then gradually build up.
Mixing in a healthy dose of plain greek yogurt is a great place to start for really little ones.
While you eat dinner, talk about the flavors you taste, the meal's textures, what surprised them, etc. Ask them to name one positive thing they can think of, and challenge them to use words other than "yummy" and "yuck".
Want to get your kiddos to try more foods? Check out "How to Raise Adventurous Eaters" for more tips!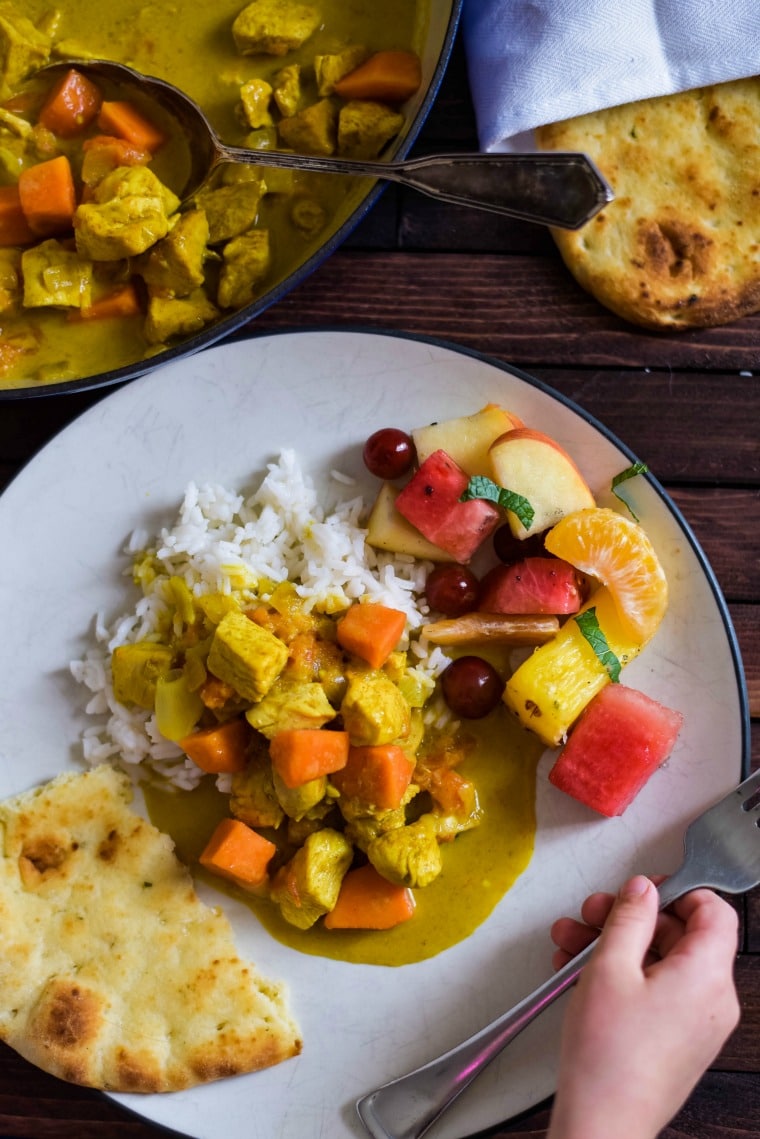 Tips for Cooking with Your Kids:
The point here is to intentionally spend time with your kids in the kitchen. It is not to create perfect gorgeous food, so don't be too Type A here. Spills and messes are totally going to happen – its pretty much inevitable when baking and cooking with kids. Its fine.
Have some wet AND some dry paper towels ready to go to help clean up spills when (notice I said when, not if) they happen.
Have all ingredients pre-measured out for kids. It helps de-stress the actual cooking part and make things easier.
Assign different tasks to different children based on their age. Children feel a sense of accomplishment and pride when they can look at a meal and see/tell exactly how they helped.
To get more tips on how to cook with your kids, read "How to Cook and Bake with Your Kids".
Get your Kids in the Kitchen:
Children aged 0-3 can help you measure out the spices, mash the papaya, mix the fruit chaat, and help set the table.
Children aged 4-7 can help you do all the above plus cut the fruit and veggies.
Children aged 8-12 can help you do all the above plus cut and cook the chicken, stir the chicken while cooking.
Yield: 4 Servings
Kids Chicken Curry with Papaya
This easy kid friendly chicken curry with papaya recipe is a great beginner's curry! Weeknight friendly and easy to make, this mild flavored curry is a great family meal!
Ingredients
Chicken Curry with Papaya -
2 TBSP oil
1 onion, chopped
1 tsp fenugreek seeds
2 TBSP minced garlic
1 TBSP minced ginger
1 TBSP cumin seeds
1 tsp turmeric
2 tsp coriander
2 tsp cumin
1/2 tsp cardamom
1/2 tsp paprika
1 tsp salt
2 lb chicken breast
1/4 cup yogurt
2 cups cubed papaya
Fruit Chaat -
1 apple, cubed
1 banana, sliced
1/4 cup halved grapes
1.5 cup watermelon cubes
pomegranate seeds
1 cup orange segments
1 cup pineapple
1/2 tsp black salt
1/2 lime juice
1/4 tsp chaat masala powder
2 tsp sugar
mint leaves
Instructions
Divide papaya in half. Mash one half and leave the other half cubed.
Sautee onion, 4 minutes
Add fenugreek seeds, garlic, ginger, cumin seeds, turmeric, coriander, cumin, cardamom, paprika and salt - cook 10 seconds
Add chicken and cook until almost done, 8 minutes
Stir in yogurt and mashed papaya and cook 2 minutes
Add papaya chunks, stir to combine, and remove from heat.
Serve with rice and naan
Fruit Chaat -
Mix all the ingredients in a bowl and enjoy!
Notes
For the Fruit Chaat - if you are saving any leftovers, make sure to leave off the mint and black salt until you are ready to eat! The black salt will bleed all over the fruit and make it look funny, and the mint becomes overpowering!
Nutrition Information:
Yield:

4
Serving Size:

1
Amount Per Serving:
Calories:

707
Total Fat:

18g
Saturated Fat:

3g
Trans Fat:

0g
Unsaturated Fat:

12g
Cholesterol:

194mg
Sodium:

1070mg
Carbohydrates:

64g
Fiber:

10g
Sugar:

42g
Protein:

76g
More Adventurous Cuisine For Kids
Looking for more ways to expand your kids' diet? My kids love these easy recipes: