I like my cocktails like I like my salads – big, fancy, and complicated. Cocktails are special and fun, and in my book they are usually reserved for fancy nights out at a restaurant. Often a cocktail requires about 34 specialty ingredients, and require more of a scientific touch. You need the right proportions, the right ingredients, and the right methodology to create something totally amazing. And because of this, cocktails are rarely enjoyed at home.
But I don't think cocktails should be left to fancy restaurants only – we should totally be able to enjoy them at home, too! I made it my mission to create a fantastic drink that would be easy enough to prepare without needing a bunch of fancy ingredients and without having to double check the recipe every two seconds. I wanted something you could prepare by feel after a while.
By preparing a few simple ingredients ahead of time (that totally last for like, ever, so you can keep them for when you need them), you can mix up this super fun, fresh and season cocktail at the drop of a hat.
By the time I get to the end of the day, and the children are nestled all snug in their beds, my brain is pretty much turned off. If a drink is going to happen I just want to open, pour, flop myself on the couch and enjoy. Netflix and Chill. For real.
The last thing I want to do is get out 20 different ingredients and precisely measure, muddle and mix to create a perfectly concocted masterpiece. And then clean up the sticky mess I make. This cocktail ends up being the perfect choice – its not too hard to (or too messy) to make, yet it tastes super special and fresh!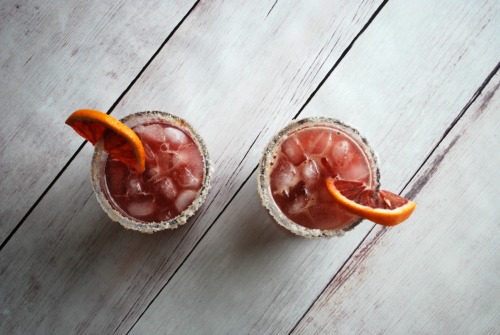 This cocktail is amazing! Its fresh and flavorful without being too girly. The bourbon you use totally changes the flavor profile of the drink. If you want something more mellow so the blood orange juice really stands out, try something smooth like
Buffalo Trace
. And if you want a spicier note that compliments the blood orange juice, try something with a high Rye content, like 
Bulleit
. The spicy vanilla sugar accompanies the sweet-tart blood orange juice just perfectly. Its a lovely and easy way to relax at the end of the day!
Print
Blood Orange Bourbon Smash – with Spicy Vanilla Sugar
---
Ingredients
**Spicy Vanilla Sugar
1/2 cup sugar
pinch cayenne pepper
1 vanilla bean, seeds scraped
**Simple Syrup
1/2 cup sugar
1/2 cup water
**Bourbon Smash
crushed iced
1 shot (2 ounces) simple syrup
1 shot (2 ounces) bourbon
1 shot (2 ounces) of club soda
juice of 2 blood oranges
a few drops of bitters
2 blood orange slices for garnish
---
Instructions
Combine the sugar and water in a small saucepan.
Bring to a simmer over medium-high heat, just long enough for the sugar to dissolve and then turn off the heat.
Pour the syrup into a glass container with a lid and allow to cool.
Store this in the fridge.
In a small bowl, mix together the ingredients until well combined.
Store in a container with an airtight lid in a cool dry place
Juice the blood oranges and strain out the seeds.
Wet the rim of a chilled glass with water and then place in the sugar mixture.
Add the two orange slices, the simple syrup and the bitters to the chilled glass and muddle around until the orange slices have broken down slightly.
Add the crushed ice, bourbon, and blood orange juice on top.
Pour the club soda on top, and stir to mix.