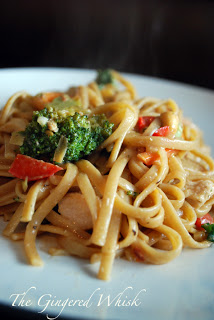 Has this week just flown by for anyone else? Between all the activities we had going on this week, plus our continued struggle with the worst seasonal allergies ever, and Joel's crazy work schedule, we are all exhausted! I even cut out several play dates and errands this week, and Ainsley actually turned down an opportunity to go to the park so we could just stay home.
We have had lots of opportunity for cuddling on the couch, reading, and coloring. We also pulled a giant box out of storage and have been having a really fun time playing hide and seek with the box! Sometimes you need to remember that the simple things are the best in life, and what is better than crayons and a big empty box?
This started out as one specific recipe that I wanted to try. But when I came time to make dinner, I couldn't remember where I had found the recipe. In my search, I found three other recipes that looked good, too, but they were all slightly different. I really liked various aspects of each of the recipes, so I decided to combine them all together and create my own recipe from it. We really enjoyed how this turned out! There was so much great flavor here, and so many veggies, it was so good! I don't think you can quite call this an authentic recipe, but it is delicious!
Yield: 4 Servings
Chicken Pad Thai
This easy weeknight chicken pad thai is packed with family friendly flavor!
Ingredients
Linguini Noodles
3 chicken breasts, cut into bite sized pieces
2 tsp olive oil
Broccoli, chopped
½ red pepper, diced
Carrots, julienned
¼ cup chicken broth
Juice of 1 lime, cut in half
3 TBSP brown sugar
3 TBSP rice vinegar
½ tsp red pepper flakes
2 TBSP soy sauce
3 TBSP peanut butter
1 TBSP sesame oil
3 garlic cloves, minced
2 tsp garlic, minced
2 eggs
¼ cup dry roasted unsalted peanuts
Instructions
In a small bowl, combine the chicken broth, lime juice, brown sugar, rice vinegar, red pepper flakes, soy sauce, and peanut butter. Mix until smooth and set aside.

Cook the linguini noodles according to package directions, drain, and set aside.

In a large skillet, heat the olive oil over medium-high heat.

Cook the chicken pieces 5-6 minutes, or until cooked through.

Remove and set aside.

Crack the eggs into the same skillet, and cook. (you an either cook them as a hard fried egg and then cut into pieces or scramble them and cook that way). Remove and set aside.

Place the sesame oil into the pan, along with the broccoli, red pepper, carrots, garlic, and ginger.

Sautee until the vegetables are tender, but still firm.

Add the cooked noodles, sauce, chicken, and egg back to the pan.

Stir until well coated, evenly distributed, and heated through.

Distribute into 4 bowls, sprinkle evenly with peanuts and Enjoy!
Nutrition Information:
Yield:

4
Serving Size:

1
Amount Per Serving:
Calories:

381
Total Fat:

20g
Saturated Fat:

4g
Trans Fat:

0g
Unsaturated Fat:

14g
Cholesterol:

99mg
Sodium:

610mg
Carbohydrates:

38g
Fiber:

4g
Sugar:

11g
Protein:

15g
Looking for other awesome 30 minute meals? Check these out: