Chinese Broccoli with Garlic Sauce
Chinese Broccoli with Garlic sauce is an easy and delicious kid-friendly side dish that pairs well with any Asian inspired weeknight meal! Ready in less than 10 minutes!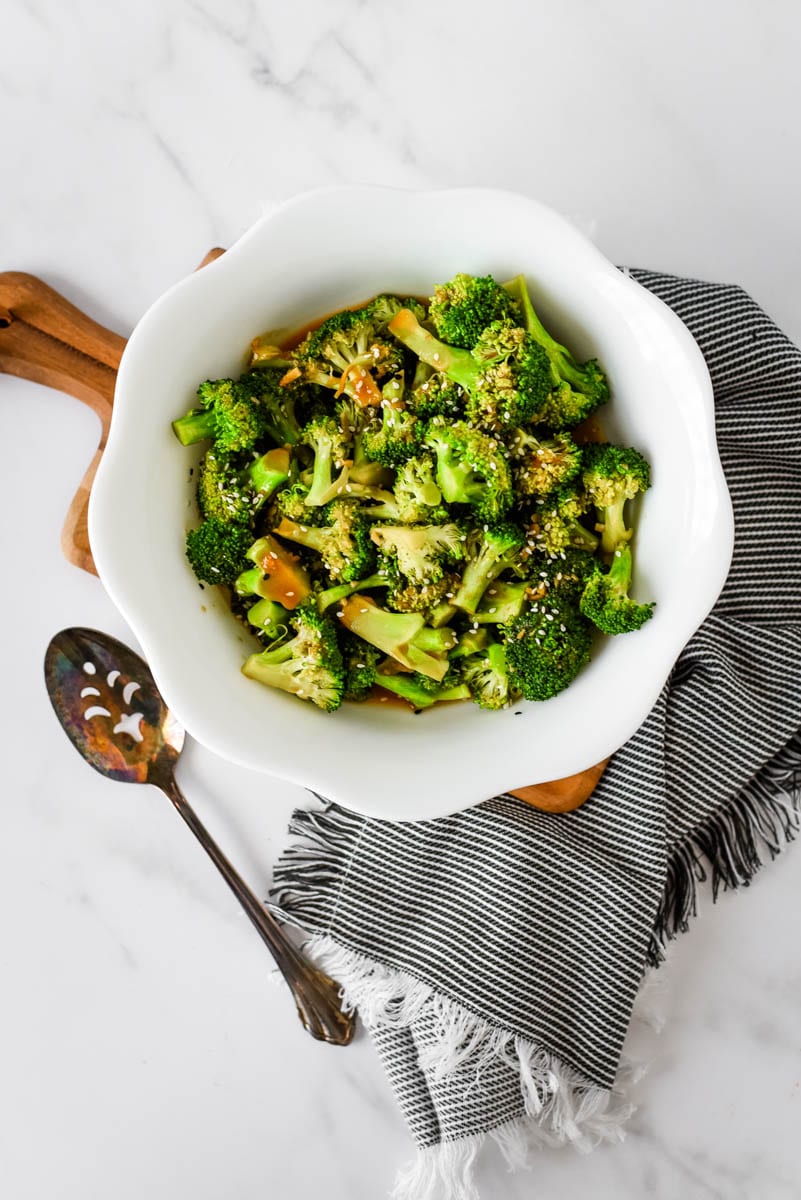 OH side dishes! I think vegetable side dishes either get a bad wrap for being too complicated, fussy and time consuming, or boring and bland. One of the main reasons that I focus on "whole meal" recipes like one pans and slow cooker meals is that, honestly, I often forget about making a side dish until the last possible minute.
I am a huge believer that any recipe, but especially side dish recipes, should be almost effortless and extremely quick, but also add excitement and variety to a plate.
This easy broccoli recipe is flavored with ginger, garlic, sesame oil, miso paste, and soy sauce. Its savory and salty flavor works great with the mild flavor of broccoli.
Make an entire Asian inspired dinner: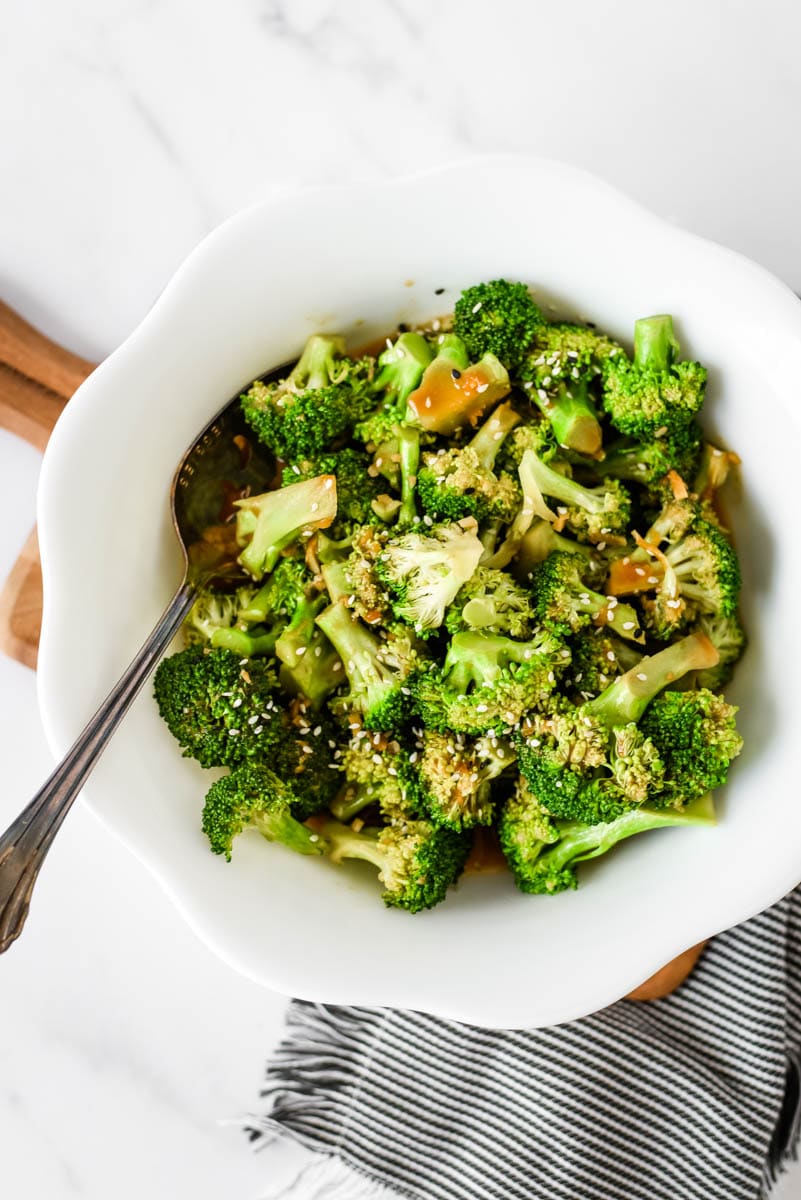 Chinese broccoli with garlic sauce
This Chinese Broccoli is seriously about to to change your side dish game.
I don't know about you, but so often I forget about side dishes until the last possible minute, and then end up serving plain veggies because its quick and I can't think of anything else.
This Chinese Broccoli is so quick, though, you can totally start it at the last possible second and still have a delicious and flavorful side dish on the table when your main entree is ready. And the whole family will love it!
Ingredient chat:
Lets take a quick second to chat about some potentially non-familiar ingredients you need to make this recipe:
Chinese Broccoli – Did you know that there is actually a vegetable called Chinese Broccoli? Its kind of a cross between kale and broccoli and has large, flat leaves. This recipe does NOT use that vegetable. It can be tricky to find unless you have a local Asian market near you. We are sticking with "regular broccoli" here. You CAN substitute the regular broccoli in this recipe with Chinese Broccoli or Broccolini or Broccoli rabe.
Miso Paste – Miso is a paste made from fermented soybeans and is a Japanese cooking staple (I know, I used a Japanese ingredient in a Chinese dish….But its so good I couldn't help myself. Please don't hold it against me.). It has a consistency similar to peanut butter and is amazing to cook with and adds a punch of umami flavor to your dishes and it is so versatile you can add it to both sweet and savory dishes. You can store it in your fridge for up to a year after opening.
Sesame Oil – Sesame oil is the oil pressed from sesame seeds. It is used as a cooking oil and as a flavor enhancer. Sesame Oil should be stored in your pantry at room temperature, and will last for a long, long time.
For more information on familiarizing yourself with Asian cuisine, how to make it weeknight easy and kid friendly, make sure you check out my "Weeknight Asian Cuisine Guide".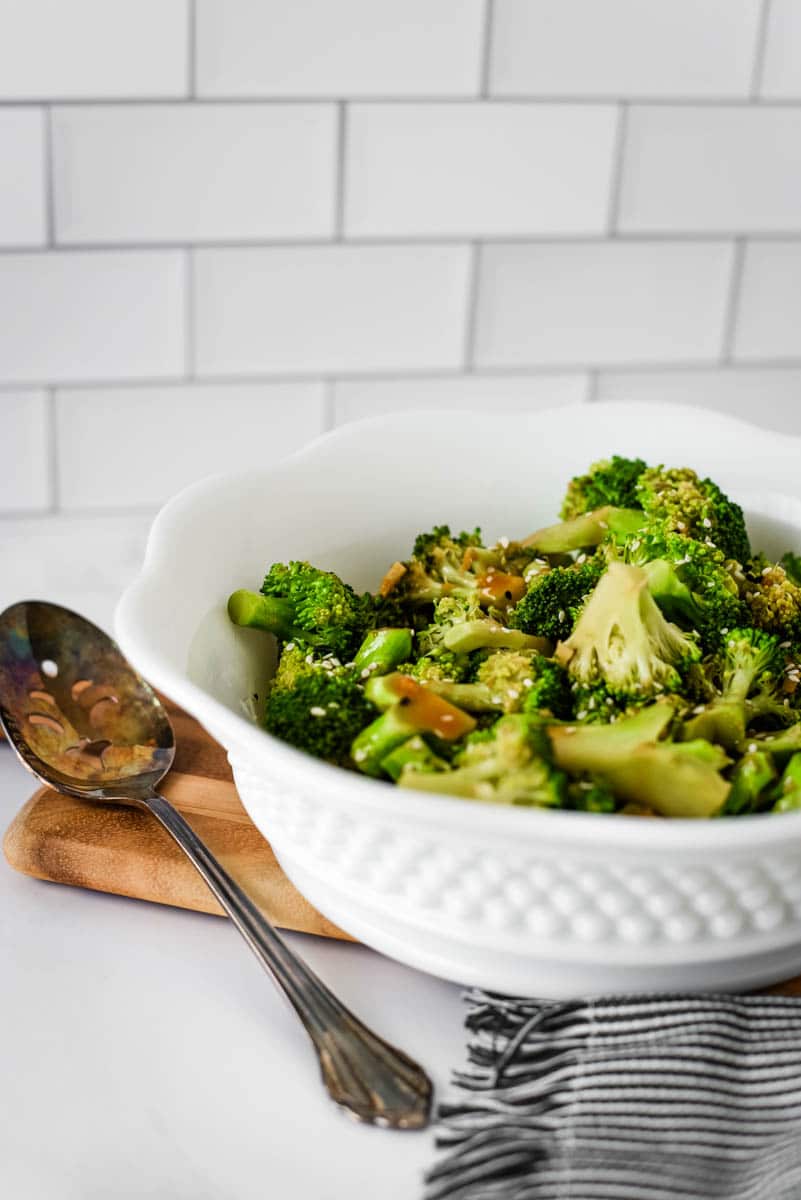 How to cook Chinese broccoli with garlic sauce
This easy asian side dish is super quick and easy, which makes it perfect for busy weeknights! You need less than 10 minutes to get this on the table!
For the full recipe and directions, scroll down to the recipe card below. But here is the general gist of how you make this dish:
Trim the broccoli into bite sized florets.

Steam for 3 minutes (I like to use the microwave because its easy-peasy!)

In a large non-stick skillet, saute the vegetable oil, garlic and ginger for about 15 seconds, until nice and fragrant.

Stir in the miso paste, water, soy sauce, and sesame oil. Cook, stirring frequently, another 15 seconds, or until combined and slightly thickened.

Add in the broccoli (being careful not to add any of the water from steaming) into the sauce and toss to combine.

Serve and enjoy!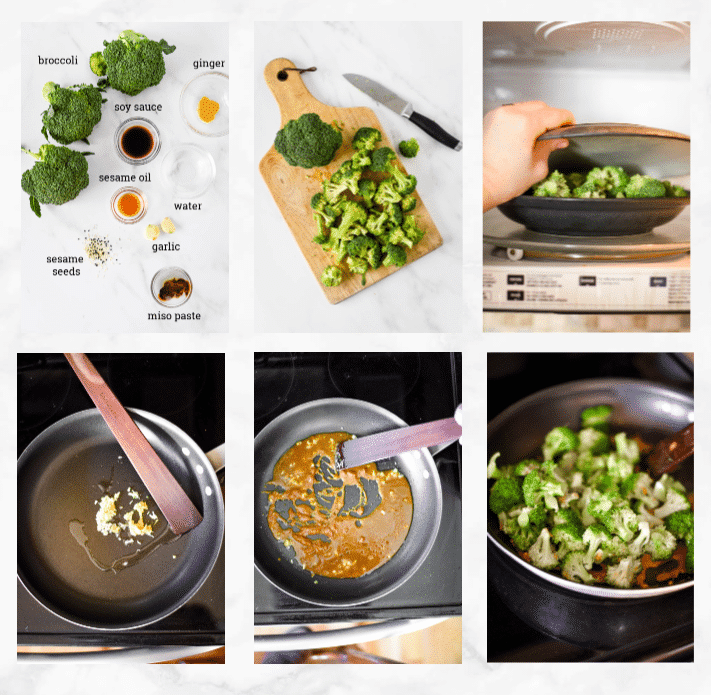 How to prep this side dish ahead of time
This broccoli recipe is so dang quick it can be done in less than 10 minutes! If you need to make it even faster, you can turn this into a lighting speed dish by prepping the following in advance:
Cut and wash the broccoli into bite sized florets ahead of time, or buy a bag pre-cut in the produce section.

Mince and grate the garlic and ginger ahead of time and store in air-tight container in the fridge until ready to cook.

Measure and mix the miso, water, soy sauce and sesame oil and store in a glass air-ight container in the fridge. Give it a good shake to re-mix before you use.
How to serve this broccoli to your family
This Chinese Broccoli recipe is great because it can really pair so well with so many different main dishes. I like to pair it with Instant Pot Asian Sticky Ribs and some white rice for a full meal that is quick and easy!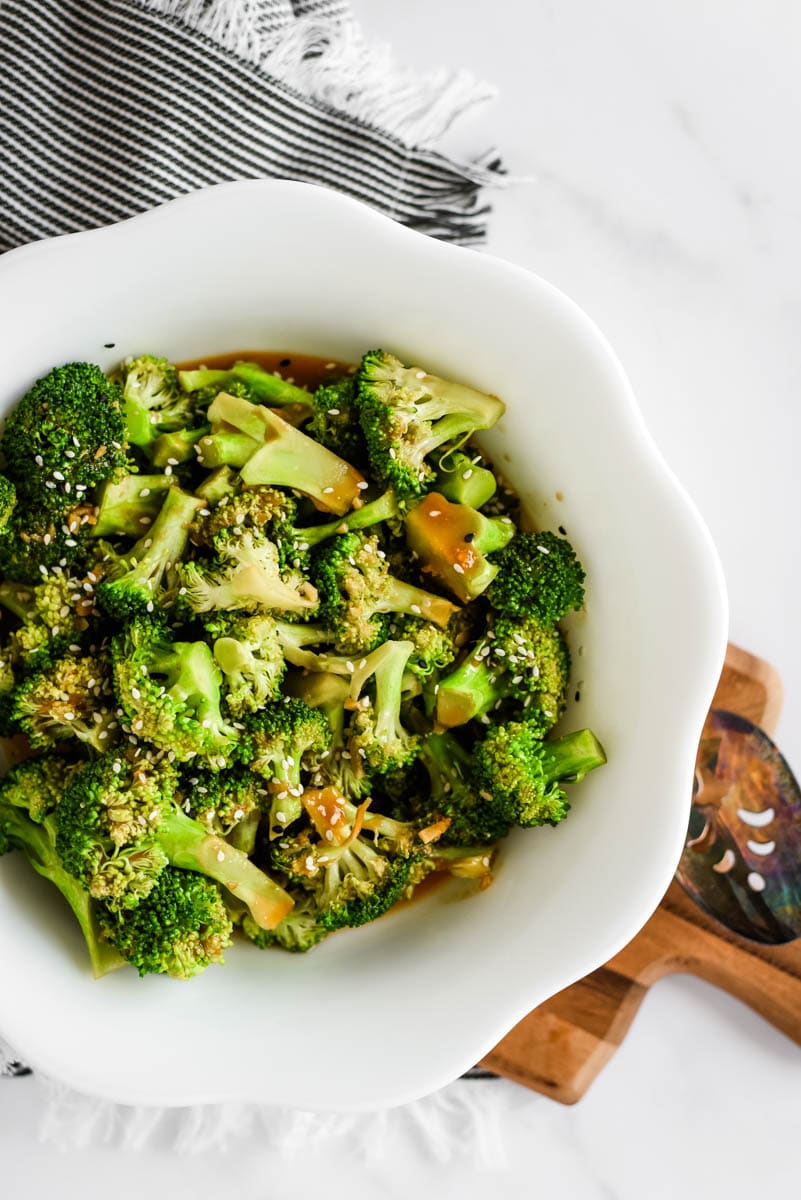 How to make Chinese broccoli kid-friendly
Broccoli can be a tough sell for some kids! With its slightly bitter taste and weird looks (plus its GREEN!), some kids can be totally against eating it. This Chinese Broccoli is a great kid-friendly recipe because its steamed to perfection (making neither too crispy nor too soggy), and has a great flavor they will adore!
Beyond the recipe itself, getting kids interested and involved in a meal helps them to be more willing to try it!
Food conversations with kids
Dinner is a perfect time to talk to your family about the food they are eating – beyond how many forks full of chicken they have had. Use this time to discuss the taste, texture, smell and look of your dinner plate. Try these conversation starters:
Looks – What color is the broccoli and the sauce? Did the color of the broccoli change after it was cooked?

Taste – What does the broccoli taste like? Does it taste different than raw broccoli? Do you like the broccoli with the sauce?

Texture – How did the texture of the broccoli change with cooking? How would you describe the texture of the broccoi?

Smell – What does the smell of the sauce remind you of?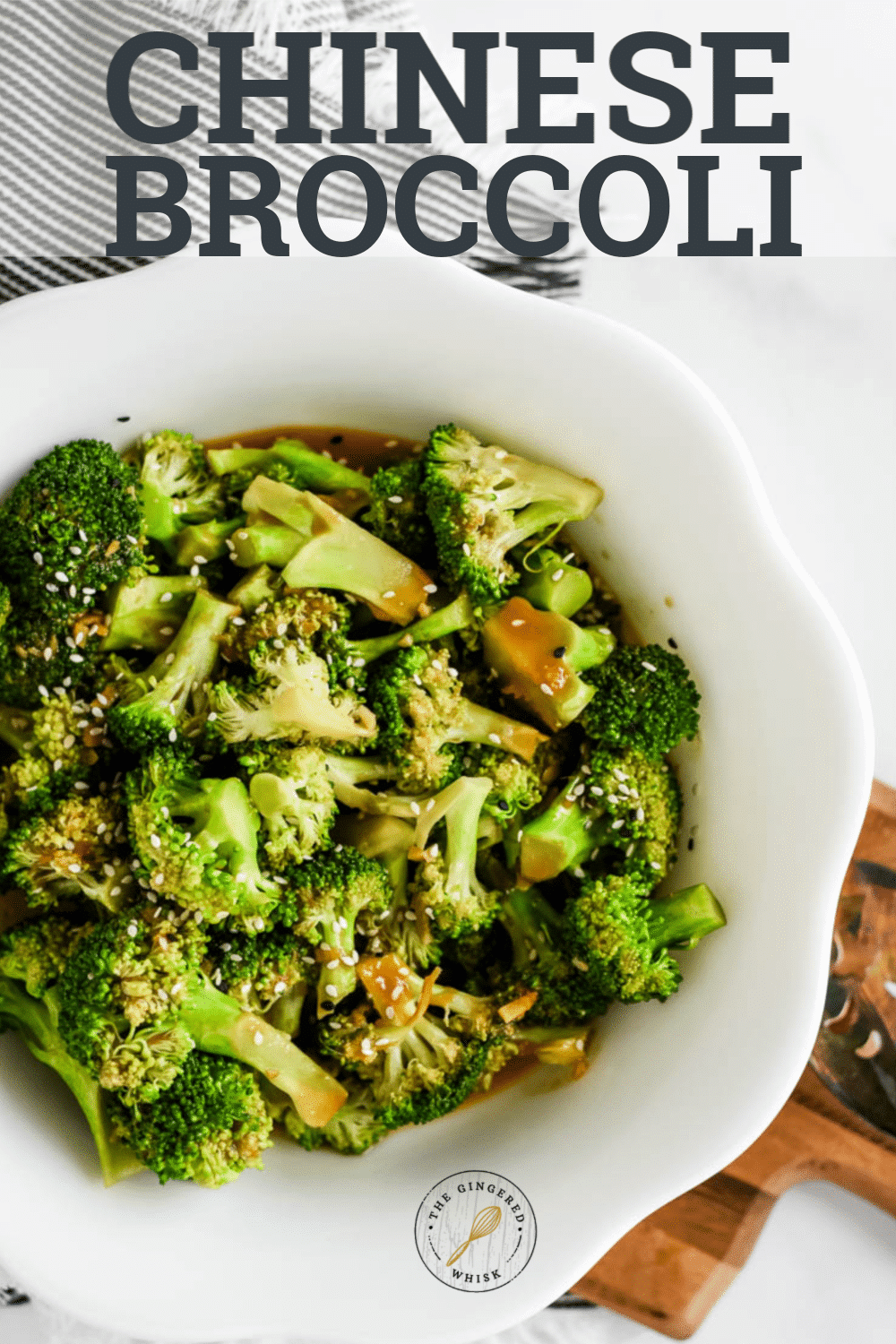 Kids in the kitchen: How your kids can help you cook dinner
Getting your kids involved in the creation of each meal is a great way to help them be more interested in what you are eating. Not only does it help peak their interest, but it also gives them confidence in their own abilities. Here is how kids can help you:
Kids aged 1-3

can help you wash the broccoli

Kids aged 4-6

can help you do everything above, plus measure and mix the ingredients for the sauce, and grate the ginger with a grater.

Kids aged 7-10+

can help you do all the above, plus help you stir the sauce in the saucepan.
* These are generalized guidelines. Please make sure you supervise your children as well as properly instruct them on how to learn new skills. To learn more about how to teach your kids to cook, read my guide on How to Cook and Bake with Your Kids.
Orange Ginger Sugar Snap Peas

– Easy Orange Ginger Sugar Snap Peas are an amazing easy, quick and delicious side dish recipe the entire family will love. You only need a few minutes and a few ingredients like ginger, orange zest, and fresh mint to make this flavorful and vibrant side dish that will easily pair with any Asian themed meal you serve.

Thai Cucumber Salad

– This simple Thai Cucumber Salad recipe is the perfect quick addition to your weeknight Asian recipes. A refreshing vegetable side dish with crisp cucumbers tossed in a sweet and savory dressing with red onions, peanuts and cilantro.
Slow Cooker Mongolian Beef

– This Slow Cooker Mongolian Beef cooks to melt-in-your-mouth tender! Studded with onions, green peppers and shredded carrots, this Asian weeknight meal takes only minutes to throw together and is a perfect healthy family recipe!

Easy 30 Minute Healthy Orange Chicken

– This easy 30 minute healthy Orange Chicken is full of real ingredients, great fresh flavor, and is perfectly easy for any night of the week! Your family will be begging for you to make it again and again!
There's nothing I love more than seeing you make my recipes! If you make this Chinese Broccoli recipe, don't forget to leave a comment below and rate the recipe!
And if you are on Instagram, tag @gingeredwhisk and use the hashtag #gingeredwhisk on social media when you make my recipes so that I can share them and maybe even feature you. Follow along to get the latest updates:
And don't forget to subscribe to the email list to get all the extra tips, tricks and bonuses!
Want to save this for later? PIN THIS TO YOUR SIDE DISHES BOARD on Pinterest!
[mailerlite_form form_id=3]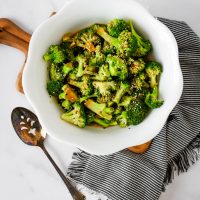 Chinese Broccoli with Garlic Sauce
Chinese Broccoli with Miso Garlic sauce is an easy and delicious kid-friendly side dish that pairs well with any Asian inspired weeknight meal! Ready in less than 10 minutes!

Print
Pin
Rate
Ingredients
1

Pound

Broccoli

2

Tablespoons

Vegetable oil

2

garlic cloves

minced

1

teaspoons

fresh minced ginger

2

Tablespoons

water

1 ½

Tablespoons

miso paste

1

Tablespoon

soy sauce

1

teaspoon

sesame oil
Instructions
Trim the broccoli into bite sized florets.

Steam for 3 minutes. The easiest way to do this is to plate the broccoli in a microwave bowl with 3 Tablespoons of water. Top with a microwave plate and microwave on high for 3 minutes.

Heat a large non-stick skillet over medium heat.

Add in the vegetable oil, and when hot sautee the garlic and ginger until fragrant, stirring constantly, about 15 seconds.

Stir together the water, miso paste, soy sauce and sesame oil and pour into the skillet. Stir constantly for an additional 15 seconds, until slightly thickened.

Add in the steamed broccoli, being careful not to add any of the water from the bowl into the skillet and toss to coat.

Serve.
Notes
You can substitute Chinese Broccoli or Broccolini for the broccoli.
Nutrition
Serving:
1
g
|
Calories:
127
kcal
|
Carbohydrates:
11
g
|
Protein:
4
g
|
Fat:
9
g
|
Saturated Fat:
1
g
|
Polyunsaturated Fat:
7
g
|
Sodium:
505
mg
|
Fiber:
4
g
|
Sugar:
2
g