Chicken Parmesan Sandwich Recipe
This easy chicken parmesan sandwich is a great weeknight meal you can make with store-bought rotisserie chicken. Perfect for those super busy school-nights, this 5 ingredient, kid-friendly sandwich recipe will be loved by your whole family! Ready in 15 minutes!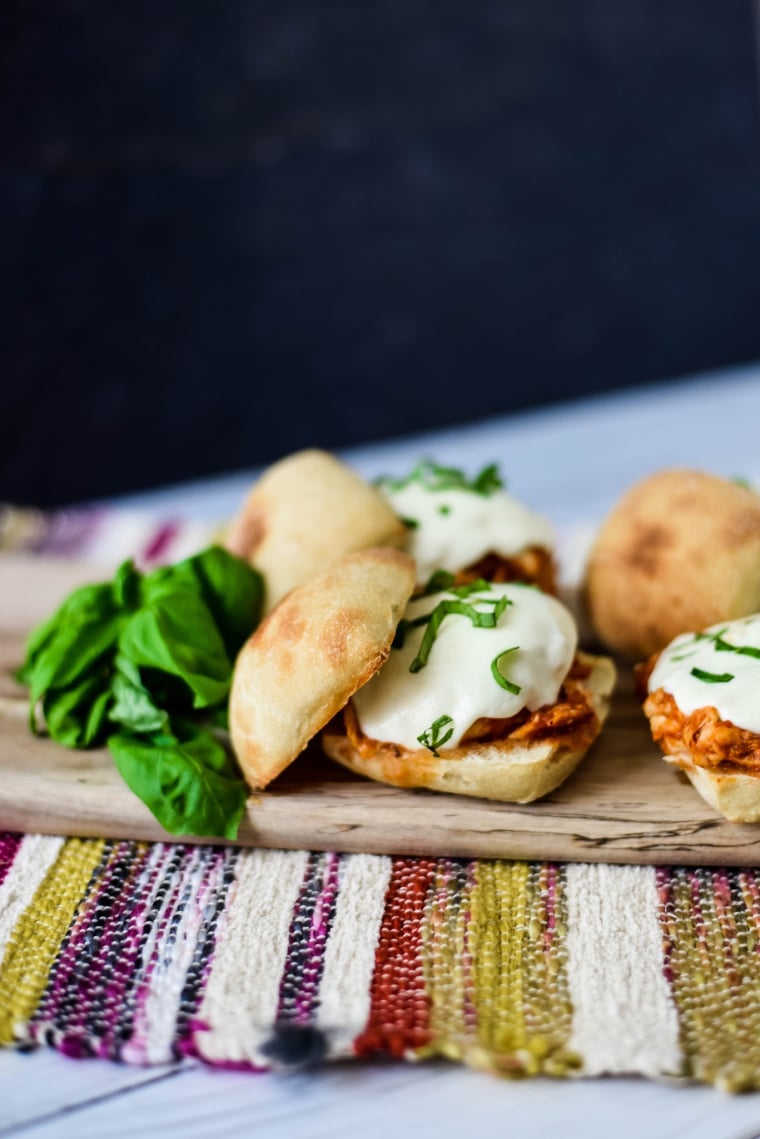 Ok, so weeknights are crazy busy, yeah?
Between homework, after-school activities, baths, and you know, connecting with your kids – how are you supposed to fit everything in? Oh yeah, don't forget to actually feed your family, too!
This easy chicken parmesan sandwich recipe is perfect for those nights when you need really easy and fast, but don't want to resort to the drive-through. When you can't eat another peanut butter and jelly sandwich in the car, this 5 ingredient and 15 minute recipe is here to save the day.
If a sandwich could wear a super hero cape, this one would.
Other Weeknight Meals that don't need a lot of time:
How to prep Chicken Parmesan Sandwiches ahead
These sandwiches are a piece of cake to put together! If you are short on time, try these time-saving tips to make the meal even quicker:
Purchase pre-shredded rotisserie chicken from your local grocery store. You can also prepare your own pan seared chicken breast.

You can stir the marinara sauce into the chicken up to 1 day ahead of time.

Cut your fresh mozzarella into slices, or purchase a log of fresh mozzarella that has been pre-sliced (ask for this at the speciality cheese counter).
How to make Chicken Parmesan Sandwiches Kid-Friendly
This Chicken Parmesan sandwich recipe is a great meal to serve to kids! Not only is it packed with flavors they already love, but its a great way to introduce them to things they might not be familiar with – fresh mozzarella, fresh basil, and fun crunchy ciabatta bread.
To make this easy weeknight dinner go over well at your family dinner table, involve the kids in great conversations surrounding the meal, serve it in a friendly way, and have them get involved in preparing the meal.
Dinner Conversations with Kids about Chicken Parmesan Sandwiches
Talking to your kids about their food is a great way to get them more curious and interested in their food! Dinner time conversation can be more than micromanaging each bite! Use these tips to spark great family conversations:
What does this sandwich remind you of?

What does the fresh basil smell like?

Do you think the sandwich tastes better with or without the basil?

This cheese is mozzarella. Mozzarella is also the same kind of cheese that is used in cheese-sticks, but this is really fresh. How is this mozzarella different than the cheese-stick kind?

This bread is called ciabatta. How is it different than the bread we use for sandwiches?
Interested in more ways to change dinner conversations? Try these dinner table conversation starters for kids.
How to Serve Chicken Parmesan Sandwiches
These sandwiches are amazing because they are so quick and easy to make! Serve these without the fresh basil for younger kids, and let everyone add their own basil to their sandwiches.
For older babies and toddlers, you can totally skip the sandwich making, and instead serve the marinara coated chicken in one pile, fresh mozzarella pieces in another, and your other sides as well.
Serve this with an easy side dish like fresh fruit (I recommend grapes here for a fun juicy texture), and a bagged salad kit! Have your kids help you wash the grapes and mix the salad and serve those family style on the table.
Kids in the Kitchen: How Your Kids Can Help You Cook
Getting your kids in the kitchen is an amazing way to help them be more interested in trying new foods and confident in their own abilities. This chicken parmesan sandwich is great because it helps kids practice their knife skills, stirring, and spooning. 
This recipe is perfect for beginner cooks because it is so easy! And it is a great recipe for kids to experiment and become more comfortable with new flavors and textures – which means they are more likely to eat it!
Kids aged 1-3

can help you pour the marinara sauce and rotisserie chicken into a big bowl. They can also help you pick the basil leaves off the stems and line a baking sheet with parchment paper.

Kids aged 4-6

can do everything above, plus help you stir together the chicken and marinara sauce, spoon the chicken mixture onto the ciabatta rolls, and top each sandwich with a slice of mozzarella. They can also help slice the basil leaves.

Kids aged 7-10+

can help you do everything above, plus help you cut the ciabatta rolls.
*Please note that these recommendations are generalized, and to please use your personal discretion with your child's skill level. And always, always supervise! Read more about how to have your children help you in the kitchen.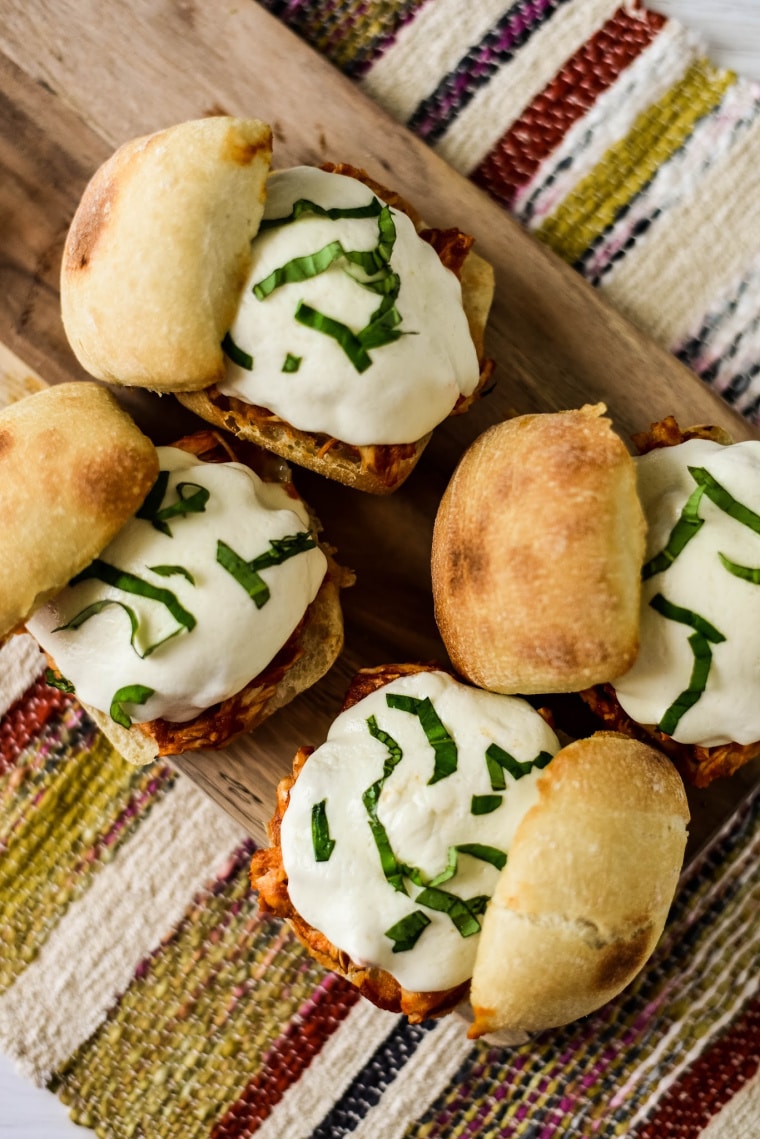 Food tastes better when its shared! If you try this recipe, let me know! Leave a comment and rate below! Love and links are always appreciated! If you'd like to share this post, please link to this post directly for the recipe, please do not copy and paste or screenshot. Thanks so much for supporting me! xoxo
Chicken Parmesan Sandwich Recipe
This easy Chicken Parmesan Sandwich Recipe is a great weeknight meal you can make with store-bought rotisserie chicken. Perfect for those super busy school-nights, this 5 ingredient, kid-friendly sandwich recipe will be loved by your whole family!

Print
Pin
Rate
Ingredients
1

lb

store-bought rotisserie chicken breast

1

cup

marinara sauce

8

ciabatta rolls

8

slices

fresh mozzarella cheese

8

fresh basil leaves

cooking spray
Instructions
Preheat broiler to medium-high.

Line baking pan with parchment paper.

Slice the ciabatta rolls in half and place on the prepared baking sheet, cut side up, keeping the tops and bottoms of each roll side by side so you can create the sandwiches later

In a large bowl, mix together the rotisserie chicken breast and the marinara sauce.

Spoon the chicken mixture evenly onto the bottom portion of each roll.

Top the chicken mixture with 1 slice of mozzarella cheese.

Spring the insides of tops of the ciabatta rolls with cooking spray.

Place the baking sheet in the oven and broil for 5-10 minutes, or until the cheese is melted, the tops of the rolls are starting to turn golden, and the chicken is warmed.

Remove from the oven.

Sprinkle the tops with the fresh basil and place the tops on each sandwich.

Enjoy!
Notes
Serve this with easy sides, like a salad kid and fresh grapes for lots of great flavor and textural contrast in an easy 15 minute dinner!
Nutrition
Serving:
1
g
|
Calories:
849
kcal
|
Carbohydrates:
87
g
|
Protein:
59
g
|
Fat:
29
g
|
Saturated Fat:
11
g
|
Polyunsaturated Fat:
14
g
|
Cholesterol:
155
mg
|
Sodium:
1841
mg
|
Fiber:
6
g
|
Sugar:
13
g