This homemade ramen recipe is an easy slow cooker meal that is perfect for busy weeknights! This slow cooker pork is an easy ramen recipe that makes a great family friendly meal that kids will beg for!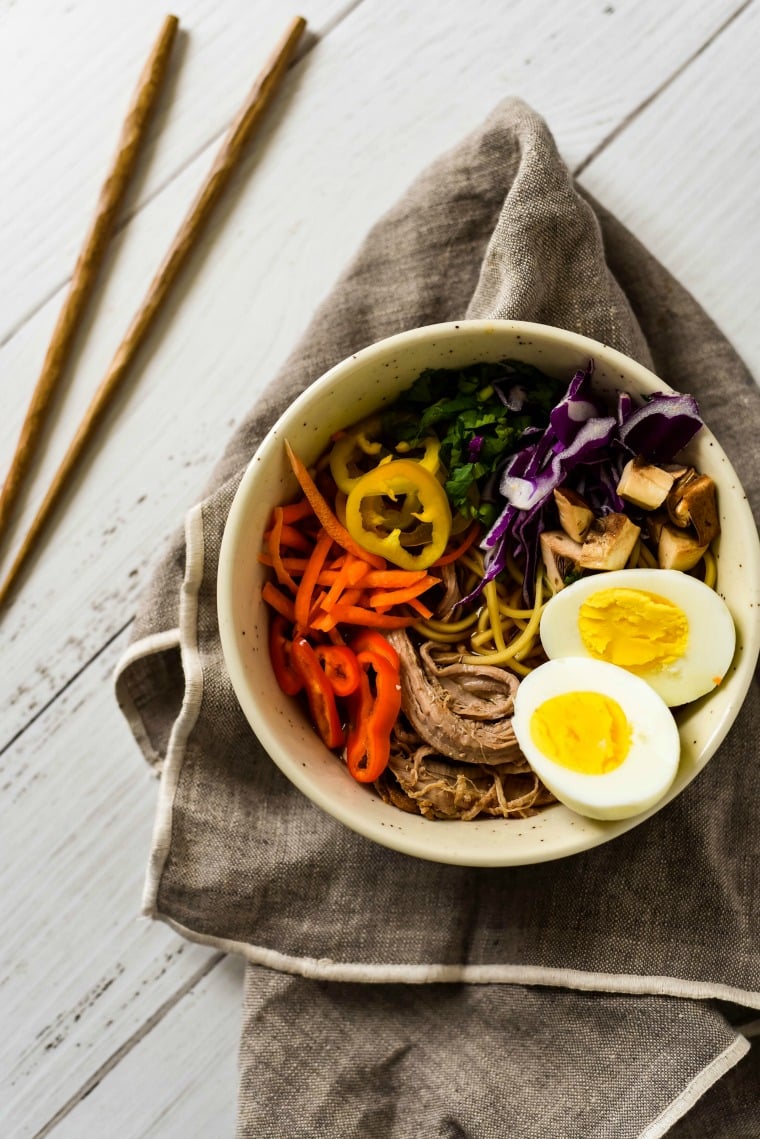 Have you ever wanted to try making your own ramen, but didn't know where to start? Or did you even know you could make an amazing, healthy, easy and delicious ramen that doesn't come in a microwavable pouch? This homemade ramen is so simple yet amazingly flavorful! This family friendly meal is perfect for busy nights and will quickly become a favorite!
Originally Published April 15, 2016. Republished on November 26, 2018 with new photos and updated information. This post may contain affiliate links. As an Amazon Associate, I earn from qualifying purchases.

Once upon a time, in a land far, far away, I had a newborn who refused to sleep. Like, ever. And I watched a lot of TV very late at night. One night I happened to catch this movie called "The Ramen Girl" starring Brittany Murphy. Basically, this girl finds herself abandoned, dejected, and utterly hopeless in Tokyo, and has no where to go except this Ramen House, where she forces the chef to teach her his trade. Now, if you know anything about Ramen beyond the microwaveable college staple, then you know that Ramen is more of a revered art form than it is "food" – and its ALL about the broth. Chefs actually spend years and years perfecting their broth making skills before they are even allowed to serve ramen to anyone. It's like, a really big deal.
It might have been because I was delirious with utterly no sleep, or it might have been because its easy to feel kinship with hopeless wretches when you are rocking a screaming baby who refuses to sleep for more than 4 hours in an entire day, or maybe its because I love the thought of food as an art form – any way you look at it, I loved this ridiculous movie. And that is when I became obsessed with making and eating Ramen.
How to Make This Easy Ramen Recipe
Don't fret, because you, too can totally achieve an amazing bowl of ramen, and it won't take you years to master it, either. I've tested tons of recipes and perfected the BEST and EASIEST way for you to enjoy a delicious and healthy bowl that you can actually prepare at home with almost no work! And guess what? You make it in the crock pot!
The homemade ramen broth, while it hasn't been graded by a Ramen Master (that's a real thing), is pretty dang good – its complex, flavorful and amazing. You can easily customize this dish by adding toppings based on what you like or what you have on hand. I totally suggest buying those little bags of pre-shredded cabbage and carrots, as they make prep-work almost nonexistent. I set all the toppings out in little bowls and let everyone add what they like – kiddos LOVE adding their own ingredients to their food. It's a sneaky way to get them to try things they might normally turn their nose up at.
You can also use those cheap-o packets of ramen (and throw away the spice packet), or you can get the real thing and use these ramen noodles. Remember – boil an egg for 5 minutes for a soft and runny yolk, 7 minutes for a soft but set yolk, and 10 minutes for a hard set yolk.
How to Get Your Kids To Eat Slow Cooker Pork Ramen:
Serve all the toppings in small bowls on the table. Allowing them to choose between a variety of toppings gives them the feeling that they are more in charge of what they eat. Offer a variety of toppings in a rainbow of toppings and suggest that your child choose at least 3 things of a different color, etc.
Have Kid-Friendly Chopsticks on hand. Not only will it make eating ramen seem more authentic, but its way more fun!
Eating Ramen is FUN for kids! Did you know that when you eat ramen you are SUPPOSED to slurp your noodles? Make it loud, make it messy, make it ok! It is also ok to hold your bowl and sip the broth from it like you would hot chocolate.
The form you have selected does not exist.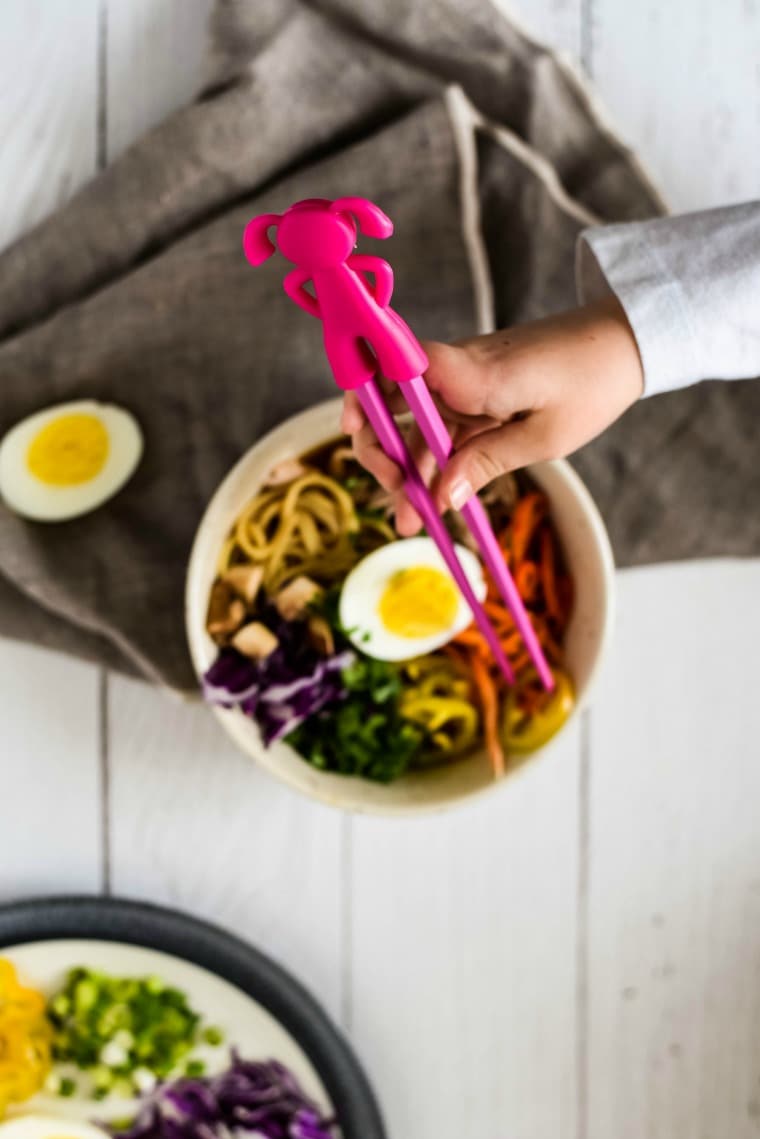 Ramen Toppings:
I love offering a variety of toppings for my homemade ramen in many colors for kids to choose from, and try to pick as many options in different colors that I can. Here are some great choices you can use:
Red, Orange and Yellow Sweet Mini Peppers
Shredded Carrots
Shredded Purple Cabbage
Sliced Mushrooms
Soft or Hard Boiled Eggs
Fresh Cilantro
Fresh Basil
Green Onions
[embed_popupally_pro popup_id="8″]
Interested in adding more Asian flavors to your weeknight meals but not sure how to make it actually doable? Check out my Beginner's Guide to Asian Cuisine for easy tips and recipes that are weeknight and kid-friendly and will help your weeknight meals be a win!
Yield: 4-6 Servings
Crock Pot Pork Ramen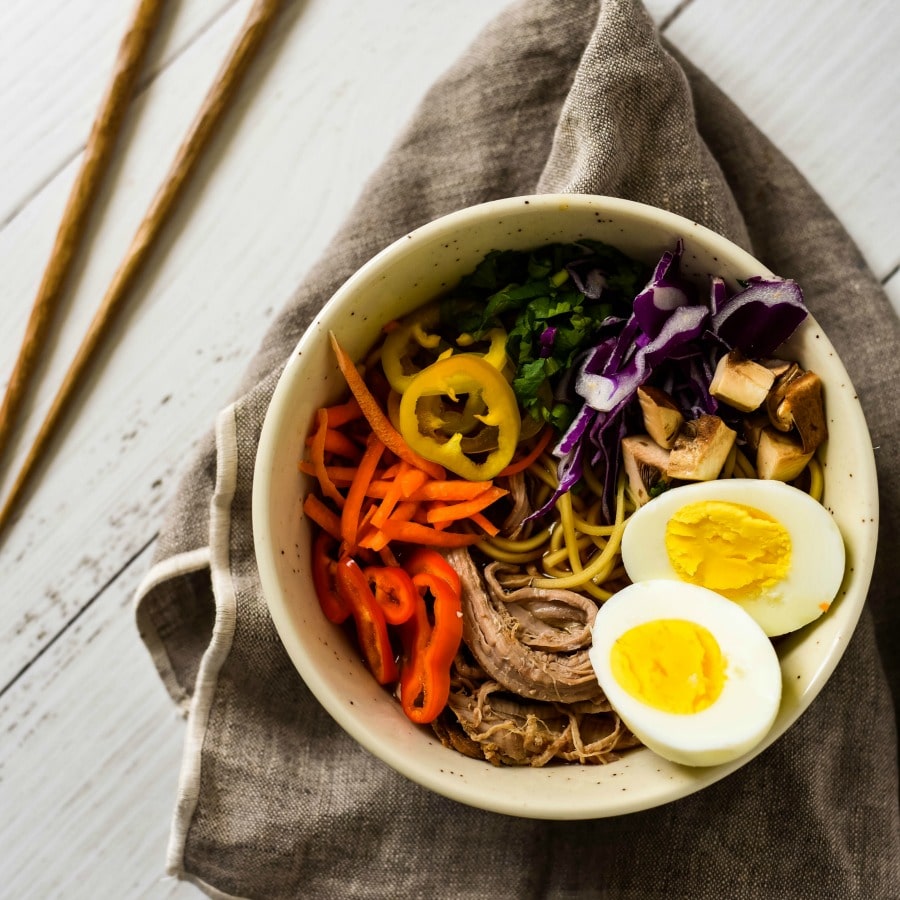 This slow cooker ramen is so simple yet amazingly flavorful! This family friendly meal is perfect for busy nights and will quickly become a favorite!
Total Time
8 hours
10 minutes
Ingredients
2-3 pounds pork shoulder or butt
4 cups low sodium chicken broth
1/4 cups low sodium soy sauce
1/4 cup rice vinegar
2 TBSP fish sauce
1 TBSP fresh ginger, grated
2 cloves garlic, minced
1 cinnamon stick
1 TBSP chili paste
Juice of 1 lime
1 TBSP sriracha
1 TBSP toasted sesame oil
1 tsp pepper
2 TBSP brown sugar
4 packs or Ramen Noodles, seasoning packets discarded
1/4 cup fresh basil, chopped
1/4 cup fresh cilantro, chopped
4 eggs, for serving - soft boiled or fried
1/2 cup of each for serving - sliced carrots, sliced jalapeños, sliced mini sweet peppers, shredded cabbage, sliced shiitake mushrooms, fresh cilantro, basil and green onions
toasted sesame seeds, for serving
Instructions
Add the pork to the crock pot.


Pour in the chicken broth, soy sauce, rice vinegar, fish sauce, ginger, garlic, cinnamon, c hili paste, lime juice, sriracha, toasted sesame oil, pepper and brown sugar.


Cover and cook on low for 7-8 hours.


Remove the pork from the crockpot and lightly shred with two forks.


Add the ramen noodles, cilantro and basil and cook for 5 minutes.


Once the noodles are cooked, ladle the broth into bowls and top with all the things!


Enjoy!
Nutrition Information:
Yield:

6
Serving Size:

1
Amount Per Serving:
Calories:

552
Total Fat:

38.1g
Trans Fat:

0g
Cholesterol:

134.2mg
Sodium:

1230.1mg
Carbohydrates:

13.3g
Sugar:

5.6g
Protein:

38.3g
** recipe slightly adapted from Half Baked Harvest