This easy Greek Yogurt Green Bean Casserole is simple to make and delivers on flavor while keeping the ingredients soup-free!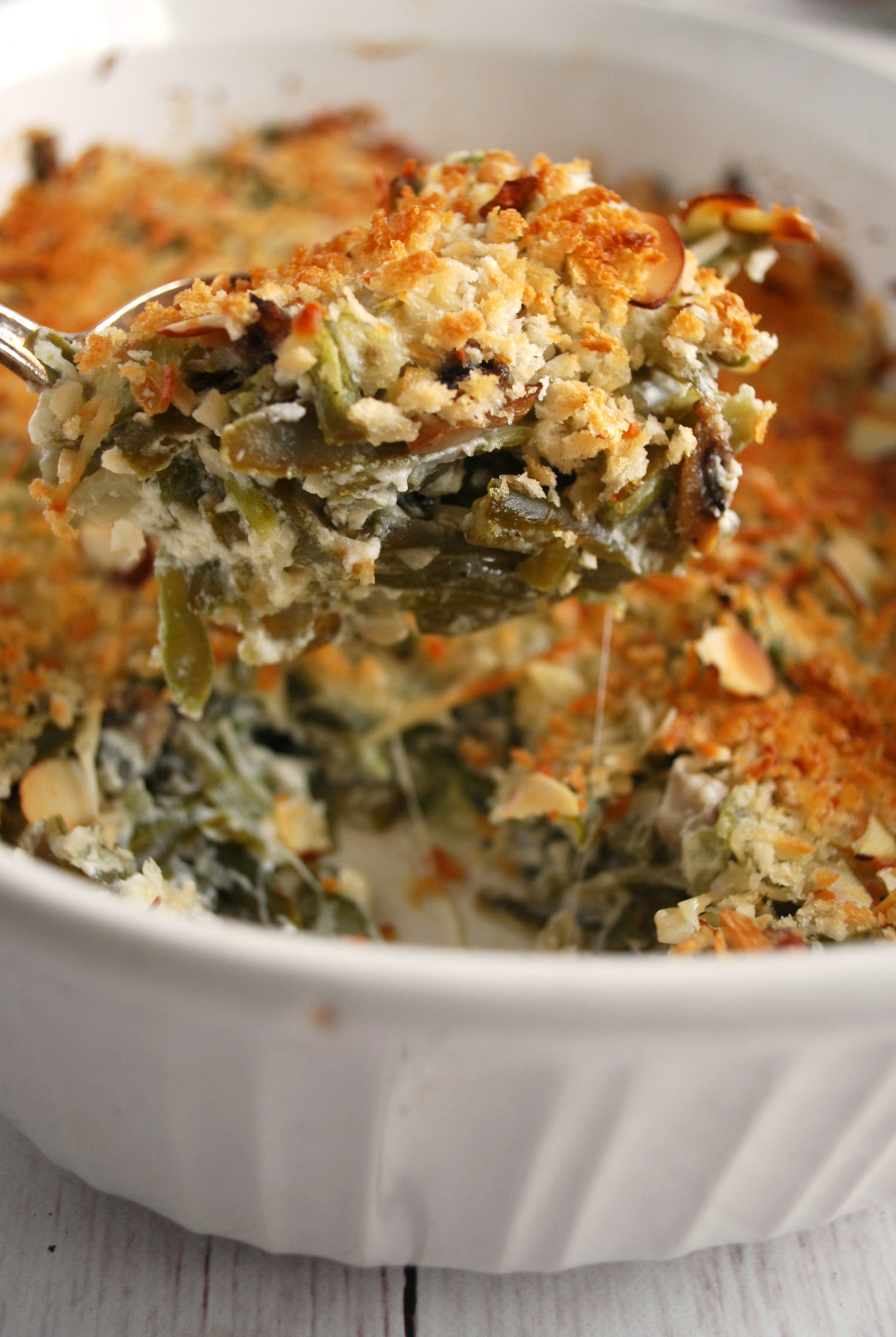 This post was sponsored by Whole Foods. All opinions, recipe, and photographs are mine. Thank you for supporting the brands that support me and allow me to continue to grow my blog. #MyHolidayTradish
When it comes to holiday food, there are two camps of thought – either you try brand new recipes all the time, or you stick to the exact same menu and recipes that have been handed down through generations.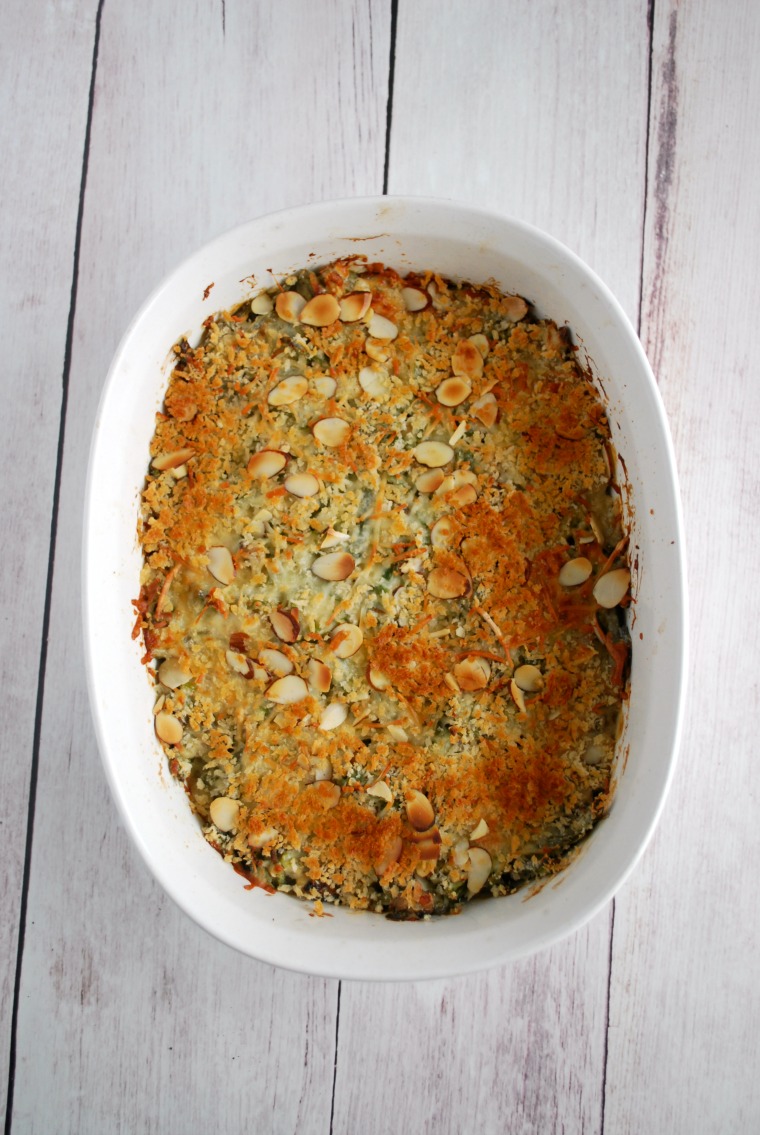 As for my family, we tend to play both sides – there are certain holidays where we stick to the same menu and even recipes that we have used for years, and then there are times that we branch out and try new things.
Take this past Thanksgiving, for example – we used pretty much the same menu that we always do, but I convinced my family to do the majority of the food in crock pots (best decision EVER, seriously!).
I have also been slowing reinventing all of our old family-approved recipes to remove all the "junk" ingredients.
We seriously over indulge in all things cheese, butter, sugar, and wine on holidays – but there is no need to add processed cream-of-crap soup to that as well.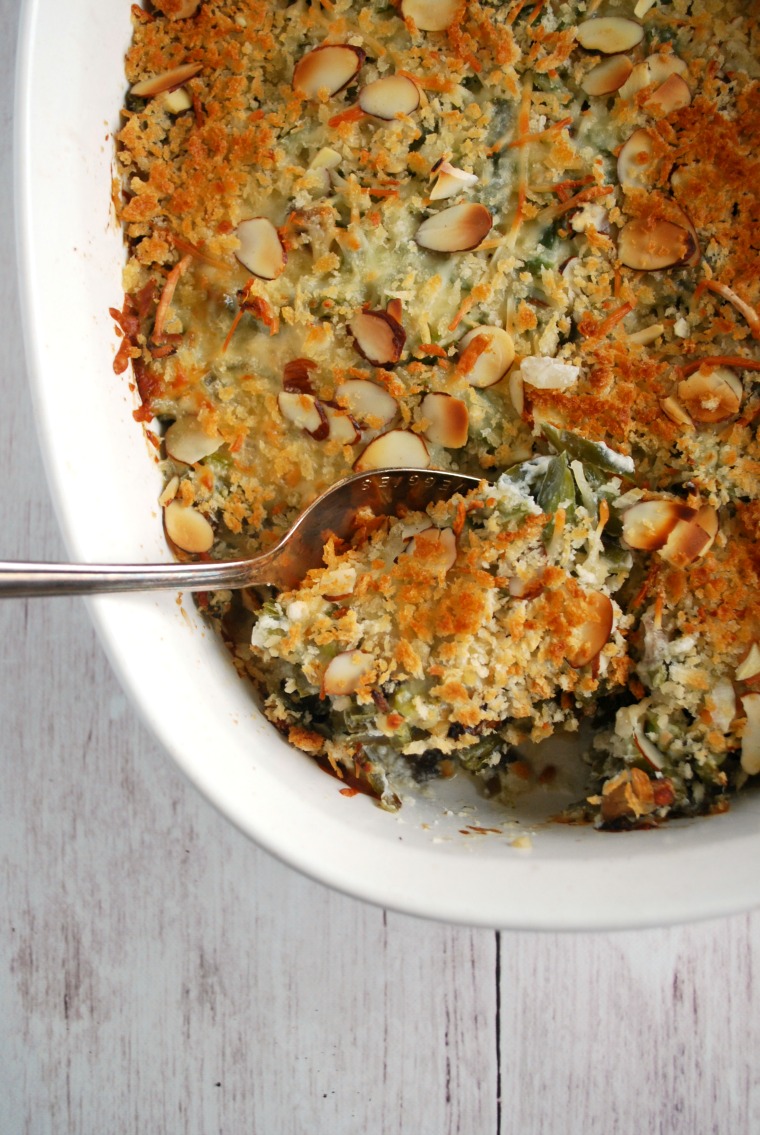 Green Bean Casserole is one of my favorite holiday side dishes, but its also one that I don't like making. Cream of Mushroom soup totally grosses me out, but I also don't like taking the time to make a homemade béchamel sauce during the hustle and bustle of pulling a giant foodie-feast together.
This Green Bean Casserole, though is super easy to throw together, but it still retains all the awesome flavor of the original recipe – actually better, I think, because it uses fresh ingredients!
The green beans are smothered in a creamy greek yogurt sauce laced with sautéed shallots, garlic and mushrooms, layered with a light smattering of sharp and nutty parmesan cheese and then topped with a super crunchy combination of sliced almonds and panko breadcrumbs.
Its amazing, its easy, its healthier, and its perfect for your next holiday gathering!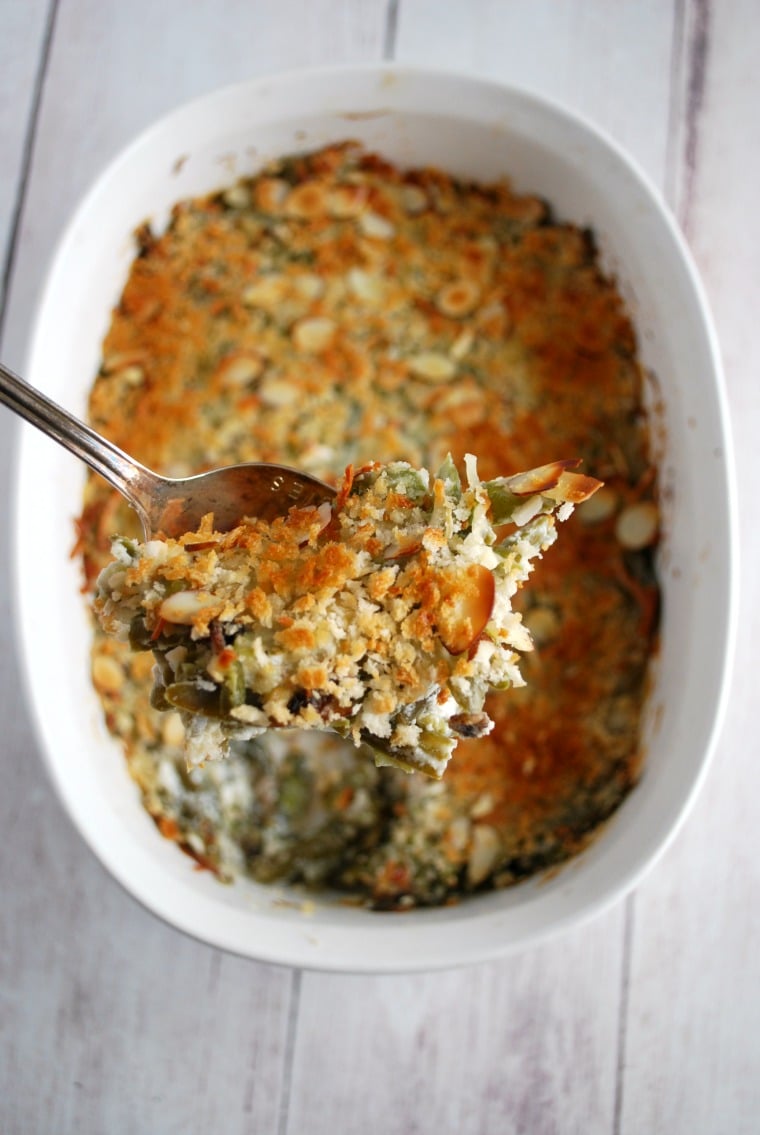 Definitely check out Whole Food's new site dedicated to all things Holiday!! And make sure you have plenty of hot cocoa for all your holiday guests! Use this coupon from Whole Foods for a FREE 365 Hot Cocoa when you spend $20!
Looking for more perfect holiday side dishes? Try these great recipes:
Yield: 6 Servings
Greek Yogurt Green Bean Casserole
This easy Greek Yogurt Green Bean Casserole is simple to make and delivers on flavor while keeping the ingredients soup-free!
Ingredients
1 TBSP butter
14 oz frozen whole green beans
8 oz mushrooms, thinly sliced
1 shallot, finely chopped
1 garlic clove, minced
1/2 cup chicken stock
**Sauce
1 cup plain greek yogurt
2 TBSP flour
1 tsp salt
1/2 tsp pepper
**Topping
1 TBSP minced dried onion
1/2 cup grated parmesan cheese
1/2 cup panko breadcrumbs
1/4 cup sliced almonds
Instructions
Preheat oven to 350F.
Spray a 2 quart baking dish with cooking spray and set aside.
Heat a large skillet over medium and warm up 1 TBSP butter.
Sautee the shallot, garlic and mushrooms with 1/2 cup of chicken stock, stirring occasionally, until the liquid has completely evaporated.
Remove from pan and place in a medium bowl.
Thaw the frozen green beans in the microwave for about 5 minutes.
Add them to the bowl with the onions and mushrooms.
In another medium bowl, mix together the greek yogurt, flour, salt, and pepper.
When the green beans are kind of cool, mix the sauce into the beans and onion mixture and evenly spread into the prepared baking dish.
In a small bowl, mix together the dried onion, parmesan cheese and breadcrumbs for the topping.
Evenly sprinkle over the top of the green beans.
Bake, uncovered, for 35-40 minutes, or until the topping is golden brown.
Enjoy!
Notes
You can assemble this ahead of time and store, covered, in the fridge, until ready to bake.
Nutrition Information:
Yield:

6
Serving Size:

1
Amount Per Serving:
Calories:

196
Total Fat:

8g
Saturated Fat:

3g
Trans Fat:

0g
Unsaturated Fat:

4g
Cholesterol:

15mg
Sodium:

664mg
Carbohydrates:

22g
Fiber:

4g
Sugar:

6g
Protein:

12g
Food tastes better when its shared with the ones you love!
Your shares are how this site grows and I so appreciate it! Do you know someone who would love this recipe? I would love if you shared this on social media!
There's nothing I love more than seeing you make my recipes! If you enjoy this recipe, please do me a favor and give it a star rating! Thank you!
Subscribe to my email list to get all the extra tips, tricks and bonuses!