This easy roasted green beans recipe is packed with flavor and so simple and quick to make! They will pair perfectly with any dinner!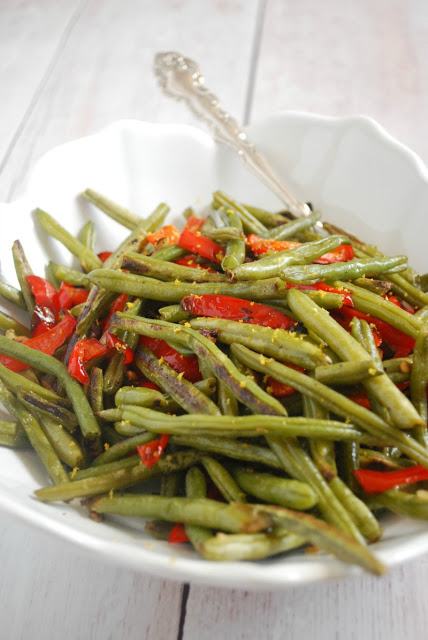 I don't know about you, but side dishes kind of get the shaft at my house. Not that I don't love a good side dish, but there just isn't enough time and energy in the day to prepare a main course, deal with tired, hungry, cranky kids and prepare 2-3 amazing and complicated sides as well. That's what Thanksgiving is for, right? Usually I focus on the main dish, and if I need extra sides, they tend to be really simple.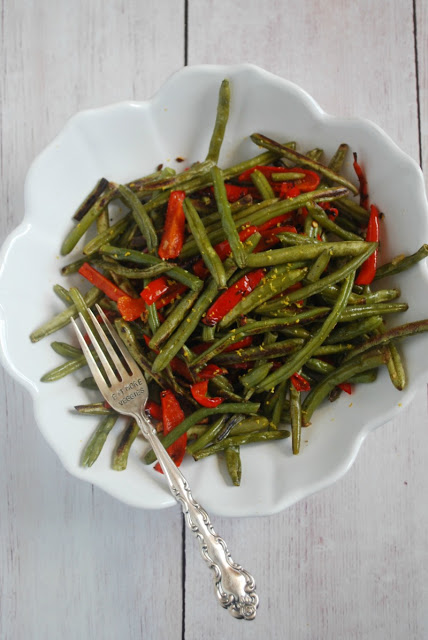 The great thing about fresh produce is that it doesn't need a lot of help to be awesome. Here green beans and sweet peppers are combined with olive oil, salt, pepper, garlic and lemon zest. That's it. An awesome, healthy, and EASY side dish that your whole family will love. And its ready in 20 minutes! Enjoy!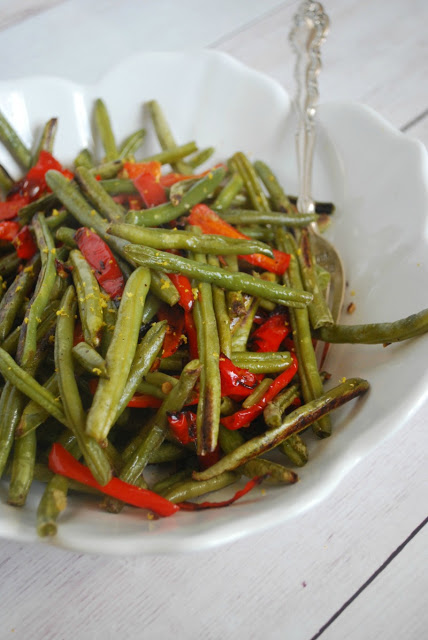 Pssst! This recipe works equally well whether you are using fresh or frozen green beans! Try it with these amazing
Oven-Baked Crusted Pork Chops
for a complete weeknight meal!
Yield: 4 Servings
Easy Roasted Green Beans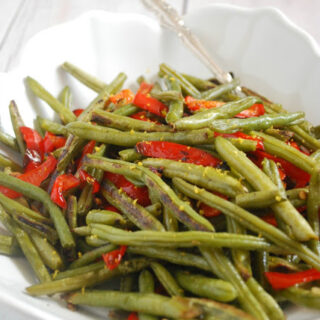 These Roasted Green Beans are a perfect easy side dish that pair well with any main meal! Tender and flavorful green beans cooked with red peppers and garnished with fresh lemon zest!
Ingredients
1 lb green beans
1 red bell pepper, sliced
2 garlic cloves, minced
1 TBSP EVOO
salt and pepper to taste
1 lemon, zest and juice
Instructions
Preheat the oven to 400 F
Toss together the green beans, sliced red pepper strips, minced garlic, olive oil and salt and pepper.
Arrange the mixture into a single layer on a rimmed baking sheet.
Bake for 10 minutes. Stir the green beans, and then bake for an additional 10 minutes.
Remove the baking sheet from the oven.
Toss the roasted green beans and red peppers with with the zest of the lemon, and 1 Tablespoon of lemon juice.
Enjoy!


Nutrition Information:
Yield:

4
Serving Size:

1
Amount Per Serving:
Calories:

113
Total Fat:

4g
Saturated Fat:

1g
Trans Fat:

0g
Unsaturated Fat:

3g
Cholesterol:

0mg
Sodium:

112mg
Carbohydrates:

19g
Fiber:

4g
Sugar:

13g
Protein:

3g