Check out 2018's holiday gift guide for the kid foodie! There's something for every age in this roundup of treats for your food-obsessed little one.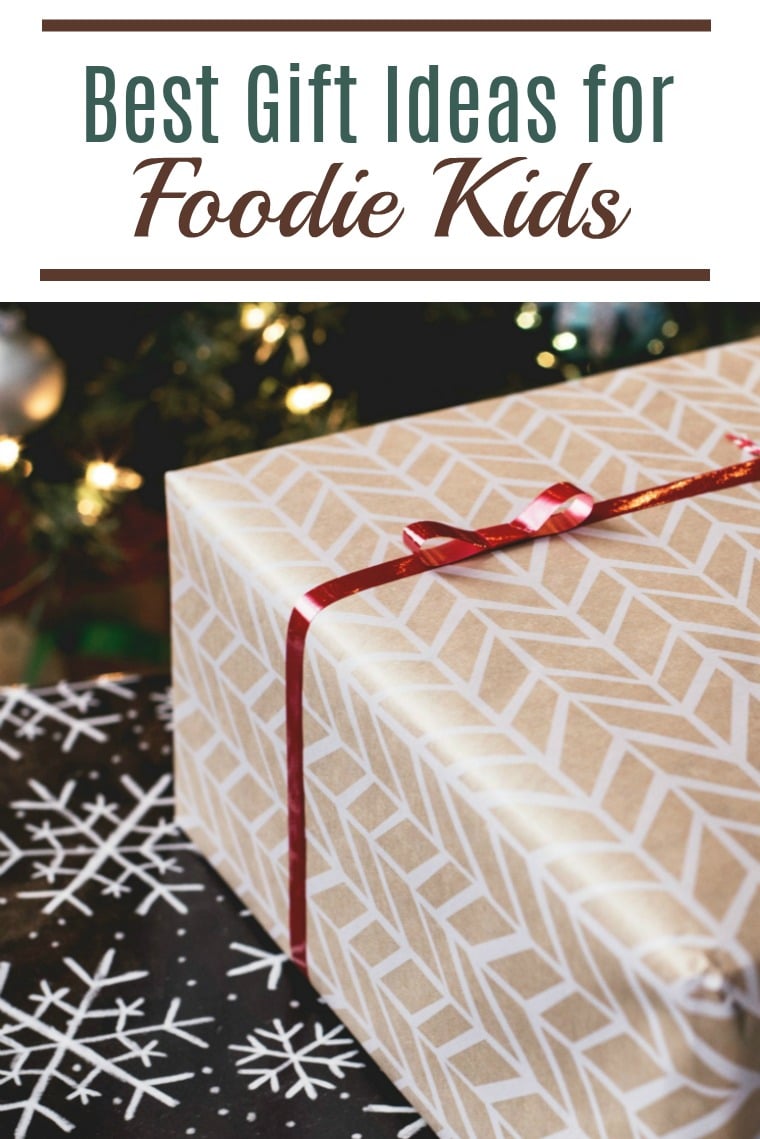 Looking for gifts that will help you give great experiences and build lasting memories with the children in your lives instead of gifts that will leave toy parts all over the floor? These ten gift ideas are perfect ideas to help grow children who love spending time in the kitchen, and who love trying new foods!
Jenni Ward/The Gingered Whisk is a participant in the Amazon Services LLC Associates Program, an affiliate advertising program designed to provide a means for sites to earn advertising fees by advertising and linking to Amazon.com.
– Kiinde Foodii Starter Kit – Foodies start with first bites, and making baby food is a seriously fun past-time for parents who love to cook! These fill your own pouches are awesome to take with you on the go and come with multiple kinds of lids depending on what you want. These have no moving parts, so they are easy to clean.
Melissa and Doug Wooden Chef's Kitchen – Every budding foodie needs to pull their weight in the kitchen. I love this little wood kitchen because it has all the parts a real kitchen needs, it isn't overly gaudy, there is tons of storage space, and also lots of working parts.
Melissa and Doug Stainless Steel Pots & Pans are totally necessary. I love that these are really stainless and look like REAL pans! We have these and my girls love them! When it comes to food – I love three different sets. I love the felt vegetable and fruit sets by IKEA, I found this fun felt food called Antsy Pants at Target (they have fun sets like hot dogs and donuts!), and these fun felt and wood sets by Hape (like this pita pocket one).
A Learning Tower – We got a Learning Tower when my oldest was a baby and it has seen so much use with two kids (and a third about to start using it!). We LOVE it for use in the kitchen. Its adjustable height makes it the perfect size for kiddos of different ages/heights, and its easy to clean when flour gets everywhere. We have a different brand but guys, this one FOLDS up.
Zoku Popsickle Molds – We love these popsicle molds! We have several sets – the dinos and the ring pops. I love that they make fun and cute shapes, but that the popsicles themselves are actually smaller than your average popsicle, which makes them perfect for kiddos.
Kazoo Kids Cookie Cutters – So I am not a fan of cutting things into shapes to make food scenes for kids. Buuuuut what if the kiddos spent their own time cutting their own food into shapes? Ok, now I am sold! These 13 cutters are actually really cute, easy to use, and come in their own storage box (so they won't roll around the utensil drawers).
Subscription to Radish – This Radish subscription kit is pretty much amazing! Its kind of like a cooking club, a culinary lesson, and a dinner meal all in one that the whole family can enjoy. Each month the kit has a unique theme that embeds math, science, geography, culture and history into a fun lesson you can eat! It includes a grocery list, recipe and activity guides, comes with fun collectable tools and helps make fun memories for your whole family.
Curious Chef 30 Piece Collection – These kids cooking utensils are amazing first set for children! They won't harm skin at all, but can still cut through. Everything a kid needs to stir, measure, cut, and cook up a storm! Plus, they are all dishwasher safe!
Kids Training Chopsticks – These chopsticks are an easy and fun way to learn chopsticks! They can be used with right or left hand, and the easy color guides help you to know right where to places your fingers. These are dishwasher safe, too! Your kids will make quite the scene when you go out to eat and they know how to use chopsticks!
AeroGarden Herbie Kid's Garden with Pizza Party Activity Kit – I love this fun indoor garden kit! It comes with a really cute 32 page booklet with 18 activities that are all surrounding gardening and cooking. When your plants are ready to harvest, you have a pizza party! I love that this combines activities, gardening, cooking and eating in one awesome gift!
Did I miss any of your favorites?
Check out my other Gift Guides: