These Lemon Cream Cheese Rolls are a sweet treat for breakfast! Tender dough filled with tangy lemon cream cheese filling and topped with a lemon glaze.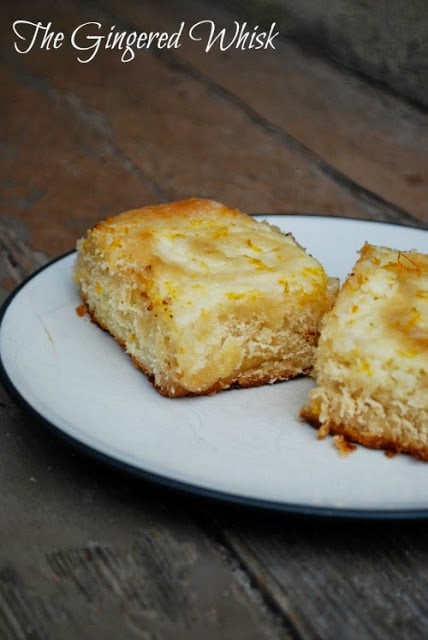 These lemon sweet rolls are AMAZING! The dough is super easy to make yields a super buttery, soft roll. The filling is bright, tangy, and delicious. They are a perfect breakfast for spring. Or anytime, really, because its always the right time for delicious baked goods!
You can definitely tell that Ladybug is a food blogger's kid. Lately she has been wanting me to take photos of all her meals before she eats, and she wants to be in all the photos I take as well. She's pretty much super adorable, and I think her enthusiasm is too cute. Except that 3/4 of all the photos I take now have blurry little fingers or a flash or a face in them. Hehe.
Lemon Sweet Rolls Recipe
These lemon sweet rolls are made for sharing – the recipe makes 2 dozen, and I don't recommend cutting it.
If you can't consume that many rolls at a time, you can freeze half unbaked (then thaw on the counter overnight and bake in the morning).
Or you can take some to work, give them to a friend who has had a bad day, or surprise your neighbors with a lovely gift.
Either way, these were made for sharing! For an extra special treat, you can also throw a pint of blueberries or raspberries on top of the cream cheese filling before you roll them up!
Love a good cinnamon roll recipe? Boy do I have the recipe collection for you:
Easy Cranberry Orange Sweet Rolls

– These Cranberry Orange Sweet Rolls are a perfect and easy breakfast – whether you are celebrating a holiday or just looking for a special breakfast, these cinnamon rolls are delicious!

Chocolate Pecan Sticky Rolls with Bourbon Caramel

– These sticky rolls are the ultimate decadent treat. Soft and flaky brioche is swirled with generous amounts of chocolate, toasted pecans, and cinnamon and then baked in a bath of gooey bourbon infused caramel. A treat this amazing deserves to be enjoyed and savored while it is still warm from the oven.

Blueberry Cream Cheese Rolls

– These blueberry sweet rolls have a cream cheese filling and are studded with sliced almonds.

Foolproof Overnight Cinnamon Rolls

– The best overnight cinnamon rolls recipe – and the only one you need! These are fantastic and foolproof – the compliments you will receive after baking these make the time worth it!

Easy Sourdough Cinnamon Rolls

– These sourdough rolls have great sourdough flavor!

Spiced Cinnamon Rolls with Maple Glaze

– These spiced sweet rolls are made with roasted squash, lots of warm spices, chopped walnuts and a lovely maple glaze. The perfect way to welcome fall!

Caramelized Apple Walnut Cinnamon Rolls with Brown Butter Cream Cheese Frosting

– These cinnamon rolls are studded with apples, cinnamon and walnuts and topped with a browned butter cream cheese frosting. They are a true fall delight!

Best Homemade Cinnamon Rolls with Maple Glaze

– These best homemade cinnamon rolls is the last recipe you need! This is seriously the best homemade cinnamon rolls recipe ever and makes a ton to share!

Billowy Sourdough Cinnamon Rolls

– These long fermented Sourdough Cinnamon Rolls are dangerously addicting. Giant, billowy cinnamon rolls topped with a wonderful glaze, these are the bakery quality cinnamon rolls that dreams are made of. They are worth every ounce of work and every calorie.

Roasted Banana Overnight Cinnamon Rolls with Maple Glaze

– These cinnamon rolls are breakfast heaven. Roasted bananas, sweet dough, and a maple glaze combine perfectly into these delicious breakfast treats.
Yield: 24 Servings
Lemon Cream Cheese Rolls
These Lemon Cream Cheese Rolls are a sweet treat for breakfast! Tender dough filled with tangy lemon cream cheese filling and topped with a lemon glaze.
Total Time
3 hours
30 minutes
Ingredients
Rolls:
1 package (2 1/4 tsp ) active dry yeast
1/4 cup warm water
2 TBSP white vinegar
2 cups + 2 TBSP milk, room temperature
2/3 cup cold shortening
3 TBSP sugar
1 tsp salt
1 tsp baking soda
1 tsp baking powder
5 cups flour
2 TBSP butter, melted (for after baking)
Filling:
16 ounces cream cheese, softened
1 lemon, zested and juiced
1 egg, room temperature
1 stick salted butter, melted
Glaze:
2 cups powdered sugar
1 lemon, zested and juiced
1/4 cup milk
Instructions
Rolls
In a medium bowl, whisk together the warm water and yeast and let it sit for 10 minutes, until it was foamy.
In a measuring cup add the white vinegar and then fill to the 2 cup line with milk.
In a large bowl whisk together the flour, sugar, salt, baking soda and baking powder.
Cut in the shortening until it resembles small peas.
Stir the yeast mixture and the milk mixture into the dry ingredients and mix well.
Transfer the dough to a bowl lightly sprayed with cooking oil. Cover and let rise 2 hours or until doubled in size.
Spray a 9x13 pan with cooking spray and set aside.
Filling:
In a medium bowl cream the softened cream cheese until creamy.
Mix in the zest, juice, sugar, and egg until well combined. Set aside.
Assembly:
Turn the dough out onto a lightly floured surface and roll to a large rectangle about 1/8" thick.
Spread the melted butter over the surface of the dough and dollop the cream cheese mixture on top, spreading it evenly out.
Gently roll the dough up into a log and cut into equal sized rolls (about 2") Place the rolls in the pan.
Cover the rolls and let them rest in the fridge overnight.
To Bake:
When you are ready to bake, let the rolls come to room temperature while you preheat the oven to 400F.
Bake for 25-30 minutes or until lightly baked (do not under bake or they will be doughy in the center).
Brush with 2 TBSP melted butter and them return to the oven for 1 minute.
Allow to cool for a few minutes.
Glaze:
In a medium bowl whisk together the ingredients for the glaze and drizzle on the top of the rolls.
Enjoy!
Nutrition Information:
Yield:

24
Serving Size:

1
Amount Per Serving:
Calories:

302
Total Fat:

18g
Saturated Fat:

9g
Trans Fat:

0g
Unsaturated Fat:

7g
Cholesterol:

43mg
Sodium:

273mg
Carbohydrates:

32g
Fiber:

1g
Sugar:

11g
Protein:

4g