The ultimate fall brunch recipe, these caramelized apple and walnut cinnamon rolls with brown butter frosting are everything you would want in a fall recipe - decadent, studded with apples, cinnamon and walnuts, and so delicious!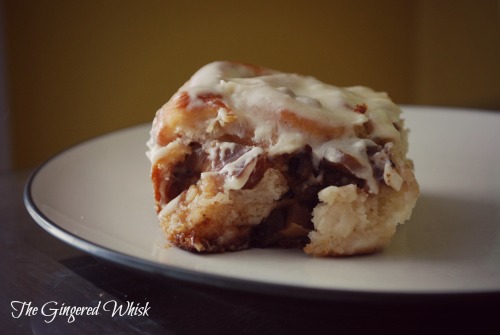 These cinnamon rolls are studded with apples, cinnamon and walnuts and topped with a browned butter cream cheese frosting. They are a true fall delight!
Sometimes there is nothing better than getting together with a friend or two and baking something delicious. And sometimes it can be even more fun when you do it with a huge group of people all around the world. Between blog hops and monthly challenges, the food blogging world loves to bake and cook with other people.
So when one of my favorite bloggers decided to issue up a new challenge, I immediately to join. If you don't know Julie of
Willow Bird Baking
, you are really missing out. Julie constantly fills her blog with delicious treats, and her posts are heartfelt and interesting to read. I am pretty sure that everyone who reads her blog feels like they could instantly be good friends with her - she is warm, funny, down to earth, and charming!
Julie is all about teaching confidence in the kitchen and helping you to find your inner creative spark - taking a recipe and making it your own.
I wanted these to be all about fall, and while most people immediately think of pumpkin, I feel like the apple gets left out a lot.
Fall, and especially early fall like it is now, should be about apples! They are perfectly in season right now, and their crisp texture and sweetly sharp flavor should find its way into everything - both sweet and savory.
These were utterly delicious and totally fall. I used both apple cider and apples, and they paired perfectly with the gooey cinnamon filling.
The frosting is amazing, too - with brown butter, a hint of coffee and cream cheese. These rolls are nothing but pure decadence.
I am really happy with how these turned out, and if I don't gain 10 pounds by sneakily eating all the rolls myself, I will totally make these again!
Love a good cinnamon roll recipe? Boy do I have the recipe collection for you:
Easy Cranberry Orange Sweet Rolls

- These Cranberry Orange Sweet Rolls are a perfect and easy breakfast – whether you are celebrating a holiday or just looking for a special breakfast, these cinnamon rolls are delicious!

Chocolate Pecan Sticky Rolls with Bourbon Caramel

- These sticky rolls are the ultimate decadent treat. Soft and flaky brioche is swirled with generous amounts of chocolate, toasted pecans, and cinnamon and then baked in a bath of gooey bourbon infused caramel. A treat this amazing deserves to be enjoyed and savored while it is still warm from the oven.

Blueberry Cream Cheese Rolls

- These blueberry sweet rolls have a cream cheese filling and are studded with sliced almonds.

Foolproof Overnight Cinnamon Rolls

- The best overnight cinnamon rolls recipe – and the only one you need! These are fantastic and foolproof – the compliments you will receive after baking these make the time worth it!

Easy Sourdough Cinnamon Rolls

- These sourdough rolls have great sourdough flavor!

Spiced Cinnamon Rolls with Maple Glaze

- These spiced sweet rolls are made with roasted squash, lots of warm spices, chopped walnuts and a lovely maple glaze. The perfect way to welcome fall!

Lemon Cream Cheese Rolls

- These sweet rolls are a perfect spring treat! Bright lemon flavors combine with cream cheese to make a lovely breakfast treat!

Best Homemade Cinnamon Rolls with Maple Glaze

- These best homemade cinnamon rolls is the last recipe you need! This is seriously the best homemade cinnamon rolls recipe ever and makes a ton to share!

Billowy Sourdough Cinnamon Rolls

- These long fermented Sourdough Cinnamon Rolls are dangerously addicting. Giant, billowy cinnamon rolls topped with a wonderful glaze, these are the bakery quality cinnamon rolls that dreams are made of. They are worth every ounce of work and every calorie.

Roasted Banana Overnight Cinnamon Rolls with Maple Glaze - These cinnamon rolls are breakfast heaven. Roasted bananas, sweet dough, and a maple glaze combine perfectly into these delicious breakfast treats.
Yield: 24 Servings
Caramelized Apple Walnut Cinnamon Rolls with Brown Butter Cream Cheese Frosting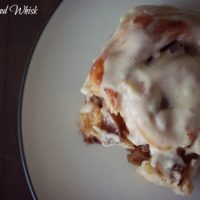 The ultimate fall brunch recipe, these caramelized apple and walnut cinnamon rolls with brown butter frosting are everything you would want in a fall recipe - decadent, studded with apples, cinnamon and walnuts, and so delicious!
Total Time
3 hours
20 minutes
Ingredients
Dough
2 ¼ tsp yeast
¼ cup warm apple cider
2 TBSP white vinegar
2 cups (minus 2 TBSP) milk
⅔ cup butter
3 TBSP sugar
1 tsp salt
1 tsp baking soda
1 tsp baking powder
5 cups flour
2 TBSP butter, melted to brush on top after baking
Filling:
8 apples, peeled, cored, and diced small
1 cup brown sugar
4 TBSP butter
2 tsp ginger
8 TBSP apple cider
3 TBSP cinnamon
½ tsp nutmeg
Frosting:
8 ounces cream cheese, room temperature
6 TBSP butter
4 TBSP brewed coffee, room temperature or cold
4 cups powdered sugar
Instructions
Dough
Cut the butter into small chunks and place on a plate in the freezer.
In a small bowl, mix together the yeast and warm apple cider and let sit for 10 minutes.
Pour the vinegar into a 2 cup measuring cup and then fill the cup up to the "2 cup" line with milk and let sit for 10 minutes.
In a large mixing bowl, whisk together the salt, baking soda, baking powder and flour.
Remove the butter from the freezer and using your fingers (or 2 forks) cut the butter into the flour until it resembles course sand, with a few pea sized bits of butter remaining.
Pour the milk and yeasted cider into the flour mixture and mix until combined. It will be a sticky mess.
Place some plastic wrap over the bowl and place the dough in the fridge overnight.
Filling:
In a large skillet, melt the butter.
Stir in the apples, brown sugar, ginger, nutmeg and cinnamon until all the apples are evenly covered.
When the brown sugar melts, stir in the apple cider.
Cook for 15-20 minutes, until the apples are tender and the brown sugar is thick and caramelizing.
Allow to cool before use (you can even refrigerate this part until you need it if you want to make it ahead).
Assembly
The next morning, remove the dough from the fridge and dump it out on a lightly floured surface.
Roll the dough out into a large rectangle.
Brush with 5 TBSP of melted (slightly cool) butter.
Spoon the filling on the dough and evenly spread it around.
Roll the dough up into a long log.
Using a sharp serrated knife, cut the log into 24 even pieces (I find it easiest to cut it first in halves - so first cut the into 2 pieces, then cut each half into half (so you have 4 pieces) and then you can cut each fourth into thirds - getting you 24 equal sized pieces).
Place each circle cut side up into the bottom of two greased 9x13 pans.
Cover the pans with plastic wrap and allow to rise for 1.5-2 hours.
Preheat your oven to 400F.
Remove the plastic wrap from the pans and place the pans in the oven, spacing them out so one pan is on the top left of your oven and the other pan is on the bottom right.
Bake 10 minutes, then switch the location of the pans (so they bake evenly).
Bake another 5-10 minutes, until golden brown (make sure they are evenly golden, if they are just barely golden the rolls will still be gooey in the middle).
Brush with the 2 TBSP of melted butter and then place the pans back in the oven for another minute.
Cool in the pans completely before frosting.
Frosting:
In a small sautee pan, melt the butter and carefully watch it until it browns. You want it to just start to turn brown and it starts to smell nutty and rich.
Turn the heat off and allow the butter to cool (you might even need to place the butter in a bowl so the hot pan doesn't burn it).
Allow the brown butter to cool.
In a medium bowl, mix together the cream cheese, coffee, powdered sugar and cooled browned butter until fluffy.
Spread evenly over the cooled rolls.
Notes
This recipe requires an overnight resting period.
Nutrition Information:
Yield:

24
Serving Size:

1
Amount Per Serving:
Calories:

364
Total Fat:

15g
Saturated Fat:

9g
Trans Fat:

0g
Unsaturated Fat:

4g
Cholesterol:

38mg
Sodium:

290mg
Carbohydrates:

56g
Fiber:

3g
Sugar:

33g
Protein:

4g
Looking for other decadent takes on the cinnamon roll? Check out these recipes:
Chocolate Pecan Sticky Rolls with Bourbon Caramel