These Cranberry Orange Sweet Rolls are a perfect and easy breakfast – whether you are celebrating a holiday or just looking for a special breakfast, these cinnamon rolls are delicious!
"Thank you to Immaculate Baking for sponsoring this post. And Thank you for supporting the brands that support me and allow me to continue to grow my blog. All opinions, recipe and photographs are my own. #ImmaculateBaking
The last few weeks have been tough for me food wise. The food blogger/food snob in me wants to eat amazingly delicious food, but the 35 weeks pregnant exhausted side of me wants to give in to my family's "Let's order pizza!" demands. I hate to admit that I haven't done as much cooking as I would like, and what I am making has become super lazy.
Thankfully, when life makes it more difficult to make everything from scratch, there are easy ways that we can still eat great food with a minimal amount of work. Normally I prefer to steer away from "semi-homemade" types of recipes, but I also realize there are times in your life where that is what you need. When you are pregnant, exhausted, super busy, whatever life is throwing at you – there are moments in your life when you need easy AND good.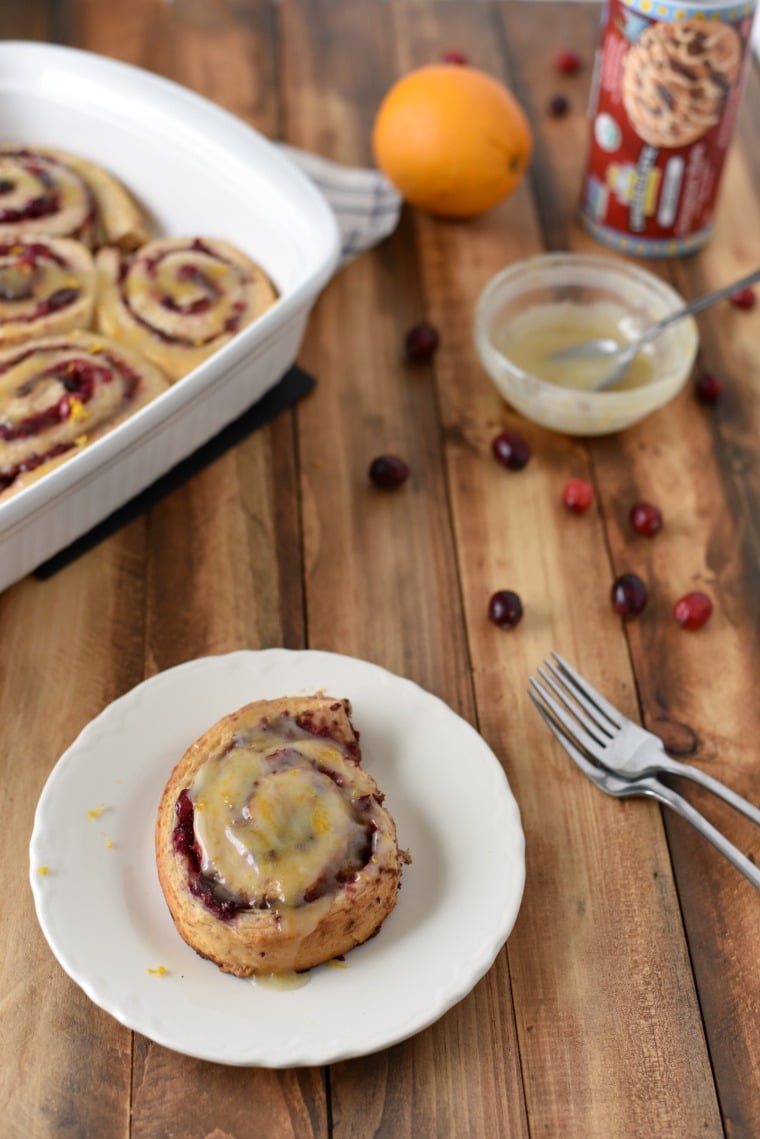 Thankfully there are companies out there that are dedicated to bringing great food into your refrigerators and pantries – because they know that even though you need a shortcut, you still want quality food that tastes great. The Immaculate Baking Company is a great way to take some baking shortcuts – whether or not it is the holiday season. The founder, Scott Blackwell, has had a sweet tooth since the moment his grandmother taught him the ways of home baking – and from there his love of baked goods grew from baking pie to pay his way through college, to winning the Most Outstanding Cookie in America Award, to owning a company that has serious passion in baked goods.
They have an great line of organic and gluten free baking mixes, refrigerated cookie doughs and pie crusts. And when I need to take shortcuts, I want to know that the companies I use have a serious integrity for the quality of ingredients and taste of their product.
I love when a grass roots company can maintain its heart and soul, don't you?
How to Make Orange Cranberry Sweet Rolls
These easy sweet rolls are a perfect way to "hack" your favorite refrigerated cinnamon rolls. You need 5 minutes of extra work in order to enjoy these semi-homemade autumn treats. Simply unroll the cinnamon rolls in a sheet (make sure you put down some parchment paper first, it gets messy!) and spread some cranberry sauce on top.
If you have ready-made real cranberry sauce (not that homogenous goo from a can, mind you) you can use that, or you can whip up your own really fast. I blitzed some cranberries and fresh squeezed orange juice in my food processor really quick and called it good – you still get the spreadability of a sauce, but you also still have some bigger chunks of cranberries for bursts of flavor.
Roll the dough back up, separate the rolls, and then bake! I then took the frosting packets that came with the cinnamon rolls and mixed in some fresh orange zest to further add to the fresh sweet-tart flavor. It takes seriously 5 minutes of extra work, but sooo worth it!
Love a good cinnamon roll recipe? Boy do I have the recipe collection for you:
Chocolate Pecan Sticky Rolls with Bourbon Caramel

– These sticky rolls are the ultimate decadent treat. Soft and flaky brioche is swirled with generous amounts of chocolate, toasted pecans, and cinnamon and then baked in a bath of gooey bourbon infused caramel. A treat this amazing deserves to be enjoyed and savored while it is still warm from the oven.

Blueberry Cream Cheese Rolls

– These blueberry sweet rolls have a cream cheese filling and are studded with sliced almonds.

Foolproof Overnight Cinnamon Rolls

– The best overnight cinnamon rolls recipe – and the only one you need! These are fantastic and foolproof – the compliments you will receive after baking these make the time worth it!

Easy Sourdough Cinnamon Rolls

– These sourdough rolls have great sourdough flavor!

Spiced Cinnamon Rolls with Maple Glaze

– These spiced sweet rolls are made with roasted squash, lots of warm spices, chopped walnuts and a lovely maple glaze. The perfect way to welcome fall!

Lemon Cream Cheese Rolls

– These sweet rolls are a perfect spring treat! Bright lemon flavors combine with cream cheese to make a lovely breakfast treat!

Caramelized Apple Walnut Cinnamon Rolls with Brown Butter Cream Cheese Frosting

– These cinnamon rolls are studded with apples, cinnamon and walnuts and topped with a browned butter cream cheese frosting. They are a true fall delight!

Best Homemade Cinnamon Rolls with Maple Glaze

– These best homemade cinnamon rolls is the last recipe you need! This is seriously the best homemade cinnamon rolls recipe ever and makes a ton to share!

Billowy Sourdough Cinnamon Rolls

– These long fermented Sourdough Cinnamon Rolls are dangerously addicting. Giant, billowy cinnamon rolls topped with a wonderful glaze, these are the bakery quality cinnamon rolls that dreams are made of. They are worth every ounce of work and every calorie.

Roasted Banana Overnight Cinnamon Rolls with Maple Glaze

– These cinnamon rolls are breakfast heaven. Roasted bananas, sweet dough, and a maple glaze combine perfectly into these delicious breakfast treats.
Yield: 10 Servings
Cranberry Orange Sweet Rolls
These Cranberry Orange Sweet Rolls are a perfect and easy breakfast - whether you are celebrating a holiday or just looking for a special breakfast, these cinnamon rolls are delicious!
Ingredients
2 packages refrigerated cinnamon rolls
2 cups fresh cranberries
1 orange - the zest and the juice
2 TBSP sugar
Instructions
Preheat the oven to 350.
Spray a 9x13 baking dish with cooking spray and set aside.
In a food processor, blitz the cranberries, the juice from the orange, and the 2 Tablespoons of sugar until mostly chopped. It doesn't need to be perfectly smooth, some chunks are good, you just don't want tons of big pieces..
Line your counter with parchment paper.
Unroll the cinnamon rolls from both packages, triying to keep the individual rolls together as much as possible, and spread the cranberry mixture evenly over the dough.
Carefully re-roll the cinnamon rolls. If big chunks of the cinnamon roll mixture are left behind on the parchment paper, just smear them back onto the dough.
Separate the dough into individual rolls and place them in the baking sheet.
Bake according to the package directions (350F for about 18 minutes) or until the rolls are golden brown. Do not over bake.
Allow the rolls to cool on a wire rack until almost room temperature - you don't want them too warm or the frosting will melt off.
Open the packages of frosting that came with the refrigerated cinnamon rolls and squeeze the frosting into a small bowl.
Stir in the orange zest. If you want the frosting to be a little thinner for spreading, you can add 1 TBSP of orange juice (highly recommend because its a good choice) or milk.
Drizzle and spread the orange frosting over the warm cinnamon rolls.
Enjoy!
Nutrition Information:
Yield:

10
Serving Size:

1
Amount Per Serving:
Calories:

97
Total Fat:

2g
Saturated Fat:

1g
Trans Fat:

1g
Unsaturated Fat:

0g
Cholesterol:

0mg
Sodium:

152mg
Carbohydrates:

19g
Fiber:

1g
Sugar:

11g
Protein:

1g
Looking for other easy holiday breakfast recipes? Try these!
SaveSave