This Sheet Pan Spiced Pork Meatball Recipe with Almond Sauce with Roasted Vegetables is an easy weeknight dinner that is ready in 30 minutes! This ancient medieval recipe is turned modern and kid friendly. The pork meatball recipe features currants and a creamy almond milk based sauce and are served with roasted veggies for a perfectly family friendly dinner!
Whenever I want to introduce a new flavor or ingredient into my kids diet, there is one form that I always turn to.
I don't know what it is about them, but my kiddos will eat just about any kind of meatball I give them. Maybe its the fun bite sized pieces. Maybe its the dipping sauce. Maybe its the texture of the ground meat, seasonings and breadcrumbs all mixed together.
Whatever it is, I know that at my house, if its in the form of a meatball, its gold. And these spiced pork meatballs with almond cream sauce were no exception – they didn't last long at all!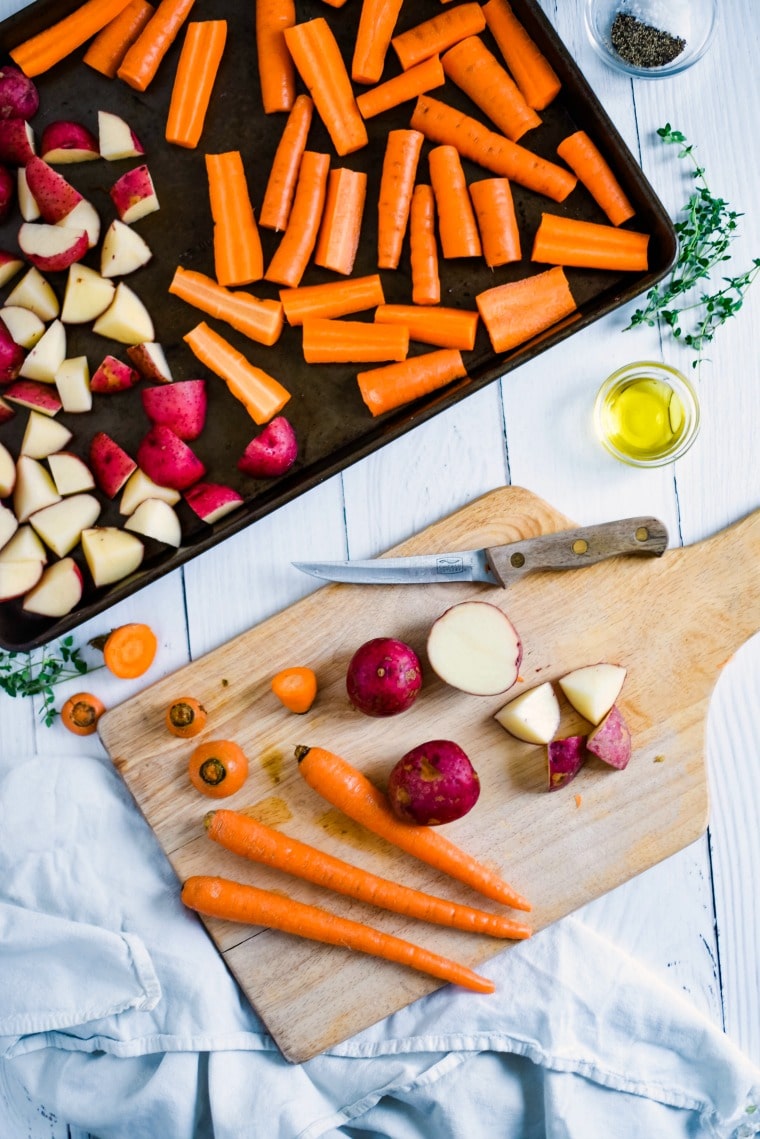 Historically Hungry – Old Recipes Made New
Every month my friend Amy from House of Nash Eats and I get together and recreate a historical recipe. Sometimes we make it exactly with just a few minor adjustments to suit the times, and sometimes we recreate the recipe into something new! This month is all about the Medieval ages! After a bit of research and thought, I decided on this fun pork meatball recipe – because everyone loves meatballs, right?!
Make sure you check out Amy's recipe for easy homemade Rye bread (seriously, its amazing!)
What Did People in the Medieval Ages Eat?
I think we can all agree that no matter what the time was, the more money you have the better you eat. And this could definitely be said for the medieval ages!
The medieval ages are also known as the "Middle Ages" and are through to have lasted from the 5th to the 15th century. The poorer you were, the more bland and unvaried your diet was. Most people ate what they grew. Barely, Oats, and Rye were prominent grains. Vegetables and herbs were grown in small plots of land by most people. Meat was not readily available, unless you happened to own the land to raise your own or buy from a butcher. Food for the working class was basically rougher and cheaper.
Food was definitely a marker of social status during this time. For richer people, wheat was a privilege. Game meat often graced the table from hunting parties, and chicken and pork was also really popular. Food was more spiced and more refined.
Basically, if you ever go back in time to the Medieval Ages, you better hope you end up with some money on hand!
Pork Meatball Recipe with Almond Sauce
Almonds were often used as thickeners in soups, stews, and sauces – particularly as almond milk. Also called Pumpes, these spiced pork meatballs were moistened with almond milk, parboiled boiled in wine and then fried. Once they were cooked, they were placed in a dish and a thin sauce made with stock and ground almonds or almond flour was added to the dish. The meatballs were finished off with a sprinkling of sugar and mace, and often decorated with edible flowers as well (like chives or thyme flowers).
I decided to simplify these a bit – because who has time for parboiling and then frying?! Also – I am not wasting wine by boiling meatballs in it when I could be drinking the wine and baking the meatballs. Right?!
With a few small tweaks, these pork meatballs became an easy weeknight meal complete with roasted veggies!
Get Your Kids in The Kitchen
Kids aged 1-3 can help you measure and whisk the meatball dry ingredients and the sauce ingredients together and set the table.
Kids aged 4-6 can help you do all the above, plus help you mix and shape the meatballs and stir the sauce!
Kids aged 7-10+ can help you do all the above!
*Please note that these recommendations are generalized, and to please use your personal discretion with your child's skill level. And always, always supervise! Read more about how to have your children help you in the kitchen.
Medieval Times Books for Kids
A Medieval Feast by Aliki – A beautifully illustrated look at the Middle Ages and that shows what a feast was like!
The Knight at Dawn by Mary Pope Osborne – In the series of The Magic Treehouse, Jack and Annie learn all about castles, feasts, and more!
The Door in the Wall by Marguerite de Angeli – A little boy named Robin wants to be a knight, but a childhood accident causes him loose the use of his legs. Robin learns that while he can't be a knight, there are other ways that he can be useful! This story is a great look at the times.
Yield: 4 Servings
Sheet Pan Spiced Pork Meatballs in Almond Sauce with Roasted Vegetables
This Sheet Pan Spiced Pork Meatball Recipe with Almond Sauce with Roasted Vegetables is an easy weeknight dinner that is ready in 30 minutes!
Ingredients
Meatballs
1 lb ground pork
1 egg
1/4 cup currants
1 TBSP sugar
1/4 tsp pepper
1 tsp gingerbread spice mix
1/4 tsp salt
1/2 cup panko breadcrumbs
Sheet Pan
3 cups carrots, sliced into 3" long pieces
8 oz baby red potatoes, quartered
2 TBSP Extra Virgin Olive Oil
salt and pepper to taste
1 tsp dried thyme
Almond Sauce:
1 cup beef broth
1 cups almond milk
1 tbsp flour
3 tbs sugar
1/8 tsp mace
1/8 tsp cinnamon
Instructions
For Meatballs:
Preheat oven to 350 F.
Line a rimmed baking sheet with foil and then spray with cooking spray.
Mix ground pork, egg, currants, sugar, and spice together. Be careful not to over-mix or your meatballs will be tough.
Form into small balls, about an inch in diameter.
For the Sheet Pan:
Place the meatballs on the one half of the sheet pan.
In a large bowl, toss the sliced carrots and quartered potatoes wtih the oliv eoil, salt, pepper, and dried thyme.
Arrange in a single layer on the second half of the sheet pan. If you need to use a second pan so you dont crowd, you can do that!
Bake for 20-25 minutes.
For the Almond Sauce:
In a skillet over medium heat, warm the beef broth and almond milk.
When the mixture is warm and simmering, whisk in the flour until smooth.
Whisk for several minutes until the sauce begins to thicken and reduce.
When desired consistency has been reached, whisk in the sugar and mace.
Pour just enough sauce over the pumpes to thoroughly coat them and serve.
Nutrition Information:
Yield:

4
Serving Size:

1
Amount Per Serving:
Calories:

661
Total Fat:

33g
Saturated Fat:

10g
Trans Fat:

0g
Unsaturated Fat:

20g
Cholesterol:

153mg
Sodium:

721mg
Carbohydrates:

54g
Fiber:

6g
Sugar:

26g
Protein:

36g