Eat like a pioneer with this delicious corn cake recipe served with thick bacon. Inspired by Little House on the Prairie, this easy to prepare meal is delicious and hearty and a fun family meal.
Ever wondered what the pioneers ate? With some research, it doesn't seem like they ate much variety, especially on the trail. Basically, corn cakes and bacon.
While having this for meal after meal after meal for weeks on end sounds boring, this easy to make recipe is flavorful, hearty, and delicious!
Served with fresh berries and plenty of coffee, this historical recipe is a lovely family friendly meal everyone will love!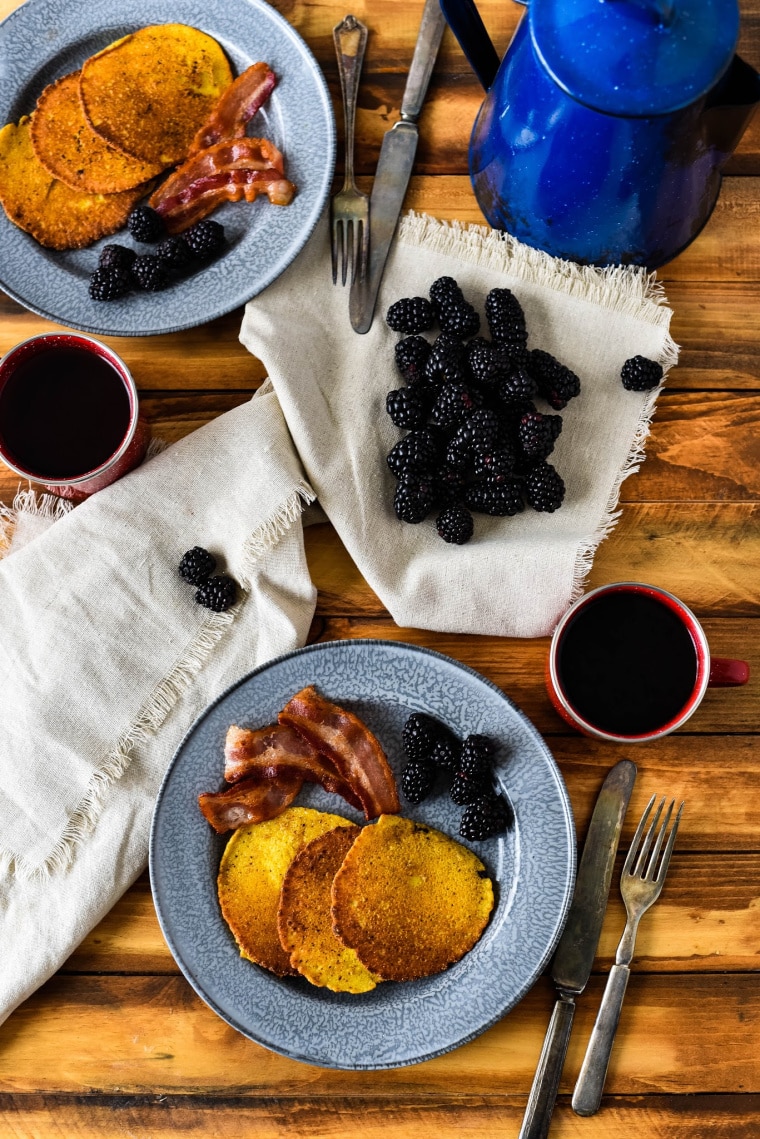 Historically Hungry Recipe – Old Recipes Made New
Every month Amy from House of Nash Eats and I recreate a historical recipe together. This month we wanted to focus on recipes that pioneers enjoyed as they journeyed in covered wagons across the prairie.
What did the Pioneers eat?
Pioneers brought most of their foods with them on their journey. While they were traveling in covered wagons, they mostly ate salted pork (think a cross of pork belly and bacon that's been preserved in salt instead of smoking), cornmeal and flour, rice and beans, sugar and lots of coffee.
Once pioneers got settled on their homestead, they could hunt wild game, fish if there was a river near, and forage for wild berries and nuts. Some pioneers also brought cows and chickens with them, so they could enjoy milk and eggs once they got settled. In spring they would plant gardens and enjoy fresh vegetables. Vegetables and berries were dried to cook with during the winter.
Little House on the Prairie Recipe
My girls and I have been enjoying reading "The Little House on the Prairie" book at night the last few weeks. It has been fun to revisit a childhood favorite and exposing my girls to so many great historical and social conversations.
To make this a complete meal, serve this corn cakes recipe with:
bacon
blackberries (the book talks about how Laura and Ma picked blackberries to dry)
scrambled eggs or fried eggs (not totally authentic to the book, but highly probable if they had a chicken)
coffee (for the adults, of course! You could serve a fun tea for the kiddos )
Make this a fun family date by reading the book Little House on the Prairie, then making the meal and watching old reruns of the TV show!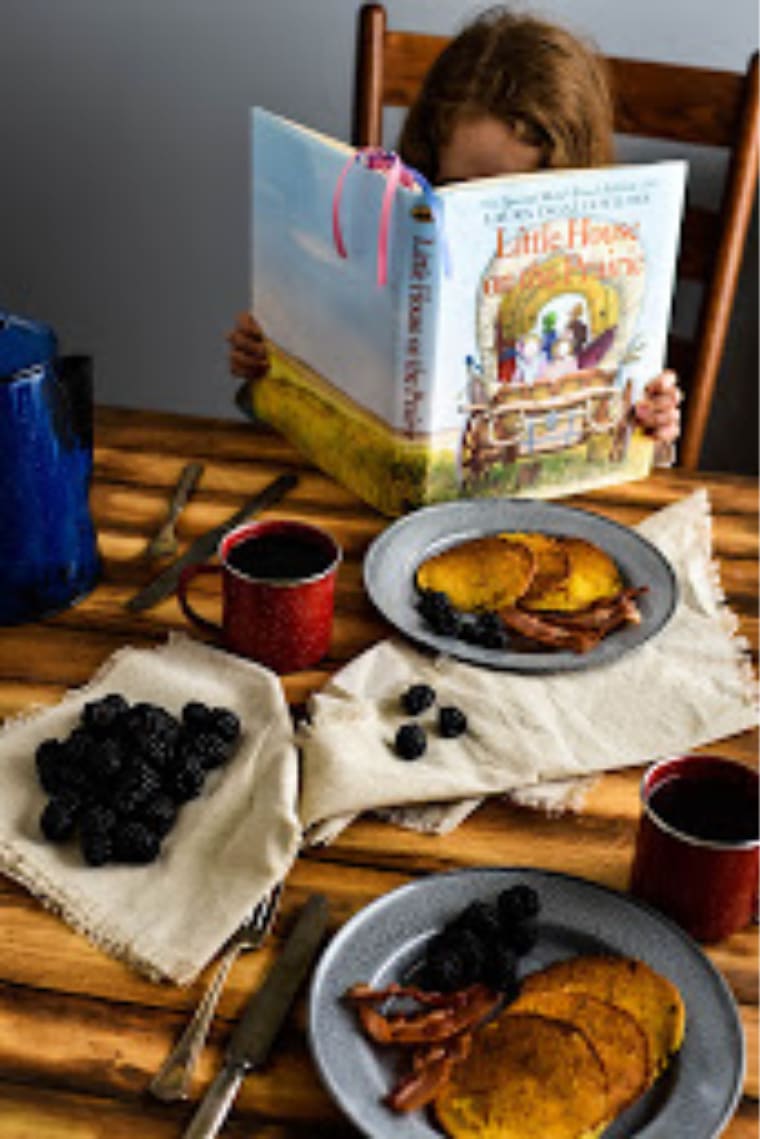 How kids can help you in the cook
One of the best ways of getting kids interested in eating new foods is to have them help you make the meal! Here are some great age appropriate ways to get your kids in the kitchen with you:
Kids aged 1 to 3 can help you measure the ingredients for the corn cakes, whisk the dry ingredients together, wash the blackberries, and set the table.
Kids aged 4 to 6 can help do everything above, plus help you crack the eggs, pour the milk, and mix the batter.
Kids aged 7 to 10+ can help do everything above, plus help you pour the cook the bacon (with a lot of supervision) and the corn cakes.
*Please note that these recommendations are generalized, and to please use your personal discretion with your child's skill level. And always, always supervise! Read more about how to have your children help you in the kitchen.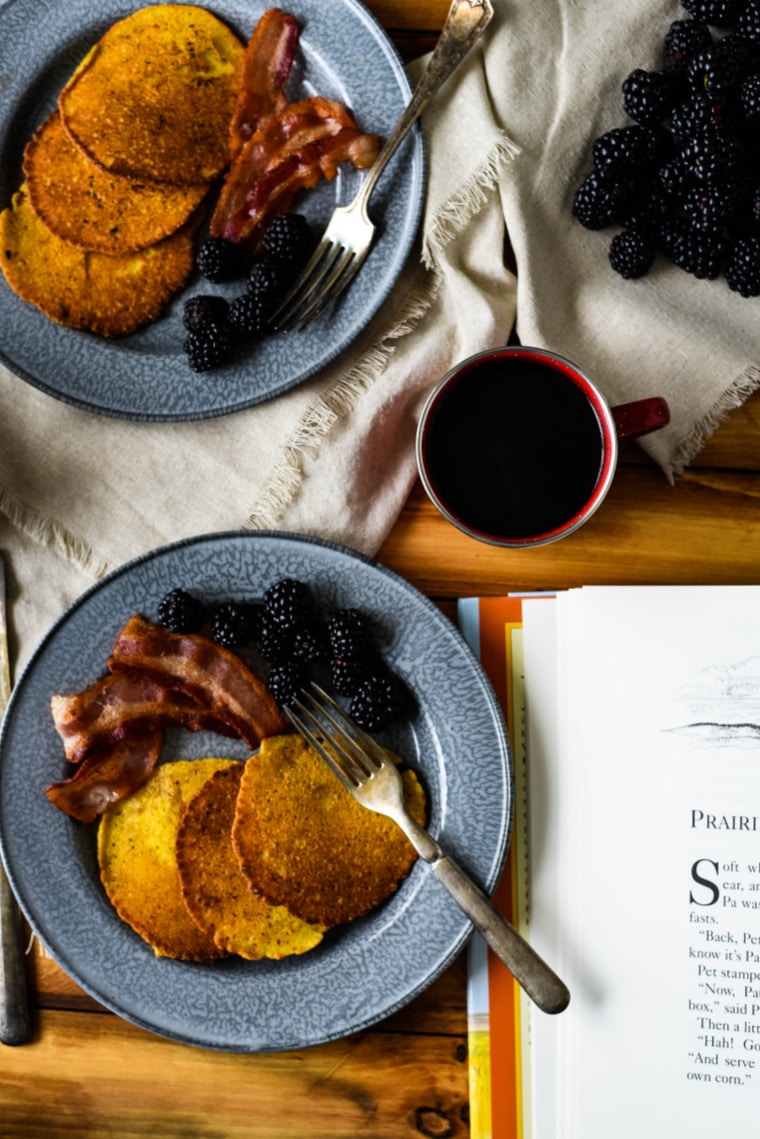 Looking for more recipes inspired by books? Try these:
Food tastes better when its shared! If you try this recipe, let me know! Leave a comment and rate below! Love and links are always appreciated! If you'd like to share this post, please link to this post directly for the recipe, please do not copy and paste or screenshot. Thanks so much for supporting me! xoxo
Corn Cakes Recipe with Bacon
Eat like a pioneer with this delicious corn cake recipe served with thick bacon. Inspired by Little House on the Prairie, this easy to prepare meal is delicious and hearty and a fun family meal
Ingredients
3/4 cup cornmeal
2/3 cup milk
1/4 cup flour
1 egg
1 teaspoon sugar
3/4 teaspoon salt
1/4 teaspoon pepper
8 slices thick cut applewood smoked bacon
Instructions
In a medium bowl, whisk together the cornmeal, milk, flour, egg, sugar, salt, and pepper.
Set aside to rest while you cook the bacon.
In a large cast iron skillet over medium heat, cook the bacon until firm and crispy.
Remove the bacon to a plate lined with paper towels and keep warm.
Drain off all but 1 Tablespoon of the bacon grease in the skillet, but reserve the grease for use as you cook the cakes.
Pour 1/4 cup amounts of corncake batter into the skillet and cook until small bubbles form, about 1-2 minutes. Flip and cook on the other side until nicely browned and cooked through.
Remove to a plate and keep warm.
Repeat with remaining batter, adding more bacon grease if needed.
Serve the corncake and bacon with fresh berries and plenty of coffee!
Notes
For extra authenticity, cook this over a campfire!
Nutrition Information:
Yield:

8
Serving Size:

1
Amount Per Serving:
Calories:

84
Total Fat:

2g
Saturated Fat:

1g
Trans Fat:

0g
Unsaturated Fat:

1g
Cholesterol:

26mg
Sodium:

246mg
Carbohydrates:

13g
Fiber:

1g
Sugar:

1g
Protein:

3g