This strawberry salsa recipe is a quick and easy way to add color, flavor, and texture to your meals! Made with fresh strawberries, sweet red peppers, red tomatoes and red onions, this easy red themed table salsa comes together in just minutes and is so delicious!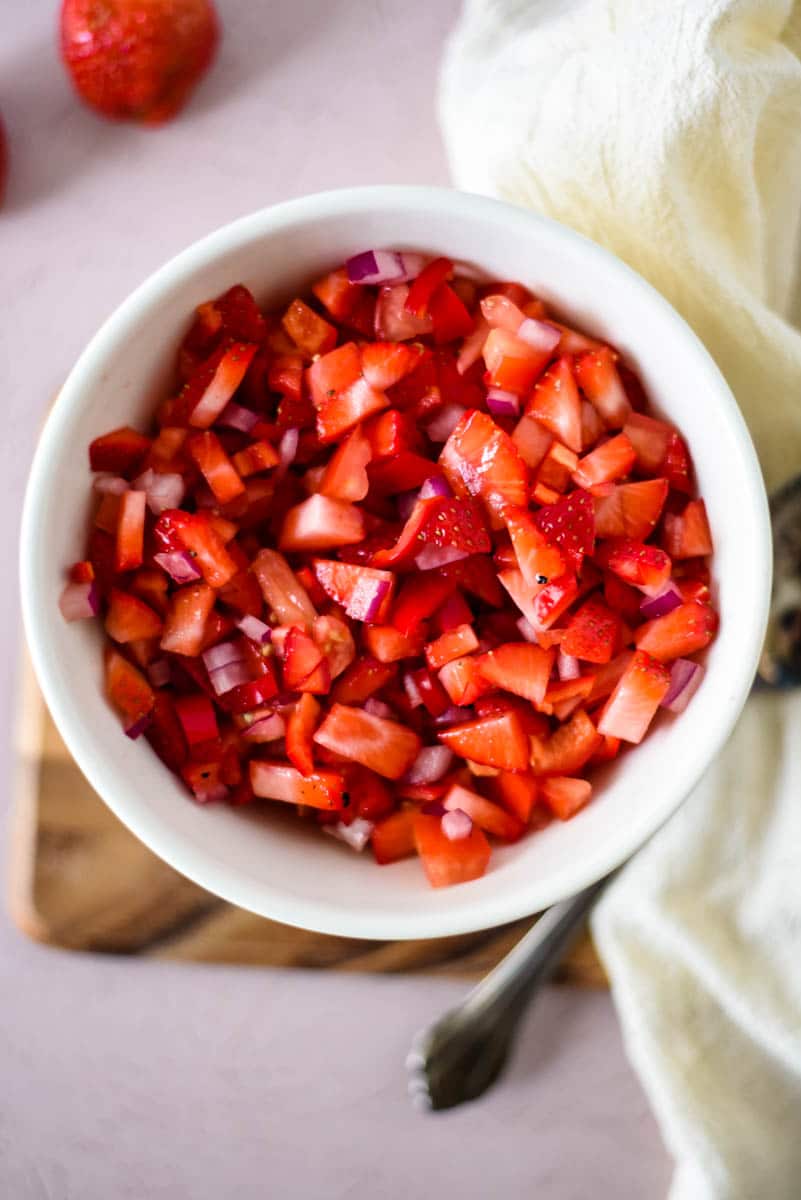 I am always looking for easy ways to add more color and texture to a meal, and this simple strawberry salsa recipe is a fun and easy way to do that!
I kept this recipe "all red" for a fun and kid friendly addition to meals or snack time.
I didn't add cilantro because a lot of younger eaters haven't quite grasped how amazing cilantro really is (I am a huge fan, my two year old? Not so much), but feel free to add a healthy does of chopped cilantro to your own bowl!
Other great strawberry recipes to try:
Fresh Strawberry Salsa
Fresh salsas are one of my favorite condiments! There are so many ways you can make them, and they are quick and easy to make.
What is a salsa?
Salsa is a sauce that is used as a table condiment, either on food or as a dip for tortilla chips. Salsas can be smooth or coarsely textured, thick or thin, mild or hot. Traditionally they are made with fresh tomatoes and peppers but increasingly you can find them made with all kinds of different fruits and vegetables.
How is a salsa different from a chutney or relish?
There are so many great condiments to add to a meal and sometimes it's hard to know the difference between them, especially as they can all contain both fruits and vegetables.
Typically salsas are served raw. Relish is usually cut into finer, smaller pieces, and is cooked with some kind of sweetener (like sugar). Chutneys are almost always cooked and contain aromatics such as ginger, cinnamon, cloves, chilies and herbs.
How to make this easy salsa
Fresh strawberry salsa is a simple and quick recipe to make. To view the entire recipe, please make sure to scroll down to the recipe card below, but here is a simple overview:
Dice the strawberries, sweet peppers, tomato and onion into small pieces and place the pieces into a bowl.
Juice 1 lime and pour the juice over the diced produce.
Season with salt and pepper and toss to combine.
Note: This recipe is fun because it is all red colored! But you could also make it a rainbow colored salsa by using orange or yellow mini sweet peppers, and multi colored tomatoes, too!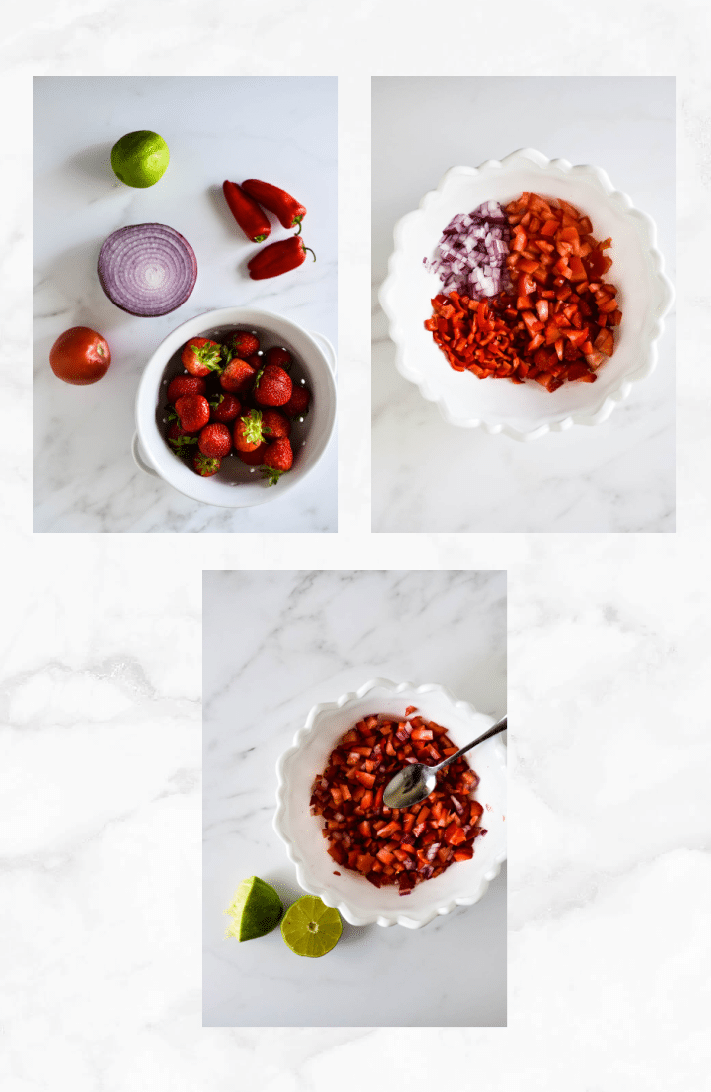 Prepping ahead of time
This salsa can be made ahead of time. I like it best when it has been freshly made, but it does store well in the fridge.
How to serve this to your family
This salsa is great because it is so versatile and so easy to enjoy in a variety of ways!
Serve this salsa with:
Leftovers
You can store leftovers in an airtight container in the refrigerator for a few days.
How to make this kid friendly
This salsa is made for kids! Without spice or cilantro, this recipe is an easy win for kids! If your kids are a little on the pickier side, keep reading to see how getting them involved in the kitchen and in table conversations can help.
*Note: I left the cilantro out of this recipe as a lot of kids don't like it. However, if your little ones don't mind cilantro, feel free to add in ¼ cup of chopped cilantro to this recipe.
You could also add some jalapeno pepper to this dish if you want it to be spicy.
Kids in the kitchen: How your kids can help you cook
Getting your kids in the kitchen with you is a great way to help them be more interested in trying new foods! Not only does it help teach them valuable kitchen skills, and give them great one on one time with you, but it also helps them be more interested in what you are eating and more likely to eat it.
This fresh strawberry salsa recipe is a great recipe to practice knife skills. Strawberries, peppers, and tomatoes are all great beginner foods to practice cutting.
Kids aged 1-3 can help you wash the produce.
Kids aged 4-6 can do everything above plus help you dice the strawberries, tomatoes and peppers.
Kids aged 7-10+ can help you do everything above, plus help you juice the lime.
*Please note that these recommendations are generalized, and to please use your personal discretion with your child's skill level. And always, always supervise! Read more about how to have your children help you in the kitchen.
Dinner conversations with kids
How we talk about food with kids is important. The more curious they are, the more interested and involved they are, the more likely they are to want to try a bite. And actually like it! I like to make a meal seem like an edible adventure that should be explored and discovered.
Try these dinner conversation starters:
Talk about color. Look at all the red! How many different kinds of red can we find in this meal. How could we add more or different colors?
Talk about smell. What does this salsa smell like? Does it remind you of anything?
Talk about texture. What does this salsa feel like when you take a bite? What temperature is it? Are there parts that are crunchier? Softer? Do you like the different textures all mixed together?
Talk about taste. How do the flavors of the ingredients mix well together in the salsa? How does the salsa change when you take a bite of it with something else?
Read more about how to explore the sense of taste with your kids.
Food tastes better when its shared with the ones you love!
There's nothing I love more than seeing you make my recipes! If you make this recipe, don't forget to leave a comment and rate it below!
And if you are on Instagram, tag @gingeredwhisk and use the hashtag #gingeredwhisk on social media when you make my recipes so that I can share them and maybe even feature you. Follow along to get the latest updates:
And don't forget to subscribe to the email list to get all the extra tips, tricks and bonuses!
Want to save this for later? PIN THIS TO YOUR SIDE DISHES BOARD on Pinterest!
Yield: 6-8 servings
Strawberry Salsa Recipe
This strawberry salsa recipe is a quick and easy way to add color, flavor, and texture to your meals! Made with fresh strawberries, sweet red peppers, red tomatoes and red onions, this easy red themed table salsa comes together in just minutes and is so delicious!
Ingredients
2 cups chopped strawberries
3 mini sweet red peppers, chopped small
1 red tomato, diced
1/2 red onion, minced
juice of 1 lime
salt and pepper to taste
Instructions
Dice the strawberries, mini peppers, tomato, and red onion. Toss in a bowl
Juice 1 lime and add the juice to the bowl.
Season with salt and pepper, and then toss.
Allow to sit for 10 minutes or so before enjoying.
Notes
You can change up the colors in this salsa by swapping out the peppers and tomatoes with multi colored ones - think yellow or orange!
If your family enjoys cilantro, add 1/4 cup chopped to the salsa before you toss.
This salsa will keep in an air tight container in the fridge for several days.
Nutrition Information:
Yield:

8
Serving Size:

1
Amount Per Serving:
Calories:

32
Total Fat:

0g
Saturated Fat:

0g
Trans Fat:

0g
Unsaturated Fat:

0g
Cholesterol:

0mg
Sodium:

39mg
Carbohydrates:

8g
Fiber:

2g
Sugar:

5g
Protein:

1g
Nutrition information is an estimate and is provided for informational purposes only. For the most accurate information, please calculate using your specific brands and exact measurements.
Looking for a more visual direction? Check out the how to make strawberry salsa recipe story.