Breakfast won't get easier than these easy Apple Pie Overnight Oats with Grains of Paradise! You only need 5 minutes of prep time and no cooking for this easy overnight oats with yogurt recipe a hearty and delicious breakfast!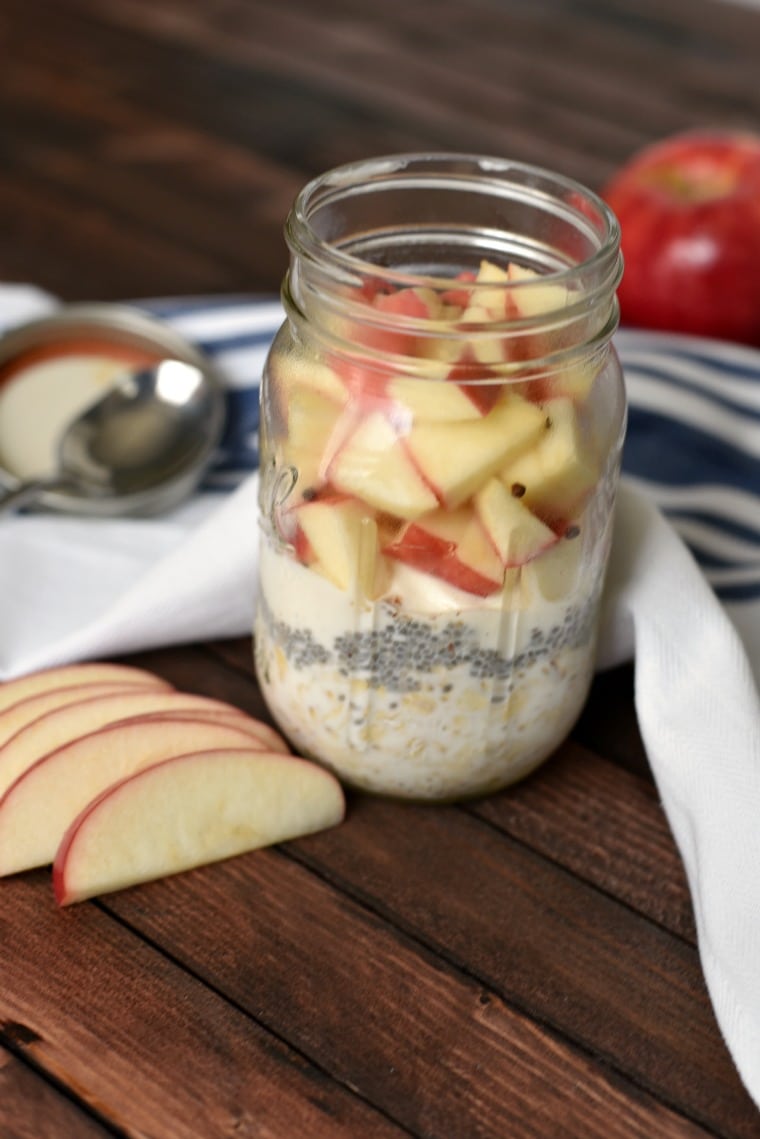 Thank you to Raw Spice Bar for providing the giveaway for today's post!
Have you jumped on the Overnight Oats bandwagon yet? I will admit that I was hesitant. Not that the sound of a recipe that seriously takes less than 5 minutes to make, no cooking is required, and is ready to go at a moment's notice doesn't sound appealing. Because it totally does. The truth was – cold oats sound gross. Have you ever made one of those instant oatmeal packets that just instantly turns into a ball of mushy glue? I was kind of imagining that, only cold. Not exactly appetizing, huh?
Luckily for everyone – Overnight Oats are not at all what I envisioned! A chill in the fridge turns these oats into an ultra creamy treat that is perfect for busy breakfasts or afternoon snacks.
Instead of spicing my "Apple Pie" inspired oats only with traditional spices like cinnamon, nutmeg, etc – I also decided to add a fun element that you might not have heard of. Grains of Paradise!
What is Grains of Paradise?
These little dried seeds might look like peppercorns, but they are not! It has kind of a woodsy, slightly spiced, warm flavor that will slightly remind you of black pepper with a hint of lemon, a splash of something reminiscent of cardamom and clove.
If you close your eyes and eat one, you will seriously think you are walking through a dense forest on a summer afternoon. It's heavenly.
How do you use Grains of Paradise?
Don't worry about buying a crazy spice you will only use once, either – its great in pretty much everything you put it in. You can use it like black and sprinkle it ground during cooking or at the table – and I highly recommend using a bit while cooking and then bit before you sit down to eat! The dual approach really helps emphasize its full range of flavor.
Use it in place of pepper with fish, shrimp or mussels, or grilled steaks.
It is amazing on roasted vegetables.
You can add some cracked grains of paradise (put it in your pepper mill) to salad dressings and enhance it citrus-like flavors.
Its herby flavors can be enhanced when paired with hers like thyme, rosemary, and sage.
Add it to curries, rich sauces, and gingerbreads and spice cakes to add a hint of sweet warmth.
You can find it in speciality food stores.
Raw Spice Bar is one of my favorite new things! I first heard about it over on Instagram, and immediately put it on my Wish List! And then I just went ahead and bought myself a year subscription to it. Every month you get a fun little package in the mail that includes 3 freshly ground spices and spice blends from different regions around the world. It also comes with a flavor profile that explains the region of the month, what you can expect from each of the spices, and awesome, globally inspired recipes for each one. You can purchase individual spices or get their awesome new quarterly subscription!
If you are looking for other super easy breakfast options, check out these Make Ahead Chorizo Frittata Breakfast Sandwiches!
Yield: 1 serving
Apple Pie Overnight Oats with Grains of Paradise
This easy breakfast is perfect for busy mornings! Five minutes of work and no cooking!
Ingredients
1/2 cup old fashioned oats
1 TBSP chia seeds
1 tsp ground flax seed
1/2 cup milk (any kind of you have is fine!)
1/4 cup vanilla greek yogurt
1/4 tsp apple pie spice
1/4 tsp grains of paradise
1/2 apple, chopped
Instructions
In a clean mason jar, layer the oats, milk, chia seeds, and flax seeds and vanilla greek yogurt, apple pie spice and grains of paradise. Don't stir, just layer them in.
Screw the lid on tight and place in the fridge for 6-8 hours (overnight).
Add 1/2 of a an apple, diced, on top.
Stir and enjoy!
Notes
You can add in the diced apple to the top before you place in the fridge, or right before you are ready to eat. The choice is yours!
You can eat this cold, straight from the fridge, or you can warm it up in the microwave!
Nutrition Information:
Yield:

1
Serving Size:

1
Amount Per Serving:
Calories:

318
Total Fat:

8g
Saturated Fat:

1g
Trans Fat:

0g
Unsaturated Fat:

6g
Cholesterol:

2mg
Sodium:

28mg
Carbohydrates:

52g
Fiber:

11g
Sugar:

15g
Protein:

13g