This air fryer tofu recipe gives crispy and flavorful tofu! This easy recipe is perfect for kids and those who might not be so sure about eating tofu. Crispy on the outside, tender on the inside, and so flavorful!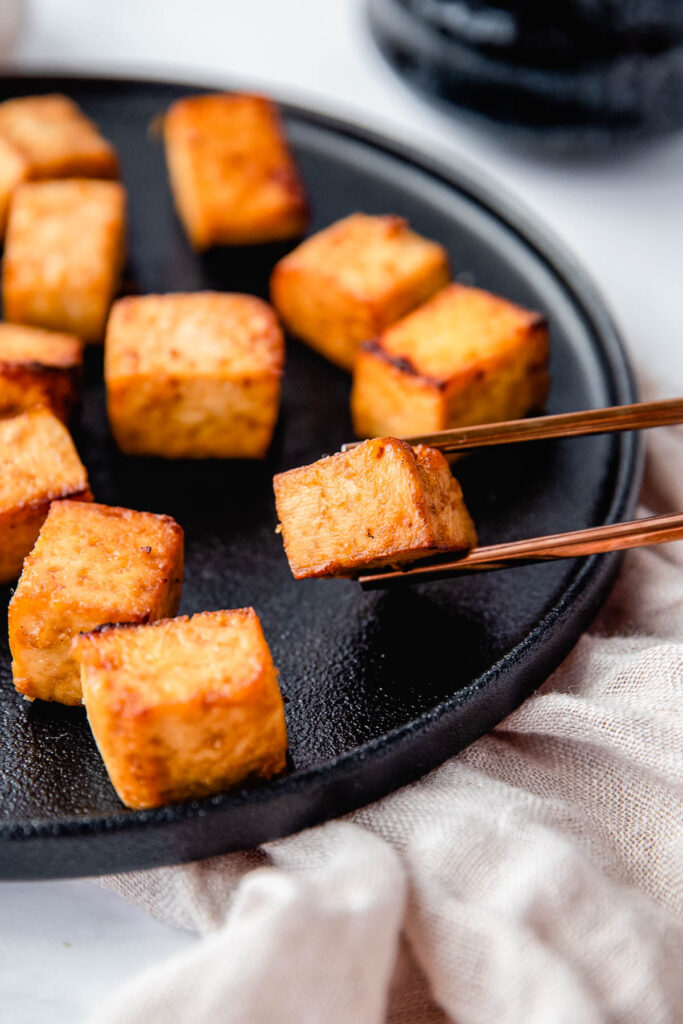 Ah, tofu. Either you love it, or you hate it. But I think that if you aren't a fan, you just haven't had it prepared the right way. Its gotta be crispy, friends. That textural combination of a crispy outside and a soft inside is heaven.
Using an air fryer is the best way to make crispy tofu the super easy way. It comes out literally the best ever – crispy on the outside, tender on the inside, and oh so flavorful!
Tofu is kind of special because it totally changes depending on how you prepare it. It can be bland and mushy or it can be totally flavorful and crispy. It all depends on what you do with it and how you treat it.
The two secret keys to great tofu are:
Pressing it. Tofu is like a sponge, it holds moisture really well. In order for it to be flavorful and crispy, you have to press it! A full 15-30 minutes does the trick.
Marinating it. Once you get the excess moisture out, you need to get flavorful moisture back in! Marinating it with really flavorful sauces does this. You want to marinate for 15-30 minutes.
These crispy tofu cubes are perfectly flavorful and great to eat on their own, dipped into sauce, or used as a bowl topper. You can also use them in a homemade ramen recipe, add it to udon noodle stir fry, or use it in a pad thai recipe!
Ingredients needed:
You only need a few pantry staples to make these amazingly delicious tofu cubes!
Tofu – You will want a block of extra firm tofu. Tofu that is labeled as "firm", will work in a pinch, too. Make sure you don't get one that says "silken" on it! This is usually found in the refrigerated section of the produce aisle, and comes in a package with water in it. I do suggest buying organic when you can, here, and the Trader Joe's version is the best to be had.
Sesame oil – Adds flavor, and helps to aid in the crispiness and overall texture of your tofu.
Soy sauce – You can also substitute this with tamari or liquid aminos if that's your thing.
Garlic – Because you want maximum flavor here, I suggest using a fresh garlic clove that you mince, not dried. The tubes of stir in-paste also work great here.
Ginger – Use fresh ginger that you grate or the stir-in paste. Dried powdered ginger just won't give you the best flavor here.
Cornstarch – This helps give the coating crisp up nicely and draws out any residual moisture. Do not skip this.
Equipment needed:
Tea towel and something heavy or tofu press (like a cast iron skillet)
Cutting board 
Small mixing bowl
Measuring spoons
Small whisk
Chef's knife
Cutting board
Medium sized container with lid
Ninja Air fryer

(affiliate link)
How to make crispy tofu in an air fryer
This is a super simple recipe! For the full set of directions, make sure you scroll down to the recipe card below:
Cube and press the tofu. Squeezing out the excess moisture helps our tofu to really soak up all the flavors we want to add to it, and helps us to get a nice and crisp outside. To save on time, slice the tofu into 1" cubes and then press it! Place a kitchen towel on the counter, spread your tofu squares evenly on the towel (with some space in between), place a towel on top then place a cutting board on top of them, and then top the whole thing with a cast iron skillet. This will help squeeze out the excess moisture faster
Marinate. In a small bowl, whisk together the marinade. Place the cubed tofu into a container with a lid and pour the marinade over, tossing to coat. Allow to sit for 15 minutes.
Sprinkle cornstarch over the marinated tofu, and then place the lid back on to the container and shake to coat each piece.
Air fry the tofu. Preheat the air fryer to 375 F. Add the tofu cubes in a single layer to the basket, making sure there is some room in between each one.. Cook for 10 minutes, or until golden brown and crispy on each side, shaking the basket every few minutes to ensure even cooking. Remove from the air fryer and serve immediately.

How to store leftover tofu
Ok, honestly, this crispy tofu is really best immediately after being prepared. But it can be stored in an airtight container in the fridge for up to 3 days.
Reheat it in a 375 degree oven until it's hot.
Why isn't my tofu crispy?
If you are struggling to get your tofu nice and crispy, here are some tips to try:
Make sure you are using extra firm tofu, not silken.
Make sure you are pressing the liquid out of the tofu before you marinate it.
Make sure you allow your air fryer to preheat really well before you begin cooking.
How to make tofu kid friendly
Yes, tofu can totally be kid friendly! The best way to introduce your kids to tofu is to get them interested and involved.
Asking kids to help you cook tofu is important to helping them learn life skills, but also helps them become curious about the food they are preparing, which helps them be more likely to eat it.
Another way to help kids learn to like tofu is to talk about it! Use the dinner time conversation as a time to explore and investigate tofu.
Kids in the kitchen: How your kids can help you cook
Involving kids in the kitchen is a great way to get them interested in and more likely to try something, which is great if you are introducing them to tofu! When kids have more ownership of a food, they are more likely to want to try it.
This recipe is great because it's simple enough that kids can do the majority of the work themselves!
Kids aged 1-3 can help you measure out the marinade ingredients and pour the marinade onto the tofu squares.
Kids aged 4-6 can do everything above plus help slice the tofu and press it .
Kids aged 7-10+ can help you do everything above, plus help you use the air fryer.
*Please note that these recommendations are generalized, and to please use your personal discretion with your child's skill level. And always, always supervise! Read more about how to have your children help you in the kitchen.
Dinner conversations with kids
How you approach trying new foods at the dinner table has as much impact on how your kids eat it as what food you are actually serving. Our enjoyment of food is strongly tied to our emotions.
By changing the dinner time conversation from "bite management" to more curiosity and exploration, we increase the chances that instead of instantly shutting down the ability to like it, they will be open to exploring it. Think of it as a science experiment!
Try these table conversation starters:
Can you remember a time when we have ever had tofu before?
Do you know anyone who likes to eat tofu?
Look at your tofu. What do you notice about how this looks?
Take a bite and think about the tofu texture. How does it feel in your mouth?
Think about how the tofu tastes. Can you describe it? Is it earthy, sweet, spicy?
Does this tofu remind you of anything?
What should we serve this tofu with next time we try it?
Read more about how to explore the sense of taste with your kids.
Food tastes better when its shared! If you try this recipe, let me know! Leave a comment and rate below! Love and links are always appreciated! If you'd like to share this post, please link to this post directly for the recipe, please do not copy and paste or screenshot. Thanks so much for supporting me! xoxo
Air Fryer Crispy Tofu
This air fryer tofu recipe gives crispy and flavorful tofu that is easy to make!
Print
Pin
Rate
Ingredients
1 -16

ounce

block extra firm tofu

1

Tablespoon

sesame oil

1

Tablespoon

soy sauce

1

garlic clove

minced

1

teaspoon

ginger

grated

1

Tablespoon

cornstarch
Instructions
Press block of tofu by wrapping in a tea towel and placing something heavy on top to absorb moisture.

Leave for at least 15 minutes.

In a small bowl, make marinade by combining sesame oil, soy sauce and minced garlic.

Transfer tofu to a chopping board and cut into cubes.

Place tofu into a container with a lid, then pour over marinade.

Allow to marinade for at least 15 minutes.

Sprinkle cornstarch over marinated tofu, then place lid on container and shake around so each piece of tofu gets fully coated.

Preheat air fryer to 375˚F (190˚C).

Add tofu cubes in a single layer to the basket.

Cook for 10 minutes or until golden and crispy on each side, shaking ever few minutes to ensure even cooking.

Remove from air fryer basket and serve immediately.

Notes
These are best served immediately. Leftovers can be stored in an air tight container in the fridge for up to 3 days. Reheat in the air fryer for a few minutes.
Make sure to use extra firm tofu, do not substitute with silken tofu.
Nutrition
Serving:
1
g
|
Calories:
135
kcal
|
Carbohydrates:
4
g
|
Protein:
12
g
|
Fat:
9
g
|
Saturated Fat:
2
g
|
Polyunsaturated Fat:
7
g
|
Sodium:
224
mg
|
Fiber:
1
g
|
Sugar:
1
g
Want a more visual approach? Check out the How to make air fryer crispy tofu story.