Jamaican Jerk Chicken Skillet
This easy Jamaican jerk chicken skillet recipe is a fun tropical weeknight meal that your whole family will love. With red beans and rice, tender spiced chicken pieces and topped with a quick pickled vegetable relish and fresh tropical mango and lime salsa – this flavorful and fun meal will have your family eating like a pirate – but much better!
ARRR! Ahoy Matey!
After I finished my Eat Like A Princess series, I had a lot of requests for non-princess inspired meals. This be the first, ye swashbuckling landlubber! Whether or not you have your sea legs, your family will enjoy this easy meal that is packed with flavor and fun colors and enjoy this fun pirate dinner recipe!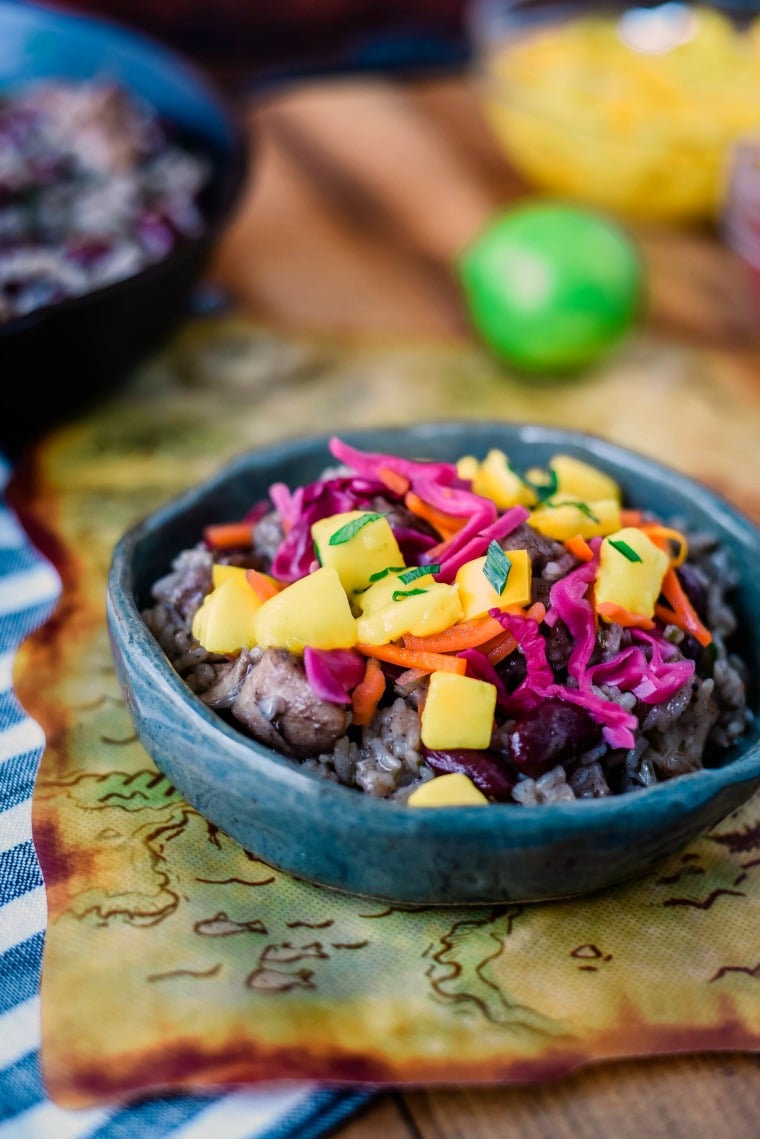 One of my favorite ways to get kids interested in trying new flavors and foods is to get them interested in foods in creative and fun ways. Using cookie cutters and food coloring to create food scenes is fun and cute, but I try to reserve those Picasso type moments for special occasions like Christmas and Birthdays and not for a Tuesday night dinner.
I think its important for kids to know a how to eat any food that comes their way, even if it doesn't look like a mermaid under the sea.
Because they can't always rely on chicken nuggets, and because there is a whole world of flavor out there just waiting for them, and because weeknights are crazy enough as it is without having to spend 45 minutes creating a work of art in addition to a meal for everyone else!
One of the best ways to get kiddos interested in trying something new is to tie it into something they already know and love – whether that be a book or movie, or some other thing they are interested in. Think of it as a tiny bit of peer pressure that will help expand their palates!
All hands on deck! This pirate inspired meal does just that – its inspired by what pirates might have actually eaten (or pretty close to it), packed with kid friendly flavors (YES! kids can totally have flavor packed foods!), and including so many gorgeous colors, this meal is a perfect family meal.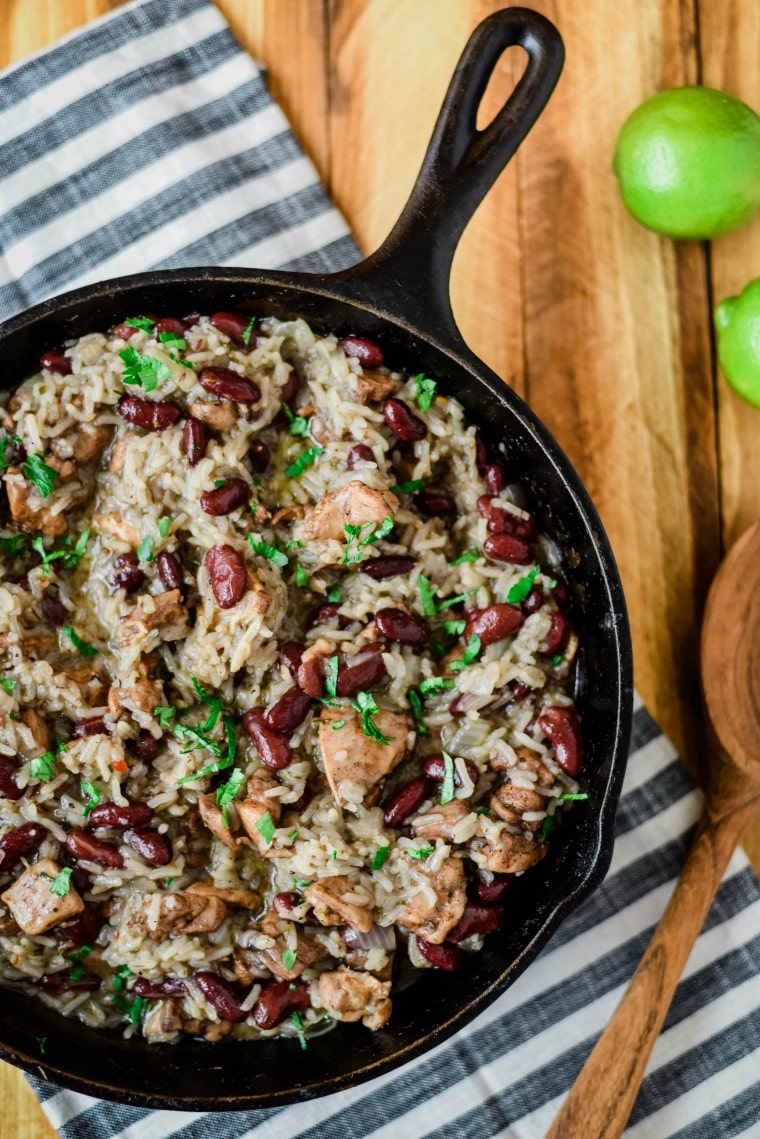 What Did Pirates Eat?
Movies and books have long romanticized what life like a pirate was like. But forget the swashbuckling hunks. For real pirates, life wasn't quite so glamorous. It was brutally hard and short. Most didn't live past the age of 30, had terrible diseases, and a lot met their end at the end of a rope. It was not very Jack Sparrow like at all. And, to make things worse, they ate pretty terrible food.
For the first few weeks at sea, food was plentiful. The holds of the ship were filled with cheese, eggs, fresh and pickled vegetables, dried beans and rice, and fresh and salted meats. Many ships even kept livestock on hand – for a short time, at least. After a while, though, the fresh supplies would start to dwindle and what wasn't pickled or dried started to turn bad. The hardtack started to get moldy and full of weevils. If they didn't put into port or take over another ship, food supplies got scarce. Once the fresh supplies were gone, the livestock was eaten. Bone soup was a popular dish because they could use the bones of their livestock, and turtles they found, or the occasional human. Ok, just kidding on that last part (I think, anyway). Who knew that pirates enjoyed trendy bone broth?
The one thing that pirates did have a good supply of was alcohol! Pirates often suffered from Scurvy from the lack of Vitamin C found in fresh fruits and vegetables. This caused skin irritations, gum disease, and even potentially death! Basically, being a pirate sucked.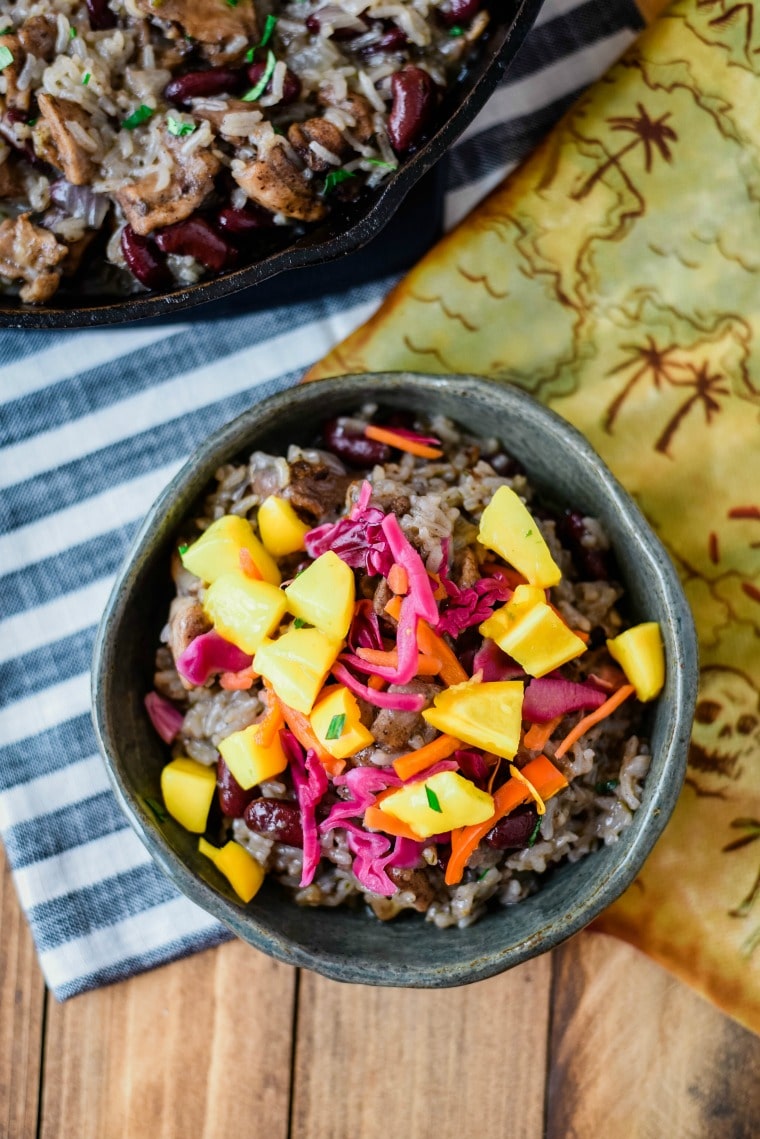 Jamaican jerk chicken in a skillet
Blimey, its a good thing that you can eat like a pirate without actually being a pirate, right?
I tried to take many elements of what pirates might have eaten in real life and then used some creative liberties to make it appetizing and easy enough for a weeknight. We needed:
rice and beans (check)
heavily spiced meat to hide that fact that its starting to go bad (check, but we are going to use fresh chicken, ok?)
a pickled veggie relish
and some fresh tropical fruit salsa with lots of lime juice to fight off scurvy.
What we end up with is an easy jerk chicken recipe that is ready in about 45 minutes, and is better than any booty you will find in a treasure chest. Ok, well, a diamond tiara miiiight actually be better, but I don't have one of those laying around.
So a comforting and flavorful dish of red beans and rice with caribbean jerk chicken will have to do. The quick pickled veggies and the mango lime salsa add a fun textural contrast, a great flavor boost (and help tame any spice from the jerk seasoning), and also add beautiful color to the meal.
You can definitely serve this without the pickled veggies and the fruit salsa, but I highly recommend it. However, if you want to do just one – pick the mango salsa!!
How Your Kids Can Cook With You:
Kids aged 1-3 can help you measure spices, measure out the quick pickle ingredients, together the pineapple salsa and help set the table.
Kids aged 4-6 can help do everything above, plus open and rinse the beans, open and add in the coconut milk, cut the mango, zest and juice the lime,
Kids aged 7-10+ can help do everything above, plus cut the chicken, slice the vegetables for the quick pickles, pour in the quick pickle liquid into the jar.
*Please note that these recommendations are generalized, and to please use your personal discretion with your child's skill level. And always, always supervise! Read more about how to have your children help you in the kitchen.
Try these other fun creative ideas to get your kids to eat:
Food tastes better when its shared! If you try this recipe, let me know! Leave a comment and rate below! Love and links are always appreciated! If you'd like to share this post, please link to this post directly for the recipe, please do not copy and paste or screenshot. Thanks so much for supporting me! xoxo
Jamaican Jerk Chicken Skillet
This easy Jamaican Jerk Chicken Skillet recipe is a fun tropical weeknight meal that your whole family will love. With red beans and rice, tender spiced chicken pieces and topped with a quick pickled vegetable relish and fresh tropical mango and lime salsa - this flavorful and fun meal will have your family eating like a pirate - but much better!
Print
Pin
Rate
Ingredients
Jamaican Jerk Chicken Skillet:
1.5

lb

boneless

skinless chicken thighs

1

TBSP

jamaican jerk seasoning *see notes

3

TBSP

extra virgin olive oil

divided

2

TBSP

unsalted butter

1

medium onion

diced

2

cloves

garlic

minced

1

TBSP

fresh minced ginger

1

cup

jasmine rice

15

oz

red kidney beans

rinsed and drained

15

oz

coconut milk

1

cup

chicken broth
Quick Pickled Veggies:
½

cup

thinly shredded carrot

½

cup

thinly shredded purple cabbage

½

cup

thinly sliced red pepper

1

tsp

salt

1

tsp

sugar

1

clove

garlic

roughly chopped

½

cup

water

½

cup

vinegar
Mango Lime Salsa:
1

mango

diced

1

TBSP

cilantro

chopped

1

green onion

diced

zest and juice of 1 lime

1

TBSP

olive oil

pinch

of salt
Instructions
Jamaican Jerk Chicken Skillet:
Dice the chicken into bite sized pieces and place in a large zip-top back.

Add in the jerk seasoning with 1 TBSP of olive oil and mix to coat.

Allow the chicken to marinate for a few minutes while you heat a large skillet over medium-high heat.

Place the butter and remaining olive oil in the skillet and when melted/hot, add in the diced onion and sauté for 10 minutes or until translucent.

Add in the chicken and sauté until browned on all sides, stirring occasionally.

Add in the garlic and ginger and cook for 30 seconds, or until fragrant.

Stir in the rice and allow to cook for 5 minutes, or until starting to turn translucent.

Stir in the kidney beans, coconut milk and chicken broth.

Bring to a simmer. Reduce heat to low, cover with a lid and cook for 20 minutes.

While the skillet is simmering, prepare the quick pickled veggies and the mango salsa.
Quick Pickled Veggies:
In a mason jar, pack 1/2 cup each of thinly sliced carrot, purple cabbage, and red pepper. *see note

Add in the salt, sugar and garlic clove on top.

In a glass measuring cup, combine the water and vinegar and heat in the microwave for 2-3 minutes or until boiling.

Pour the hot liquid over the veggies, place the lid on and allow to sit while you prepare the rest of the meal.
Mango Lime Salsa:
In a medium mixing bowl, stir together the mango, cilantro, green onion, zest and lime juice, olive oil, and a pinch of salt.

Serve the meal by topping the beans and rice skillet with the quick pickled veggies and the mango salsa
Notes
Jamaican Jerk Seasoning - make sure you know the spiciness level of your seasoning. Some jerk seasonings are very mild and some are very spicy. If you have a milder version you can use up to 1.5 or 2 TBSP of seasoning, and if you have a spicier version use less!
For the pickled veggies - make things easier by using pre-shredded carrot and cabbage you buy in the produce section of the grocery store!
Nutrition
Serving:
1
g
|
Calories:
949
kcal
|
Carbohydrates:
61
g
|
Protein:
56
g
|
Fat:
57
g
|
Saturated Fat:
30
g
|
Polyunsaturated Fat:
24
g
|
Cholesterol:
224
mg
|
Sodium:
1230
mg
|
Fiber:
10
g
|
Sugar:
17
g