This rustic handmade pasta recipe is a great use of sourdough discard. With a slight sourdough tang and a nice chewy bite, this rustic sourdough pasta is a fun recipe you can use to make any shape of pasta you want.
One of my favorite things since joining the food blogging community is not only the vast amount of new food that I have been exposed to, but also the great relationships that I have made! One such friendship is with Shelley of C Mom Cook. Even though we have never actually met in person I count her as one of my good friends, and we talk every few days. One such evening we were chatting and I mentioned a recipe I had found for homemade noodles made with a sourdough starter. Shelley (who loves her starter as much as I love mine) immediately thought it would be fun if we did the recipe together! Since neither of us could drive a few hours for some noodle making, we made the recipes in our own kitchens and are posting about it together!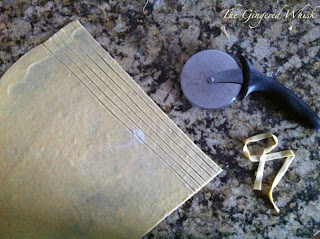 The first attempt at sourdough pasta was slightly disastrous. I tried doing it by hand, but this dough is very dry, and even after kneading it by hand for 30 minutes it was all crumbs. By this time my arms were exhausted. Even after a spin cycle in the stand mixer it was too dry, so I threw it out and started all over. I also decided that even though the original recipe called for the yolk only that I would just go ahead and throw the whole egg in.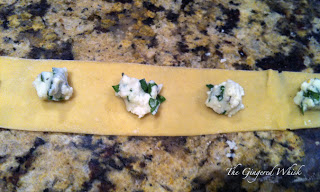 The second batch worked great, and I highly highly recommend using your mixer!! I decided to make a ravioli for this batch, and whipped up a simple filling of ricotta, garlic, and spinach. The dough was very easy to roll and cut, but I learned I need to work on my ravioli making skills. It's a little…rustic. Haha. The slight twang of sourdough is definitely present here but not overpowering and went really well with the filling and marinara- we liked it!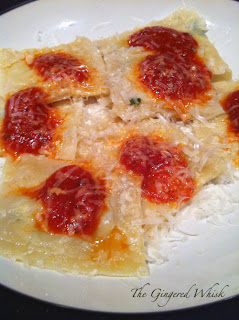 The next batch was just straight noodles, and as much as we liked the filled pasta I think the plain noodles were our favorite. They are simple and rustic, and being fresh they cook up super fast (just a few minutes in boiling water is all it takes). I really enjoyed the noodles with red sauce, but Joel said he liked the alfredo best. Ladybug gives both sauces a clean plate, so you will just have to make the decision for yourself! 🙂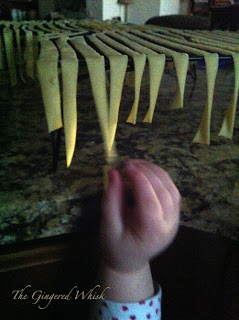 Love Sourdough? Check out

over 60 great sourdough recipes

, including other different ways to use your sourdough starter: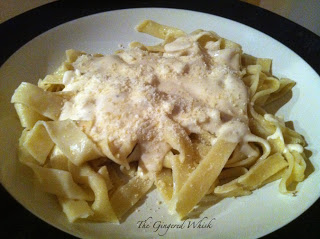 Yield: 6 servings
Rustic Sourdough Pasta, of all shapes
This easy sourdough pasta is the perfect homemade and rustic recipe - just a few ingredients is all you need!
Total Time
3 hours
3 minutes
Ingredients
1/2 cup sourdough starter
1.5 cups flour
2 eggs
Instructions
Pour the starter into your mixing bowl.

Add the flour and egg, and mix until it forms a ball (this takes forever).

Allow the dough to sit on the counter for a few hours, up to overnight. It won't rise much, if at all.

Dump the ball out onto a floured counter.

Roll it out as thin as you can possibly make it.

Slice the noodles into whatever shape you like (and fill it, too, if yo want).

You can now either boil them immediately to eat, or allow them to dry out on the counter.
Nutrition Information:
Yield:

6
Serving Size:

1
Amount Per Serving:
Calories:

174
Total Fat:

2g
Saturated Fat:

1g
Trans Fat:

0g
Unsaturated Fat:

1g
Cholesterol:

62mg
Sodium:

25mg
Carbohydrates:

32g
Fiber:

2g
Sugar:

0g
Protein:

7g
(adapted from Mummy, I Can Cook)
Looking for other awesome Sourdough Recipes? Check out my Sourdough Archives HERE for over 60 recipes using Sourdough!