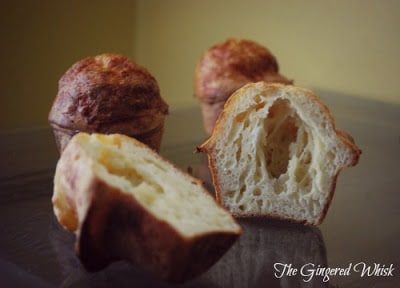 Popovers have long been one of my favorite kinds of bread. And for a carb-oholic like me to say "favorite", you know it has to mean something. I can remember, growing up, my father would make the most perfect, delicious, airy and cavernous popovers ever. I am pretty ate more than my fair share of them. Given this deep-seeded love of popovers, you would think that I probably make them in my own kitchen all the time. You, however, would be wrong. I have never made them before now. Why? Because I was convinced you HAD to have a special pan for them, and I really don't like buying kitchen utensils with only one job.
But guess what?! You can make these in your regular muffin pans! They won't be nearly as tall and airy, but they will be close, and they will be delicious! When I saw this month's
Twelve Loaves
challenge was bread + cheese, my very first thought was popovers. And then my second thought was sourdough. You would think
Sourdough Surprises
each month would fix my sourdough-craze, but it only makes me slightly less insane than normal. LOL. So yes, I made sourdough popovers dotted with pepperjack cheese. They were utterly delicious. My only thought would be next time to add more cheese, because it melted beautifully into the dough and wasn't overly pronounced. You only noticed a tiny little pepperjack burn after you finished the popover.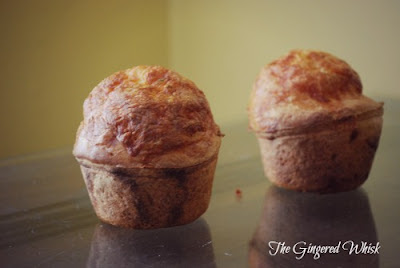 yield: 6 popovers
1 cup milk
3 eggs
1/2 cup sourdough starter
3/4 tsp salt
1 cup flour
1 cup grated cheese of choice (I used pepper-jack)
In a small saucepan, warm the milk until it feels slightly warm to the touch.
In a large bowl, whisk together the eggs, warm milk, sourdough starter and salt.
Then mix in the flour and 3/4 cup cheese, without over-mixing. It is ok to have some lumps, but overall it should be thinner than pancake batter.
Preheat the oven to 450F, and preheat your muffin pan, too.
When heated, carefully remove your muffin pan from the oven, and thoroughly spray it with cooking spray.
Quickly pour the batter into the cups, filling them almost to the top. If using a regular muffin pan, make sure you leave an empty muffin hole in between each filled one.
Sprinkle more grated cheese on top of each batter.
Bake for 15 minutes.
Reduce the temperature to 375F and bake for an additional 15-20 minutes, until golden brown (Do NOT open the oven door!)
Remove the popovers from the oven and serve immediately.
Enjoy!