These scones are hearty and flavorful, with a slight sourdough tang and great flavor from juicy pear, candied ginger and fresh tart cranberries.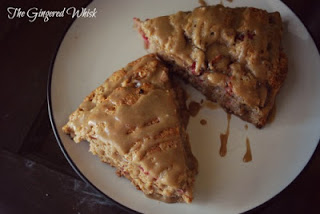 I was really excited to see how my sourdough starter would work with scones for this month's Sourdough Surprises challenge! Scones are either a big hit or an epic miss, and it all depends on the texture of the scone itself. So I was really curious to see how a starter would hold up in it. And to be honest, I had to try this recipe three times before I finally liked it. The initial results were entirely too dense and bready, and I didn't like that the original recipe called for the toppings on the top only. I felt that they were really plain. So I did some adjustments – added a tiny bit more brown sugar, incorporated lots more toppings, and added a brown sugar glaze on top. Now they were really special, and delicious. And while they are still more "bread" than your typical scone, I love the slight sourdough tang that shines through. They are definitely delicious! 🙂
Love Scones? Try these:
Apple Cheddar Bacon Scones

– These tender flaky scones boast copious amounts of fresh apples, applewood smoked bacon, sharp cheddar cheese and a hint of fresh rosemary to make a lovely addition to any tea, breakfast, or dinner table.

Earl Grey Lavender Scones

– These scones are perfect for a fancy tea party.

Fresh Cranberry and Candied Ginger Scones

– The juicy cranberries and spicy candied ginger are not only wonderfully seasonal, but they pair perfectly together.
Yield: 12 Sevings
Gingered Pear and Cranberry Sourdough Scones with Brown Sugar Glaze
These sourdough scones are hearty and flavorful, with a slight sourdough tang and great flavor from juicy pear, candied ginger and fresh tart cranberries.
Total Time
5 hours
30 minutes
Ingredients
Gingered Pear and Cranberry Sourdough Scones:
50 grams flour
130 grams whole wheat flour
1 1/2 tsp baking powder
1/2 tsp baking soda
5/8 tsp salt
75 grams brown sugar
1 stick unsalted butter, cut into chunks and very cold
40 grams rolled oats
50 grams half and half or heavy cream
244 grams 100% hydration sourdough starter
1 cup chopped cranberries
1/4 cup crystallized ginger, chopped
1 bartlett pear, chopped
1 TBSP butter
Brown Sugar Glaze
2 TBSP milk
1/4 cup  packed brown sugar
1/4 tsp vanilla extract
1/4 - 1/2 cup powdered sugar
Instructions
Gingered Pear and Cranberry Sourdough Scones:
Line an 8 inch cake pan with plastic wrap.
In a large bowl, whisk together the flours, baking powder, baking soda, salt and brown sugar.
Cut the cold butter into the flour mixture until it resembles course sand (you can use your fingers or a fork).
Toss the oats, cranberries, crystallized ginger and the pears into the flour mixture and toss to combine.
Pour the starter and the cream (or half and half) into the bowl and carefully mix with your hands until just barely incorporated.
Press the dough into the cake pan and cover with plastic wrap.
Place in the freezer overnight, or for at least 4 hours.
In the morning, place a piece of parchment paper on a baking sheet and turn the dough out onto it.
Preheat your oven to 400F.
Let your dough stand for 15 minutes and then using a sturdy knife, cut your dough into 8 wedges.
Let the dough stand for another 15 minutes, and then brush the tops with a bit of cream on top.
Bake for 30 minutes, or until the scones are set and lightly browned.
Allow to cool slightly while you mix the glaze.
Brown Sugar Glaze:
In a microwave safe cup, heat the milk and butter for 30 seconds.
Stir, stir, stir, until the butter is completely melted.
Stir in the brown sugar and vanilla and stir until the sugar melts.
Whisk in the powdered sugar, starting with 1/4 cup and gradually increasing the amount until you get the desired consistency.
Drizzle over the scones, and Enjoy!!!
Nutrition Information:
Yield:

12
Serving Size:

1
Amount Per Serving:
Calories:

260
Total Fat:

11g
Saturated Fat:

6g
Trans Fat:

0g
Unsaturated Fat:

4g
Cholesterol:

27mg
Sodium:

251mg
Carbohydrates:

39g
Fiber:

3g
Sugar:

16g
Protein:

4g