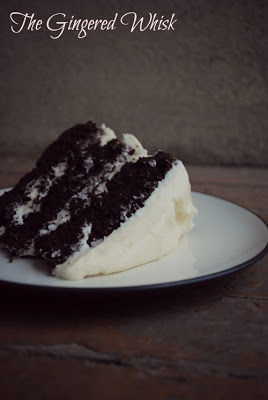 This dark chocolate cake is lightly topped with creamy cheese frosting. And it is everything a cake should be – rich, moist, so decadent. Cut this cake thin, guys. And don't even bother serving ice cream with it – you seriously don't need it. Or will be able to eat it. No one I served this cake to was able to finish their piece, but not because they didn't want to. It's so delicious you want to force yourself to eat it all, but you just can't. This cake totally calls for a stand mixer, though – don't even think about attempting it by hand, or killing your hand mixer with it. You need to slowly mix it with a stand mixer until you don't see any white specs of your starter.
You might notice that my cake is leaning a little… I ended up being about 1/2 a cup of powdered sugar short, so my frosting was a little loose. I was going to put it in the fridge to set up a bit, but as it turns out a 3 layer cake on my tallest cake stand does not actually fit in my refrigerator… The only option was to place it in my pantry and hope it didn't fall (or that a mouse wouldn't happen to make its way into my pantry at that moment…what can I say, I live in a 100 year old house, I wouldn't be surprised!) Luckily, the cake didn't topple over, there were no unwanted visitors to the pantry, and the cake was completely gone in less than 24 hours.
Chocolate Sourdough Cake
Print
Chocolate Sourdough Cake
Author:

Prep Time:

4 Hours

Cook Time:

20 Minutes

Total Time:

4 hours 20 minutes

Yield:

3- 9″ cake rounds
---
Ingredients
Cake
1 cup "fed" sourdough starter
1 cup milk
2 cups flour
1 1/2 cups sugar
1 cup butter, melted and cooled
2 tsp vanilla extract
1 tsp salt
1 1/2 tsp baking soda
3/4 cup unsweetened dark cocoa powder
1 tsp espresso powder, optional
2 large eggs
Cream Cheese Frosting
3 (8oz) bricks cream cheese, room temperature
2 sticks unsalted butter, room temperature
1 TBSP vanilla extract
1/2 tsp salt
6 cups powdered sugar
---
Instructions
Cake
In a large bowl mix together the starter, milk and flour.
Cover and allow to sit for 2-3 hours (it won't bubble but will expand a tiny bit).
Preheat the oven to 350F.
Trace 3 cake pan circles onto parchment paper.
Grease 3- 9″ round cake pans with butter, lay a parchment circle in the bottom, grease that and then tap a layer of flour in.
In a medium bowl, beat together sugar, butter, vanilla, salt, baking soda, cocoa and espresso powder (the mixture will be grainy).
Add the eggs one at a time, beating well after each addition.
Gently combine the chocolate mixture with the starter-flour mixture, stirring until smooth (this will be really goopy at first, but as you continue to beat it, the batter will smooth out).
Equally distribute the batter among the three cake pans.
Bake 20 minutes, rotating halfway through.
Remove from the oven and cool in the pans on a wire rack for 10 minutes.
Turn the cakes out onto the wire rack to cool completely.
Cream Cheese Frosting
Cream together the butter and cream cheese until smooth.
Add in the vanilla and salt and mix until combined.
Slowly begin adding in the powdered sugar, mixing until all the sugar is added and combined..
(If the frosting is too thin, add more sugar – if too thick, add a tsp or two of water).
+Note: This cake totally calls for a stand mixer. Don't even attempt to kill your arms by mixing it by hand, or using a hand mixer. Then batter is very thick and strong. Use a stand mixer!+