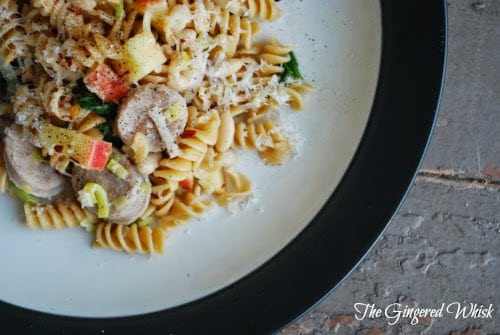 Wowwee things have been crazy. Still unpacking and trying to find a flow to our new house! Joel is still in West Virginia finishing up his residency so its slow going as the girls and I try to navigate the new house ourselves. The move itself was crazy. The packers came late, stayed super late (smoke breaks every hour can really cut into your day) , and ran out of boxes. The moving truck came the next day and, of course, didn't have enough room on it (due to there being 3 other households and a car already on it). So my things got split into two shipments, the first already delivered but the second doesn't arrive until the 20th! I guess that gives me time to put the first half of my belongings away first…? Then follow that craziness up with a 2 day trip across the country with my in-laws, 2 girls and 2 dogs (thank goodness Joel's parents came to help me drive because I would NOT have survived that trip by myself!).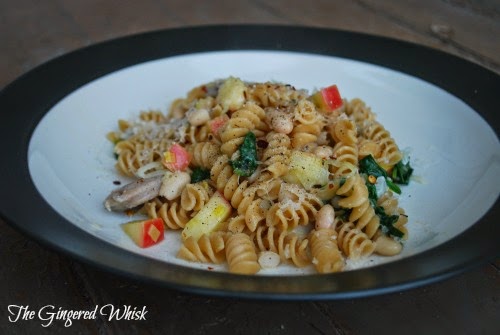 This dinner was a great meal for summer – its fast and easy to make, and delicious, too! I loved the combination of the sweet apple, sausage and spinach!  Plus it makes a TON so you have lots of leftovers!
Sweet Apple Chicken Sausage Pasta
Print
Sweet Apple Chicken Sausage Pasta
Author:

Prep Time:

5 minutes

Cook Time:

15 minutes

Total Time:

20 minutes

Yield:

6-8 servings
---
Description
---
Ingredients
1 lb oz rotini pasta
4 TBSP olive oil
1 shallot, chopped
12 ounces sweet apple chicken sausage, sliced
1 honey crisp apple, chopped (you can peel if you want, I didn't)
4 garlic cloves, minced
pinch red chili pepper flakes
salt and pepper to taste
15 oz great northern beans, drained and rinsed
6 oz spinach
1 cup chicken broth
1/3 cup fresh grated parmesan cheese
---
Instructions
Cook the pasta in a large pot of salted boiling water until al dente. Reserve 1/2 up pasta water when you drain.
While the pasta is cooking, heat a very large skillet over medium-high heat.
Add the olive oil and cook the shallots, and sausage until the sausage is golden brown, about 3 minutes.
Add the apple, garlic, and red chili pepper flakes and season with salt and pepper.
Cook 5 minutes, or until apples are tender, stirring occasionally, about 5 minutes.
Add the chicken broth, beans, and spinach, and cook about 1 minute, stirring, until spinach is wilted.
Add the pasta to the sausage/apple mixture.
Add the parmesan cheese and mix to combine, adding the reserved pasta water until you reach your desired consistency.
Keywords: entree apple pasta chicken sausage spinach Quick summer