Tarte Flambee (French Bacon and Onion Tart)
This French bacon and onion tart is a simple and delicious recipe the whole family will love! Thinly rolled pizza dough is covered in a cheese sauce, sprinkled with thinly sliced onions and bacon and topped with gruyere cheese.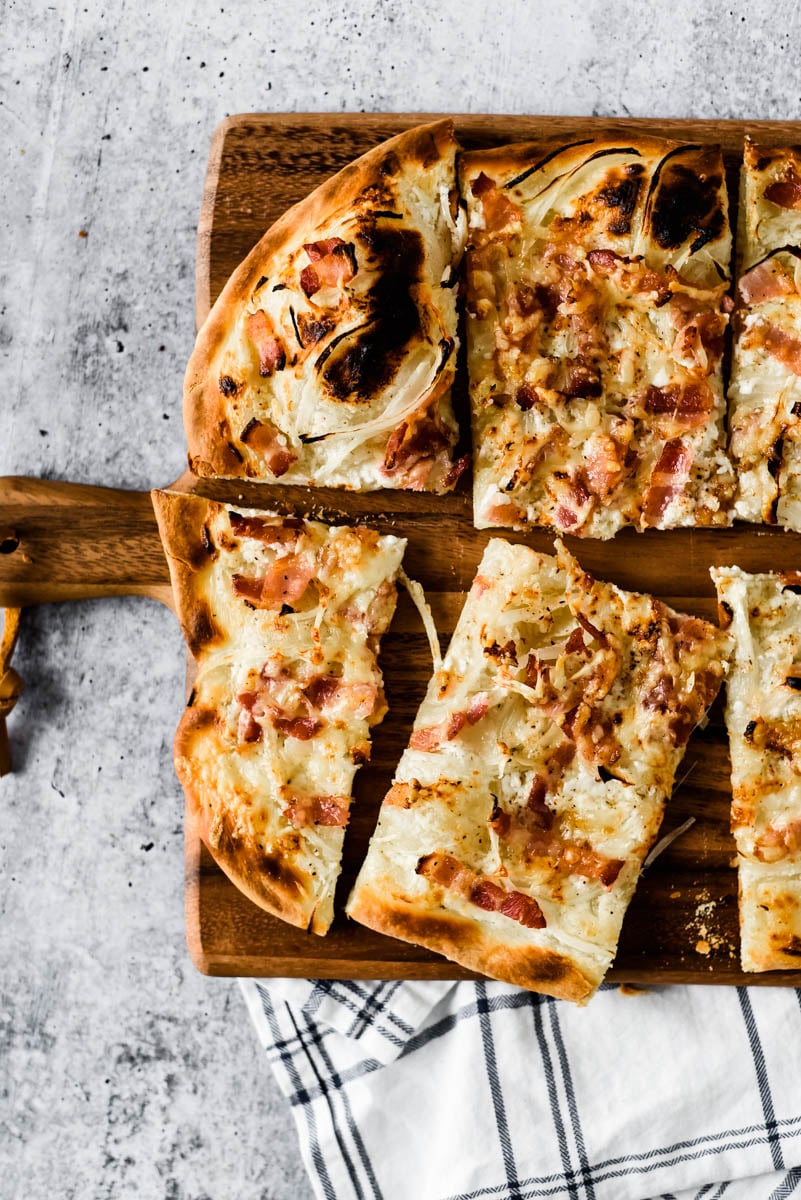 It might look like a pizza, but please don't call it one! This bacon and onion flatbread (also known as Tarte Flambee and Flammekueche), is traditionally topped with a mixture of creme fraiche, fromage blanc, thinly sliced onions and strips of bacon. Flammekueche translates into "cooked in flames", and this is usually cooked in a wood fired oven. 
Unfortunately, wood fired ovens in the home are not that common and fromage blanc is rather hard to find at the average grocery store. Luckily for you, I have found some great work arounds and substitutions so you can still enjoy this amazing meal at home!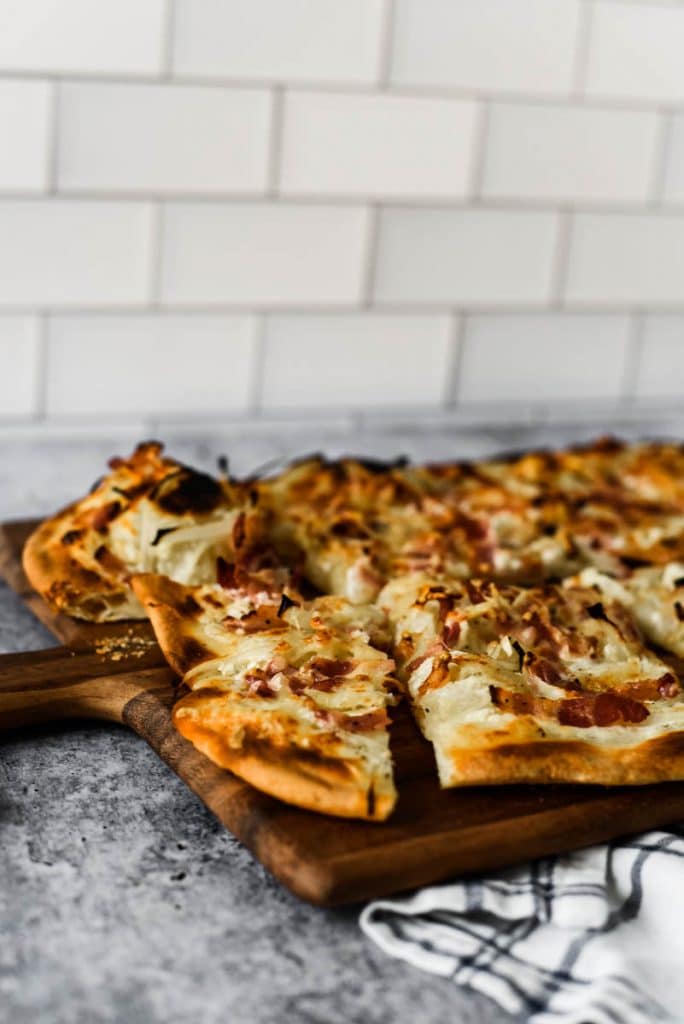 Tarte Flambee
On the French and German borders, the region of Alsace, France is a perfect marriage between the two countries and a great way to get the taste of both. 
Tarte Flambee is a speciality of the Alsatian region.
Bread dough is rolled very, very thinly and covered with a combination of fromage blanc and creme fraiche, thinly sliced onions and strips of bacon. It is then cooked in a very hot wood burning oven.
Some versions add gruyere cheese, munster cheese or even mushrooms!
This recipe is part of my "Eat Like A Princess" series, where I create weeknight meals inspired by classic princesses in the hopes to help kids explore new foods, flavors, and cultures. This recipe is inspired by Princess Aurora from Sleeping Beauty.
How to make Tarte Flambee/Flammekueche
A true tarte flambee is cooked in a wood burning stove. If you happen to have one, you should definitely use it! For the rest of us, though, a quick trip in the oven will have to do.
*Note: A traditional tarte flambee calls for Fromage Blanc, However, it is notoriously hard to find this cheese in the USA! If you can't find it (which, I couldn't), substitute it for ¾ cup room temperature cream cheese and ¾ cup buttermilk blended together. 
This is just a general run down, for the full details, please scroll down to the recipe card below.
Preheat your oven to 450 and prepare a baking sheet with parchment paper.
Whisk together the cream cheese, buttermilk, and creme fraiche together.
Roll out the pizza dough onto the parchment paper. Roll it as thin as you can get it.
Spread the cream cheese mixture over the dough. Take it almost to the edge, you don't have to leave a "crust" on the edge. Sprinkle it with freshly grated nutmeg.
Slice the onion as thinly as you can and sprinkle it on top.
Cut the bacon into thin strips and sprinkle it on top. Sprinkle on some salt and pepper.
Evenly spread on the shredded gruyere cheese.
Bake for 10 minutes, and then turn on the broiler for a minute or two.
Slice and Enjoy!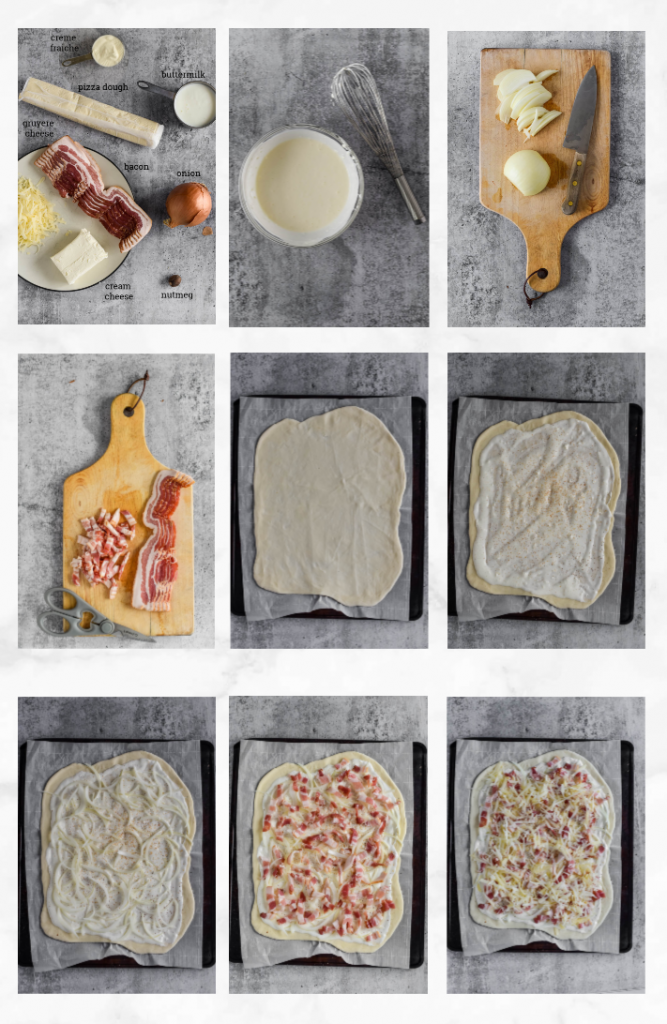 Prepping ahead of time
This meal is super quick to make, but you can do a few things ahead of time to make it even quicker if you are short on time.
Use pre-made pizza dough! Thin crust is where its at here.
You can slice the bacon and onion and shred the cheese ahead of time. Store each in their own air tight container in the fridge until ready to use.
You can mix up the cheese sauce and store it ahead of time in the fridge.
How to serve this French bacon and onion tart to your family
Serve this with French carrot salad, some fresh fruit like strawberries or raspberries and a fromage blanc tart for dessert! A nice white wine for the parents would be a pretty good choice, too!
How do you eat tarte flambee? Cut your French bacon and onion tart into either wedges or slices (its most often served cut into squares or rectangles). You can then roll it up or fold it up and eat up!
How to make this kid friendly
This tarte flambee recipe is a great kid friendly recipe! With easy flavors kids love (um, hello cheese and bacon!) 
Dinner conversations with kids
Dinner time is a great opportunity to talk to your kids about what you are eating and help them be more open to trying new things. More than just bite management, dinner time conversations are perfect for setting the mood and curiosity of the meal.
Try these conversation starters:
How is this similar to pizza? What are some differences to the typical pizza we eat?
What smells can you detect?
What is your favorite part of this bacon and onion tart?
If we were to make this again, what would you change to make it better?
Read more about how to explore the sense of taste with your kids.
Kids in the kitchen: How your kids can help you cook
Getting your kids in the kitchen is a simple way to help them be more interested in trying new foods. This bacon and onion tart recipe is great because it helps them practice their spreading and cutting skills. This recipe is perfect for beginner cooks because it is so easy! And it is a great recipe for kids to experiment and become more comfortable with new flavors – which means they are more likely to eat it!
Kids aged 1-3 can help you measure and mix the ingredients.
Kids aged 4-6 can do everything above, plus help you roll out the pizza dough, spread the cheese sauce, slice the bacon, grate the nutmeg and sprinkle the cheese.
Kids aged 7-10+ can help you do everything above.
*Please note that these recommendations are generalized, and to please use your personal discretion with your child's skill level. And always, always supervise! Read more about how to have your children help you in the kitchen.
Other great weeknight recipes inspired by European countries:
Frikadellen Recipe – This easy Frikadellen recipe is a simple German Meat Patty. The pre-cursor to a hamburger, these open faced sandwiches are a great addition to a weeknight meal or an easy way to celebrate Octoberfest!
Spiced Apple Dutch Baby Recipe – This Spiced Apple Dutch Baby Pancake is inspired by Princess Snow White and the Seven Dwarves. This easy to make skillet pancake recipe is perfect for brunch or a weeknight dinner studded with apples and sprinkled with cinnamon and sugar.
Food tastes better when its shared! If you try this recipe, let me know! Leave a comment and rate below! Love and links are always appreciated! If you'd like to share this post, please link to this post directly for the recipe, please do not copy and paste or screenshot. Thanks so much for supporting me! xoxo
Tarte Flambee Recipe
This French bacon and onion tart is a simple and delicious recipe the whole family will love! Thinly rolled pizza dough is covered in a cheese sauce, sprinkled with thinly sliced onions and bacon and topped with gruyere cheese.
Print
Pin
Rate
Ingredients
2

packages thin crust pizza dough

8

strips applewood smoked bacon

cut into thin strips

1

onion

sliced into thin strips

¾

cup

cream cheese

room temperature

¾

cup

buttermilk

½

cup

creme fraiche

1

teaspoon

freshly grated nutmeg

¼

teaspoon

salt

¼

teaspoon

pepper

1

cup

shredded gruyere
Instructions
Preheat the oven to 450F.

Line 2 baking sheets with parchment paper.

Unroll the pizza crust onto the parchment paper.

Cut the onion in half, and then thinly slice each half.

Using kitchen shears or a knife, cut the bacon into short strips.

In a large bowl, whisk together the softened cream cheese, buttermilk and creme fraiche.

Spread the cream cheese mixture over the pizza crust evenly. You can take it almost to the edge of the crust, you don't need to leave much of a "crust" on it.

Grate fresh nutmeg on top of the cream cheese mixture.

Evenly spread the thinly sliced onions on top of the cream cheese mixture, and then top with the bacon strips.

Season with a pinch of salt and pepper over top.

Evenly sprinkle the shredded gruyere cheese on top.

Bake for 10 minutes, then turn on the broiler for an additional 1-2 minutes. Do not walk away from the oven when the broiler is on! Make sure you check the tart so it doesn't burn.

Cut into wedges.

Enjoy!
Notes
This recipe is traditionally made with Fromage Blanc cheese. If you can find it, use 1 cup of that instead of the cream cheesse and buttermilk.
The Craime Fraiche can be substituted with sour cream if you can't find it.
Nutrition
Serving:
1
g
|
Calories:
595
kcal
|
Carbohydrates:
33
g
|
Protein:
19
g
|
Fat:
43
g
|
Saturated Fat:
22
g
|
Polyunsaturated Fat:
18
g
|
Cholesterol:
98
mg
|
Sodium:
1005
mg
|
Fiber:
2
g
|
Sugar:
5
g