French carrot salad with a quick lemon dijon vinaigrette is a simple, easy, and quick side dish the whole family will love. Also called "Carottes Râpées", these carrots are sweet, tangy, both tender and crisp at the same time, and are a staple dish in France.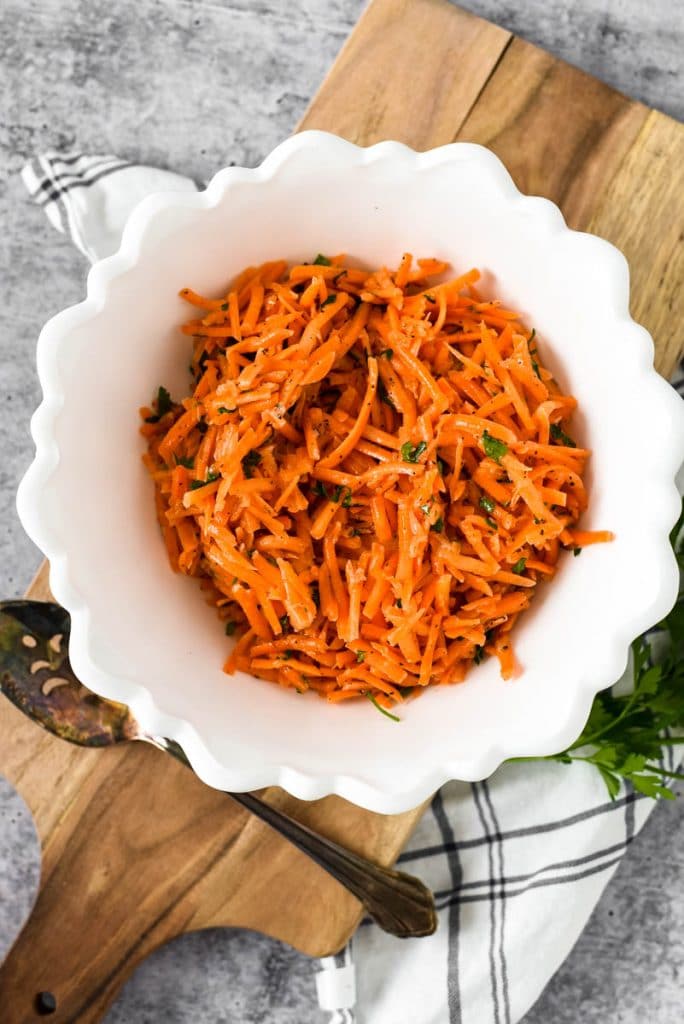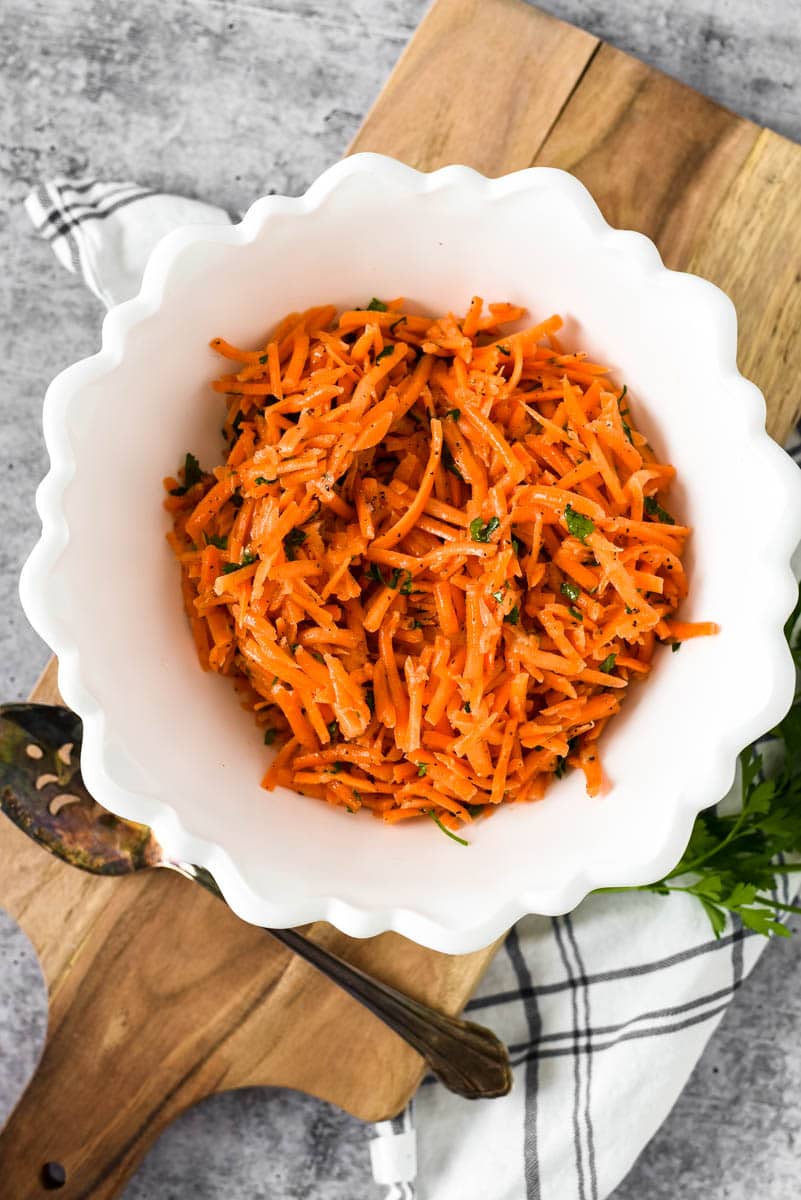 I have fallen in love with this side dish! Its super easy and quick to make, and tastes so fresh! My middle daughter is not a fan of cooked carrots at all, and I was looking for a way to serve carrots besides just a few baby carrot sticks on her plate when I found this.

Grated carrots are dressed in a lemon vinaigrette featuring dijon mustard, olive oil, a touch of honey and just a little bit of cumin. It is soooo good, very fresh, tangy, and perfectly kid friendly.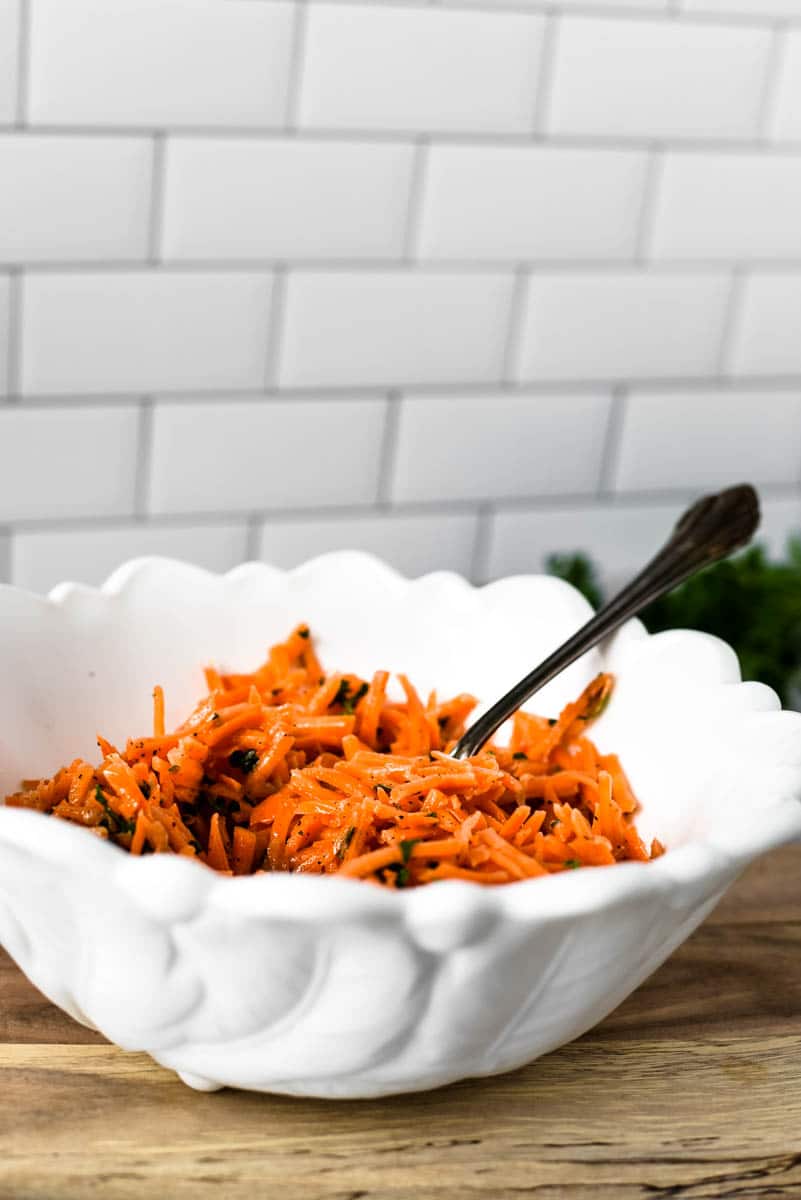 About French carrot salad
A real, authentic french carrot salad would use hand grated, very finely shredded carrots. But I am the queen of "ish" recipes. This is not a traditional, authentic French salad. This is a "french-ish" salad, and so we are using pre-shredded carrots from the grocery store. Because its easy, and its fine.

If you have the time and want something more traditional and authentic, use the smallest hole setting you can on your grater or food processor. It really does make the carrot salad extra light and fluffy! But using the rougher, pre shredded carrots you find ready made in the store will work just fine!
How to make this recipe
This side dish is so simple to make it only needs a few minutes. For the full recipe, make sure you scroll down to the recipe card below, but here is the basic method used:
In a glass jar with a lid (like a mason jar), combine the olive oil, lemon juice, dijon mustard, honey, cumin, salt and pepper. Place the lid on tight and shake until the ingredients are combined and the salt is dissolved.
Place the shredded carrots and parsley in a medium mixing bowl.
Add the dressing to the carrots and toss to mix.
Serve immediately or store in the fridge until ready to eat.
*Recipe Tip: Don't overdress the carrots – they should be moistened but not swimming in dressing.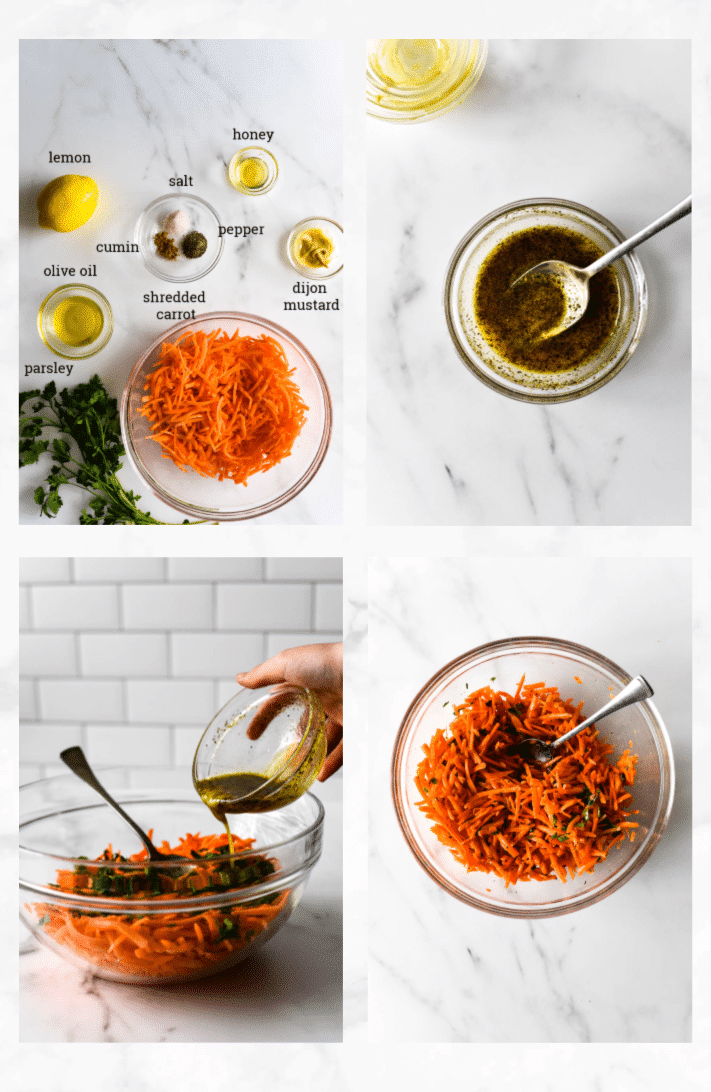 Can you make this ahead of time?
Some people prefer this salad when it is made fresh, and some prefer it when it has sat for at least 30 minutes (or longer) and marinated. I suppose the only way you can tell which way you like it is to try both ways and see!

But yes, this carrot salad can be made ahead of time and stored in the fridge for 2-3 days. It does keep in the fridge well. Just garnish it with parsley right before you eat.

How to serve this to your family
These carrots are so simple and perfect as is! Serve them to your family alongside any meal!

We have noticed that after sitting for a while, it does get tangier, especially with the cumin in there. When that happens, just mix in a little sour cream or plain greek yogurt to help smooth the flavor out for younger eaters.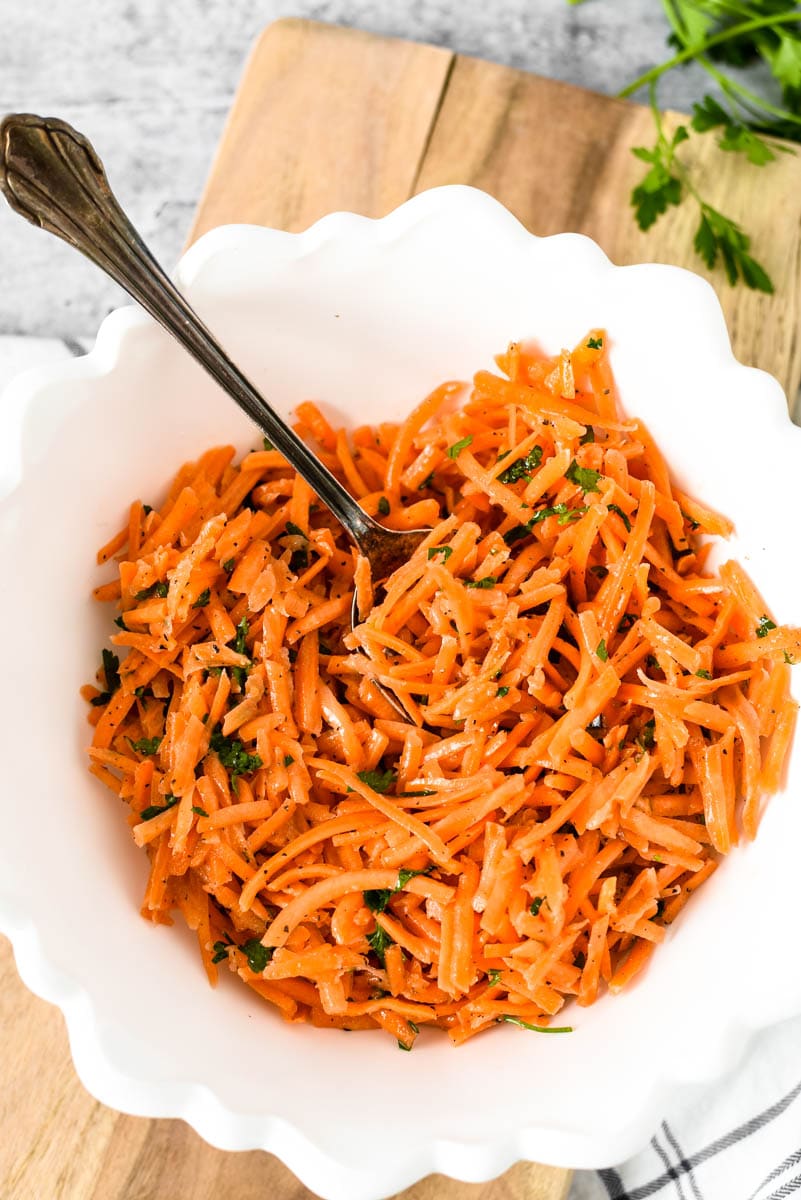 How to make it kid friendly
This simple dish is very kid friendly, especially for kids who don't enjoy the texture of cooked carrots. Because the carrots are raw, they are still quite crunchy, but lemon vinaigrette gives them great flavor! Asking your kids to help you mix up the salad, and getting them interested in conversation about the carrots also helps them enjoy trying it!

Dinner conversations with kids
Dinner is a natural time to help your kids explore and be interested in what they are eating. Try these dinner conversation starters to help bring out curiosity at the dinner table.
Texture – What is the texture of these carrots? Are they crunchy or soft?
Smell – what do these carrots smell like? Does it remind you of anything?
If were to make this again, what would you change to make it even better?
Read more about how to explore the sense of taste with your kids.


Kids in the kitchen: How your kids can help you cook
Getting your kids in the kitchen is an amazing way to help them be more interested in trying new foods and confident in their own abilities. This carrot salad recipe is great because it helps them practice their measuring and mixing. This recipe is perfect for beginner cooks because it is so easy! And it is a great recipe for kids to experiment and become more comfortable with new flavors – which means they are more likely to eat it!
Kids aged 1-3 can help you pick the parsley leaves off the stems. They can also help you mix the ingredients.
Kids aged 4-6 can do everything above, plus help you measure the ingredients for the dressing.
Kids aged 7-10+ can help you do everything above.
*Please note that these recommendations are generalized, and to please use your personal discretion with your child's skill level. And always, always supervise! Read more about how to have your children help you in the kitchen.

Other family friendly French recipes:
Other kid friendly carrot side dishes:
Food tastes better when its shared with the ones you love!
There's nothing I love more than seeing you make my recipes! If you make this side dish, don't forget to leave a comment below and rate the recipe!
And if you are on Instagram, tag @gingeredwhisk and use the hashtag #gingeredwhisk on social media when you make my recipes so that I can share them and maybe even feature you. Follow along to get the latest updates:
And don't forget to subscribe to the email list to get all the extra tips, tricks and bonuses!
Want to save this for later? PIN THIS TO YOUR SIDE DISH BOARD on Pinterest!

French Carrot Salad Recipe
French carrot salad with a quick lemon dijon vinaigrette is a simple, easy, and quick side dish the whole family will love. Also called "Carottes Râpées", these carrots are sweet, tangy, both tender and crisp at the same time, and are a staple dish in France.
Ingredients
3 1/2 cups shredded carrot
3 Tablespoon chopped fresh parsley leaves
3 Tablespoons extra virgin olive oil
2 Tablespoons lemon juice
1 Tablespoon dijon mustard
1 teaspoon honey
1/2 teaspoon salt
1/2 teaspoon pepper
1/8 teaspoon ground cumin
Instructions
Place the shredded carrot and chopped parlsey in a medium mixing bowl.
In a glass jar with a lid, combine the olive oil, lemon juice, dijon mustard, honey, salt, pepper, and cumin. Place the lid on and shake to combine, until the salt is dissolved.
Pour the dressing over the shredded carrots and toss to combine.
Serve and Enjoy!
Notes
This salad keeps in the fridge well for 2-3 days.
Nutrition Information:
Yield:

4
Serving Size:

1
Amount Per Serving:
Calories:

140
Total Fat:

11g
Saturated Fat:

1g
Trans Fat:

0g
Unsaturated Fat:

9g
Cholesterol:

0mg
Sodium:

436mg
Carbohydrates:

12g
Fiber:

3g
Sugar:

6g
Protein:

1g