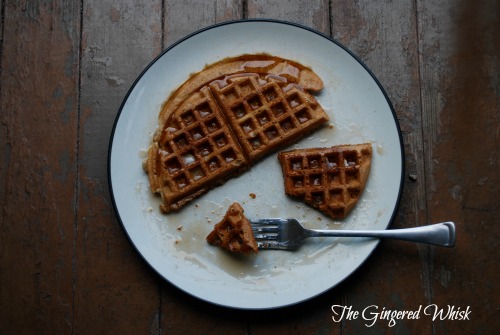 For this month's Sourdough Surprises we focused on Pancakes! YUM! Because its now September and the beginning of fall and back to school, I was feeling apple pies like no others! I decided to incorporate diced apples, vanilla extract, pumpkin pie spice and toasted chopped pecans into my favorite waffle batter and OH MY GOSH I freaking looooove how they turned out. Also, please forgive the lack of pictures for this post. As it turns out, getting down on the floor of your porch to snap a few photos isn't as easy with a 9 month baby belly attached to you, and it was kind of hard to get any good angles. Add to the fact that it was raining and I was hungry and really wanted to eat these waffles, I wasn't really in the mood to spend forever taking pictures. So there you have it. Did you know I take all my pictures on the floor of my back step?
Check out all the other amazing sourdough waffles and pancakes that were made this month for Sourdough Surprises!
Apple Pie Sourdough Waffles
Prep Time: 15 minutes + overnight
Cook Time: 10 minutes
Keywords: breakfast apple sourdough
Ingredients (4 servings)
2 cups flour
2 TBSP sugar
2 cups buttermilk
1 cup sourdough starter
2 eggs
1/4 cup melted butter
3/4 tsp salt
1 tsp baking soda
2-3 medium apples (you can take the time to peel and shred these, or just dice them super small)
1 1/2 tsp pumpkin pie spice
2 tsp vanilla
1 cup toasted pecans, chopped
Instructions
In a large bowl mix together the flour, sugar, buttermilk and starter.
Cover and let sit overnight (or 8-12 hours).
In a small bowl, mix together the eggs, melted butter.
Mix in the liquid with the sponge.
Whisk in the salt, baking soda, spices, vanilla and toasted pecans.
Preheat your waffle iron.
Cook according to your waffle iron's directions.
Top with butter and maple syrup and Enjoy!