This easy butterbeer cake is a perfect recipe for themed Harry Potter desserts. This homemade from scratch easy cake will be ready in no time!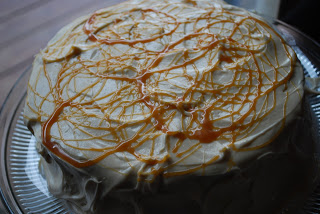 When I saw this cake over at Sugarcrafter a while back I knew immediately that I had to make it. My husband and I are currently reading through the Harry Potter series at night, and we are thoroughly enjoying it.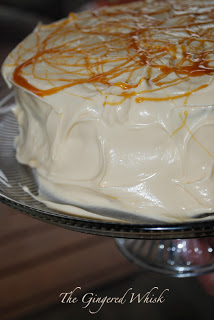 This was definitely a time when sometimes you should follow a recipe as is, and not try and pretend that since you have baked cakes plenty of times before that you know what you are talking about. So, when it seems like the frosting recipe doesn't quite make enough, and what you do have is kind of thick, you should just ignore this.
I didn't ignore this inner monologue of mine, so I thinned out the frosting with a bit of milk. I also thought that I didn't have enough frosting, so instead of adding frosting in between the layers of cake I did a layer of caramel. Well, turns out that I had plenty of frosting, and my attempts at making it the right consistency made it so thin it kept running off of the cake!!!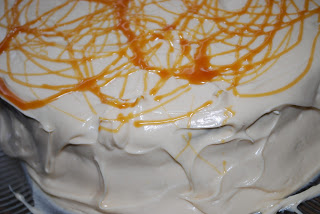 Luckily, this cake tasted so good that it didn't matter if the frosting was all over the place. Kind of caramely/butterscotchy/cream soday. And the frosting tastes amazing! We invited our cousins over to help us eat this, and Adena happens to know HP as well as J.K Rowling herself, and she said that this was indeed a great cake!
So, at your next Harry Potter party, or if you just fancy yourself a good cake, I suggest you try this one out!
Looking to have a Hogwarts themed party? Read this post to see what more to serve at your
Hogwarts Dinner Feast
!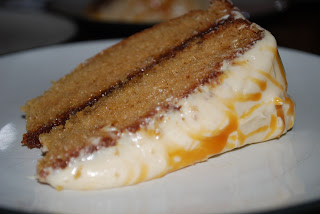 Yield: 12 Servings
Butterbeer Cake
This easy butterbeer cake is a perfect recipe for themed harry potter desserts. Starting with a cake mix, this easy cake will be ready in no time!
Prep Time
1 hour
30 minutes
Total Time
2 hours
5 minutes
Ingredients
Cake:
2 cups flour
1/2 tsp baking soda
1 1/2 tsp baking powder
1 stick unsalted butter, softened
1/2 cup sugar
1/2 cup brown sugar, packed
3 eggs
1 tsp vanilla extract
1/2 cup milk
2 Tbsp butterscotch topping
1/2 cup cream soda
Frosting:
1 stick unsalted butter, softened
1/3 cup butterscotch topping
1 Tbsp cream soda
1 lb powdered sugar
Extra butterscotch topping, for decorating
Instructions
Preheat oven to 350 degrees

Grease and flour two 8″ pans.

In a medium bowl, whisk together the flour, baking soda, and baking powder.

In a large bowl, cream together the butter and sugars.

Add in the eggs, vanilla, milk, butterscotch topping, and cream soda.

Add the dry ingredients half at a time, beating until smooth.

Pour into the prepared pans.

Bake 30-35 minutes or until a knife inserted in the center comes out clean.

Cool completely before frosting.
To make the frosting, beat together the butter, butterscotch, and cream soda.

Add in the sugar and beat until smooth.

Decorate the cake as desired.

Drizzle with extra butterscotch topping!
Nutrition Information:
Yield:

12
Serving Size:

1
Amount Per Serving:
Calories:

484
Total Fat:

17g
Saturated Fat:

10g
Trans Fat:

0g
Unsaturated Fat:

6g
Cholesterol:

88mg
Sodium:

197mg
Carbohydrates:

81g
Fiber:

1g
Sugar:

63g
Protein:

4g
(Recipe slightly adapted from Sugar Crafter)
Looking for other awesome Harry Potter Inspired Recipes?