These easy and delicious meatballs make your grandma's meatloaf recipe into the best weeknight dinner your family could eat! Tender, flavorful meatballs with a classic meatloaf sauce on top and baked in the oven – these meatloaf meatballs are ready in 30 minutes!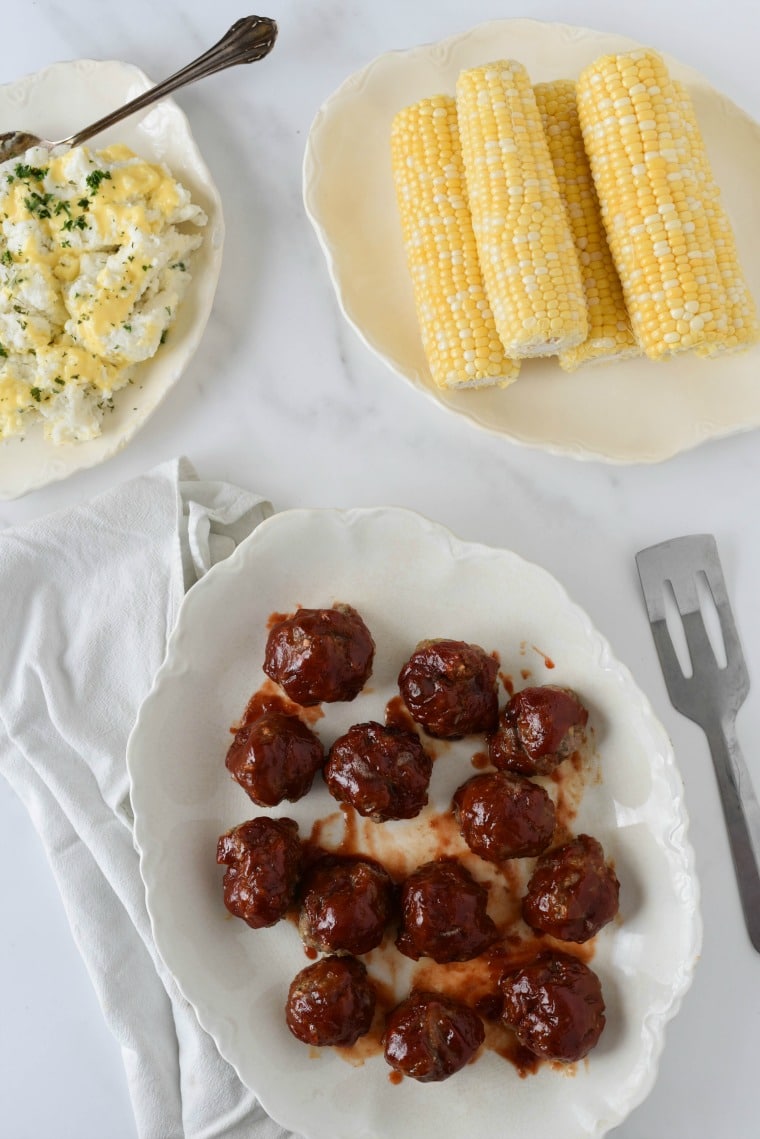 True story – I didn't eat meatloaf until I was a senior in high school.
When I was in high school & college I worked at a 50's dining waiting tables. It was a cute little place with juke boxes, burgers and shakes, and chintzy decor everywhere. I wore a little pink dress and got to give sass to all the customers, and our signature "thing" was pouring shakes into a glass on someone's head while standing on a chair. Or a table. It was actually a really fun job and I enjoyed it. I didn't feel shy or overly introverted like I did at school, and it was fun to kind of let loose while at work. (Being a sassy introverted girl is a challenge.) Out of all the food we served, there were two things that were my favorite – their crinkle cut french fries and their meatloaf sandwiches.
Oh man, their meatloaf sandwiches were sooooo good. It might be because we never, ever had meatloaf at home (apparently my father, who is the one who taught me to be an adventurous eater and a recipe developer hated meatloaf….) I grew up thinking the meatloaf was a gross thing, and that's why we never ate it. It wasn't until I was forced to have a meatloaf sandwich by a cook one day at work that I realized how lovely meatloaf actually was.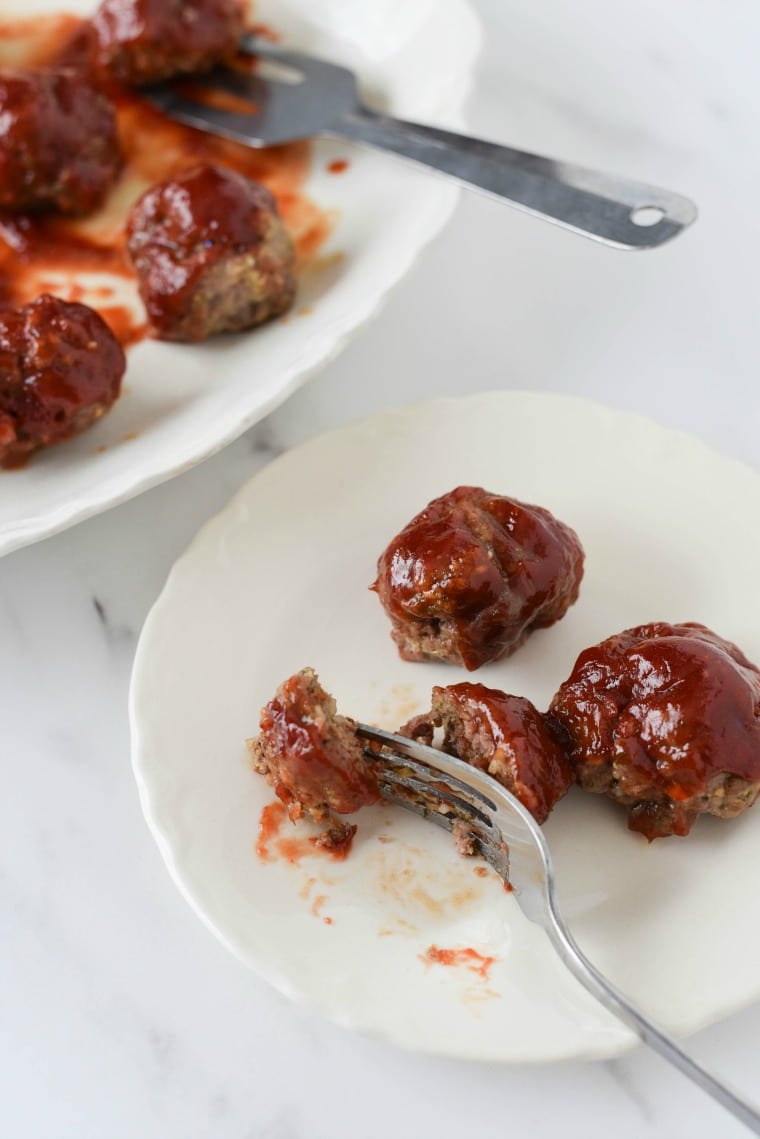 Historically Hungry – Old Recipes Made New
Every month my friend Amy from House of Nash Eats and I get together and recreate a historical recipe. Sometimes we make it exactly with just a few minor adjustments to suit the times, and sometimes we recreate the recipe into something new! This month is all about the 1950's, and as luck would have it both Amy and I wanted to make meatloaf, and neither was willing to give it up in exchange for something else – I mean, when you want meatloaf, you want meatloaf! So we both recreated the traditional meatloaf recipe (which often takes an hour or two to make) and turned it weeknight friendly so your family can enjoy it more often! Amy made these awesome Meatloaf Hamburger Patties, so make sure you check them out!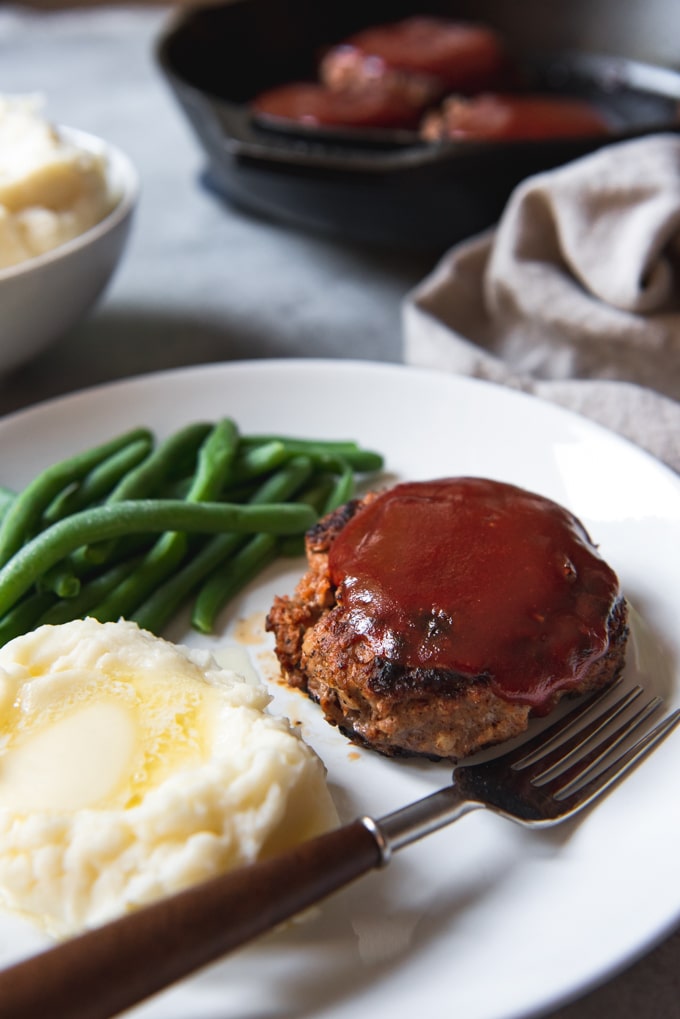 Food in the 1950's
Food in the 1950's was a fun and interesting time – for the most part, meals were prepared from pre-packaged goods and were belly filling. America was just coming off of the lean pantries, government rationing and WWII rations, and convenience was the name of the game – TV dinners were the new rage, and things that were canned or frozen were where it was at. Casseroles, meatloaf, grilled meats on the barbecue, and canned soups all reigned supreme.
American homemakers were interested in trying new flavors and recipes introduced by returning GI's from Europe and the Pacific. The age of Hawaiian-American fare came about, as well as the beginning of ethnic foods entering mainstream American meals.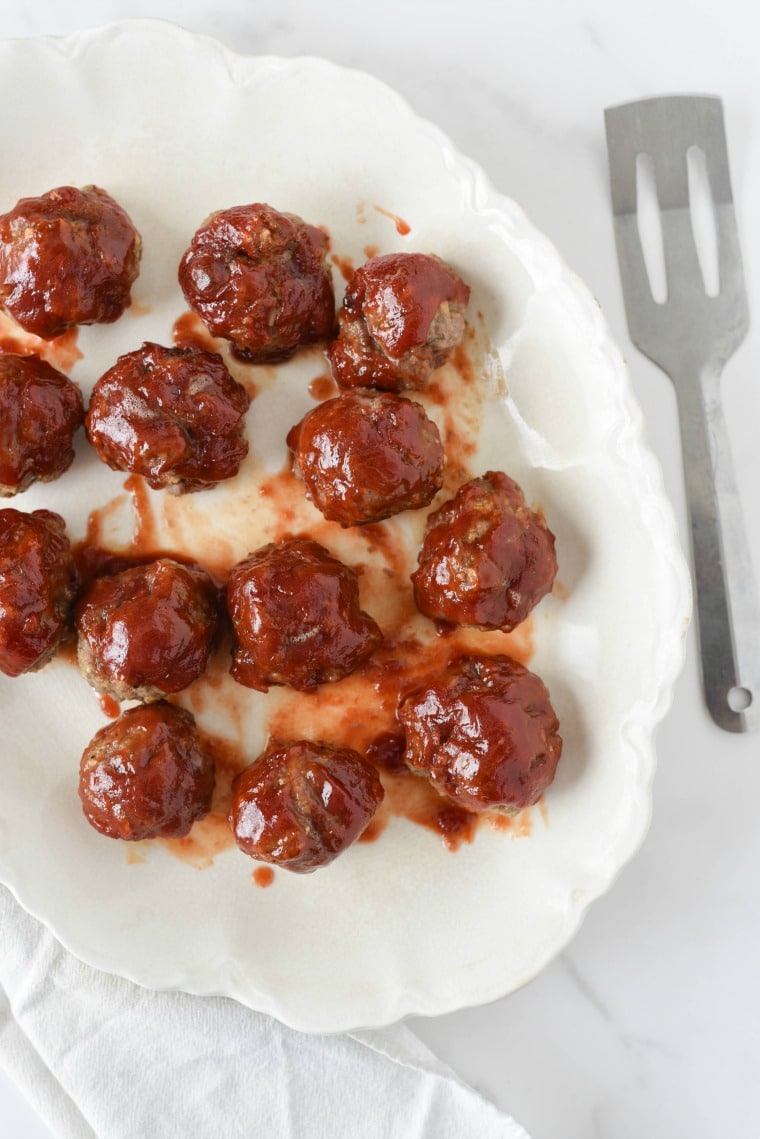 Meatloaf Meatballs Recipe
Even though I knew that I loved meatloaf, I rarely made it at home because it takes so long! When you have littles at home and your afternoons and evenings are full, taking 1-2 hours to make dinner just doesn't happen! Enter these awesome meatballs! I have been wanting to turn practically everything in to meatballs lately. I discovered that my children will eat anything in meatball form, and I have been taking full advantage of it.
How to Make the Best Meatloaf Meatballs
Because at the end of the day, you want to eat award winning meatloaf, right? Otherwise, whats the point?
Avoid greasy meatloaf by using a lean grass fed beef and mixing it with a small amount of ground pork.
Sometimes I find that meatloaf gets a really weird texture to it. Remedy this by mixing the dry and seasoning ingredients FIRST, and then mixing in the egg and finally adding the meat until just combined with your hands. Overmixing your meatloaf causes it to be tough and weird.
Yes, use your hands. They wash, I promise. Using your hands allows you to properly mix things without overtaxing (you have more control this way)
Use a medium sized cookie scoop to measure out the meatballs – this way they are all uniform in size and cook the same, and you won't be man-handling the mixture while you form your meatballs – remember, the less you mess with it the more tender they will be.
Because we are using a combination of low fat beef and higher fat pork, we want to make sure that we don't overcook our meatballs, otherwise they will become tough. You want them to be JUST done – so use a meat thermometer and remove them from the oven when they reach 165F.
Serve these with mashed potatoes, green bean casserole, and/or corn on the cob or a nice salad. Really – these would work well with whatever you want to pair them with.
Other fun 1950's type recipes to try:
Deviled Eggs
Jello Salad
Tuna Noodle Casserole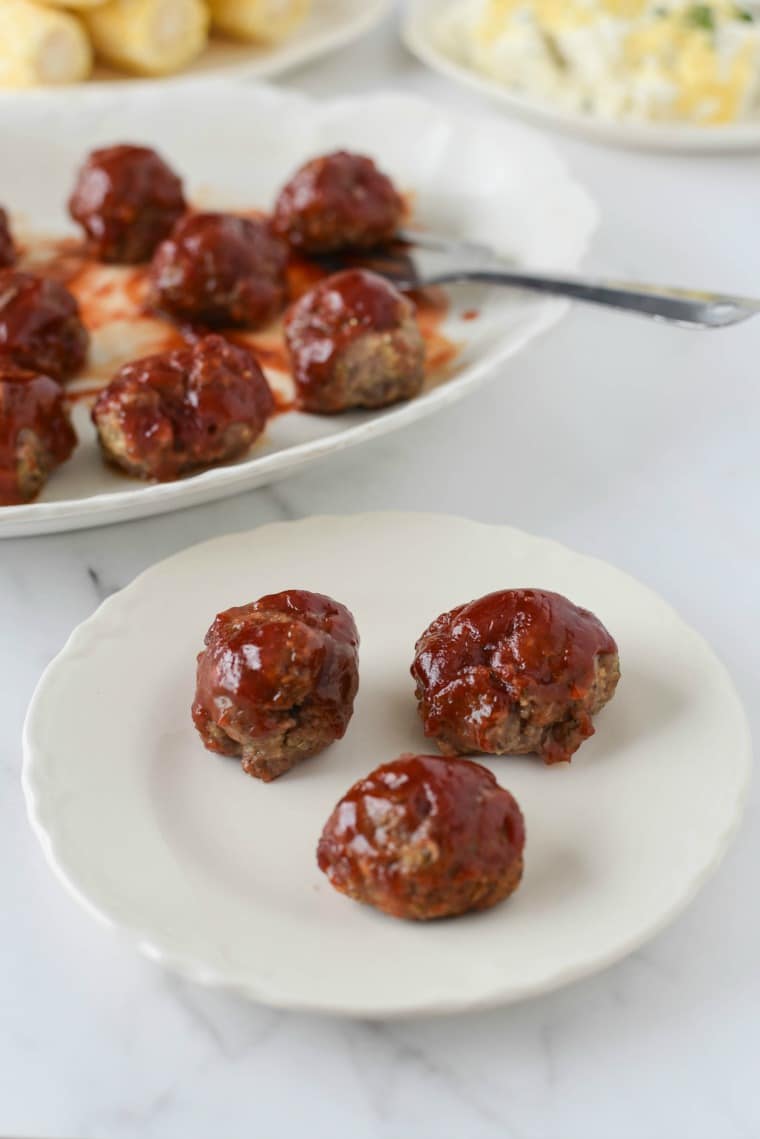 Get Your Kids in The Kitchen
Kids aged 1-3 can help you measure and whisk the meatball dry ingredients and the glaze ingredients together and set the table.
Kids aged 4-6 can help you do all the above, plus help you mix and shape the meatballs!
Kids aged 7-10+ can help you do all the above!
*Please note that these recommendations are generalized, and to please use your personal discretion with your child's skill level. And always, always supervise! Read more about how to have your children help you in the kitchen.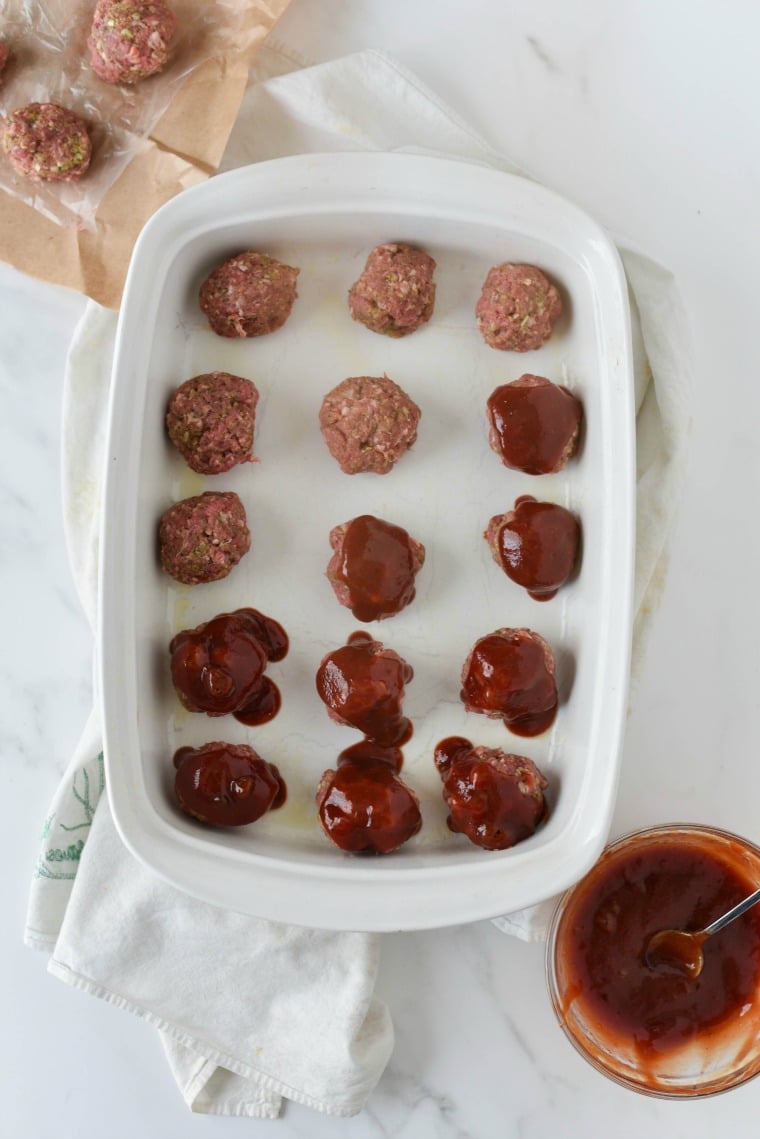 Yield: 4 Servings
Meatloaf Meatballs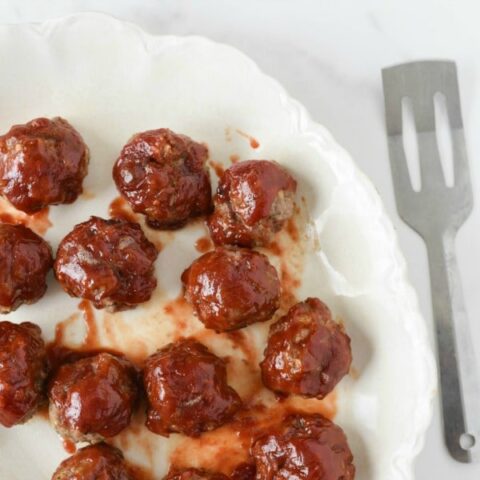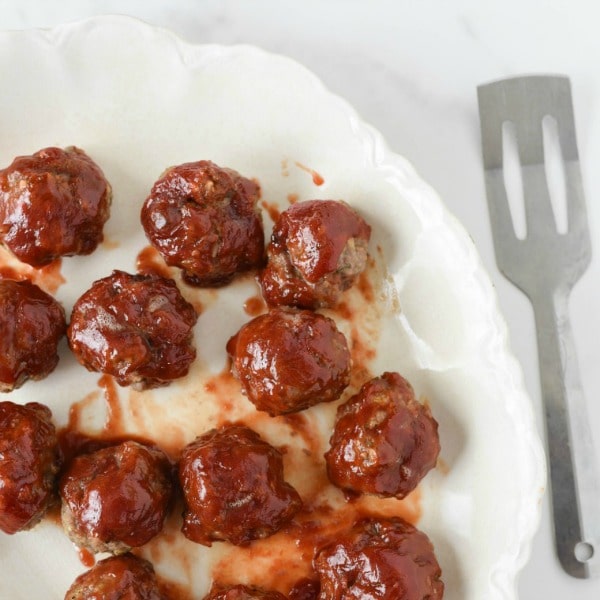 These easy and delicious meatballs make your grandma's meatloaf recipe into the best weeknight dinner your family could eat! Tender, flavorful meatballs with a classic meatloaf sauce on top and baked in the oven - these meatloaf meatballs are ready in 30 minutes!
Ingredients
Meatloaf Meatballs:
1/2 cup panko breadcrumbs
2 TBSP dried onion flakes
2 tsp dried oregano
1 TBSP dried parsley
1/2 tsp pepper
1/2 tsp salt
1 garlic clove, minced
1 TBSP mustard
1 TBSP worcestershire sauce
1 egg
1 lb grass fed ground beef
1/2 lb ground pork
Glaze:
2/3 cup ketchup
1/2 tsp dried mustard
1/2 cup brown sugar
Instructions
Preheat oven to 350F.
Line a rimmed baking sheet with aluminum foil. Spray with cooking spray and set aside.
In a large mixing bowl, stir together the panko breadcrumbs, onion flakes, oregano, parsley, garlic, pepper, salt, mustard, and worcestershire sauce until well mixed.
Mix in the egg until well combined.
Using your hands, add in the ground beef and the ground pork and gently mix until just combined. Do not overmix.
Using a medium sized cookie scoop, form about 18-20 meatballs and place 2" apart on the baking sheet.
Wash your hands!
In a small-medium sized bowl, mix together the ketchup, mustard and brown sugar until combined.
Spoon over the meatballs so that each meatball has a generous topping.
Bake for 18-22 minutes, or until an internal thermometer reads 165.
Serve and enjoy!
Nutrition Information:
Yield:

4
Serving Size:

1
Amount Per Serving:
Calories:

544
Total Fat:

21g
Saturated Fat:

8g
Trans Fat:

0g
Unsaturated Fat:

11g
Cholesterol:

155mg
Sodium:

978mg
Carbohydrates:

48g
Fiber:

2g
Sugar:

33g
Protein:

43g