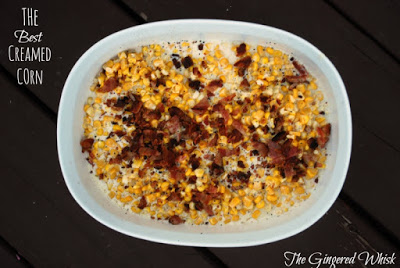 Growing up I thought my Grandmother's Creamed Corn with the best side dish there ever was. It was, of course, reserved for special holidays like Thanksgiving and Christmas. I'm not even sure of the recipe, but I'm pretty sure it had crushed up saltine crackers in it. Fast forward about a decade. Joel and I went out to celebrate a promotion at a super fancy steak place and lo and behold, but what do I see on the menu? Of course I had to order their creamed corn - it was a celebration after all.
It was like an eye opening, existential experience. This was nothing like the pureed, end of the line canned corn thickened with crackers that I was used to. No, this was sweet corn perfection, whole kernels fresh off the cob, real cream and lots of butter, and seasoned to perfection. Because, Hello! Creamed corn doesn't mean corn that's been creamed to a pulp, it means adding cream to your corn!
I immediately went home and recreated this masterpiece of a side dish. And not only is it as good as what we paid a ridiculous price for, but I made it better. Because I added bacon. Not only does it only require a few simple (and real) ingredients, but it is easy to make! For your next holiday meal, free up some oven space and make this stove-top creamed corn recipe. With bacon. Your family with thank you.
Looking for more perfect holiday side dishes? Try these great recipes:
Yield: 6 Servings
The BEST Creamed Corn Ever!
This creamed corn recipe is the only one you need! It is the best! Fresh sweet corn, real cream, and bacon! This is the perfect holiday side dish!
Ingredients
3 cups sweet corn, cut off the cob (or frozen)
1 cup half & half
3 TBSP butter
½ cup parmesan cheese
1 tsp salt
½ tsp ground pepper
¼ cup crumbled cooked bacon
Instructions
Combine the corn, half & half, butter, Parmesan cheese a, salt and pepper in a saucepan over medium heat.
Cook for 20-25 minutes, stirring occasionally.
When the butter is melted and the liquid has reduce by ⅓, its done!
Turn off the heat and pour into serving dish.
Add the bacon on top and serve!
Enjoy!


Nutrition Information:
Yield:

6
Serving Size:

1
Amount Per Serving:
Calories:

252
Total Fat:

17g
Saturated Fat:

9g
Trans Fat:

1g
Unsaturated Fat:

7g
Cholesterol:

46mg
Sodium:

768mg
Carbohydrates:

19g
Fiber:

2g
Sugar:

5g
Protein:

9g
Looking for other great side dishes? Check these out!